If you plan to revolutionize the untapped healthcare market with your advanced healthcare product or services to simplify healthcare practices, then the Ampliz healthcare email list is the perfect solution that will help you take your services to the right healthcare and medical professionals.
The healthcare email list gives you a direct line to interact with healthcare professionals, physicians, nurses, and other allied healthcare care providers.
Ampliz is the most trusted Healthcare Data provider in the USA which lets you to identify and reach the right healthcare providers.
If you strive to market your healthcare product or expand your business services to the healthcare market, Ampliz healthcare data is your best bet which helps you with 4 million+ healthcare providers and 2 million physicians.
Using accurate healthcare data, you can reach and connect directly with:
Multi-speciality doctors
Physicians and, Surgeons
Practitioners
Nurses
Licensed Nurse Practitioners (LPN)
Healthcare Centres
Pharmacists, and the whole healthcare community
Why Ampliz?
With Ampliz, you will get access to personalized data from 4.2 million physicians, 8.2 thousand healthcare companies, and lucratively more.
If you plan to reach specific healthcare professionals like dentists, neurologists, chiropractors, cardiologists, therapists, and critical care medical specialists, you can acquire the validated healthcare email list and kick-start your marketing campaign.
Also, make sure you get comprehensive data fields such as :
Name
Personalized email address
Verified phone number
Location
County
Zip code
Hospital affiliation
Speciality
Practice type
NEA, UPIN, and NPI number
Prescribing data
Medical group affiliation and certification
With a reliable healthcare email list, you can execute your marketing campaign, and directly reach or connect your ideal healthcare prospects seamlessly.
How to get B2B healthcare database
The healthcare industry is highly competitive, and getting the right b2b healthcare database can be a make-or-break factor in determining success. Whether you're marketing a new product or service to doctors, doing research in the healthcare field, or looking to connect with key influencers in the medical community, having an up-to-date and comprehensive b2b healthcare database can make all the difference.
In this article, we'll discuss how you can get access to a reliable and accurate b2b physicians and healthcare database. We'll go over what kind of data to look for, as well as tips for finding quality sources that will give you the best results. Read on to learn more!
How can b2b marketing be used to reach physicians?
The internet provides vast opportunities for b2b marketers to connect with physicians and promote their products or services. Here are a few ways b2b marketing can be used to reach physicians:

1. Use social media platforms like LinkedIn, Twitter, and Facebook to connect with physicians. Share relevant and interesting content that will help them in their work.

2. Make use of online forums and discussion groups where physicians are active. Share your expert insights and help them solve their queries.

3. Develop a strong presence on relevant online directories and review sites like Yelp and Google My Business. Make sure your listing is accurate and up-to-date.

4. Invest in targeted online advertising campaigns that specifically target physicians. Use keywords they are likely to search for when looking for products or services like yours.

5. Send out customized e-mails and newsletters to physicians in your database regularly. Include relevant information about your latest offerings, discounts, or promotions.
Wondering how the healthcare email database helps?
If you're looking to tap into the healthcare sector, a healthcare email database is probably the perfect way to reach the potential audience.
These days, no marketing practices will help you identify and reach the right audience as healthcare data do. Also, your expensive premium ads will fail to offer the conversion ratio as promised.
Invest in Quality data with Ampliz Healthcare Data
According to research, the $10 trillion healthcare industry is growing massively. According to Verified Market Research, the Global healthcare market will reach $665.37 billion by 2028. Also, The Centers for Medicare and Medicaid Services predicts that US national healthcare expenditure reached $4.1 trillion in 2020, or $12,530 per person, and is expected to reach $6.2 trillion by 2028.
Compared to other countries, US healthcare is more expensive. Deloitte forecasts that US health spending will surge from $4 trillion in 2020 to $8.3 trillion by 2040.
Today decision-makers, business leaders, and marketing managers are often struggling and trudging down to reach the right healthcare executives. Manually searching for your healthcare execs and their contact information will never help you reach the healthcare community instead it cost your time and resources.
But to transform your reach and business results, Ampliz's Healthcare database is here to take the burden of a manual search.
Hence, to reach the right healthcare providers and maximize your business results at a competitive healthcare data is the key. Ampliz Healthcare data provides a highly reliable and accurate Healthcare Email list to bridge the gap between your marketing campaign and the buyer personas.
By leveraging the Ampliz Healthcare database you can:
Target Healthcare Market Campaign
Access Verified & Accurate Healthcare Data
Hit the right healthcare providers and physicians
Witness more healthcare opportunities
#1. Target untapped Healthcare Market
In business, sending the right message at the right target audience is all you need to scale your business.
Our Healthcare database enables you to reach the right healthcare professional at right time.
Access the right information on multiple intelligent data fields including medical practice, job profile, geographic location, specialty, and more.
At Ampliz, we guaranteed above 95% accuracy in data claims.
#2. Access Verified & Accurate Healthcare Data
Ampliz Healthcare data is built on the mission to simplify all your prospecting and help you reach the right healthcare prospects who matter the most to your business service and solution. . Hence every data in our Healthcare database goes through rigorous research and validation process to ensure every contact is a potential lead.
Connect with top healthcare professionals and gain more healthcare opportunities as per your target market.
Generate Higher Revenue With Ampliz's Healthcare Marketing List
Ampliz Healthcare data focuses on providing reliable and unrivaled healthcare marketing lists. Our Healthcare contact list is a single-stop solution to cater to all your healthcare marketing and recruitment needs.
By accessing our Healthcare marketing list, you can target healthcare executives and top professionals from the industry. A healthcare database helps you pinpoint the potential healthcare professionals and garner revenue with healthy margins.
Gain Access Across Multiple Channels
When it comes to business, it is vital to know who is your target audience and the buyer's persona.
Ampliz's Healthcare Marketing List enables you to access multiple channels to reach out to targeted customers, helping in building strategic and trustworthy relationships.
These multiple channels are:
Email Marketing
Social Media Marketing
Fax Marketing
Telemarketing
Direct marketing
Get B2B Healthcare Data Access for Successful Campaigns
Wanted to gain traction through your next marketing campaigns?
With our Healthcare Contact list, you can gain access to accurate healthcare data and reach various healthcare professionals including doctors, physicians, specialists, clinics, mental health facilities, registered nurses, and healthcare agencies in the USA and all across the world.
Data is critical when it comes to reaching the right healthcare professionals and healthcare execs in the growing healthcare market.
In healthcare marketing, making the connection is not as hard as it looks.
With advanced data attributes, it's easy to access the target audience and plan your creative strategy for your business.
But in healthcare marketing, data credibility and reliability arise as even with a good review you cannot get the authenticity.
And with irrelevant data and lack of information might lead to lower ROI and degraded customer experience.
Hence, to unlock the real value of data for healthcare marketers, Ampliz Healthcare Data intelligence gives you in-depth insights to target your business calls and email campaign as per your target audience.
Our Healthcare Database is secure, comprehensive and has gone through a series of security processes such as:
Data verification
List building
Data profiling
Data cleansing
Email Appending
Social Media Appending
Contacts verification
Lead enrichment
With our Healthcare Database you can:
Get direct mailing lists of healthcare industry professionals for your business.
Having, the mailing list of healthcare executives enables you to connect with the target audience at ease.
Gain a customized healthcare email list to get more healthcare opportunities and expedite your business growth
Our healthcare database enables the sales team to accelerate business growth with an effective mailing list of healthcare industry professionals.
Identify new sales leads and customize products or services to generate more revenue.
Frequently Asked Questions On Healthcare Database
#1. What is a Healthcare mailing list?
A Healthcare mailing list is the compilation of data from various credible sources.
It enables Healthcare marketers to reach top healthcare professionals for better marketing campaigns and sales leads by providing a direct-purchase mailing list.
You can get a healthcare mailing list in pre-built format or in the customized format as per your requirement.
#2. How do Healthcare email lists help in B2B business?
In the Healthcare business, data accuracy and reliability are key in scaling your business.
And Healthcare email lists enable marketing managers to gain actionable insights into brand-building and revenue generation.
In this way, the Healthcare email list enables you to share the right message to the right healthcare prospect.
#3. Is Ampliz Healthcare Database best as per industry standards?
Yes. At Ampliz you get a comprehensive guide of healthcare professionals for generating responsive and verified sales leads.
It enables you to access data-driven insight for better marketing strategy and brand campaigns.
#4. What is the right time to buy Healthcare Marketing List?
The ideal time to buy a Healthcare email list is when you start creating marketing campaigns.
It will help you in converting your audience into verified leads.
#5. Can I purchase a healthcare Marketing list from Ampliz?
Of course, Why not! Ampliz Healthcare data is one of the pioneering providers in the healthcare marketing list.
You will get data-driven insights, accurate, responsive & verified Healthcare marketing list for your B2B marketing campaigns.
A healthcare email marketing list sounds like a perfect solution to raise awareness about your brand and get people interested in your products. The healthcare email list is equipped with the latest and most recent medical information that makes you to get in touch with the best healthcare professionals globally.
Get The Best Access To An Exclusive Healthcare Mailing List
Reach the healthcare key decision-makers, doctors, physicians, registered nurses, and other hospital executives effortlessly with the reliable healthcare mailing list.
The ongoing covid-19 pandemic has disrupted the world with remarkable challenges. The novel virus imposed a new threat to countless industries, impacted manufacturing sectors, and hit various businesses globally.
The healthcare industry spurred a rapid transformation to meet the healthcare challenges. Also, COVID-19 has created an incredible demand for certain medical equipment, and supplies and it was never easy to reach the key prospect in healthcare businesses.
To reach the targeted physicians, healthcare practitioners, registered nurses, and other healthcare professionals, get access to Ampliz healthcare intelligence.
Ampliz gives you reliable and complete healthcare intelligence based on their location, practice type, speciality, license, drug prescription, and more. Using these viable healthcare datasets, you can extend your reach and engage the right healthcare prospects who matter the most to your business.
If you are on a search for updated and verified healthcare data, Ampliz – healthcare data intelligence helps you reach the healthcare prospects across.
Who is the leading healthcare B2B database provider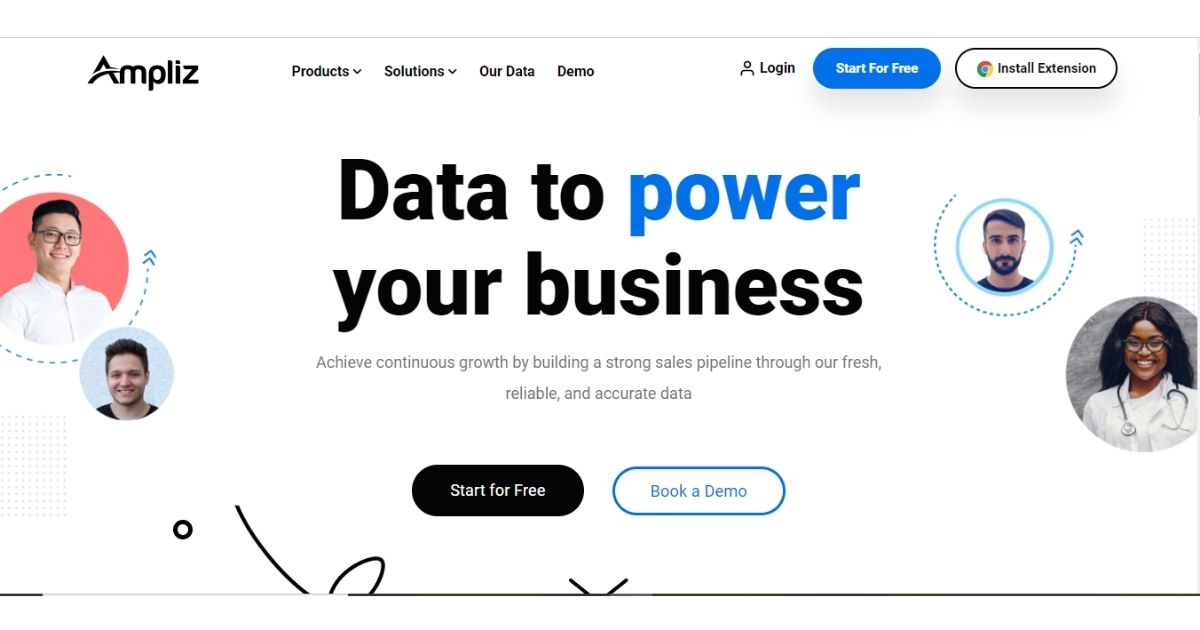 "Ampliz" is the leading healthcare B2B database provider in the healthcare industry. We compile data from credible sources and help you reach the targeted healthcare professionals. Our team of data experts sources accurate data intelligence and comprehensive contact information.
Our complete database contains viable data points like
Name
Business name
Industry type
Email address
Verified phone number
Speciality
Location, and more
Finding the right healthcare professionals for your drug procuring, marketing, lead generation, and recruitment requirements is a complicated task. This is where we come in! Our healthcare mailing lists allow you to reach healthcare professionals and simplify your direct marketing efforts.
This HCP marketing list includes doctors, specialized industry professionals, nurses, administrators, and more. With our various lists that cater to the needs of all different professions within the field of medicine, you will find success with your next campaign.
Using an accurate, precise, and comprehensive healthcare contact list you can direct your messages to the right prospects and fetch you the appropriate response without wasting much of your precious time.
The healthcare mailing list will give access to reach and connect with the targeted healthcare prospects who matter the most to your businesses. Our healthcare data goes through multiple layers of verification and several quantitative as well as qualitative checks.
Here is a list of the healthcare speciality categories to help you access and engage the entire healthcare business:
We have got you covered! Access and explore Ampliz healthcare datasets now.
Ampliz Healthcare Email Database: The Legit Way to Connect with Your Target Audience
The healthcare industry is one of the most dynamic and revolutionizing sectors in the world. Each day, the competition is surging with hundreds of healthcare providers budding across the globe.
Reaching the right healthcare prospects is now becoming a complicated task. Most healthcare professionals are busy catering to emergency cases, consistent medical conferences, various scheduled surgeries, medical consultations, appointments, and more.
It is harder to surpass all the gatekeepers and get an appointment with key healthcare prospects. If you are in search of genuine ways to approach the right healthcare prospect, it's crucial to have reliable information, practice type, speciality, location, etc.
With Ampliz, you will get access to personalized data of 2M+ physicians, 9.1K healthcare companies, 230K executives, and reliably more.
If you want to target and connect the specific healthcare professionals like cardiologists, dentists, surgeons, registered nurses, practitioners, critical care specialists, etc.
At Ampliz, we are consistently striving to offer you accurate and comprehensive healthcare datasets.
Healthcare data intelligence will help you know the targeted healthcare prospects, If you are into healthcare-related business, then the healthcare email list is the perfect solution that will help you take your services to the right healthcare and medical professionals.
Using authentic and accurate healthcare, you can narrow down and connect with multi-speciality doctors, physicians, surgeons, practitioners, nurses, healthcare centres, pharmacists, and the whole healthcare community.
Healthcare Mailing Lists FAQs
Will a healthcare mailing list be useful?
Yes, absolutely! A healthcare email list helps you reach all the frontline workers of the healthcare industry. Using a healthcare email list, you can reach the top decision-makers and promote your healthcare offering to potential healthcare prospects.
A healthcare mailing list helps you to find doctors from various medical speciality groups and also boosts your healthcare marketing and sales strategies.
How to generate more leads with Ampliz's healthcare mailing lists?
An updated and organized email list automatically generates more leads each day. On top of that, marketers generally run behind the latest trends, tactics, and strategies and most of them can run a little more distance to fill up their funnels.
From Ampliz's healthcare mailing lists, you can drop your message to the correct inboxes, successfully convert your future leads into appointments and also raise the height in a very short span of time.
Who is the best healthcare email list provider?
Of course, it is AMPLIZ, right in front of you! You can find millions and millions of healthcare email list providers, but if you are searching for the best healthcare email list provider in the USA, then you should hop on to Ampliz. You find a range of doctors, physicians, therapists, nurses, medical executives, pharmacists, surgeons, PPE suppliers, and medical device or equipment manufacturers, all at one-go with a healthcare email list.
How do I buy a healthcare email list?
With Ampliz, get the best healthcare mailing list from credible sources. Many list providers are offering outdated or obsolete healthcare data without any assurance. Ampliz guarantees you an accuracy of 100% deliverability. We give you the biggest collection of healthcare email lists with accuracy and deliverability.
Where do I get a healthcare email database in the USA?
Ampliz is the name! Get the most authentic and updated healthcare email database in the USA here. Our database goes through many layers of verifications and they are collected from reliable sources and trusted third-party vendors. Get the most reliable contact information and all that you require, in our healthcare email database.
How does Ampliz collect data? What are the sources?
To supercharge your campaign performance, our data experts collate authentic data from a series of credible offline & online sources. We at Ampliz source data from the following reputed sources:
Government records
B2B Directories
Annual Reports, SEC Filings
Newspaper Subscription Offers
Sign-up data from email Campaigns
Business trade show attendee lists
Public Record Information
The registration process for subscription sites
Community postings
Nationwide utility transaction reports
Transactional data
Phone surveys with every business
Web-based Registrations and/or offers
Business trade magazine subscription offers
How reliable and accurate is Ampliz's healthcare email list?
We constantly cleanse, validate & verify every single data attribute before it enters our master data repository of 400+ Million contacts.
We at Ampliz, offer close to 75+ intelligent data fields that cover company information including organizational & CVDM Executives' structure, Events exhibited, team size, revenue, IT spends & a lot more.
Who are the best companies to work with when buying a healthcare email database?
Among all the best US email database providers, Ampliz is considered to be one of the legit providers. Ampliz complies and gives you the right information from various credible sources. Ampliz has a stringent validation and data verification process to prevent data decay.
When you need to reach healthcare professionals for marketing purposes, our mailing lists allow you to find a variety of medical science professionals including doctors, nurses and administrators.
If you're looking for healthcare mailing lists that can help with your direct marketing efforts, contact us today! For more updates and information related to the latest hacks and insights of the healthcare world, visit our blogs on our website Ampliz. Also, do not forget to discover our Contextual Healthcare Intelligence platform, where you can find the best-personalized data.
Nailing the B2B Healthcare Data Problem with the Right Solution
Being a healthcare service provider, you might be facing myriad challenges. These could range from procuring and promoting medical supplies to monitoring the complete healthcare ecosystem. Additionally, staffing your healthcare business the right way might also seem a challenge to you.
Are you looking for a quick fix solution for all your challenges?
Though several advertising tools and marketing practices exist in the healthcare industry, finding the right solution for your business is still an arduous task. Suppose you're in search of results-driven marketing practices to fix your healthcare business hurdles. In that case, robust healthcare data is what you need to reach your healthcare target audience and ease your complicated business tasks.
In the absence of a robust healthcare email database, you may encounter many problems. Let's decode each one of them here.
● As doctors, surgeons, and other medical specialists are busy with their emergency cases, scheduled surgeries, multiple appointments, and medical conferences, they barely get exposure to online advertisements. And therefore, these investments prove costly and end up hitting your ROI.
● It is massively tough to secure appointments with healthcare professionals due to their busy schedules, and chasing the right prospects is like a mountainous task to many.
● Lack of accurate contact information is a predicament one cannot overlook as it leads to missing the high potential prospects.
Your Ideal Solution: Fresh, Reliable, Accurate, and Efficient Healthcare Data
Healthcare data gives you clear insights into potential healthcare audiences. Using a reliable healthcare database, you can get to know the possible prospect who will most likely buy your products or services. By knowing and understanding your audience's preferences, you can convert many of those prospects into loyal customers.
By sharing personalized messages or addressing a solution to the audience, you can delight your end prospects and build credibility.
Replace Unstructured Data with Smartly Segmented Healthcare Data
Having millions of scraped healthcare data doesn't help you generate sales or rep campaign success.
Instead, segmented healthcare data can improve open rate and email deliverability efficiently compared with unstructured data. Using the segmented data, you can either run geo-targeted campaigns or deploy personalized messages to audiences with similar purchase intent.
An organized email database does wonders for your marketing campaign. When you deliver the right messages to the right audience, it brings in more conversions and increases your marketing ROI.
Execute Personalized Email Campaigns
By sharing a personalized email to the right audience, your customer would love to hear from your business, and you can expect a higher customer engagement.
Healthcare Data: A Wise Investment
According to the Direct Marketing Association (DMA), nearly 4300% of businesses have gained an excellent ROI using email marketing. So there is no harm in experimenting with email marketing using results-oriented healthcare data.
healthcare data is an excellent way to bridge a positive relationship with the prospects and enables your business to engage with the right audiences where it is impossible with advertisements.
Witness 7X growth using Ampliz's Healthcare Data
Acquiring the comprehensive healthcare email list opens up a window of opportunity to extend your reach and get in touch with the targeted healthcare professionals. Using the validated healthcare data, you can figure out the preferences of the healthcare prospects and approach the right audience more meaningfully.
Partnering with a viable healthcare data provider creates wonders for your campaign by helping you with reliable and authentic healthcare data. With the correct healthcare data, you can get to know the contact information of the healthcare professionals, i.e., name, verified phone number, active email address, location, zip code, practice type, professional experience, hospital affiliations, NPI numbers, license information, technology usage, and more.
Win with Ampliz's Actionable Healthcare Insights
A healthcare database is a direct line to reach and interact with the targeted healthcare audience. A healthcare email database with validated contacts gives qualified leads whereas other marketing platforms struggle to make any impact.
Get your custom-centric healthcare data based on your campaign's requirements and discover multiple marketing opportunities:
Data profiling from credible sources: No matter what market niche you are targeting, we will help you source accurate data from credible sources. healthcare data enables you to increase the customer base, enhances your business intelligence, and improve marketing performance.
Data Compiling: Data experts will tailor a list of the responsive audience that best fits the multi-channel marketing campaign. The email address, phone number, location, purchase preferences are collected and accumulated from credible sources without breaching GDPR compliances and data policies.
Intelligent Segmentation: healthcare data is smartly segregated to simplify your marketing efforts and is power-packed with unique data attributes per your healthcare campaign requirements.
Validation and Verification: Personalized healthcare data undergoes a two-step verification process to eliminate outdated entries and obsolete contact information. Our B2B data is sourced, validated, and updated as per your marketing demands.
Data enhancements: An efficient database requires frequent updates since prospects keep changing their phone numbers, and emails, switching to new job profiles and shifting their locations.
So plan your next healthcare marketing campaign with Ampliz Healthcare data. With Ampliz's accurate and intelligent healthcare data, your marketing efforts will get the right direction and impetus to translate into commercial success as planned or desired.
To know more, kindly reach our data experts at [email protected] to unleash more healthcare opportunities.
Conclusion
Getting a B2B physician and healthcare database can be extremely beneficial for your business. With the right supplier, you can get access to up-to-date and accurate data that will help you reach out to physicians in an effective manner.
We hope our tips have helped you find the perfect database provider for your needs and equip you with all the necessary tools to maximize success from your next marketing campaign.