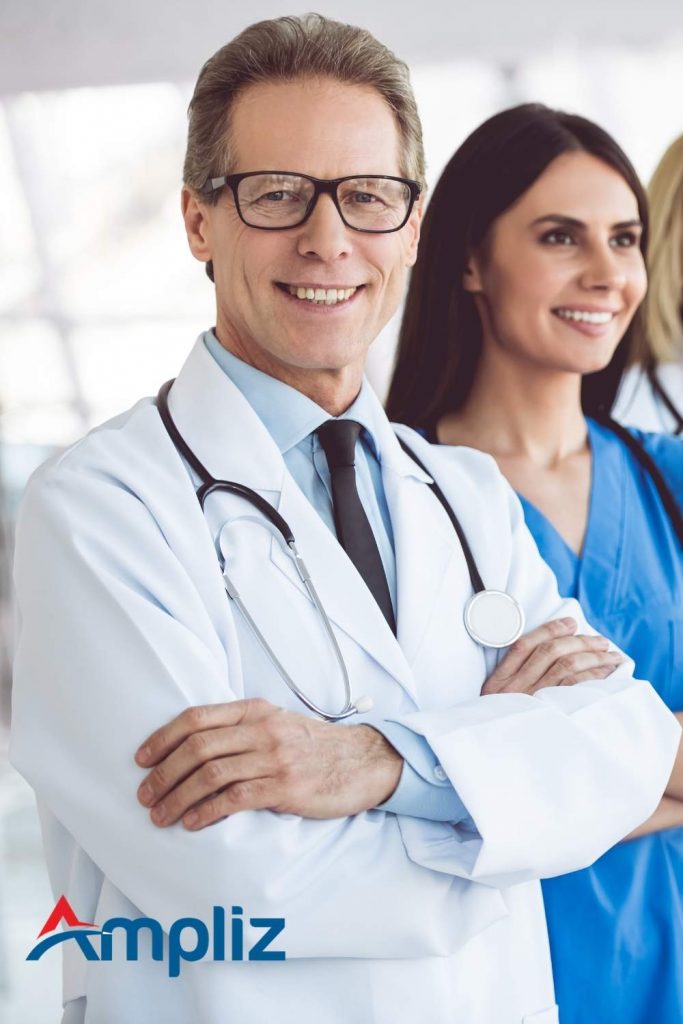 The pandemic has claimed many lives yet provides an opportunity for many to still have and save others' futures.
For both scenarios, it requires collaboration from many parties.
To collaborate, one must have the right and credible B2B healthcare data.
For credible B2B healthcare data, you need to have the right B2B healthcare data providers.
Why Healthcare Data is the Next Frontier for Tech
With the rise of technology, there has been a significant increase in interest and investment into health care data. This is because healthcare data refers to all the information that is gathered during patient care.
When you go to a doctor, a lot of information about your health is collected, processed, stored, analyzed and disseminated. Some people are surprised by how much information can be collected from an individual over time; for example, genetic sequencing takes at least 10 years before any useful conclusions can be drawn.
In the past, the healthcare industry has been slow to adopt new technologies. But now, more and more providers are adopting technology to increase efficiency and cut costs. This is a great time for data-driven innovation in healthcare!
As a health care provider, you may have questions about how your organization can use data-driven innovation to improve quality of care while reducing costs.
Healthcare data is useful for healthcare startups, established corporations, and pharmaceutical companies for numerous reasons. It's a powerful tool that offers them insights and helps them identify the needs within a customer or physician segment, and target geographical areas.
Healthcare data can be used to develop new products, help with marketing campaigns, improve clinical research efforts by identifying trends in patient populations that are of interest to drug manufacturers or providers of medical devices.
The healthcare sector is seeing immense growth worldwide, and the USA is no exception to the phenomena.
Healthcare takes more than 10% of the GDP of most developed countries.
In fact, for the USA, this figure will be close to 18% by the end of 2019.
This isn't surprising—the healthcare sector is the USA's largest employer. Incidentally, the US spends considerably more than the world's average on healthcare.
The USA has the most outstanding healthcare spending, which was already sitting at $10,224 per capita in 2019 that rose even more in 2020.
There were 784,626 companies in the USA healthcare sector, and more have cropped up due to pandemics. USA Spending on healthcare was already past the 3.6 trillion dollars mark in 2019.
Opportunity in a large part of this trillion-dollar industry still remains unexplored.
Healthcare providers are coming up with new treatments and innovations to combat diseases. They have started to incorporate preventive care as well as expanding mental health coverage for those who need it most.
To make the best out of this opportunity, you will need the assistance of top B2B data providers.
The US healthcare system is growing at a brisk pace. As you all know, the US is the wealthiest nation in the world. It's not surprising that it would be home to some of the best hospitals and medical centres in the world.
We're here to give you a list of what we think are top healthcare providers in US today.
Here is a comprehensive list of B2B healthcare data providers.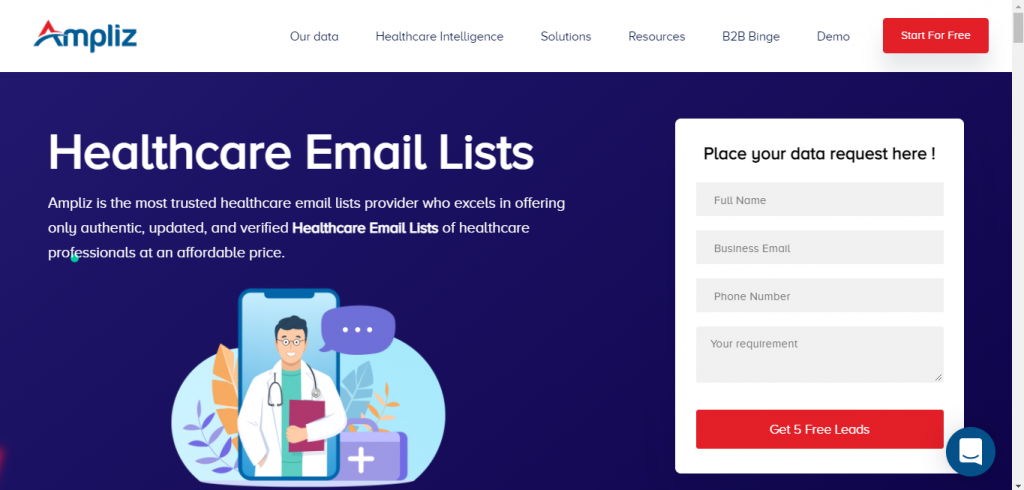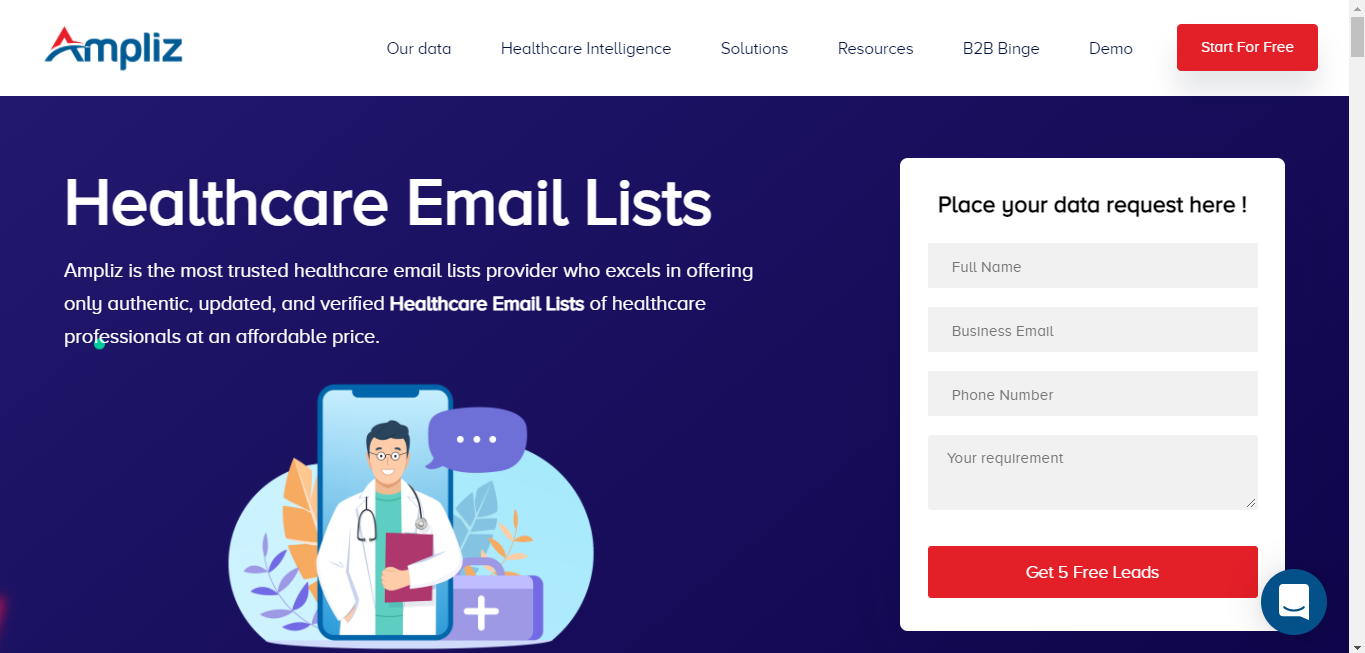 Ampliz is the leading provider of healthcare b2b data, physicians' data, and intelligence on hospitals, physicians, and various healthcare providers.
Our mission is to provide customers with actionable insights through our comprehensive Healthcare Data & Intelligence services.
Ampliz healthcare Intelligence is globally one of the most comprehensive health care contact solutions.
It has global data of hospitals, physicians to target critical decision-makers and personalize your value offering.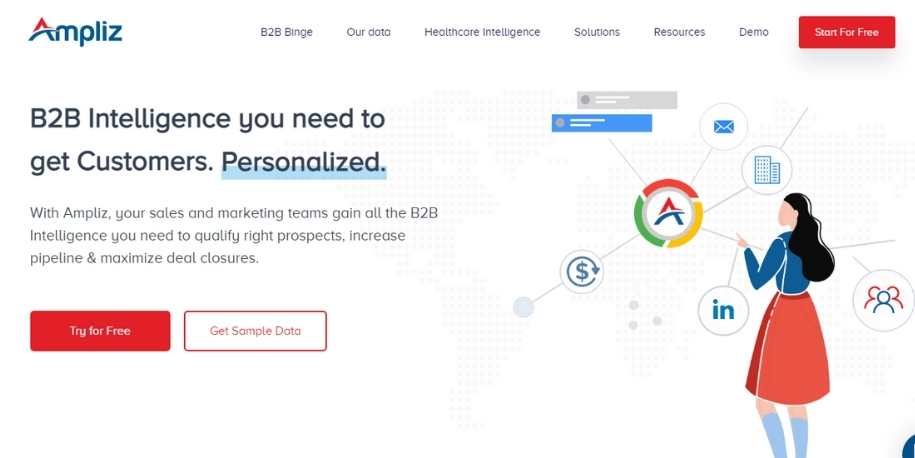 Ampliz's Healthcare database has 4.6 million physicians, 8200+ hospital contacts, 230 thousand healthcare execs contacts, and guarantees to have more than 95% accuracy.
The healthcare database is refreshed every 2 months with the latest AI-based bleeding-edge technology to provide the latest information.
The data is also manually verified for any discrepancies missed by the data engine to ensure we deliver you correct and relevant data every time.
You can set up your ideal customer persona by choosing the designation, technology, and various other factors and reach out to more relevant contacts in a short time.
Favorite your selected contacts that you think are right for you and export them in a minute to your favorite CRM or spreadsheet.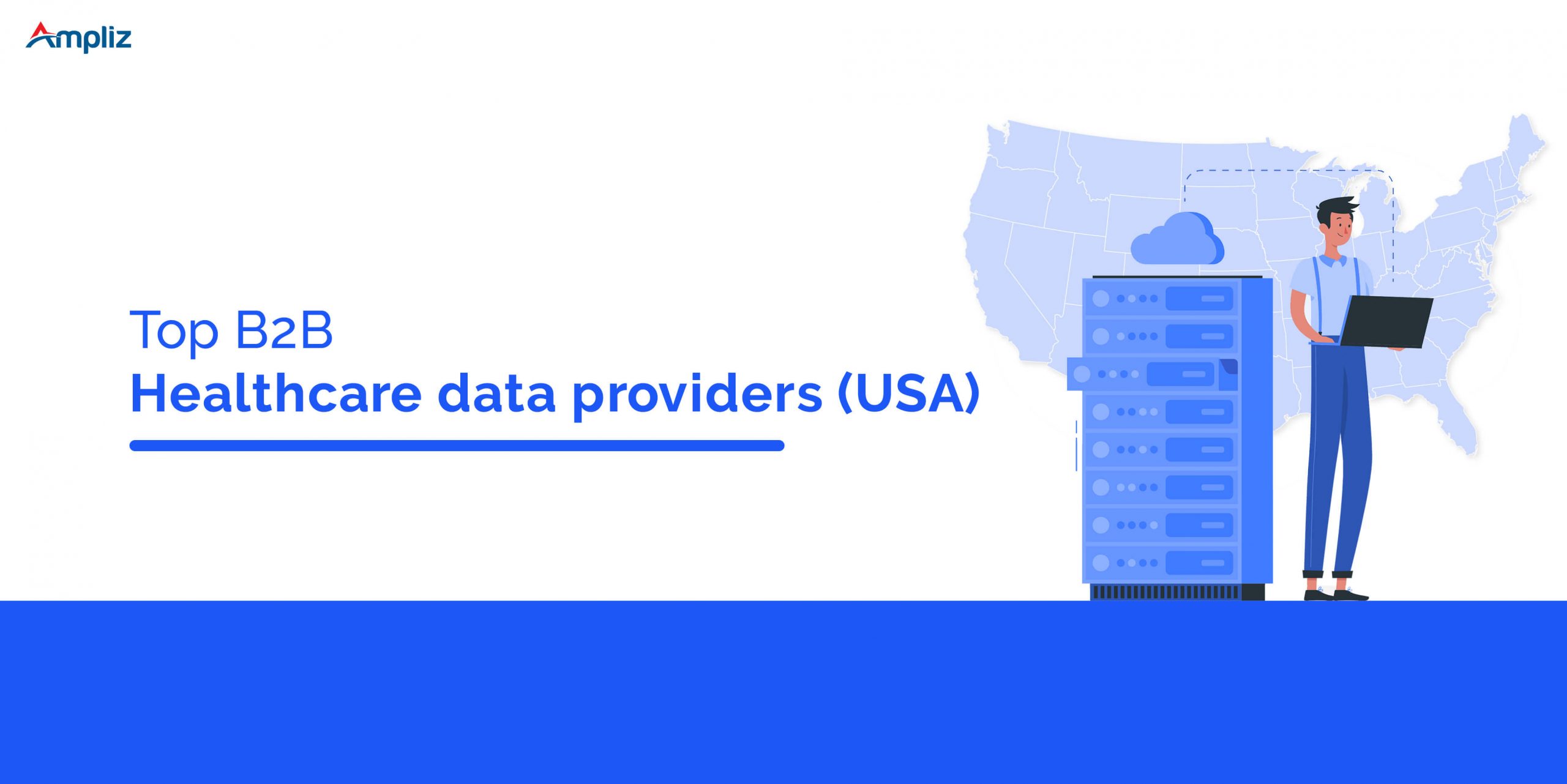 Set up your buyer persona and get the list of healthcare organizations and contacts that match your tailored messages to run highly targeted campaigns.
You can ask for custom data based on your specific persona requirements in mind. It is delivered blazing fast by the data specialists working 24/7 to serve you.
#2. BinaryClues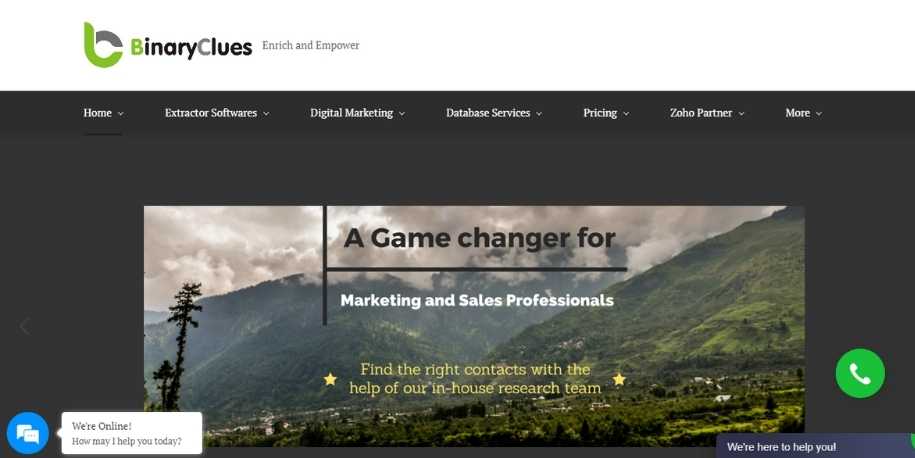 BinayClues list of USA hospitals comes with complete contact information. It enables complete flexibility in terms of implying varying use cases.
You can learn more about your customers by looking deeply into their USA Email Database.
Reach out directly through your customer's inbox with their private email address list of US hospitals. Involve your targeted audience with customized email campaigns.
#3. Definitive Healthcare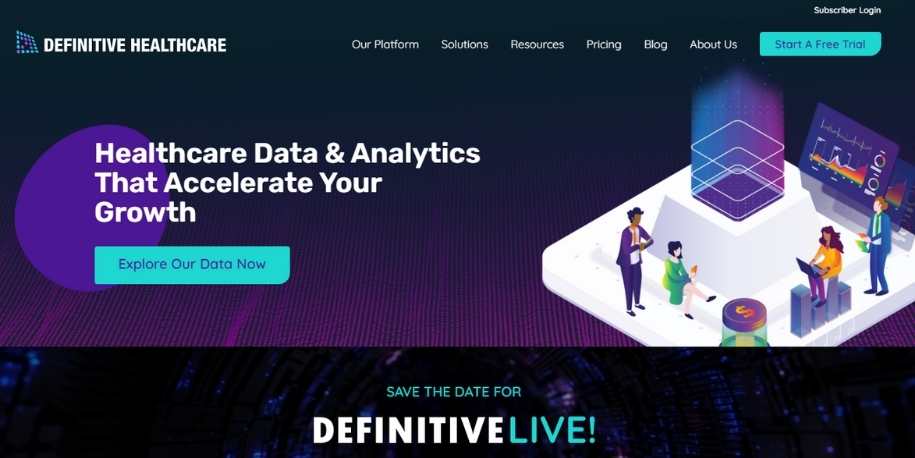 Definitive Healthcare is one of the leading provider of data and intelligence on hospitals, physicians, and various healthcare providers.
Its product suite delivers comprehensive and highest-quality data. The enterprise's data provides clients with the analytics and insight needed to effectively segment and research the healthcare provider market.
#4. Healthcare Mailing
Healthcare Mailing has a highly targeted prospect list based on physician speciality, medical affluent, geographies, and job titles.
You can effectively reach healthcare providers through multiple channels through verified data.
#5. Medico Reach
Medicoreach is a global b2b healthcare data provider with an extensive data set of emails.
They claim to deliver a large dataset of medical contacts with in-depth information to have a great marketing campaign.
#6. Span Global Services
With their healthcare mailing lists, Span Global Services make it thinkable for marketers to clinch opportunities present in the healthcare sector.
They make their move by connecting with doctors, physicians, therapists, nurses, and other medical executives.
#7. Mail Prospects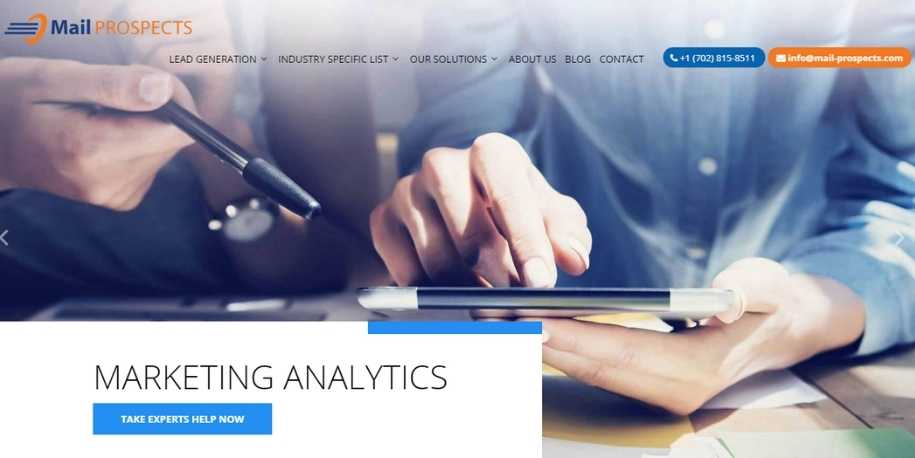 Mail Prospects' healthcare industry email list offers healthcare marketers uninterrupted access to MQLs – crack into niche markets and verticals smoothly.
Our healthcare email list makes B2B communication highly responsive from the get-go.
With our mailing lists, you can enjoy global reach, extensive data, and ready-to-use data on a budget.
#8. Lake B2B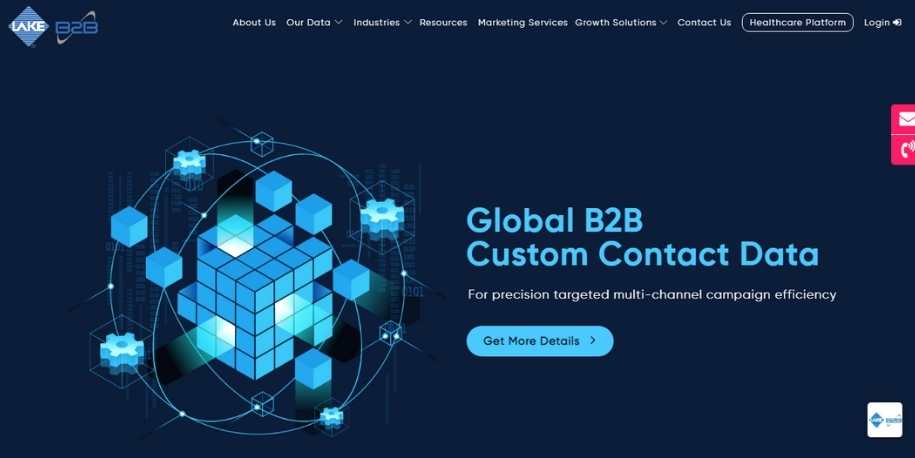 Lake B2B targets C-level executives in an industry that requires connecting with many stakeholders such as clinicians, administrative staff, financial executives, and IT representatives.
LakeB2B's Healthcare Email Lists will help you strike a chord with the healthcare industry's top-tier members at pocket-friendly costs.
The healthcare industry may pace slowly, but your marketing efforts need not.
#9. Healthlink Dimensions
HealthLink Dimensions offers hospital and health system intelligence to help you reach organizations vital to your business.
Their healthcare facility demographics and critical contacts database will improve and increase your outreach efforts, ensuring your message gets to the right individuals.
#10. HC Marketers
Healthcare Marketers deliver Quality Healthcare Email List, which helps you bridge the communication gap between you and your target audience.
HC Marketers also give you entrée to the best leads worldwide, based on specialty, geography, and lifestyle data.
#11. Medicoleads
Medicoleads provide an exhaustive list of email addresses to reach the right healthcare provider at the opportune time.
One can find complete contact information through their email list. So that you can run highly targeted campaigns and have access to better ROI.
#12. Tophealthcareleads
Top Healthcare Leads has healthcare leads that will support you in business growth.
With more than a million records and a range of highly targeted healthcare email lists to choose from, their email list is considered a substantial emailing list.
Attract top-level healthcare practitioners and decision-makers with healthcare email list marketing solutions.
#13. MMSLists
Great healthcare marketing data, developed and delivered to help you focus on your company's market.
They make sure your datasets are accurate, complete, scrubbed, and ready to go.
Thanks to an ongoing selection process, collection, and verification from the nation's leading healthcare professional associations and trusted select industry-specific sources, the datasets are highly detailed.
#14. Redi-Data
Redi-Data's proprietary healthcare database delivers the most complete selection of medical mailing and email lists on the market.
Create full pictures of your target audience using vital demographic, geographic, and practice-related information.
Refine your targeting using data on prescribing habits, procedures, and/or diagnoses to create mailing and email lists for relevant and specific programs that drive ROI.
#15. Doctor databases
Doctor databases offer you a targeted list of doctors, physicians, surgeons, chiropractors, and other medical professionals compiled in a directory data format.
This information is essential to every type of business. It doesn't have to be stringently connected to health issues – you may need to bargain your services or promote a new product.
#16. ZoomInfo
Zoominfo combines the business contact database with best-in-class tech to pinpoint your customers & deliver the intelligence you need to hit your number.
Irrespective of the industry, ZoomInfo holds one of the most extensive provisions of contact information for healthcare needs.