Looking to find list of companies in Singapore? In recent years, Singapore posed some severe economic challenges, yet it remains the center for foreign direct investment. Wondering why?
Being an independent state and only 50 years old, Singapore is regarded as the Economic Powerhouse that values diversity, multiple ethnicities, and multi-religious society.
The lion city experienced a horrid COVID breakout in 2019, leading to a partial lockdown of the city and disrupting the economy. It was also reported that the city economy was negatively impacted due to the worsening US/ China relations.
Even though the city experienced external issues giving the Economy of Singapore a hard time, the city still had several qualities that make it advantageous for companies to invest and start a business in the city.
This blog will cover the top 50 list of companies in Singapore that have the best market cap!
Booming Industries in Singapore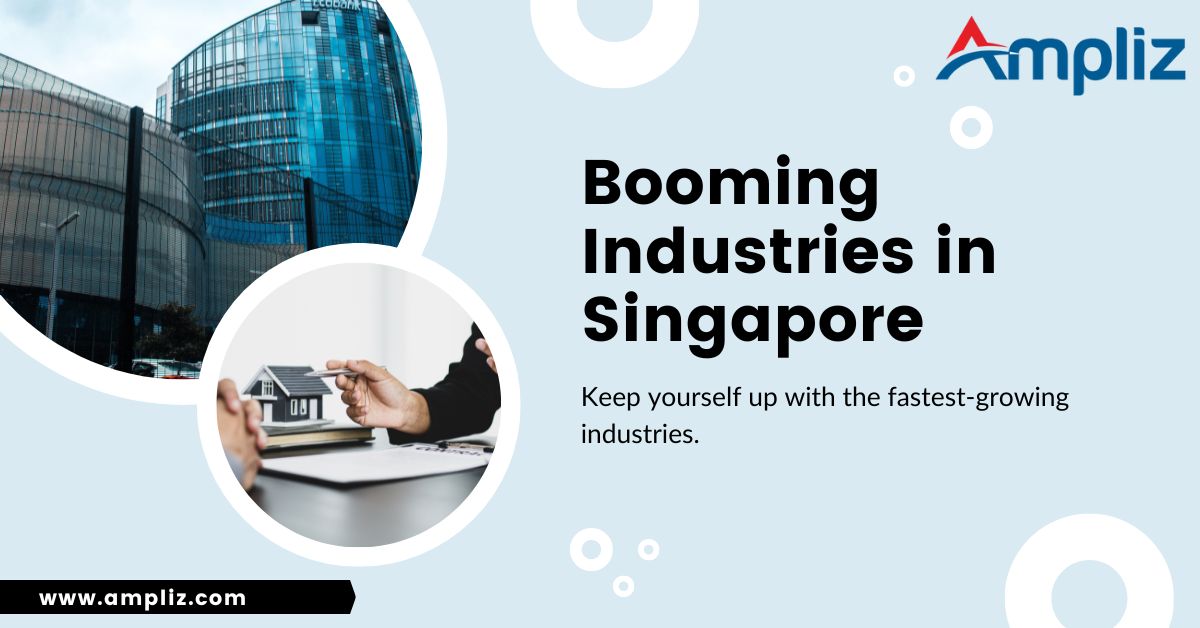 When you wonder about expanding your career growth, the first thing you aim to find is the best industry in the country.
Since we all want to achieve a high standard of living style, we ensure that we step into the best flourishing industry. As a result, there has been an exponential increase in demand for experts in multiple fields.
With the evolution of technologies and innovation in the approach to the market, multiple industries are performing exclusively regardless of the economy- repressing companies.
As far as you are updated and equipped with the booming industries and sectors, you are good to go with the market changes. Keep yourself up with the fastest-growing industries.
The top-performing industries in Singapore 2023 are:
Banking and Finance
Software and Technology
Healthcare
Manufacturing
Artificial Intelligence
Data Science and Analytics
Biomedical and Biotechnology
Mental health
Tourism and Hospitality
Digital and Internet Marketing
Often some companies want to leverage an industry-based top companies in Singapore Database while targeting. The respective database helps in acquiring detailed information on companies based on specific industries.
Most companies allot multiple resources, spend an awful amount of time, and put in a hard effort to acquire the data.
After gathering the data, the data researchers are supposed to verify and authenticate the collected data. Also, it needs to be updated regularly to ensure that it is fresh and usable at any given time.
However, you can skip the hassle of collecting, screening, verifying, and updating sales intelligence. Try out Ampliz APAC Sales Intelligence.
You can have instant access to millions of top companies in Singapore and Asia Pacific Region companies within a few clicks. Each data record is thoroughly analyzed and verified by a three-step verification process before being recorded in the datasheet.
Real Also: Top B2B Companies in Singapore
Top 50 List of Companies in Singapore 2023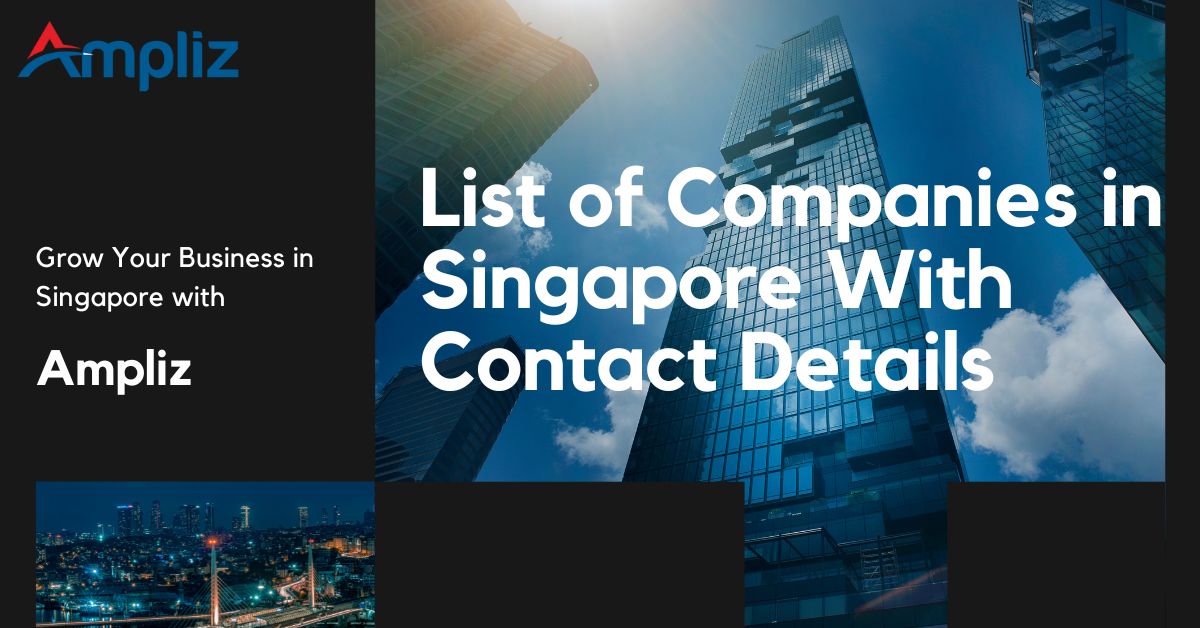 Singapore has an extensively developed market for goods and services that are of the highest quality! There are numerous success stories linking the progress of companies adopting a strategic approach that have their base in Singapore.
For those wondering about the best companies in Singapore, here is the list of the top 50 companies in Singapore as of January 2023. Let's take a look.
| | | |
| --- | --- | --- |
| S.No. | Singapore Based Companies Name | Market Cap |
| 1 | DBS Group | $65.21 B |
| 2 | Sea (Garena) | $29.23 B |
| 3 | OCBC Bank | $41.15 B |
| 4 | UOB | $38.35 B |
| 5 | Singtel | $32.11 B |
| 6 | Wilmar International | $18.91 B |
| 7 | Singapore Airlines | $12.35 B |
| 8 | CapitaLand Mall Trust | $10.88 B |
| 9 | Grab Holdings | $10.48 B |
| 10 | ST Engineering | $9.15 B |
| 11 | Keppel | $8.84 B |
| 12 | Jardine Cycle & Carriage | $8.41 B |
| 13 | Ascendias Reit | $8.25 B |
| 14 | Flex | $7.79 B |
| 15 | Singapore Exchange | $7.51 B |
| 16 | Genting Singapore | $6.8 B |
| 17 | Mapletree Logistics Trust | $5.83 B |
| 18 | City Development | $5.38 B |
| 19 | BOC Aviations | $5.33 B |
| 20 | UOL Groups | $4.24 B |
| 21 | SembCorp | $4.18 B |
| 22 | Olam | $3.93 B |
| 23 | Venture Corporation | $3.61 B |
| 24 | SATS | $2.38 B |
| 25 | Suntec REIT | $3.24 B |
| 26 | Netlink Trust | $2.59 B |
| 27 | United Industrial Corporation | $2.50 B |
| 28 | Kulicke and Soffa Industries | $2.40 B |
| 29 | Kenon Holdings | $2.17 B |
| 30 | ComfortDelGro | $2.15 B |
| 31 | HPH Trust (Hutchison Port) | $1.78 B |
| 32 | TDCX | $1.45 B |
| 33 | Yanlord | $1.41 B |
| 34 | Maxeon Solar Technologies | $1.08 B |
| 35 | Singapore Post | $0.92 B |
| 36 | Pacific Century Regional Developments | $0.91 B |
| 37 | PropertyGuru | $0.76 B |
| 38 | Karooooo | $0.76 B |
| 39 | Riverstone Holdings | $0.70 B |
| 40 | IGG Inc | $0.46 B |
| 41 | Grindrod Shipping | $0.45 B |
| 42 | Genius Group | $57.2 M |
| 43 | Triterras | $58.86 M |
| 44 | Society Pass | $47.19 M |
| 45 | Guardforce AI | $11.88 M |
| 46 | Thomson Medical Group Ltd | $1.52 B |
| 47 | Yanlord Land Group Ltd | $1.48 B |
| 48 | GuocoLand Ltd | $1.42 B |
| 49 | OUE Commercial Real Estate Investment Trust | $1.40 B |
| 50 | Fraser and Neave Ltd | $1.35 B |
Apart from the above Singapore company list, if you want to access the complete Singapore all company name list' contact information for your business expansion, reach AMPLIZ.
Expand Business in Singapore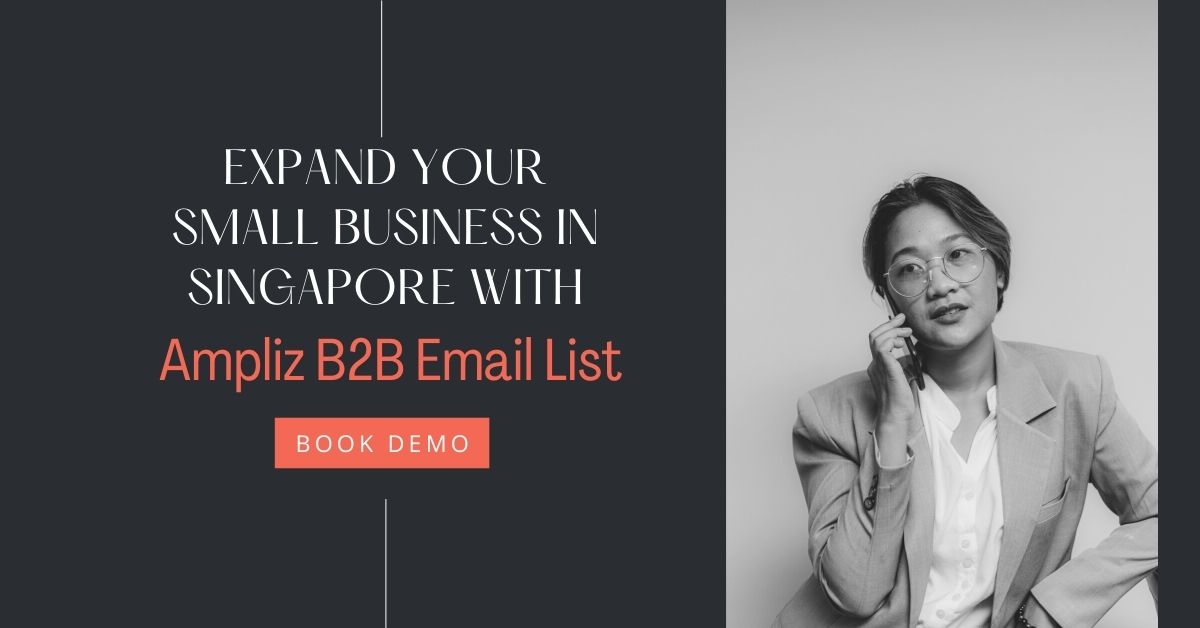 Planning to expand in Singapore but do not have the necessary local expertise? If you are a business owner who wants to set up in Singapore but also save a lot of time and money and ensure that you abide by the local protocols.
You can take advantage of several PEO or EoR services. Begin with setting up a small workforce on the ground and running operations without having a legal entity in the lion city.
Read Also: Business Opportunities in Singapore to Explore
Expanding Business in Singapore can be the best option for your business! It creates and offers the best working environment globally, with low taxes, a strong legal framework, and smart government initiatives.
As Asia is developing, Singapore continues to be the premium location for businesses to expand their business in Asia.
Additionally, it also reduces the cost of expansion plans when you engage in PEO/ EoR services. It is because of the paperwork reduction and the best setup costs with a flexible alternative.
All you need is to have a task force ready to begin the expansion plans quickly. With the help of APAC sales intelligence target the right audience and expand your business.
List of Companies in Singapore with Email Address
Singapore is the ideal solution for global businesses to have their headquarters. Thanks to the strong trade systems and investments that made Singapore the most competitive Asian.
If you are looking to situate your international HQ, your company benefits a lot:
Singapore offers a network of more than 50 comprehensive Double Taxation Avoidance Agreements
Singapore offers multiple free trade agreements and the Investment Guarantee Agreements.
Get the protection of ideas and innovation- thanks to the strict enforcement of Singapore's strong intellectual property laws.
Singapore has lately carved out several comparative niches and made itself the best and most convenient location in ASIA for starting a business.
It has popularly gathered a likeliness for companies with their headquarters, branch offices, and withholding to access the wider markets!
The lion city continues to be the Business hub for ASEAN and a wider Asia- Pacific due to the highly educated workforce, developed infrastructure, excellent air transport links, and much more.
Several companies adopt Singapore as a base from where you can access the neighboring markets.
Singapore Companies Database
Singapore is a powerhouse of multiple list of sme companies in singapore, and if you are looking to have Singapore companies Database. The best approach lies in gathering the information and finding the right key decision-makers.
Do you have an ideal customer profile in your mind and want to find them in the Singapore location? When you go through the hard way- it involves data gathering and data screening, and then it needs to be maintained regularly to ensure that it is true to its nature at any point in time. However, it calls for many resources, time, and efforts for the companies to invest.
Did you know that you can have millions of databases in hand in 60 seconds? Ampliz offers you a filtered and verified database for all the companies in Singapore.
Whether you are looking to target a marketing company or a food and beverage company, have the data in your hand with one click.
Ampliz provides a Singapore Company Database that contains millions of data on companies with more than 25 data attributes. You can have the best list of companies in Singapore with email addresses.
Whether you are into marketing or recruiting, you can leverage these millions of data in one go and have your plans streamlined, with the list of industries in Singapore.
Therefore, when you have the ideal customer profile shaped up and have the sales and marketing decks ready, you can quickly take the help of the pre-created company database.
This will help you save time and resources spent on finding the leads; this can help create efficient marketing campaigns.
There are multiple B2B companies Database Providers in Singapore, however, you have to choose the one that is reliant and offers verified data intelligence.
Ampliz is the leading B2B Database Provider in the APAC region. So, next time you need B2B data intelligence, you reach out to Ampliz for their millions of list of companies in Singapore email address.
Singapore Business Email Database
It is always essential to have data-driven decisions. Looking for Singapore Business Email Database? You are on the right platform.
Take a step ahead of your competitors and engage in more thought marketing and recruiting data-driven campaigns. Why? Data-driven marketing helps focus on the right prospect, and the conversion rate for deal closure increases.
You can also take up Ampliz Singapore Business Email Database to enlarge your client database. Ampliz makes sure that instant access to millions of databases and filters enables you to have accurate details of profiles.
All these boost your marketing efforts and make your campaigns more specific.
Ampliz has a set of company email databases that goes through three verification stages before making it into the data repository.
With over 800 data researchers, Ampliz ensures that each company's information is verified and validated by human resources, artificial intelligence, and machine learning.
Have updated and real-time information on Singapore all company name lists.
If you are looking for a list of companies in major cities from Singapore such as Raffles Place, Marina Bay, Tanjong Pagar, Orchard Road, Shenton, River Valley, Suntec City, reach Ampliz and get a list of top companies and industries lists in Singapore with their contact information.
Read Also: Companies in Malaysia
Read Also: List of Companies in UAE
Read Also: List of Companies in Australia
Read Also: List of Automotive Companies in Singapore
Read Also: List of Food and Beverage Companies in Singapore
Read Also: List of Companies in Saudi Arabia
Read Also: List of Companies in Taiwan
Read Also: List of Companies in Thailand