If you are a B2B marketer and looking to expand your business in APAC region? Then this is the right place to learn more about who is the best APAC B2B data providers.
Finding the B2B decision makers contacts and business information from Asian-Pacific region is now easy with APAC B2B data providers.
Connect with top level decision makers from different industries in APAC countries such as India, Singapore, Malaysia, Indonesia, Philippines, Japan, Australia, Thailand, New Zealand, China, Bangladesh, Vietnam, Cambodia, Taiwan, Afghanistan, Korea, Hong Kong and etc ; and expand your business with right target audience B2B data sets.
B2B Leads APAC
B2B leads is the key to the growth of businesses today. APAC is no different. The B2B market is seeing immense growth in the Asian pacific region. It can only be measured through the rise in B2B transactions.
B2B transactions in APAC will stand at a mind-boggling $1,356.28 billion by 2025, double of what it was, $671.32 billion in 2018, at a compound annual growth rate (CAGR) of 10.5%.
B2B revenue in Indonesia is swelling at a CAGR of 54.2%, and in Vietnam, it is increasing at a CAGR of 40.2%.
The immense growth can only be corroborated by the increase in the usage of B2B data.
Moreover, many businesses have cropped up in these years, trying to cater to the rising need for B2B data.
Here are few leaders who can help enterprises expand their business into the APAC region through their B2B data capabilities. Looking for Singapore SMEs business owners? Contact us
Best B2B Database Marketing Companies in Asia Pacific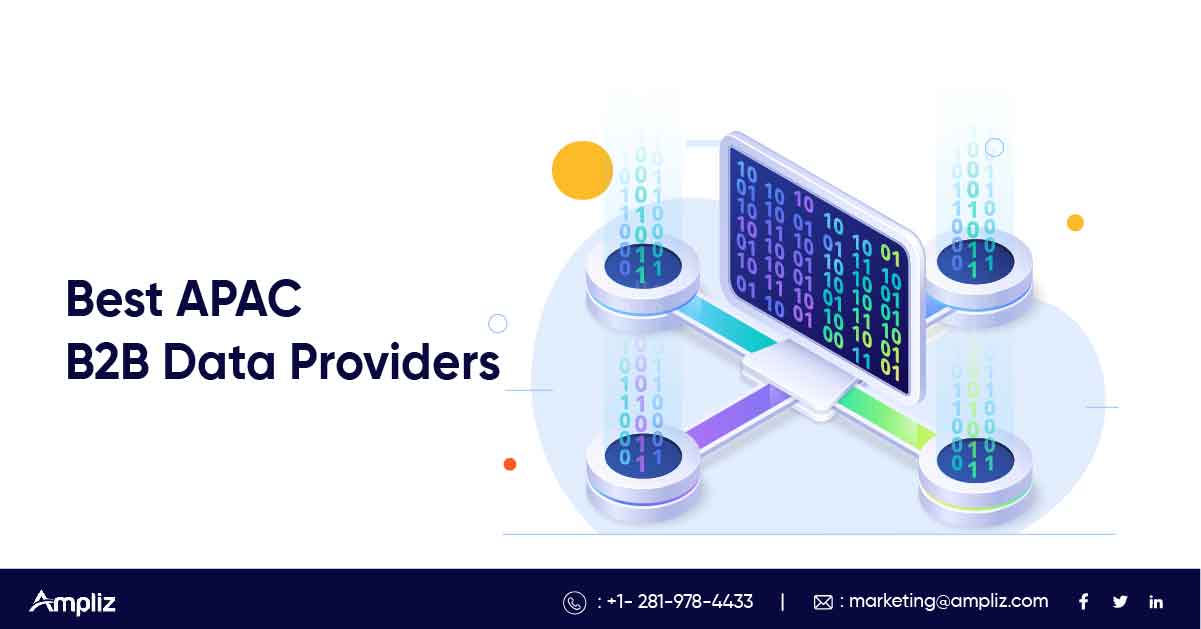 Span Global Services

Thompson Data

Seagrass Marketers

Value Prospects

CNCData

APAC Leads

Infoclutch

Datamaelumat

GlobalB2BContacts

Bookyourdata

Waveevo

Callbox

Leadbook

Dun & Bradstreet

Pitchbook

Contact Out

LeadIQ
Who is the Best APAC Data Provider in APAC Region?
"Ampliz" is the leading provider of APAC b2b data, with an extensive range of APAC B2B contacts and business databases to choose from. Email marketing is a highly effective way to market your products or services in the Asia Pacific region.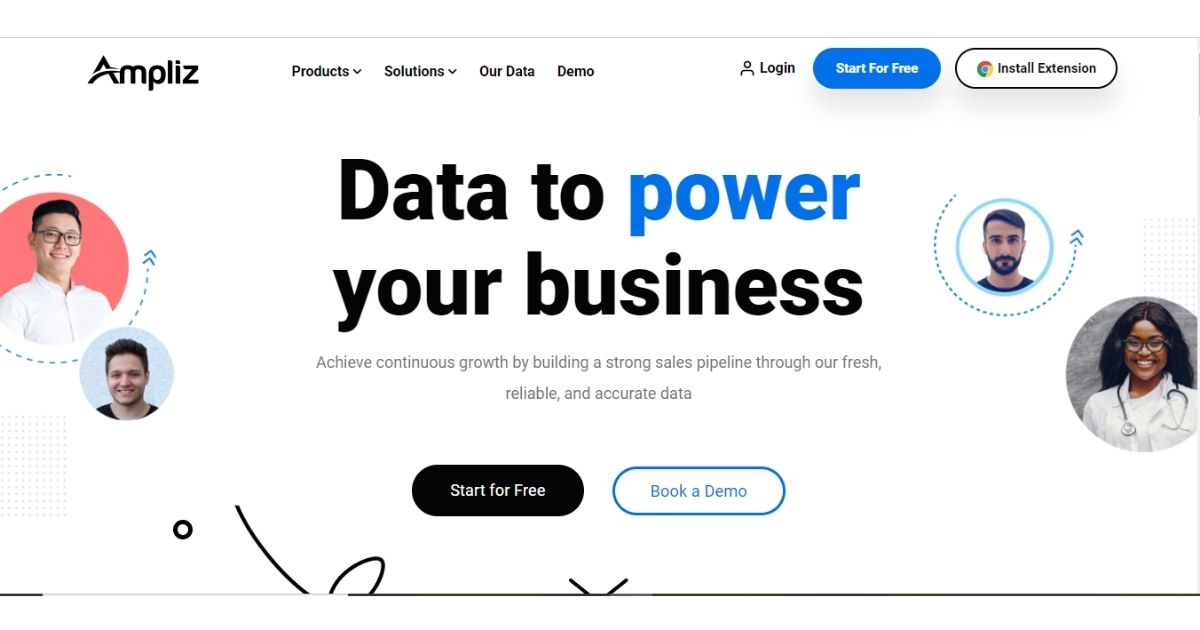 A business in the Asia-Pacific region is incomplete without an email database. Ampliz provides the latest APAC Email Database List that can help your company build a strong customer base.
Our Apac data list in b2b Asia has been designed with utmost care and perfection to make sure it caters to all needs of our clients from various industries, both B2B and B2C.
Require data of IT decision makers, Marketing Directors, C level executives, HR leaders and decision-makers? Ampliz can provide the data of IT decision makers, Marketing Directors, C level executives, HR and decision makers.
We are also known for providing best practices when it comes to marketing strategies in this region as we have years of experience working with companies.
Build a Pipeline that never goes dry with Ampliz Enterprise. Get Endless access to Company and Contact Intelligence from our 400Million+ records and over 9 million companies' data, Where data are refreshed in real-time to provide the latest and verified manually for any discrepancies missed by the machine to deliver you correct and relevant data every time.
Ampliz holds a b2b database of more than 400 million records with information on Company and Contact Intelligence.
Setup your ideal customer persona and reach out to more relevant contacts in a short time. Favorite your best set of contacts and get the relevant contacts exported in a minute to your favorite CRM and spreadsheets. Enable your sales and marketing lineups to target at scale.
You can request for more intelligence on your prospects anytime with our Custom data and Ampliz Enhance.
Manage the credits between multiple solutions to get a 360-degree view of your customer.
Enter your buyer persona and get the list of lead gen APAC companies and contacts that match to run highly targeted campaigns.
You can ask for custom data based on your custom persona requirements delivered blazing fast from the data specialist working 24/7.
2. Span Global Services
The Span Global Services' Asia Pacific Country Executives email List is compiled with multichannel marketing resources that serve as one-stop marketing solutions for marketers.
Your reach cannot be limited when your business needs to grow beyond tested markets.
Our direct marketing lists and apac business email lists enable a geo-targeted approach when marketers want to try markets unexplored earlier.
With Can-Spam compliant and SMTP verified business email lists, your campaigns will directly reach your prospects' inboxes.
Top features
* Access to 25+ million data across the world
* Procurement of data through crawlers, email-opt ins, and proprietary sources
* Targeted email list and B2B marketing database
* Business ownership data
* Data intelligence
Span global caters to a wide range of industries that includes
* Healthcare
* Technology
* Retail
* Business continuity
* Market research
* Manufacturing
and many more
3. Thompson Data
Thomson Data's Asia-Pacific Business email list (Apac business email list) helps you reach high-value business professionals and industries in the Asia Pacific region.
The index consists of all the essential B2B contact records of CEOs, CTOs, CFOs, VPs, directors, and other top-level executives responsible for its decision-making process.
Since they capitalize hundreds of thousands of dollars in products and services to augment their business development, you can target them to boost your business's revenue as well.
Top features
* Account profiling
* 360-degree view of a prospect
* Financial information
* Investment and purchased history
* Insight into online behavior
* B2B data software
4. Seagrass Marketers
Seagrass Marketers' extensive directory features millions of records on businesses and consumers.
We give companies the data that they need to make their marketing campaigns better targeted across all channels.
The information we provide makes it easier for sales and marketing professionals to increase their conversions and improve their ROIs.
Get all of the data solutions you need from one place when you access our extensive lists that span various industries and demographics with more than 20 million contacts.
Top features
* Global leads and B2B email database
* Verified executive information
* B2B/B2C data solution across the globe
* Extensive directory with millions of records on business and records
5. Value Prospects
Value Prospect works to generate clients' revenue out of marketing spent to increase the sales funnel.
They claim to own both the technology and the brain to promote your brand and product among the industry's top league.
Our team proficiency in database management, lead generation, gap findings, innovations, and experiments in direct marketing services helps our customers achieve targets.
Top features
* Cutting-edge solution
* Advanced features for data analytics
* Unique email marketing platform
6. CNCData
CNC Data provides you functional-level executives and industry-specific decision makers/influences interested in your products and services.
Meticulous measures are taken to ensure that records are preserved at the highest quality.
With our extensive coverage, exceptional accuracy, and a wide variety of selections, CNC Data gives you the control of your marketing target as focused as you require.
CNC Data sales and marketing data provide key IT and Technology Decision Makers/Influencers, Financial Decision Makers, C-Level Contacts, etc.
They can build target audience lists tailored to your business needs. Customers can lay down targets by Industry Verticals, Company Size, Job Function, and Job Level.
Top features
* Local knowledge and capability
* Market business intelligence
* Sales and marketing solutions
* Direct marketing and database support services
7. APAC Leads
APAC Leads is a lead generation business specializing in end-to-end marketing solutions.
Lead generation focused on the Asia Pacific region.
They have joined hands with companies as an addition to their business, geared mainly to find innovative ways to make the most out of the business opportunities.
With their lead generation and marketing services, marketers have expanded their dealings by reaching prospects from across the globe.
We support them in brand-building and enhancement endeavours.
Top features
* Email appending
* Email marketing
* Data cleansing
* Data licensing
8. Infoclutch
InfoClutch improves organizations' marketing campaigns by engaging with qualified prospects who could become your customer.
They can help shape your marketing strategies using their Asia Pacific b2b marketing database. Their framework has allowed the evolution of the email list, making it more robust in the face of challenges that manifest the marketers.
They offer a full range of segmented professionals from Asia Pacific regions that are ideal for serving marketing needs.
Top features
* Lead generation
* Performance management
* Contact management
* Email management
* Dash board
* Lead scoring
* B2B data software
* Competitor Analysis
9. Datamaelumat
Datamaelumat offers B2B email lists that are human-verified and ready to use.
They offer you a complete business contact list of people you should reach across the country.
Each APAC business mailing list they present has the precise data you need, from email addresses, phone numbers, real names, and other company details.
You can let your marketing campaigns in motion right away when you buy this APAC email list.
Top features
* Customized list building
* Data appending and cleansing
* List of technology users
* Industry based database
10. GlobalB2BContacts
GlobalB2BContacts is one of the most sought-after Asia Pacific Countries Business executive lists to power up your marketing campaigns.
Start engaging with qualified prospects who could become your customer. Shape your marketing strategies using their Asia Pacific (apac) b2b marketing database as the framework allows the evolution of the list.
Making it stouter in the face of challenges that manifest the marketers.
We have surged past other providers and becoming a household name offering a full range of segmented professionals list from Asia Pacific regions that make it ideal for serving your marketing objectives.
Top features
* Quality B2B and IT mailing, email and telemarketing list
* Accurate and verified B2B data
* B2B intent and firmographic data
* Global business contact database featuring over 200 million direct dials, 140 million direct phone numbers, and social profiles
11. Bookyourdata
Bookyourdata claims to be a premier marketing tool at a reasonable price. Each APAC email list that they offer has the contact names, email addresses, and phone numbers.
You need it to build your customer base in the Asia-Pacific region. You'll have the detailed B2B email list you need to get your information to your target audience.
They take the time to verify every JAPAN email database they sell to ensure that it has sales leads you can actually use.
Top Features
* Accurate Mailing list
* Online contact list builder tool
* B2B email list
* Cloud based sales Intelligence platform
* 100 million direct B2B contacts
12. Waveevo
Wave Evolution is a premier source of useful apac business mailing lists, sales lead database, and digital marketing services.
We provide business information and consumer contact database to leading companies in the APAC region with millions of companies information and consumer lists consisting of corporate email addresses, phone, address, etc…
With the database marketing solution, you can access new target prospects.
You can build high-quality & hyper-targeted prospect lists by leveraging on custom criteria, including demographics and firmographics, to identify decision-makers and connect to them.
Top features
* Full range of digital marketing solutions
* Huge base of business and consumer data
* Email marketing software with a wealth of features
13. Callbox
Callbox Singapore, established in 2009, is a leader among marketing services and b2b data providers in Singapore and South-east Asia (APAC region). They create, launch, and manage various marketing activities for their clients.
Callbox also provides reliable B2B data to its clients focused on Singapore and other APAC-based companies.
They also offer data maintenance, data profiling, and B2B lead generation services from 35 million companies' repository.
Top Features
* Cloud call system with advanced routing system
* Lead generation service
* Appointment setting service
* Team management
14. Leadbook
Leadbook is proud of its database of 200 million contacts. They provide both B2C and B2B data services to companies.
Leadbook employs AI and NLP services to auto-update and verified contacts and guarantee 95% accuracy.
They promote themselves to provide competitive prices and have an excellent price-to-quality ratio.
Leadbook also provides campaign management tools to leverage their extensive database.
Top Features
* Help sales team discover new opportunities
* Builds targeted list in seconds
* Provides deep insight about prospects and customers
* Features 80 million B2B contacts across 11.5 million companies
* Provides a reliable and cost-effective lead database
15. Dun & Bradstreet
Dun & Bradstreet is one of the most prominent players among APAC B2B data providers, with a massive database of more than 400 million contacts spreading across 190+ countries.
They provide companies with data services to leverage B2B data and analytics for a competitive edge.
Dun & Bradstreet is also one of the APAC B2B data provider market leaders in the APAC region.
Top features
* Comprehensive business data
* Master data
* Credit risk reduction
* Analytical insights
16. Pitchbook
Pitchbook is a software company focused on financial data and its utilities.
With multiple offices across the US and UK, they cater to global audiences focusing on APAC.
They provide comprehensive data according to the need of the client from the public and private sectors.
It allows its clients to catapult them towards success. Pitchbook serves its customers in 19 different languages.
Top Features
* Comprehensive private market intelligence
* Venture capital data
* Merger and acquisition data
* Limited partner data
* Help business discover right data
17. Contact Out
Contactout is a contact data intelligence platform focused on human resource individuals or recruiters.
They boast that you can find any contact you search for in their 1 billion contact database.
ContactOut says they are two times better than the other leading B2B email list providers. They are compliant with all GDPR and USA privacy laws.
ContactOut is an AI-powered platform that matches the contacts across LinkedIn and GitHub like platforms.
Top features
* Email and phone number lookup
* Verified contacts
* Search portal
* Unlimited searches
* Data enrichment
18. LeadIQ
LeadIQ is a prominent B2B data provider. They want to make sales prospecting a fun experience by giving sales reps access to their sizeable verified contact data set.
LeadIQ is proud of its integrations with various CRMs and Marketing technology platforms.
They are the best performing APAC B2B data providers for consecutively two years.
Here is how they fare against each other.
Top Features
* Data availability
* Data accuracy
* Lead monitoring
* Data capture
* Analytics
* Customization
* Lead management
* Lead segmentation
* Contact management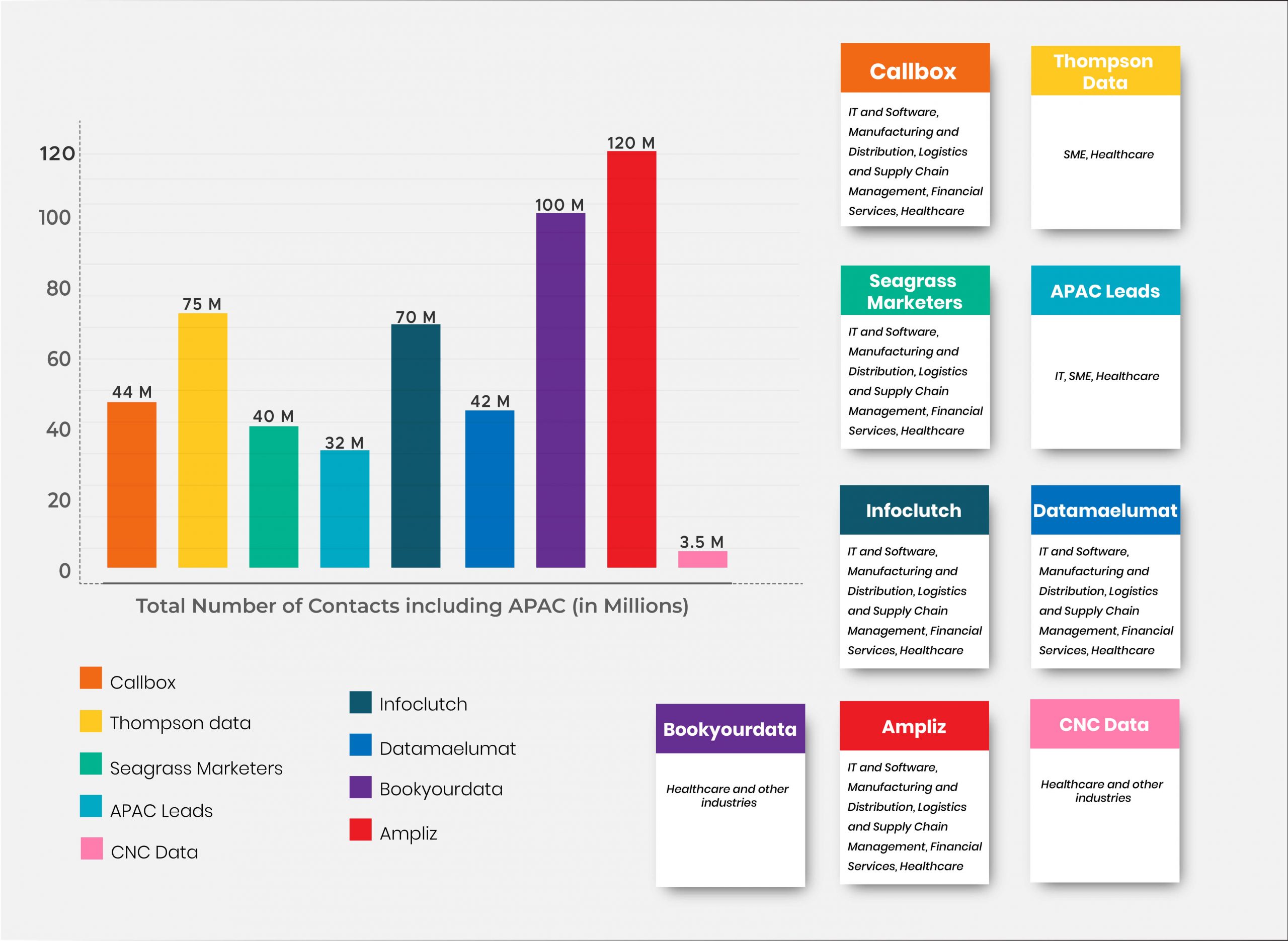 B2B Database: How to Build B2B Marketing Database?
Nailing marketing strategies in this competitive era is difficult. Between creating demands, channel decisions, limited resources, budget limitations, marketers juggle a lot for developing an effective marketing strategy.
The major determinant of these marketing strategies to be effective is "Audience".
If marketers do not properly target buyer personas, your advertisement, and promotions fall on deaf ears. It would be better to not market at all.
Target audience varies- individual consumers and businesses. Marketing to businesses is different from marketing to individual shoppers.
This is why different marketing- called B2B Marketing, exists in the realm of marketing.
By the end of the article, you'll have a better comprehension of B2B marketing concepts, effective strategies, and how to tap into the business and convert the business audience.
Let's go!
What is a B2B Marketing Database?
Business to Business (B2B) Marketing signifies marketing strategies or content modeled towards an organization or business. In other words, the companies who sell to other businesses or organizations using B2B marketing strategies.
B2B marketing aims to make other businesses familiar with your brand, the value of products and services, and then convert them into customers.
B2B marketing targets the interests, needs, and challenges of individuals who make purchases for their organization, making the organization a customer.
B2B Marketing Database entails all the data collected by the marketing team concerning the potential customers. The database must not only be accurate but also include relevant details of the company's target customers.
Besides the contact number and email address of target customers, an effective B2B database also includes geographic details, company size, and performance details of the target leads.
Even though data is the key solution for driving the sales of the company, often businesses fail to have consistency, and consequently, lose their position in the market due to lack of information.
How to Create a B2B database?
Willing to create or build email database for your organization?
Here are some simple steps:
Determine customer database
The first step for creating a B2B contact database is to determine an ideal customer. It can be done by analyzing the customer, respective behavioral patterns, and identifying the individual features of the target group.
An organization can curate an apac b2b contact list that is similar to the traits of the existing customer list. This helps to generate more customers and a potential audience to get more clients, research, and analysis.
Get an effective lead source
You can either build your own email list or get a new one. If you are aiming to save your resources and time, then buying the customer Ampliz APAC B2B database is the best way. However, both are viable options.
If you are building your own list, the marketers or the research team needs to work hard upon the marketing database. Also, the management and the marketing team need to rely upon the respective CRM.
On the other hand, if you are buying the database, make sure that the database is effective, accurate, and up to date as per the real-time information.
Segment your prospects
Segmentation of prospects as per the need of an organization to target the ideal customer segments with efficacy. Once you identify the profitable group of prospects, you will gain more prospects similar to the target group.
Marketing audience segmentations drives a more targeted customer experience that drives more attention and traffic to products and services, leading to higher conversion rates.
Organize data of leads
Thanks to spreadsheets and how it helps in creating a bunch of data. The template of the B2B customer database should contain attributes like name, title, contact number, email address, location, lead source, and remarks.
Compilation of data in the best way will help in dealing with the huge data list. Above all, spreadsheets can be imported into the CRM making the outreaching process seamless.