Singapore is a global hub and headquarters for many leading businesses. From the world's largest multinational companies to fast-paced startups, Singapore continues to be the choice of many companies.
If you wish to expand business or launch your products in the Singapore market, it is essential to reach decision-makers or key business executives.
Are you wondering how to reach your total addressable market (TAM) in Singapore?
Unlock B2B contacts and B2B companies in Singapore data from Ampliz to connect the ideal buyer persona who is likely interested in your business or solution.
Reach 400,000 registered businesses and decision-makers
Unlock Ampliz B2B email data intelligence, get your message to the right decision-makers in Singapore, boost productivity, and accelerate pipeline in ways you never imagined. Drive your business growth in Clementi, Queenstown, Tampines, and other cities in Singapore with highly accurate B2B data and insights.
Why it is essential to expand your business in Singapore
With its favorable tax code, impressive economy, and tremendous growth potential for business, Singapore is an attractive place for business establishments. The World Bank ranked Singapore the second-best country in the world to do business in 2020, and the country had previously ranked first for several years in a row. Singapore was recognized as the world's most globally competitive nation by the World Economic Forum in 2019.
This pro-business environment makes Singapore attractive to foreign investors and business entrepreneurs. Singapore is a great place to turn your ideas into businesses and earn significant profits.
Contrary to many Western nations, it only takes about 1-2 days to incorporate a company in Singapore, with government assistance provided. Singapore is the most accessible place to set up and manage a business globally.
If you plan to launch your products or expand business in Singapore, it is essential to reach decision-makers and key business stakeholders in Singapore.
Get actionable B2B data to reach potential buyers and the total addressable market.
Singapore's largest B2B data source with actionable insights
Discover how Ampliz can help you reach B2B companies Singapore and decision-makers in Singapore?
Singapore business email list allows you to find potential buyers and their contact details. With advanced data attributes and contextual data intelligence, you can win the attention of prospects and unlock sales opportunities.
List of Top 15 B2B Companies in Singapore
Here are the list of top 15 B2B companies in Singapore, with the best global reviews and the best software vendors.
1. Ampliz
2. Cloudbric
3. Gnowbe
4. PayrollHero.com
5. Ahrefs
6. In Mind Cloud
7. Saleswhale
8. Ivacy
9. TradeGecko
10. Referral Andy
11. Vincere
12. Buuuk
13. First Page Digital Singapore
14. OOm Pte Ltd
15. Bebop Asia
1. Ampliz
Ampliz is a B2B company in Singapore that helps businesses find and reach potential buyers. Using Ampliz intelligence, you can access key data insights such as business type, revenue size, tech stack adoption, job title, industries, geographies – to narrow down the right customers.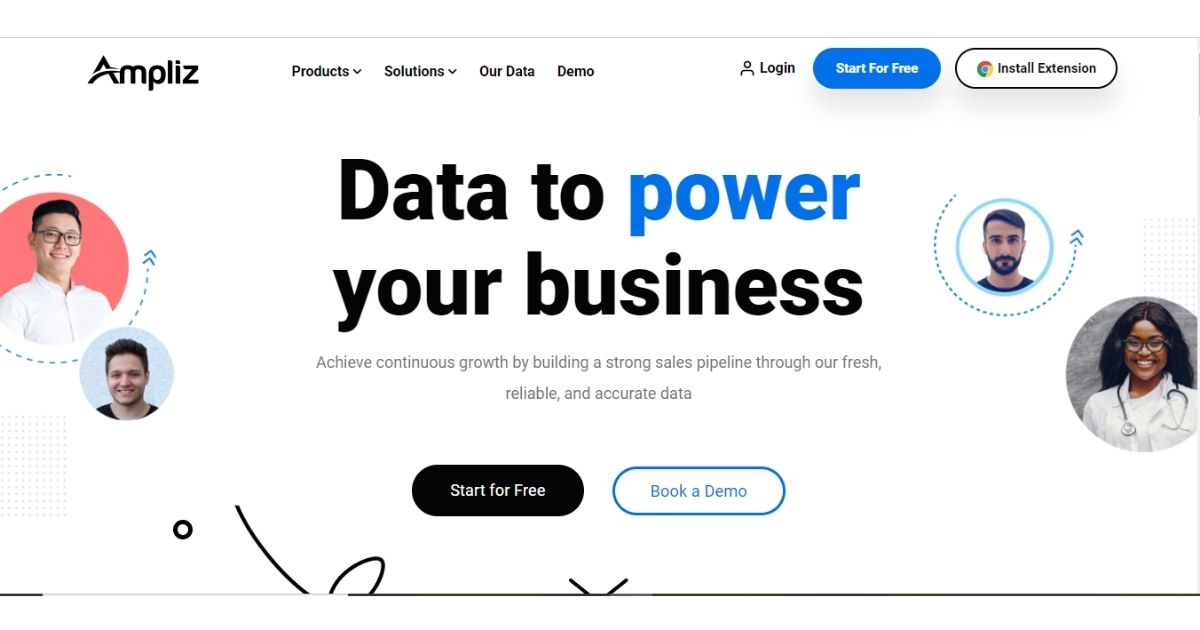 How B2B data insights help you reach key prospects
Today, many businesses, sales, and marketing teams find it difficult to reach key prospects in B2B and the healthcare industry. To reach healthcare decision-makers and potential B2B prospects directly, you can get accurate data insights from Ampliz and identify potential leads.
Through Ampliz's data intelligence, you can seamlessly find contact information, including email, direct-dial, business type, revenue size, location, business title, and advanced data attributes.
Ampliz helps salespeople, marketers, and recruiters to optimize their targeting practices by providing them access to complete data intelligence.
Get your custom data intelligence based on your target requirements and discover more business opportunities.
Filter your ideal customers based on their country, job, industry, and many more search filters.
Offer sensible and meaningful messages that are relevant to the prospective customers.
Engage reliable prospects by proposing the right solution for their business
Using robust data intelligence, keep up the sales pipeline and outsmart today's competitive landscape.
Global data coverage, leaders in Singapore
With instant access to 400M+ B2B contacts, you can pinpoint the ideal buyers in Singapore who are actively searching for your product or service.
Access more than 400,000 registered businesses in Singapore, 17,884 LLCs, and emerging startups
Find the direct-dial, email, and location of B2B professionals in Singapore with the Singapore mailing list.
2. Cloudbric
Cloudbric is a cloud-based web security provider based in Seoul, South Korea. It supplies DDoS protection, WAF, and SSL solution to protect websites from:-
Identity theft
SQL injection
Application layer DDOS attacks
Cross-site scripting
Website defacement
In the very beginning of 2015, Cloudbric came up with the idea of designing a cloud web security service and web application firewall that will be accessible to everyone.
Over time, it began to take shape and grow large. Over time, it became a well-known global service. Cloudbric Corporation became its own company on 1 December 2017.
In 2017, Cloudbric launched Cloudbric Labs, where a massive collection of free web security services and resources were available for use for everyone, all across the web.
Presently it consists of the following:-
Threat index (a database for web susceptibility)
BlackIPedia (an IP reputation service)
WAFER (a WAF evaluator that examines accuracy level and as well as performance)
3. Gnowbe
Founded by Rok Krulec, Gnowbe is a Singapore-based B2B company. It is a performance enablement platform with a full chamber of enterprise-ready attributes. It has also won many awards for its excellence.
Gnowbe is the ideal blend for the following:
Upskilling and reskilling
Corporate onboarding
Sales enablement
It helps in your business by driving high performance. It creates an exclusive experience for the employees in your business with its intelligent interface and powerful software. Gnowbe encourages social learning, leads to a change of behavior, and develops engagement.
4. PayrollHero.com
PayrollHero is an attendance, HRIS, time, analytics platform, and scheduling for businesses looking forward to eliminating unnecessary costs in their HR departments and operations.
Our convenient applications consist of the following:
TeamClock for iOS and Android
#MyClock for Android
Google Chrome Web Plug-In
Along with the things that are mentioned above, the cloud-based interface of PayrollHero lets your attendance data, schedules, and employee database, be synchronized in all devices because that will help all the people working in your business to stay up to date with everything and that too on the same page.
5. Ahrefs
Ahrefs is a software company that mainly deals with developing free educational materials and online SEO tools.
The all-in-one tool kit of Ahrefs can help you with the following:
Keyword research– For most businesses, researching the targeted keywords and ranking websites on the SERP result page seems to be challenging. Using Ahrefs, you can get the relevant and targeted keywords to rank your site on the first pages of google.
Rank tracking– get to track your search rankings and track your competitors.
Competitor research- Unlock your competitor's PPC keywords, organic keywords, and backlink strategies.
Website Audit- learn how to fix your website's SEO issues and find them easily.
Mentions monitoring- get to know through email alerts when any brand or company mentions your name or the name of your company.
6. In Mind Cloud
Made especially for manufacturers, In Mind Cloud is the ascendable digital sales platform. Our sales software perfectly lines up the various goals of customers by uniting all the processes of sales and production potentiality.
To yoke the power of substantial product knowledge and intuitive analytics to revamp sales.
They operate throughout the globe through their sources in the following:-
China
Singapore
US
Germany
7. Saleswhale
Saleswhale is a conversational marketing platform that provides different businesses with an AI Assistant to engage, qualify, and follow up leads at scale. You can reach the potential leads through AI Assistant, which holds the conversations interrupted and going.
The AI Assistant will automatically determine when the leads ask for more information, and it will also figure out which particular piece of content is being asked for. It will eventually respond with relevant results.
If it is detected that the lead turns out to be a wrong person to have a conversation with, then the AI Assistant is capable of requesting the right person and will also refer it,
8. Ivacy
Ivacy VPN is one of the B2B Company in Singapore and one-stop solution that lets you use blocked content from any corner of the world in a very private and secured space. It provides unlimited bandwidth with high speed.
Listed below are the reasons behind what Ivacy provides and why should you use it:-
Internet kill switch
Ultra-fast speed
Split tunneling
More than 2000 servers across the world
10 multi-login support
Secure wifi
Malware protection
No browsing logs policy
P2P support
Smart Connect feature
Military-grade 256-bit encryption
Dedicated Kodi app
9. TradeGecko
TradeGecko is order management and a robust cloud-based inventory used for modern online businesses. Blending sales channels, currencies, manufacturing, and inventory locations, TradeGecko companies allows you to handle every order, product, and customer, all in one place.
To predict and track down the performances of businesses, TradeGecko includes the following:-
Forecasts
Detailed reports
Insights of customers
Get to know about,
Monitor inventory
Business data
Contact customer
Manage and also create orders
10. ReferralCandy
Did you ever imagine that your business could spread through words of mouth?
Yes, now you can imagine that. Watch your shares and sales crawl in and reward your existing and future customers for referrals.
It connects instantaneously with famous eCommerce platforms like:
It also lets you choose up-to-the-minute integrations and custom API.
ReferralCandy also integrates with many other marketing tools such as:
Fomo
AdRoll
ReCharge
Klaviyo
Google Analytics
Mailchimp
11. Vincere
Founded in 2012, Vincere is a tech platform created for staffing and recruiting agencies that are present worldwide.
It is specially designed to strengthen recruitment businesses by using the latest edgy technologies. At the very beginning, Vincere's suite of rec modules is built in a home-grown environment and is also pre-integrated.
Vincere present has five active workspaces all around the globe, and it has more than 15000 recruiters.
12. Buuuk
Buuuk is a design-led digital innovative company that creates custom mobile application and software solutions for enterprises and government agencies. Buuuk, Digital Products & Mobile Apps incorporated in 2008 with its headquarters in Singapore. Recently, Buuuk has celebrated ten years of pioneering digital design and development in Singapore.
As a pioneering digital company, digitizing various industry verticals is a top priority for Buuuk. For the past ten years, Buuuk has been working with some leading brands such as Daimler, Scoot, Audi, Singtel, Starhub, Tupperware, DB Schenker, National Environment Agency, CapitaLand, Decathlon, and NTUC.
Buuuk is leveraging growth by providing customized applications for a wide range of industries,
custom digital automotive solutions – To help premium auto retailers automate their sales and post-sales process
innovative airport solutions – To improve passenger satisfaction and airport operational efficiency, and more
13. First Page Digital Singapore
First Page Digital is an integrated digital marketing agency that helps businesses and startups to get potential leads, sales, traffic with unprecedented growth. At First Page Digital, leading digital marketing consultants have helped hundreds of brands reach the front page of Google and stand out over competitors.
First page digital provides various services and solutions to drive growth for businesses and brands.
SEO Services – Local SEO, Global SEO, Link building, etc
Ad campaign – Google Ads, Facebook, and Linkedin ads
Social media management and more
14. OOm Pte Ltd
OOm is a Singapore-based digital performance marketing company that assists businesses of all sizes with their digital marketing efforts. OOm is a certified Google Premier Partner and Facebook Marketing Partner.
The agency practices full transparency by providing clients total access and ownership to Google Ads and Social Media Accounts, enabling clients to track campaign progress and expenditures.
OOm offers full-suite digital marketing solutions, providing services ranging from
Search Engine Optimisation (SEO)
Search Engine Marketing (SEM)
Social Media Management (SMM)
Content and Creative Services
China Digital Marketing and Website Development
15. Bebop Asia
As an ACRA-registered company, BEBOP ASIA has operated in Singapore since its incorporation in 2013 for eight years and four months. Beebop is a digital PR marketing agency serving startups, SMEs, MNCs.
With a wide range of clients spanning all industries and sizes, they have amassed a variety of approaches and perspectives to help you steer your business in the right direction.
The company creates meaningful conversations with key stakeholders across APAC that lead to more users, partners, and investors.
If you wish to take your product or expand business in the Singapore region, it is crucial to access actionable B2B data insights to reach your potential buyers effortlessly and key decision-makers. Using Singapore business email list, you can get advanced data attributes such as location, revenue size, tech stack adoption, company size, business type, investment, funding, and more information. 
To know more about such content related to sales, healthcare, marketing, and the latest trends, hacks, and thefts related to it, do visit our website Ampliz. Also, do not forget to discover our champ, Contextual Healthcare Intelligence Platform, where you get the collection of the best healthcare data from all around the world.
To access more information about B2B companies in Singapore with revenue size, investments, funding, etc. – reach us directly with your messages and suggestions. Drop your queries to [email protected] or [email protected].