Are you looking for Definitive Data?
Ampliz is the best and top Definitive Healthcare Data competitors. "If you are looking for a partner to help you sell your products into the healthcare market, look no further than Ampliz. Ampliz offers an integrated approach to product and market development, supply chain management, manufacturing and distribution."
Decision-makers and data are a critical part of any decision-making process irrespective of the industry.
Why would healthcare as an industry be any different? The importance of Healthcare data has recently gained prominence, given rise to the recent pandemic.
Finding the right healthcare email lists providers with adequate facilities for patient clinical data is of immense value.
The global healthcare data market size was valued at $16.87 billion in 2017.
It is projected to reach $67.82 billion by 2025, growing at a CAGR of 19.1% from 2018 to 2025.
Given the current global pandemic, the healthcare data market has now grown by a couple of billions more.
Let's have an in-depth look at the different healthcare data types and their value to the medical industry.
Datasets
Datasets are primary sources of healthcare information that healthcare providers refer to first.
They are information-rich and ideal for healthcare providers that need data on dimensions, statistics, demographics, or coverage.
Some examples of data sets in healthcare include:
World Health Organization
National Center for Health Statistics
Human Mortality Database
National Cancer Institute
U.S. Census Bureau
Research Studies and Clinical Trials
Clinical research in observational studies and is a valued type of data in healthcare.
Other types of prime data sources in healthcare mainly rely on clinical studies for their info, containing curated sources, amid others.
Clinical trials are essential for discovering new cures for health conditions and discovering ways to become aware of and diagnose diseases.
Curated Sources
This type of healthcare data includes data collection from various sources such as clinical trials, electronic health records, and registries.
In many cases, the healthcare data in a curated source pertains to a specific population, which helps healthcare providers formulate the most effective treatments.
As the data in a curated source originates from many sources, they are rich in information but may be challenging to navigate.
Claims Data
Claims data, or administrative data, is an electronic health record from healthcare provider notes.
Doctors record this information when they are seeing patients.
Claims databases can also gather data from doctor's appointment records, bills, and patients' insurance information.
One disadvantage of claims data is that it is retrospective and not always ideal for optimal population healthcare.
Electronic Health Records (EHRs)
Electronic health records are treasured sources of healthcare records.
An EHR is a patient's paper register.
Still, in a digital format, these records contain detailed information on a patient's health, including:
Treatment plans and medications
Medical history
Immunization details and dates
Laboratory and test results
Radiology images
Previous diagnoses
Authorized healthcare database providers suppliers can share EHRs with other healthcare facilities.
It means an EHR contains information from all providers who treated a patient and acts as a complete health record.
There are a few organizations that excel in providing healthcare data.
Ampliz's Healthcare Intelligence, Ampliz healthdata Healthcare Suite, definitive healthcare hospital database and many others just to name a few. Below is the complete list of healthcare data providers that can address your needs.
Best Definitive Healthcare Alternatives and Competitors
Ampliz is one of the leading definitive healthcare alternatives in healthcare space.


Ampliz healthcare Intelligence is globally one of the most comprehensive health care contact solutions.
It has global data of hospitals, physicians to target critical decision-makers and personalize your value offering.
Ampliz Healthcare Intelligence database has 4.6 million physicians, 8200+ hospital contacts, 230 thousand healthcare execs contacts, and guarantees to have more than 95% accuracy.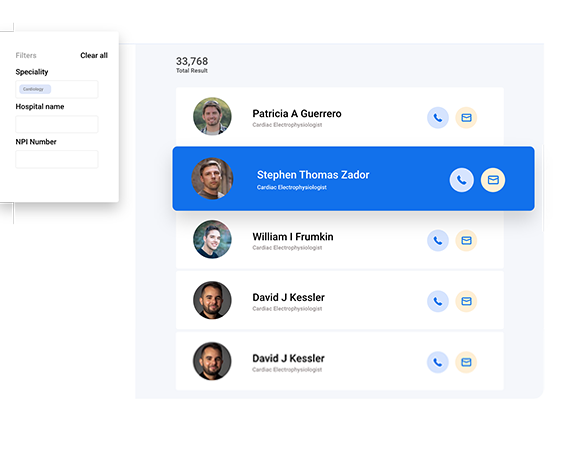 With the enterprise version, you have the option to filter your target segment based on physician's name, hospital names, location, technology and more.
You can drop in your requirement below or you can schedule a call with us here to get a walkthrough of the platform.
#2. Span Global Services
With their healthcare mailing lists, Span Global Services make it possible for marketers to embrace opportunities present in the healthcare sector.
They make their move by connecting with doctors, physicians, therapists, nurses, and other medical executives.
#3. Lake B2B
Lake B2B targets C-level executives in an industry that requires connecting with many stakeholders such as clinicians, administrative staff, financial executives, and IT representatives.
Their Healthcare Email Lists will help you strike a chord with the healthcare industry's top-tier members at pocket-friendly costs.
The healthcare industry may pace slowly, but your marketing efforts need not.
#4. Apollo.io
The unified Apollo.io platform ensures reps reach the right person, at the right time, with the right message.
Access an accurate database of 200+ contacts, full sales engagement stack, dialer, custom in-platform Account Playbooks, custom scoring models for leads, tasks, and accounts from the Scoring Engine, the industry's most advanced Rules Engine, and the industry's only advanced custom Analytics suite.
#5. Seamless AI
Seamless AI organizes global healthcare contacts and makes it universally accessible and useful to relevant parties.
It helps in creating profitable relationships and new revenue.
Seamless allows you to connect with your target market, build beneficial relationships, and acquire new clients.
#6. ZoomInfo
ZoomInfo combines the leading business contact database with best-in-class tech to pinpoint your customers & deliver the intelligence you need to hit your number.
Irrespective of the industry, ZoomInfo holds one of the most extensive provisions of contact information for healthcare needs.
#7. Medicoreach
Medicoreach is a global b2b healthcare data provider with an extensive data set of emails.
They claim to deliver a large dataset of medical contacts with in-depth information to have a great marketing campaign.
#8. Healthcare Mailing
Healthcare Mailing has a highly targeted prospect list based on physician speciality, medical affluent, geographies, and job titles.
You can effectively reach healthcare providers through multiple channels through verified data.
#9. Health Link Dimensions
HealthLink Dimensions offers hospital and health system intelligence to aid you in reaching organizations vital to your business.
Their healthcare facility demographics and critical contacts database will improve and increase your outreach efforts, ensuring your message gets to the right individuals.
#10. Datacaptive
DataCaptive Healthcare industry database provides you with access to millions of high-quality leads across 150 countries.
Datacaptive helps its clients understand business objectives while efficiently keeping the top marketing priorities in mind with Datacaptive Healthcare List.