Do you want to reach Psychiatrists with your message? Ampliz offers the most authentic contact lists of Psychiatrists. With our email database of Psychiatry, you can concretely build trustworthy business relations and also help your business to spread throughout the world and create a huge market presence throughout Europe, UK, Australia, Canada, USA, and many more countries worldwide.
We provide all healthcare email marketing lists in the healthcare domain.
medical institutions email list
obstetrics email list
ophthalmologists email list
physiotherapist email list
plastic surgeon email list
podiatrist email list
prescribed medicine doctor search
prescription intelligence data
acupuncture mailing lists
addiction medicine specialists email list
adolescent medicine specialist email list
advanced heart failure and transplant cardiologist directory
aerospace medicine specialists email list
allergist and immunologist email list and mailing list
alternate care specialist email list
anatomical and clinical pathology specialist email list
anesthesiologist email list
art therapist email list
athletic training email list
attendant care email list
audiologist email and mailing database
bmc remedy users email list and mailing list
brain injury medicine specialists email list and mailing list
cardiothoracic surgeons email list and mailing list
cardiovascular technologist email list and mailing list
Psychiatrists are medical doctors who specialize in the diagnosis, treatment, and prevention of mental disorders.
With Ampliz, you can get a verified email list of psychiatrists with whom you can concretely build trustworthy business relations to help your business spread throughout the world.
The prolonged enforced quarantine and isolation due to the present ongoing pandemic are having adverse effects on the psychological well-being of an individual. With time, people's fatigue, anxiety, poor concentration, irritability and fickle mood have become common experiences.
In the midst of the global pandemic, it has become extremely important to look after one's mental health, because "it's all in the mind".
We, at Ampliz, bring before you the best email database of Psychiatrists, who you can contact and communicate with whenever you want to or whenever it is required.
Also, if you want to promote and sell your services and products through top Psychiatrists, an email database of Psychiatrists is very essential for you.
It is a major challenge to sell to key decision-makers and specially because getting to collect their accurate contact details is quite difficult and takes a lot of your precious time and energy.
But, with Ampliz, you can be sure that all your difficult jobs, such as the one mentioned above, will be solved in one blink. 
Just let our experienced professionals know about your requirements and needs, and that's it. We will eventually pick for you the relevant leads who will heartily welcome your campaigns.
To rescue you from all your doubts, problems and to appear before all your requirements and needs, here is our top Psychiatrists Mailing List in the USA.
With Ampliz, get the most authentic set of email lists of Psychiatrists. With our email database of Psychiatry, you can concretely build trustworthy business relations and also help your business to spread throughout the world and create huge market presence throughout Europe, UK, Australia, Canada, USA, and many more countries worldwide.
With our email database of Psychiatry, get the best Psychiatric Practitioners who are specialized in curing mental illness.
Out of many Psychiatrist email lists, Ampliz's email list provides very reliable and also accurate contact information, in order to guide you to reach your customers with quick services and quality products. 
With regular checks and updates, our email database ensures very high-quality data. We, at Ampliz, are very much passionate about marketing and through our experience, expertise, and insight, we make sure that your campaign is a successful one.
In the healthcare world, Psychiatrists play a very crucial role. It becomes very tough for marketers to collect all the relevant information of every Psychiatrist, working in different regions of the globe.
With the help of Ampliz's Psychiatrists Mailing List, you can manage this job easily and track down different types of email marketing campaigns, which will serve as a key element to attract your business prospects.
Ampliz's data professionals can help you with a highly extensive and deliverable Psychiatrists email list.
This email database of Psychiatrists will eventually assist you to initiate tailor-made campaigns, to focus and as well as target these certain experts, across various marketing mediums, like:
Event marketing

Email marketing

Telemarketing

Direct marketing, and many more.
Starting from data sourcing, till its final delivery, Ampliz's highly experienced data professionals ensure authenticity, accuracy, and transparency through a very easy-to-use type format- .xlv or .csv. 
The Psychiatrists email list which you will receive will have data that is 100% legal and contains sources that are reliable, such as:-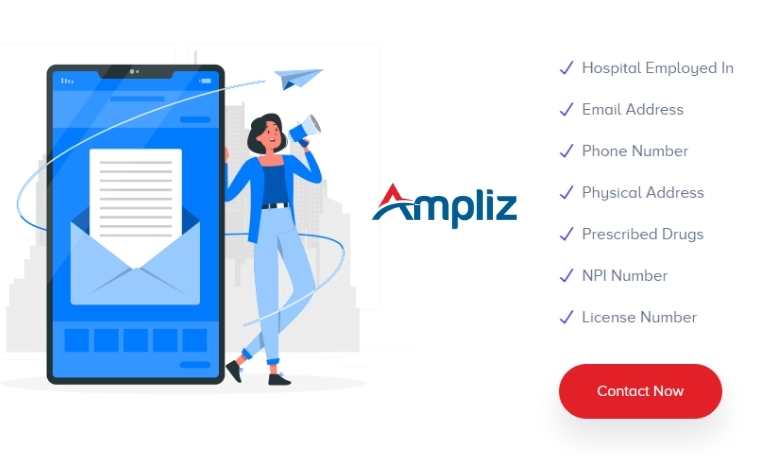 Hospital directories

Public records

Medical conferences

Public forums

Medical directories

Medical communities

Medical colleges, and more such sources.
Ampliz's email database of Psychiatrists contains the following salient features.
To make sure, that you have succeeded at global marketing campaigns and reached your targeted medical practitioners and Psychiatrists, go through the features of our Psychiatrists email list:-
It is a 100% email and telephone verified Psychiatrist Mailing List.

You are going to get 1.2 million phone calls per month, as a part of the verification of data.

To validate email addresses, 10 million verification messages are sent every month.

NCOA and SMTP are quarterly verified to keep the data active and absolutely fresh.

The databases are regularly cleansed and kept updated because it keeps it free from duplicate and data inaccuracy.

Connect with the best professionals dealing with psychiatry across various countries, including Australia, US, UK, Canada, Europe, APAC, and EMEA.
Our largely targeted email database of Psychiatrists can be used to initiate personalized and custom campaigns of marketing across many channels so that you can speak in your target audience's language.
Psychiatry, in recent times, is gaining a significant place in the field of medical research, because of its utmost importance and need. If you are in need of an accessible, as well as, extensive email database of Psychiatry, then Ampliz is a preferable place for you.
Through our sufficient data, which is also absolutely efficient, helps the campaigns of your business through the Psychiatrist email list that we provide.
With the wide range of Psychiatrists and mental health professionals, it can be hard to find a reliable email list. With Ampliz, you'll have access to an authentic database of verified contacts from all over the world. It's time for your business to thrive!
Our Psychiatrist email database is very advanced, is duly segmented and is also very reliable. You can easily boost your market performance in a very short span of time. The data that is provided by us, goes through multiple layers of verification and is also verified through emails and phone calls. 
Ampliz's database will help you reach out to your targeted audience, comparatively in a more easy and hassle-free way. We also provide you a special provision to our clients, that is, they can personalize the list, anytime they want to or as or when required.
The members of Ampliz, take extreme care and precision, to collect data from different globally authorised sources. The data is periodically updated and renewed to ensure an appropriate and accurate data.
We bring to you a Psychiatrists email list, with a wide range and more than 100+ researchers. Our data is considered to be one of the best email databases of Psychiatry, because it is almost near to real time data and produces the most sorted source of Psychiatrists Mailing List in the USA.
Through your promotional messages and active marketing, Ampliz helps you to reach out to the best Psychiatrists email list.
To know more about such healthcare insights, trends and hacks, do not miss out our latest blogs in our site Ampliz.
Discover our Contextual Healthcare Intelligence Platform, where you can get the best set of personalized and custom data, from all around the world.
To contact us or to reach out to us with your questions and suggestions, do drop your email at [email protected] or [email protected].