As of 25th March 2020, there are more than 420K people affected with Coronavirus across the globe. The stock market has taken a huge blow, businesses are suffering and there's a mass layoff happening. We are almost facing a mini-recession and none knows when this catastrophe will end.
The world saw a huge shift in work culture, when probably for the first time in decades so many people started working from home or remotely. The way businesses have adapted to this situation is quite intriguing. Physical events have been shifted to online events, LinkedIn and other social media feeds are filled with positivity and there's a common sense of community prevailing across the globe.
The best part, however, is the amount of generosity that businesses & influencers are showing. People are willingly giving away free/discounted products, subscriptions, templates, cheat sheets, online courses, training modules and much more. This is absolutely crucial because most businesses are bleeding money at this moment. Free or discounted tools/subscriptions are a boon during this pandemic.
Thus, we decided to compile this list of tools to help out people searching for the same. If you know anyone or any business suffering during this time, do share this resource with them. Also, check out this resource on how to work from efficiently – this will be very helpful if you're a newbie to the world of remote working.

34 Sales and Productive tools to help in the Covid pandemic
Tools at a glance :
Ampliz SalesBuddy
Calendly
Slack
Linkedin
Trello
Zoho remotely
Okta
Cofounders Lab
Ubbersuggest
Chatgen
Aflo
Group leads
Rockhire
Zoom
Workplace by FB
Hangouts
Threads
Airtable
Dropbox
Atlassian
Cloudflare
Mailchimp
Hootsuite
Workable
Adobe
Survey Monkey
Loom
PDF templates by Kdan Mobile
Jamm
Creately
Filecamp
Vengage
Troop Messenger
Fyle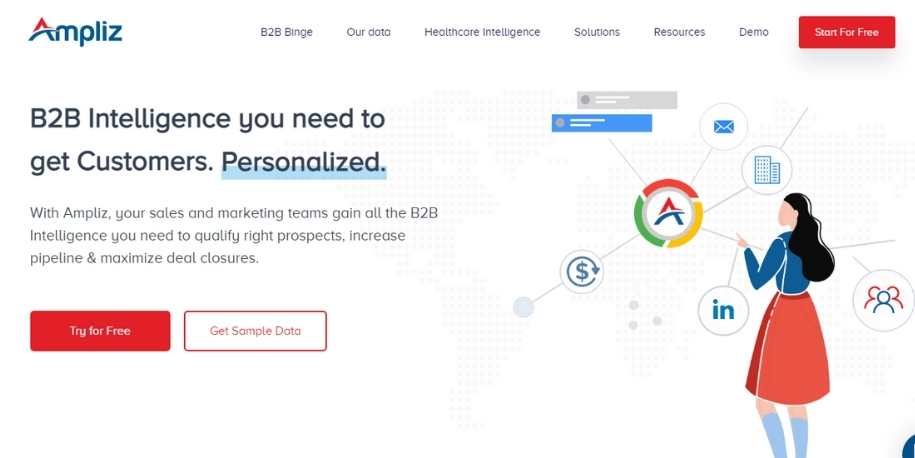 Ampliz SalesBuddy: SalesBuddy is a nifty browser extension that lets you get access to email ids, phone numbers & LinkedIn profiles of decision-makers in a company. We, at Ampliz, are giving out free credits of our tool worth $50. Just download the tool and we will email you the discount coupon. Also, we are giving out flat 50% off on annual subscription of SalesBuddy & People Finder. Shoot us an email at

[email protected]

and get access to both the tools.
2. Calendly: Calendly is a meeting scheduling tool that automates the process without the hassle of to and fro emails. Calendly is offering free integrations with Zoom and GoTo meeting till June 2020.
3. Slack: This is by far the most popular team collaboration & messaging tool out there. Slack is offering free upgrades to paid plans for teams working on coronavirus research, response or mitigation. They are also providing Non-profits with free Standard & Plus upgrades for 3 months.
4. LinkedIn: Free access to LinkedIn premium for 6 months for people who've lost jobs and are looking for one. Reach out to any LinkedIn employee in your network to get access to this offer. Also, they're offering their online course on "remote working" absolutely free of course
5. Trello: This one from Atlassian's arsenal is offering free access to business class plans for educators in the K-12 segment. Trello is great for team collaboration, so make sure you make good use of this offer.
6. Zoho Remotely: 13 products from Zoho's suite of applications are free to use till 1st July 2020. These tools will be of great help for team collaboration while working from home.
7. Okta: Free access to Okta Single Sign-On and Multi-Factor Authentication. Okta is an identity management tool that is also giving out free trials to its "remote work toolkit".
8. Cofounders Lab: Access to Premium subscription for 3 months, free of cost. Cofounders Lab is a platform that can connect you with potential cofounders/partners if you have a startup idea. Use code 3MONTHSFREE while you sign up to get this offer.

9. Ubersuggest: Ubersuggest is now "more free". A lot of features like access to historical data of competitors, a comprehensive backlink data and more will be made available to the free plan. Not only this, but Neil Patel is also adding a "live chat" feature to Ubersuggest and also launching a complete SEO course filled with video material, cheatsheets, and templates.
10. Chatgen: Free access to business plan for 1 month. Constructing chatbots won't be very difficult now.
11. Aflo: Aflo connects you to experts who customize your marketing and sales strategies at prices that don't break the bank! They are charging Zero commission charges during this Coronavirus situation.
12. Group Leads: It helps you extract business leads from Facebook groups and eventually turn them into paying customers. Use code COVID50 to avail a flat 50% off on their plans.
13. Rock Hire: This is a must-have application for hiring remotely and create an amazing candidate experience. They are offering full access to all the features for 2 months.
14. Zoom: The video conferencing tool is offering unlimited meeting time for conferences with more than two participants for its free users.
15. Workplace by Facebook: Government organizations can get free access to its premium features for a period of 12 months.
16. Hangouts Meet: Free access to educators (G-suite customers) to advanced capabilities of hangouts, globally.
17. Threads: Threads is great for team collaboration, especially if you're working remotely. They are offering "Pro" and "Team" plans for free of cost for existing and new users until July 1, 2020.
18. Airtable: This tool is great for team collaboration and organizing workflows. They are offering Free Pro plans for COVID-19 mutual aid projects. Make use of this offer while you work remotely.
19. Dropbox: Dropbox is offering free Dropbox Business and HellomSign Enterprise subscriptions for a three-month period to nonprofits and NGOs that are focused on fighting COVID-19.
20. Atlassian: Apart from the aforementioned offers on Trello, Atlassian is also giving out offers on its range of productivity and team collaboration tools. Jira Software service, Jira service desk, Confluence, and Jira Core are now free for teams up to 10 people.
21. Cloudflare: Secure your website and make it blazingly fast with Cloudflare's CDN. Because they're giving out enterprise features for free to all small businesses affected by COVID-19. Sign up today!
22. Mailchimp: Mailchimp is offering free Standard accounts to eligible groups sending critical public health information about COVID‑19 through June 30, 2020. Get the most out of it during this period.
23. Hootsuite: Organizations in affected industries (restaurants, hotels, event venues, performing arts, etc.) can use the professional version of Hootsuite's social media management software, at no cost until July 1st, 2020. Plus, you'll get access to a free library of social media training courses to help you engage with your audience, create content efficiently, and manage crisis communications. Hootsuite has been really generous with this offer during this Coronavirus situation.
24. Workable: They make amazing products for the entire HR community. Workable is offering video interview add-on free for 3 months to all of their new and existing annual customers.
25. Adobe: Adobe is offering creative clouds app for free to schools affected by Coronavirus. So all you design students, make the most of this offer.
26. SurveyMonkey: Got to get a survey done? Don't worry. If you're a non-profit, a student or an educator, you'll get free access to all of SurveyMonkey's features. Also, they are giving away free questionnaire templates regarding this pandemic situation.
27. Loom: If you're a teacher or a student at a K-12 school, university, or educational institution using Loom for classroom work, you can use Loom Pro for free, forever. Also, they will remove the recording limit of their free plan. Make the most of this video tool.
28. PDF templates by Kdan Mobile: Kdan makes some amazing PDF templates that'll help you to get your work done faster. Check out their free templates for mobile and create beautiful PDFs on the go.
29. Jamm: This efficient video collaboration tool works perfectly for remote teams. Make the most out of it as it's absolutely free of cost for 3 months now.
30. Creately: Creately helps you to visualize your concepts in the form of charts, flowcharts, etc. They have more than 1000 templates to pick from as well. With their basic plan available for free, they are currently offering a 50% Discount on all Team Plans valid for 6 months.
31. Filecamp: This is a cloud-based digital asset management platform, which is perfect for remote work. Because of the COVID-19 outbreak, they're offering a free pro plan (up to 10 GB of storage) until 1st January 2021.
32. Vengage : Create an engaging chart in no time with the Venngage Chart Maker.
33. Troop Messenger: Collaborate using a productive team collaboration and instant messaging app to discuss your office work. You can chat, make calls, and hold conferences completely securely!
34. Fyle: Fyle is an expense management software that comes power-packed with seamless expense tracking and corporate card reconciliations. It also integrates with accounting softwares like Sage Intacct, NetSuite, QuickBooks, and Xero.