Table of Contents
What are the most challenging professions in healthcare to fill?
Nurses. Although the post-covid era has boosted nurse recruitment worldwide, it is becoming more and more difficult for healthcare recruiters to attract and hire nurses.
Nurses account for the largest profession in the healthcare sector, yet the increasing demand for nurses makes the current shortage even more challenging for recruiters.
With 194,500 new RN positions being created each year until 2030, there are not enough qualified candidates in the job pool to fill these positions.
Nurses today are highly specialized and work in a number of locations, including hospitals, skilled nursing facilities, long-term care clinics, urgent care facilities, and even drug stores, making the competition for skilled nurses even tougher.
Get Started
Wondering what should be your nurse recruiting strategies? Read on to find out!
Nurse Recruitment Strategies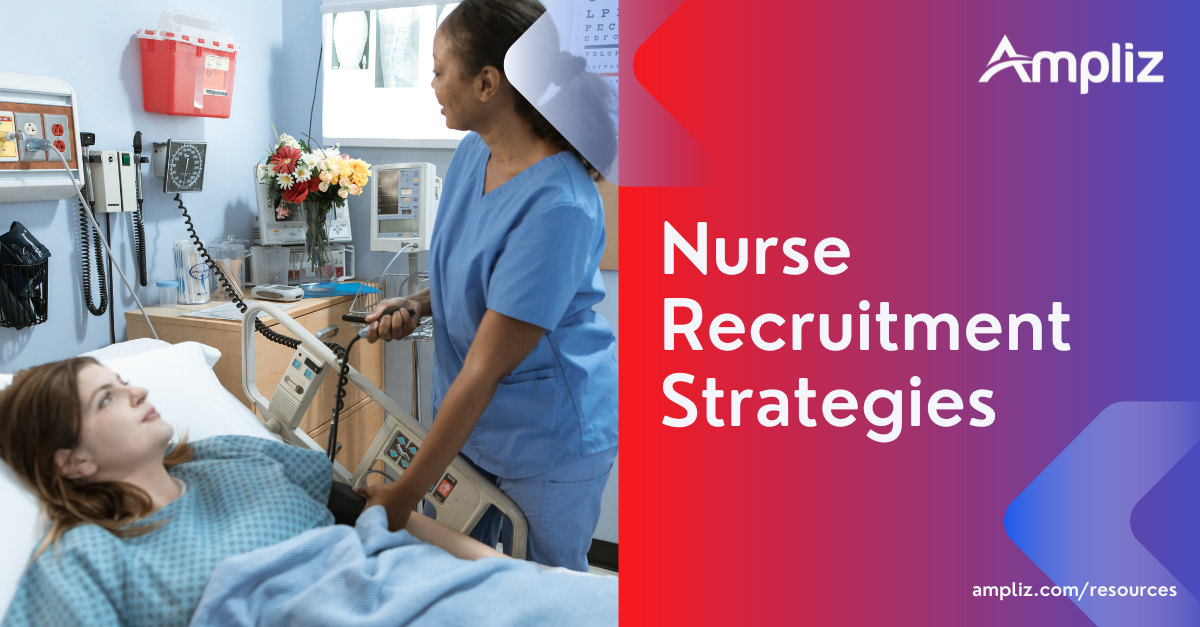 Challenges In Nurse Recruitment
There are several factors contributing to the huge gap between the demand and supply of nurses.
COVID-19 pandemic and related stress caused burnout among many nurses who considered cutting their careers short. In a 2021 survey of over 6,000 critical care nurses, 66% of them have considered leaving the profession.
The need for nurses has increased as the aging population size is continuously on the rise and is expected to be doubled by 2060.
Because many nurses are baby boomers and are retiring, the aging population has an impact on nurse availability. With over 500,000 experienced registered nurses expected to retire by 2022, the US Bureau of Labor Statistics estimates that 1.1 million additional RNs will be needed to avert a nursing shortage.
Nursing schools had to turn down 80,251 competent applicants in 2020 due to a lack of staffing, educational facilities, clinical sites, and funding. This reduces the number of nurses who can enter the workforce after graduation.
Preventive care is becoming more popular, and the number of chronic conditions requiring nurse care increases.
How to recruit nurses in an environment with so many uncontrollable factors?
To attract more qualified candidates, it is crucial to implement specific strategies that have a direct positive impact on things that matters to most nurses.
Deploy effective marketing communication with personalized messages, emphasizing your differentiators, in order to stand out from the thousands of job posts.
Connect with quality nurses to fulfill available positions and receive a continuous flow of skilled candidates.
18 strategies that will make your nurse recruitment efforts more effective:
1. Curate a Great Nurse Job Description
Before you can persuade a candidate to join your organization, you must inform them of the role's responsibilities so that they (and you!) can determine whether or not they are a good fit.
A solid job description will include a detailed and comprehensive description of the title, role, responsibilities, and qualifications for the position, with a focus on the position's specialization.
An excellent recruiting strategy identifies and markets the capabilities that they require.
Make sure to talk about the 'why' of the job in addition to the 'what.'
Job descriptions speak for your company and culture, so emphasize what sets your company apart from the competition.
It's time to advertise your job online once you've written the right description!
2. Advertise in various nursing outlets
Leave no stone unturned when it comes to marketing your job openings.
Email marketing, sponsorship of continuing education programs and conferences, website advertisements, and print and online adverts in medical publications continue to be the most effective ways to recruit nurses.
3. Emphasize career advancement
In his report Why Do Workers Quit? The Factors That Predict Employee Turnover, Glassdoor Chief Economist Dr. Andrew Chamberlain stated that one of the three major factors that influenced an employee's choice to leave was a lack of career possibilities.
It's time to start investing in your employees' career development if your organization isn't already doing so.
Offering career progression chances demonstrate that you are committed to helping your nurses advance their careers.
You can recruit and hire fresh graduates into various specializations by offering new-graduate residency programs and transition-to-practice programs.
You can further offer your team and department leaders advanced leadership programs that help develop their management skills.
This also aids in filling positions in difficult-to-fill specialties, such as neonatal intensive care.
4. Offer work-life balance and not just the job
A significant setback in nurse recruitment is resignation due to high burnout. The indication here is simple.
Instead of focusing on what you desire, consider what the ideal applicant requires.
Highlight the resources available to nurses, such as support staff, cutting-edge medical equipment, and ongoing training.
Provide counseling to nurses to assist them in coping with workplace stress, such as the emotional impact of losing patients.
You may also encourage all nurses to practice self-care and integrate it into the workplace by providing conveniently accessible programs and benefits.
5. Provide appropriate compensation with smart benefits
Recognize that there is a scarcity of qualified nurses on the market, and be prepared to compensate appropriately and provide a holistic compensation package.
Nurses appreciate benefits such as tuition reimbursement and loan repayment schemes.
6. Offer flexible schedules
Long working hours also cause many nurses to burn out.
Flexible schedules will encourage more nurses to work in hospitals since they would be able to balance their personal and professional lives.
If you have many sites, you may provide nurses with options for choosing shifts at different locations.
It also provides a regular change of scenery and breaks up the monotony of the job.
7. Utilize social media to create visibility
Add a career option to your corporate page that links to your career site for simple access to contact both passive and active candidates via social media sites like Facebook, LinkedIn, and Twitter.
Display testimonials that showcase the work environment using videos and photographs.
8. Create nurse ambassadors
Make the most outstanding nurses brand ambassadors for your company.
Those nurses form the culture of the organization.
Allowing them to express their favorable opinions on your various marketing platforms will demonstrate to applicants what a regular workday entails.
To develop an emotional connection with a peer, use their testimonials in your writing and create videos as part of your marketing strategies.
9. Make them an integral part of the community
Encourage a sense of belonging among all departments.
Many nurses want to work for prestigious institutions because they want to be recognized, supported, and feel like they have a voice.
It's vital that you include nurses in decision-making processes and offer appreciation when appropriate.
10. Make your brand relatable
Make your communications strategy more personal instead of sending out generic messages to a group of candidates.
Emphasize personalized performance management, and intentional culture development, truly articulating why experienced nurses would want to be a part of your organization.
If an employer actively controls its brand, 76 percent of active job seekers are likely to apply, which can cut turnover by as much as 28 percent.
11. Emphasize workplace safety
Nurses' on-the-job injuries and workplace violence are major concerns.
Creating protocols to prevent damage to nurses and implementing prevention training demonstrates that you care about their well-being.
12. Highlighting your unique value proposition
Remember that a good hire is more than just someone you're happy to have on board.
They should be just as enthusiastic as you are to join you!
So, throughout the interview process, from the job description to the close, make sure you clearly articulate what makes working for your company unique compared to any other.
This will assure compatibility and help you sell your employer brand more effectively to recruits.
That doesn't always imply you have to pay the best compensation or provide the most lavish benefits.
You simply need to ensure that all positive qualities are highlighted in the recruitment materials.
Nurses value those qualities above payment.
Whereas prestigious research hospitals will certainly attract experienced nurses, this does not rule out the possibility of tiny facilities finding skilled nurses.
Nurses in a small hospital or institution will likely have a direct impact on the patient, have more responsibilities, and deal with less bureaucracy, all of which should be communicated during recruitment.
13. Building Culture
While recruiting is critical, you cannot overlook the value of investing in your company's culture.
After all, a strong culture leads to happier, higher-performing employees, and it may even be used as a recruiting tool!
So, how can you assure a positive workplace culture and a fantastic employee experience? Leading healthcare groups have the following to say:
14. Focus on your mission and values
Employees want to feel as if they're contributing to something bigger than themselves. This is fortunately very applicable to healthcare companies.
They often get motivated by contributing to high-quality, affordable healthcare services and improving the health of our members and the communities they serve.
It is crucial for them to resonate with your organizational vision and mission.
What's the bottom line?
Don't just assume that your staff understands your goal and values; explicitly define them and discuss them with them frequently!
15. Empower your employees
Talented employees can't make much of an impact if they don't have the resources or autonomy they need to do their job well.
Leading organizations are making it a top priority to clear roadblocks and empower employees.
A sense of ownership develops belongingness among the employees producing excellent work output.
It is essential to distribute the resources so that employees can optimize their job roles.
Once the basic recruitment strategies are sorted for your company, it is time to move on to the creative ways to recruit nurses.
Here are some advanced recruiting strategies to hire the most skilled nurses for your organization.
16. Take advantage of employee referral programs
You can request a list of referrals from your best nurses, asking them to refer qualified former coworkers, friends, or anybody else or provide contact information.
If someone gives you a great referral, see if they know anyone else. You could be able to find your next top nurse from the same place.
You can further request your new hires to write a list of the top five nurses from their prior facility during their first day of orientation, incentivizing them to assist you in recruiting them.
17. Attend events to meet talents
Organize or sponsor a lecture, workshop, or conference where attendees can mingle with your employees.
This is an excellent approach to introducing your team to some exceptional applicants.
Take note of the participants who are the most engaged and see whether they are interested in your group (or know someone who might be).
Many nurses enroll in advanced classes and certification programs, so if someone from your facility or hospital teaches one of these classes, they will have access to a large pool of qualified candidates.
18. Welcome Former Applicants and Employees
Make contact with all of the outstanding nurses who have resigned to see if they are interested in your open position.
If they aren't, ask them if they can recommend someone who would be a good fit.
Have you ever had candidates who were on the verge of being hired but didn't make the cut? Use recruitment text message service or an email to get in touch with them again to determine if they're qualified and interested.
Reach out to finalists who have previously declined your offers.
Try to persuade them to accept your new position, and if they refuse, ask for a referral.
How to evaluate your candidates during interviews to ensure hiring real gems?
Few things are more aggravating than hiring someone only to discover that they aren't a good fit for your company.
Fortunately, a rigorous interview procedure can help you avoid this. In addition to the traditional interview questions (Can you tell me about yourself? ), you can ask some unique questions.
Why are you interested in working here?
There are a few questions that are particularly useful in assessing potential nurses (e.g., What are your strengths and weaknesses?).
Here are a few ideas:
1. Why did you enter the healthcare field?
The best nurses are those who genuinely want to serve others.
This question can help you determine whether a candidate is in healthcare for the right reasons and if they have the enthusiasm required to succeed in the field.
2. What is your ideal work environment?
Nurses can work in different environments. Knowing which setting and work style your applicant prefers will help you determine whether or not they are a suitable fit for your company and vice versa.
3. What are your long-term goals?
Employee replacement is a significant drain on your company's time, resources, and cash, so you want to know that they're in it for the long haul when you recruit someone.
Understanding the big picture of what a candidate wants can help you figure out whether you can help them achieve their objectives or whether they need to look for another company that can better support their high-level career ambitions.
4. How would you manage a patient with difficult behavior?
Let's face it: patients aren't always happy to be in a medical facility, and they might be uncooperative or even aggressive to employees.
Ask this question to see if the individual you're interviewing has the bedside manner required to accomplish their job properly, even under challenging circumstances.
5. Have you ever had a conflict with another team member you were working with? If so, how did you handle it?
Integrated health care is more common than ever before, with teams of nurses, doctors, medical assistants, and orderlies working together to give the best possible care to patients.
As a result, the capacity to collaborate effectively is essential.
While disagreements are inevitable, you want to know that your candidate can handle them professionally and maturely.
6. Describe a time you went above and beyond for a patient
It's all about the individuals you serve at the end of the day.
Patients often find visiting healthcare facilities irritating or even frightening, but having compassionate staff members who go above and beyond for them can dramatically improve their happiness and possibly their health!
How to Source High-Quality Nurse Candidates
Given the necessary skill sets and the strong demand for nurses, finding exceptional candidates can be difficult.
As a result, your recruiting strategies should be geared specifically to attract elite nursing assignment help staff. Here is the best solution to recruit the top people in your company.
While other methods of candidate sourcing can take up significant time, effort and follow-ups, there are also smart ways to build your high-quality candidate database within a minute.
Ampliz Healthcare Intelligence provides you with a highly-accurate contact database of top nurses, ensuring quick and efficient nurse recruitment.
Ampliz Nurse Database is equipped with:
Fresh and accurate nurses' contact information
An extensive and comprehensive database with real-time data updates
Direct dials, direct Mails of the nurses
Advanced insights, affiliation details of nurses
25+ data attributes, including name, location, hospitals, etc
Specialty based search options
custom data as per your requirements
With Ampliz, you are empowered to:
Kickstart your nurse recruitment with direct contact
Hire potential talents before your competitors
Fill your pipeline with a substantial number of qualified nurses to choose from
Leverage data intelligence to come up with the best recruitment strategies to hire the best talent
Cut down hiring cycle time with the best results
Experience Ampliz today to understand more about the benefits and growth opportunities it provides to your company.
Conclusion
Recruiting talented nurses is difficult, but not impossible.
Your job will be much easier if you work hard to write a fantastic job description, proactively find top-tier prospects with the help of Ampliz Healthcare Intelligence, provide an excellent interview experience, emphasize what makes your firm exceptional, and invest in a robust organizational culture.
It's more crucial than ever to think outside the box when it comes to recruiting nurses and being attentive to the demands of your most valuable asset.
A strong brand and marketing message, along with a focus on the needs of the candidate, such as a friendly work environment, incentives, and a feeling of community, will have a substantial impact on the amount and quality of nurses you attract.