Following innovative yet effective physician recruitment strategies is a need of time, as the healthcare industry is facing a massive amount of physician shortages.
As per the report, 95% of hospital CEOs accepted that there is a shortage of physicians with 11% vacancy rate, which means 1 in 10 physician job openings are unfilled.
The Healthcare industry is facing "Great Resignation" as many physicians opt for early retirement because of various reasons called burnout, work-life imbalance, long working hours, lack of work satisfaction, etc.
This has made it challenging for recruiters to find and recruit the best quality physicians.
As per the APRP president, Emerson R. Moses, today's healthcare organization leaders need to be vigilant in reviewing and revising their onboarding and revising plans to offset continued anticipated turnover.
Keeping this in mind, here we are going to discuss innovative physician recruitment ideas that will fetch you qualified and experienced physicians.
Top 7 Physician Recruitment Strategies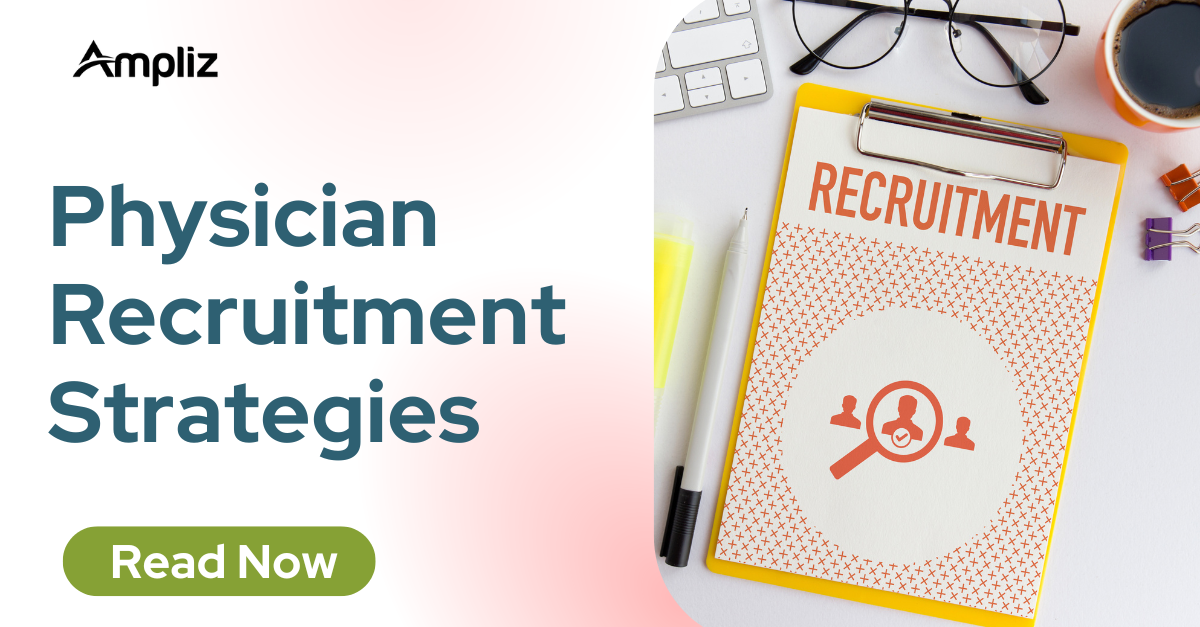 The physician shortage is likely to cause dreadful effects on the healthcare industry namely
Lower quality care
Time constraints on doctor-patient interaction
Increased workload on healthcare practitioners
Prolonged wait time for patients
High price of consultation
This leads to unsatisfied patients, lower their trust on hospitals, and financial losses to hospitals. To conquer these consequences of physician shortage, following some physician recruitment strategies is a must.
let's see which are these proven strategies for physician recruitment.
1) Effective Communication
The most important yet confusing part of the physician recruiting process is communication. Effective communication can be the game changer for your recruitment process at the same time miscommunication can spoil things.
It is still not clear which channel of communication physicians use, as one of them claimed to use social media, and some of them told to use it in the future.
So the best strategy is to check who you are targeting and what their preferences are for communication.
For example, millennials use social media, discussion forums, and online job sites to research jobs. So if you are targeting millennials better to be digitally concise and oriented,
Other recruitment practices include:
Creating an online presence on healthcare networks and discussion forums
Using paid social media ads
Using targeted keywords that match with potential recruits
Optimize your healthcare specialty pages that drive attention
2) Character and Commitment
The first impression is last, for both you and the candidate. With that said, you have to show up the benefits they will get if they join you.
Along with focusing on what they should do, their responsibilities, and your expectations, discuss what are benefits they get in terms of workplace culture, peer support, advancement in career, etc.
For this, you can take help from physician liaisons to strengthen your physician recruitment strategies. They are aware of the language of the physicians you are trying to recruit and let you know about their questions and concerns about moving out to the new facility.
Involving them in your physician recruiting process helps you to get the feedback and observations that are difficult to get during informal interviews.
3) Competitive Compensation
Money is not the ultimate deciding factor when it comes to choosing an employer, but it is still at the top of their mind. It takes a great amount of effort, and money to become doctors, and that's why they consider compensation to decide their next employer.
That's why, as a healthcare recruiter you must emphasize the benefits that set you apart from the rest.
You can mention certain things in your marketing that fetch you suitable candidates such as:
Medical malpractice insurance
Educational reimbursement
Paid relocation
Ample vacation time
etc
4) Connect With a Residency Program
Though residency programs are targeted at general recruitment, with customized outreach, the most suitable can be found through this program.
As per Ms. Daughetry, healthcare recruiters must devise a strategy according to the type of residents.
5) Adapt to Industry Trends
To recruit and retain qualified physicians, you must find and adapt to the latest industry trends. Nobody likes to work with someone who doesn't change with time. Even Amazon and Walmart are putting pressure on organizations to adapt to industry trends.
Healthcare recruiters and leaders must constantly scan where the market is headed and create strategies optimized for emerging market and clinical preferences and anticipate and adapt to shifts.
6) Invest in Scalable Recruitment Infrastructure
As per Ms. Daugherty, investing in an improved digital experience enables you to expand your marketing reach. This will help you to strengthen your recruitment needs.
Sourcing scalable technology, marketing, and building recruitment operations infrastructure will help staff to achieve their goals.
7) Plan for the Millennial Workforce
Attract the millennial generation, who represent 35% of the US labor force. To attract this generation, recruiters and healthcare leaders must calibrate their efforts by:
Researching Millennials' work style, preferences, and wants
Exploring different ways of accommodating work as well as compensation preferences
Focusing on personalizing outreach strategies targeted to millennials
This way you can effectively attract millennial candidates for your job openings.
How To Find Physicians To Recruit
As a physician recruiter, practice administrator, or member of a physician onboarding team you would be always facing the question of how to find physicians to recruit.
Amidst the various challenges, namely physician burnout, physician shortage, and retiring baby boomers among physicians, finding the physicians to recruit has become very difficult.
According to the American Association of Medical Schools, there will be a shortage of about 1,22,000 physicians by the year 2033.
A physician shortage has an adverse impact not only on the hospitals but on the whole of humanity, as patients will not get immediate and timely care, and saving lives would become more difficult. And that's why following some strategies to find physicians to recruit is a must.
To ramp up the physician recruitment process you should pre-plan the recruitment process and should follow some recruitment tips namely:
Having targeted communication
Providing competitive compensation
Allowing flexible work schedules
Taking help from the physician liaison,
Allow physicians to continue the education
According to the Association of American medical colleges, the US is going to face a shortage of physicians by 54,100 to 1,39000 by 2033. Physician burnout, the retirement of baby boomer physicians, and many physicians leaving the profession are some of the reasons for the shortage of physicians.
Amidst such a shortage of physicians, recruitment of qualified and experienced physicians is quite challenging. But following the physician recruitment strategies explained below can be of great help.
Physician Recruitment Tools
Using certain physician recruitment tools has become vital to make the best of recruitment strategies.
Your strategies won't drive you results until you reach the right target audience. And for that, you need some tools that help you to ramp up your physician recruitment process.
Let's see which are these physician recruitment tools that expand your reach among your target audience
1) Website and Analytics
Your website is a mirror image of your business, it is the best brand management and candidate sourcing tool. Your website must be professional, free from misspellings and broken links, and should have an apply button.
You must be aware of what part of your website needs improvement or replacement, and which part of your website drives traffic. Monitoring and maintaining your website is crucial for efficiency.
2) Social Media
Social media can be your go-to recruitment tool if chosen and managed properly. In this digital-oriented world, investing your time and money in digital brand management is crucial and helps you reach your target audience. And for this, using recruitment-oriented social media is a must.
Some examples of recruitment-oriented social media platforms are:
Linkedin
Facebook
Doximity
3) Email Marketing
Email marketing is the best recruitment tool for physicians. It helps you in continuous recruitment, keeping the pipeline of physicians, and brand management. The success of email marketing depends upon two important factors, a high open rate, and less bounce rate.
For this, having accurate information about your prospect is a must. An accurate and updated dataset of your prospect has the potential to increase your conversion rate and meet sales goals.
But where to get such datasets? The answer is Ampliz. Ampliz holds extensive datasets of healthcare professionals including physicians, nurses, pharmacists, etc. Ampliz tracks the buying history of your target customers and gives you a 98% accurate, reliable, and real-time update database.
4) Job Boards
Job boards are a great way to post your jobs in front of your target audience. To get more responses from your job posting, post it on some reputed or specialty-specific job boards. Select the job boards based on your financial needs, recruitment fees, resume access, and email capabilities.
FAQs on Physicians Recruitment Strategies
1) How many days it takes to hire new physicians
It takes six months to a year to hire new physicians, depending upon specialty and location. And it takes another 6-12 months for physicians to be licensed, relocate, and be ready to start working.
2) Which specialty has the highest physician shortage
As per Physician Thrive's 2022 physician compensation report, cardiology has the highest physician shortage of 7,080 followed by Ophthalmology with a physician shortage of 6,180.
3) Which specialty makes the happiest doctors?
Not all the specialties of physicians are stressful, some of them make happy doctors, these are
Family physicians
Otolaryngology
Dermatology
Anesthesiology
Ophthalmology
Pediatrics
Psychiatry
Clinical Immunology
General Pathology
Nephrology
Conclusion
Keeping physician shortage at bay is a must for delivering satisfactory patient care. For that, recruiting an ample amount of physicians is a must in your healthcare organization.
Though recruiting the best suitable physician for your hospital has become challenging amidst physicians shortage, following these best physician recruitment practices will make things easier.