Zoominfo serves as one of the most popular B2B intelligence platforms, where you can rely on as a businessman to engage, identify and successfully close ideal buyers.
With ZoomInfo, you can help your development teams to grow and maximize your sales productivity.
Build a well-heeled segmented audience for your campaigns, append data to incoming leads, and also the ones which already exist.
Ampliz, propitiously intensifies your business workflows with relevant B2B intelligence if you are searching for a perfect alternative for Zoominfo, then we must say that Ampliz is the alternative of Zoominfo.
Get your right prospects, get to maximize deal closures, and get all that your sales and marketing teams require, only on Ampliz. Set your idealized customer persona and also generate the perfect prospect fit score.
Let us now observe how Ampliz serves as the best Zoominfo alternative.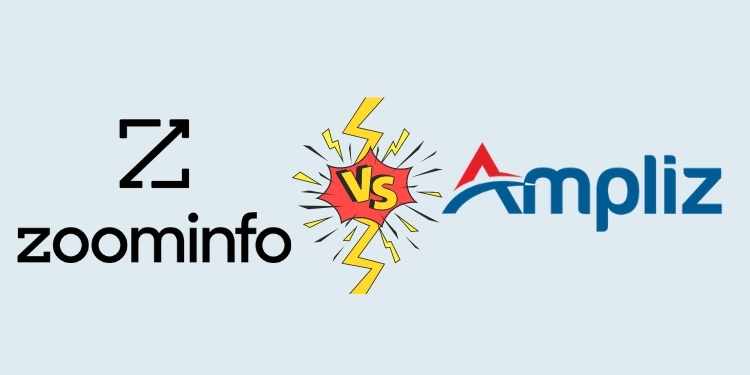 #1. Size Of Database
| | |
| --- | --- |
| Ampliz | ZoomInfo |
| 120M+ Contact Information | 95M+ Company Profiles |
| 7M Companies | 4.3M+ C-Level Contacts |
| 21M+ Direct Dials | 100M+ Direct Emails |
| 95% Guaranteed Accuracy | 63M+ Direct Dials |
Looking at the vast database, that is stated above, it already proves to be one of the biggest B2B contact database providers. Zoominfo, almost daily, adds a specific number of contacts to their database. This leads to an increase in the number of contacts each day.
If you compare Ampliz and Zoominfo, you can see that we stand as a really strong and determined competitor. With a database which has 400M+ record of relevant and important information. Refresh, process, and also get to customize your data, only with Ampliz.
#2. Data Source
Zoominfo – the platform of Zoominfo, engage automated machine learning to persistently scan the corporate websites, job postings, news article, SEC filings and various other sources for appropriate information regarding industries, locations, revenues, and many more such areas.
The sources of Zoominfo also extend to trusted third parties, which supplements automated data aggregation to derive relevant information from government data sources, public companies, merger activities, acquisition activities, and different social media feeds.
Ampliz, which is an Zoominfo alternative, goes through millions of available public records, which helps to reach the maximum initial data points.
Ampliz, as well, sourced from third-party vendors which are absolutely trustworthy. They help to effectively generate the initial sets.
#3. Data Verification
Zoominfo- the development team and human research of Zoominfo, enhances information about different contacts, demonstrates algorithm performances,
funding and also digs out the inside information about various companies that can ameliorate the sales team and steadily get much ahead of the present and future prospective buyers.
Ampliz- as the best alternative of Zoominfo, Ampliz is always ready to draw for you the best information that is ready to use.
Here, in Ampliz, we constantly clean data for, first of all, to avoid any kind of data decay and second, extract information such as the company revenue, designation, location, and size of the employee.
Ampliz, tries to provide you a set of data that nearly reaches real-time. We run a process to refresh data every 30 days, with the help of ML engines, to keep our data very close to being relevant and valid.
#4. Data Accuracy
Zoominfo- you get quality and precise data to reach your next customer efficiently.
Without facing any trouble regarding irrelevant data and unnecessary data points, get to readily convert your upcoming lead and close your next deal.
Ampliz- we keep our data absolutely updated and as much as relevant as possible.
This helps our data close to being real time. With continuous hard work, our company has set a mark of data delivery and reached an average rate of 95%.
Ampliz, again proves to be an Zoominfo alternative, because through its unique AI models, it performs AI enabled quality checks.
This leads to the assurance of delivering the best data to you, in a very short time.
#5. Contextual Data
Zoominfo- for enterprising companies, which are both large and huge, Zoominfo introduces to you an API, that helps the customers to acquire the Zoominfo database for an amplified control over the data.
The solution can be customized by businesses according to what they need and use in their business workflows to generate more productivity.
Ampliz – the Contextual Healthcare Intelligence Platform of Ampliz, helps you to get personalized and customized data, according to your requirement.
This helps to maintain easy access and comradeship. We have our own data points that help us to reach our target customers.
With ZoomInfo, you can centralize your customer sourcing and placement. Its recruitment database helps you to match with your appropriate candidate for the appropriate role.
But, Zoominfo's contact information is generally processed by machines, which can often create a rift in the quality.
It can lead to customers losing their opportunities in generating leads.it can also cause wasting of precious time by dialing the incorrect contacts.
Zoominfo also does not allow its customers to cancel or delete their subscriptions.
Customers need ease of flexibility for the services they are opting for.
This way Zoominfo has a big chance of disappointing its customers, in the field of opting for their services and building trust.
Here, if you compare Ampliz and Zoominfo, then you can distinctly understand the hassle-free process that we provide for you.
Ampliz gets your data instantaneously, without wasting much of your valuable time.
With the help of Ampliz SalesBuddy, you get your appropriate prospects shortlisted, which further helps to make your sales cycle more effective.
You can always search for and find new fresh prospects, whom you require and want to work with.
Deal with any type of conversion rate, if you try Ampliz. You deserve to reach the right prospect and also enhance your sales cycle.
Hence it is proved that Ampliz is the best alternative to ZoomInfo. It is more affordable, preferred, and evolves with many booming points.
From efficiency in your business to experience a sharp rise in your sales, Ampliz stands as the ZoomInfo competitors.
Zoominfo related queries
What is ZoomInfo?
ZoomInfo is a software as a service company that offers access to various company insights, leads, technographic information, and many more.
ZoomInfo basically cells this information to marketing, sales, and recruitment experts.
Who is the current CEO of Zoominfo?
The current CEO of ZoomInfo is Henry Schuck. In February 2019, DiscoverOrg acquired ZoomInfo.
Where does Zoominfo get its data from?
It collects data by crawling different websites and collecting important information like the name of the employee, direct-dial phone numbers, email addresses, LinkedIn profiles, and so on.

ZoomInfo, also collects information from third-party vendors to collect data.
How much does Zoominfo cost each month?
Entry-level plan ( no access to internet data and technographic) starts from $16,000 per year for around 25,000 exports and one user.

Premium plan (access to internet data and Tecno graphics along with various other add-ons) starts from $25,000 per year for around 25000 exports and one user.
Is ZoomInfo legal?
Yes, ZoomInfo is absolutely legal. It does not collect the consumer, personal, or credit information of an individual, but it is only interested in professional profiles.
To know more about such blogs related to healthcare, do not forget to visit our website Ampliz.
If you have any questions or want to reach out to us then please mail us at [email protected].