Lead generation for B2B is not about hurtling towards a "secret recipe" that can get you a massive number of leads. Instead, try building the best lead generation strategy that works for your business.
It is about understanding and inculcating tried-and-tested channels and finding the most practical combination of tactics for your unique set of goals. A disciplined B2B marketer should understand the different dynamics, budgets, and expectations typical of each lead generation channel.
What is a B2B lead?
B2B stands for business to business. B2B leads means a way of doing commerce, specifically companies doing business with other companies. It refers to the exchange of products or services among companies. You sell products primarily to other companies, rather than selling them to consumers.
Therefore, a B2B lead means when company A finds company B has the potential to become a lucrative customer in the future. So company B becomes a B2B lead for Company A.
Latest Post :
What are the different ways to generate B2B Leads?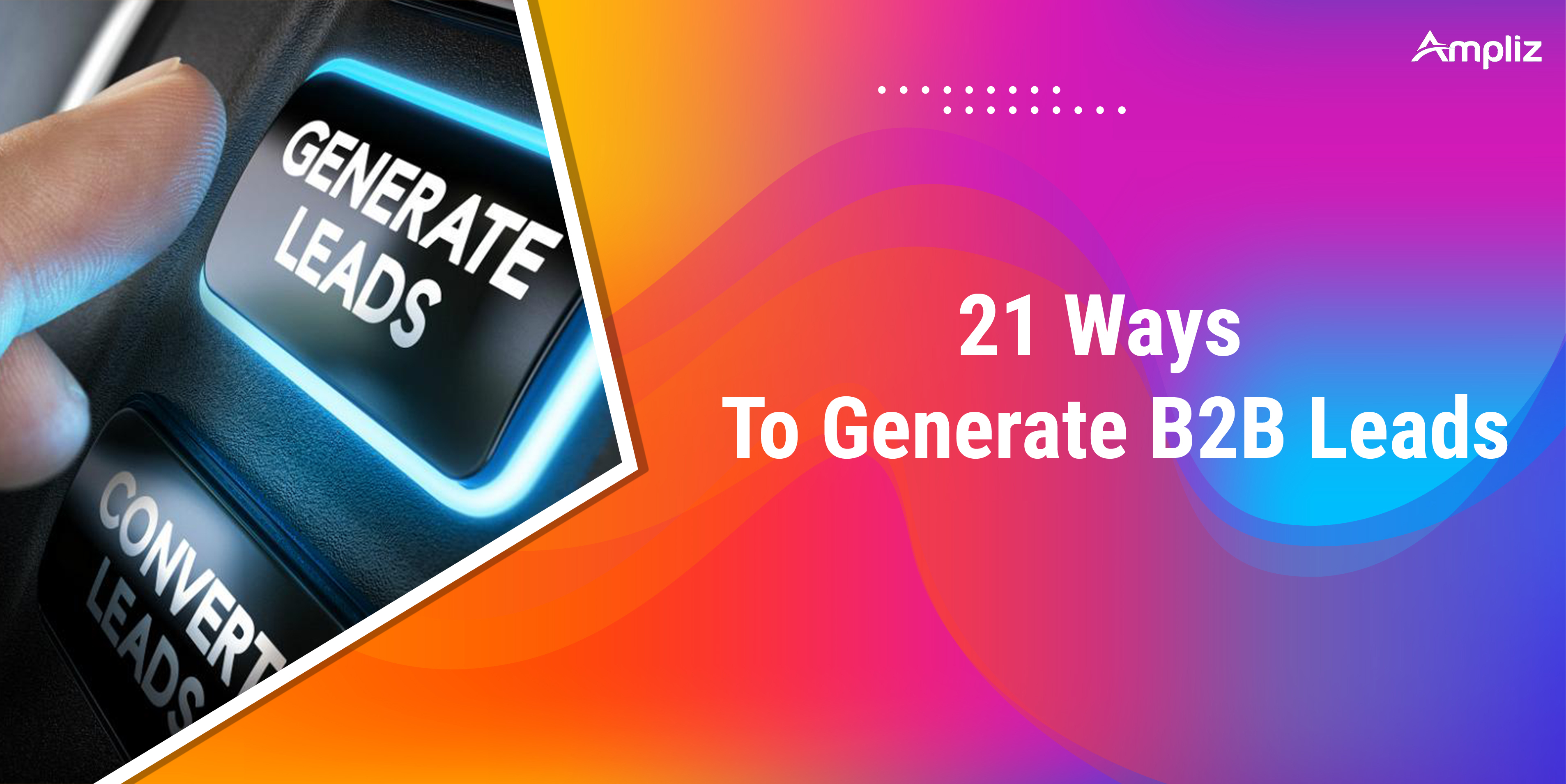 Content Marketing Based Lead Generation Techniques
Email Campaigns
Social Media for Generating B2B Leads
Personal Branding
Other lead generation techniques (Online Communities)

Content Marketing Based Lead Generation Techniques
Blog:

The Blog is one that might be relatively palpable, but you can generate leads through your blog! B2B marketers that utilize blogs to get 67% more prospects than those that don't influence. Proposing relevant and useful material through your blog posts, and linking it to various input forms and very pertinent anchor content can convert your "outbound" data into inbound leads.

A useful blog can also position your company as a thought-leader in the industry. People will start relying on you for quality content, from sales and marketing tips to industry insights and this, in turn, will help you generate B2B leads. Here are a few pointers on how you can turn your blog into a lead generation machine.



Use the right kind of CTAs in your blog:

Encourage and incentivize your readers to take action. Sweep them off their feet to fantastic landing pages that provide either excellent content or an invitation for demo.


Offer exclusivity, relevancy:

If your blog about how to respond to difficult sales questions that customers ask? Then offer them some response templates to help overcome those challenges or direct them in a specific solution that will only work for them! Attaching appropriate, juicy content to your super long blog pieces will keep those B2B leads pouring in.


Offer your readers some perks or incentives:

Getting someone to subscribe to your blog is much easier when it comes to benefits! Can you offer exclusive deals for subscribers or VIP insights in your blog newsletter to your readers?


Make use of the comment segment of the blog:

If your audiences are engaging with your piece, don't leave them dangling! If they enquire or show great interest, reply with appreciation, and throw in a little marketing, or a simple CTA to push them further through your sales funnel.

Gated content (eBooks, guides, case studies):

As mentioned above, gated content attached to blogs is a prodigious way to bring in B2B leads and advance your brand as an industry thought leader. Gating content like infographics, tools, eBooks, whitepapers, and your usual visitor data-gathering landing pages enable you to collect information on prospects while serving them the relevant information in return. You can attach these downloadable content to your various communication channels like blog posts, email campaigns, social media posts, and others.



eBooks and Guides:

You can use downloadable eBooks and guides for particular, industry-relevant topics to educate your audience at the same time as getting new prospects. Confirm whatever information you're offering in your eBook will facilitate a useful and an evocative discussion with your sales team after they've put it down, or move them further down that sales pipeline.



Infographics and Checklists:

Illustrated statistics and data, as well as flashy step-by-step checklists for success, are another excellent content you can offer to get business prospects through the door. CXOs and mid-senior level prospects love data and proof of performance (POP), so set up your company as an information-hub by crafting and offering insightful and well-designed infographics.

You can generate supplementary B2B leads through infographics by offering it to relevant company blogs with posting agreements of your infographic (or "guestographic") and linking the infographics back to your website.

People also love checklists that help them carry out specific tasks efficiently. Marketing checklists are some of the biggest content converters or lead-generation machines. Find what marketing tactics you can offer to your B2B leads in a handy checklist format.


Case Studies:

While case studies are generally well-thought-out as more of a "bottom of the funnel" stage content. They have a flashy way to showcase the great success stories of your services to your clients. Case Studies are part of B2B content Marketing Strategies in 82% of companies. It is a validation of your value to your current and future clients, and the ability to get results is priceless.

Business clients are desperate to know any secrets of the trade that they can implement quickly to their business, and that's what the case studies should offer.

While working with a prospect that's close to making a purchase, the larger the repository of product and services specific case studies you offer, the better it is.


Content "hub" or library or resources

Have one central "library" of content that allows people to search quickly through your downloadable pieces to find the information your audience seeks. Make it searchable by creating categories, having a search bar, and right tags that ensure the readers can filter through easily to find just the kind of content they need.


Video Content Marketing

Video is a great way to get the message through and generate B2B leads. Most people are generally very visual learners, and they like it too. Not just the video ads on Instagram, Youtube and Facebook, either—we are talking about video content that supplements your written marketing materials (blogs, case studies, whitepapers, and others). Have a look on Detailed Youtube Stats in 2021, You can include videos in any part of your sales funnel. Here is why:

Beyond that, video is an excellent B2B lead generation tool on its own too! Organizations can use product and services explainer videos to connect prospects to the people behind the brand and distribute critical information in a digestible and appealing manner. Considering you have the time and resources to create compelling and informative video content. Don't let the opportunity to mine B2B leads pass up.
Hosting webinars is a great way to generate leads. Prospects need to register for the event with the right contact information. Get your video content gated, particularly the very high-value ones, especially the one that has predominantly juicy and desirable information to offer.
Email Campaigns For Generating B2B Leads
Email marketing is one of the first lead generation strategies at that 78% B2Bs employ.
In B2B communication, many businesses still prefer email as their primary channel of communication exchange, even if the email seems like an old school technology to some of the highly domineering digital-savvy population.
However, if your prospects are considering for help in the digital space, it's not so far fetched to see that email communication is more like their speed. So, as the saying goes, scope them where they live!
Email marketing can take a variety of forms for lead generation, namely:
Newsletters

A regularly-scheduled newsletter that provides high value, relevant content with deep insights can be an excellent tool for generating B2B leads. The promotion of the newsletter can be a great tactic to attract potential customers trading their contact information for your valuable content.


Nurture campaigns

Nurture campaigns or "drip" campaigns can be automated based on visitors' actions on the website. It lets you nurture that new prospect from consumer to customer by automating your follow-ups.


Cold emails

Sending a cold email to the CEO of a firm is a bad idea if you plan on acquiring that firm as a customer, but a cold email can work as a lead generation channel. If you are looking for B2B leads in the right places, knowing how to entice them with a killer email, and efficiently following up without fail can get you prospects you impossible. W have some amazing cold email templates to get you started.

3 Tips for converting email into a lead generation machine:
Whatever may be the form of content, provide value to the audience:

What to include in your email campaigns? The specifics will vary depending on the type of your email (newsletter, inbound, outbound, and others). A great place to start is by offering prospects useful or actionable content. Newsletters that have the latest industry insights, new validated tactics to boost efforts are highly valued. Special offers are also a great value add that encourages prospects to become customers.
Focus on their problems—not your solutions

These topics go hand-in-hand, but how you phrase your email copy will dictate your click-through rates (CTR) and find value in your words. Frame your email copy around their problems, and your solutions will naturally fall into place as you're discussing pain points. If you mount your text around your products and services, your email campaigns won't resonate; instead will come out as pushy sales messages and find their way into your audience's trash.
Test until you start getting leads!

The great thing about generating B2B leads through email campaigns is that emails lend themselves exceptionally well to testing. Are you not getting many opens? Try a new subject line. Is the click-to-open rate (CTR) less? Perhaps switch up your value offer or try a new position for your CTA. Is the email campaigns failing all-together? Perchance it's has been long, you gave a thought to a whole new email strategy, and doubt your industry you are catering to is ready for email marketing.
We have got you covered with these sales email templates which will maximize your ROI.
Social Media-Based Lead Generation
Promoting Content

Promotion of your content like blogs, webinars, and gated downloadable content through social media is always a worthy idea. Your content becomes accessible to a much higher number of audiences than restricting to your email list or your website visitors. It can be the source of increased traffic and better B2B leads for the business.


Display Advertising:

All the platforms have built-in social ad features that you can utilize for generating B2B leads. But on what platform does your audience thrive? Given you're going after corporate clients, then a platform like LinkedIn makes more sense for your advertising campaigns, as it has a more qualified business audience

However, just choosing the platform isn't enough, and advertising on these channels can drain your budget unless you properly utilize their audience targeting features as well! Do you "know your audience" well, really comes into play, and you can get your advertisements to the right people at the right time to generate new business leads.


Facebook Adverts:

Facebook has a plethora of advertising options; most predominantly sponsored newsfeed advertisements and boosted posts. These are great selections to promote your business, content, promotions, and reach out to an audience and hyper-target them.



Facebook Lead Advertisements

Apart from Facebook sponsored ads and boosted posts, Facebook Lead Ads is a feature specifically designed for businesses to generate B2B leads, collect data without ever navigating the prospect away from the platform itself.



Twitter Advertising Platform

Twitter is a vast advertising platform for B2B space. Utilize the variety of ad types that Twitter has can help promote your brand as well as your business but also generate new hot leads.


LinkedIn Ads

LinkedIn is a professional social media platform that has to be the only channel for your content and house your business info. It is a B2B lead generating machine on its own with the innovative features and tools that LinkedIn introduced to the social media scene.



LinkedIn Sales Navigator:
LinkedIn Sales Navigator helps connect buyers and sellers to the right prospects on the platform. This tool helps with brand awareness, promoting business, and helps generate B2B leads.


LinkedIn Lead Gen Forms:
LinkedIn's Lead Gen Forms, launched in April 2017, offered a novel way to generate leads and collect information about the prospects through the popular business channel.
Ampliz Salesbuddy – A Chrome Browser Extension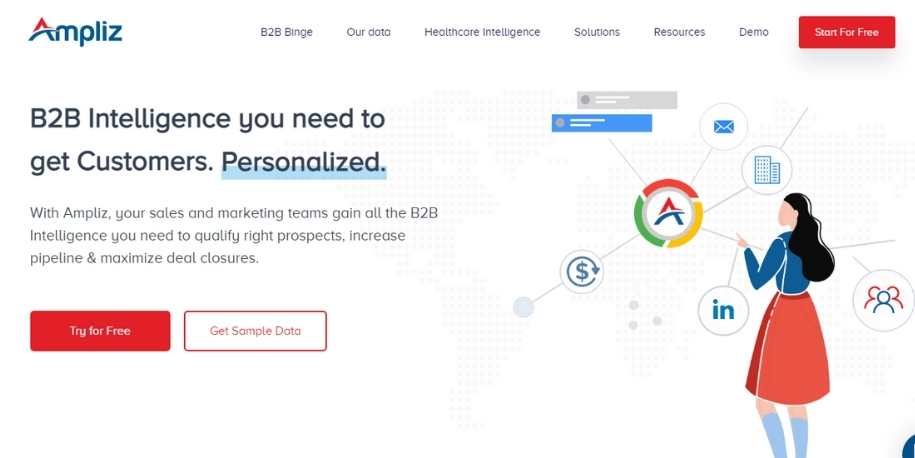 Have you heard of Ampliz's SalesBuddy, a groundbreaking prospecting tool? Ampliz SalesBuddy is a B2B Sales Intelligence platform to meet your B2B Lead generation needs. We help you understand and identify your prospects with enriched data-driven insights in seconds.
Personal Branding For Generating B2B Sales Leads
Having a strong personal brand is about contributing to your particular community. Take your time to answer your targeted audience's questions. It will be proof of your knowledge and expertise.
So let's look at how you can leverage online and offline channels to grow your brand and generate b2b leads.
Social Media:

Social media channels like Twitter, Facebook, and Instagram are great for cultivating a more informal personal brand image while remaining professional. It would help if you aimed at:


Share content: Social media platforms are perfect for sharing the select content produced on the subjects of your expertise. However, do not forget to share relevant content from various other sources that might be helpful or interesting to your audience so that your knowledge can become more evident. It will be proof that you are not there to promote your organization's content only.


Engage in the comments section: Once you've shared content or published a post, don't remain silent. Engage with the comments you've attracted. It will demonstrate that you're genuinely interested and willing to engage with your followers and their concerns – as well as helping you attract new contacts.


Be a little personal: Feel free to share information about your life and interests, as it aids in establishing a well-rounded, human image. However, your business-related social profile is not the place to voice your personal opinions on every possible topic – keep it more private profile so that you can express yourself freely.


Use social media tools for consistency: If your posts are too sporadic or have inconsistent timings, this could adversely affect your brand image. There are many free online tools like Buffer and Hootsuite can help you manage your social media promotions and optimize for increased exposure to a relevant audience and drive better engagement rates.



LinkedIn:

Connect with users who are already in a "work" mindset. They are more likely to become your leads quickly, then LinkedIn is your go-to platform.

So here is what you can do to unlock the personal branding opportunities on Linkedin.



Blog: Even though you have already published content on your website or a guest blog site, it pays to post it on LinkedIn's blogging platform too. After all, LinkedIn actively promotes the reach of its blogging services across the site, so are highly likely to get some good coverage.


Make the first move: Keep an eye out for the people who have viewed your profile. Some of your content has likely piqued their interest, but they do not want to come across as too impetuous by getting in touch. Thus, it's up to you to contact them if you think the person has the potential of a prospect.


Build relationships: Sale should be one of the primary but not the only reason to contact someone; possibly you can help each other out. You might be able to barter services or propose to collaborate on content. And it may very well be that further, the business opportunities in due course.


Play the system: Stay attentive to how LinkedIn is changing its algorithm to prioritize certain kinds of posts. The motive is keeping your content relevant for your audience, and your updates are more likely to appear at the top. Avoid including too many external links, as the LinkedIn algorithm doesn't encourage users to leave its site.



Conferences & Speaking Gigs

Despite the power of building your brand online, your reputation will benefit significantly from in-person appearances at offline events now and then. Speaking at workshops and conferences is a great way to increase your network and meet new people in the startup/scaleup community.

Public speaking is a priceless personal branding tool as it enables you to produce and distribute content in a single go. The primary goal again here is to educate and give something that adds value to your audience. However, lead generation will be a natural outcome of these activities.

Here is a key to unlock the treasure trove for using public speaking to boost your brand:
Be familiar with your audience: You can start to build a relationship with your audience before you even are on the stage. Research your attendees before you reach the event, if possible, and direct your talk towards their particular pain points. You can also ask for questions to answer in advance.
Be real: As I mentioned earlier, a strong personal brand means being open about mistakes and challenges as well as successes. Talk about happy as well as distressing real-life situations experienced by your customers or partners, and how you operated together to fix the issues.
Stick around till the end: After your talk, don't just disapparate. Be sure to be available for answering questions, use your connections to support the people you meet, and attempt to go and hear other presenters too. After all, you might learn instead to your benefit!
Accumulate contacts: Endeavour to get away with as many contact information as possible – whether as business cards or email addresses. Encourage sign-ups with free giveaways or competitions.
Do Follow up: Make sure you have made a follow-up stratagem in place, so do not lose the potential to generate leads from your talk contacts. Continue to build on the themes of your talk and expand on the insights you've already shared.
Other lead generation techniques (Online Communities)
Quora

This Q&A platform is full of questions for all sorts of topics—from marketing to nutrition, and many others. Answer user questions and staying active in the community will get the attention of other users and has the potential to become a new B2B lead generation channel for your business! Answer the popular questions on Quora in your space, and back-up the answer with data by pointing to the blog posts and pieces of content you have on your website. That way, you are not just spamming with links, but also providing useful information that also gets the interested parties to your site.



Inbound.org

Inbound.org is another excellent community forum in the B2B/digital space but made up of more professionals than average non-specialists. Participation in the community discussions and having a filled out profile will help get you and your company get recognized in the industry. Additionally, you can share content from your site to direct traffic to your website and generate fresh B2B leads. Being an active member of the community will even get Inbound users clicking through your profile to see the source of your industry knowledge.


Messenger/ Chatbots

One way to stand out in the marketing crowd is to hit your audience where they don't expect it—and who plans for personalized marketing in their social media direct messages? Facebook Messenger bots may be on the website, or the social channel is still in their nascent years, and you can reap massive engagement and conversion rewards if your establishment can set them up effectively. With the enormous number of active Facebook, Messenger users are currently sitting at 900 million, and it's worth your time and effort to develop a B2B lead generation strategy around this new technology.