It is extremely essential to stay updated with the best healthcare marketing trends in 2021, that are being continuously refreshed and constantly working for a better health care world. With the successful adoption of various technologies which are related to certain healthcare marketing trends, the healthcare industry, presently, is experiencing a huge makeover.
It is sometimes difficult to keep pace with the upcoming marketing trends which you can utilize for the growth and improvement of your healthcare organization, but at the same time, you may feel frustrated because, maybe, by the time you get to know the trend, it is already out of date.
The more we approach the year 2021, it is really worth taking a quick glance at the most important, relevant and significant trends that literally define various healthcare marketing trends in this new and growing decade.
This present year is a huge opportunity for the ones who want to start a healthcare organization or company because it is expected that a number of new innovations, creativity and technologies will be showered on us with every passing day.
The healthcare industry, at present, is going through some swift changes and modifications because there are constant upgradations of latest technologies.
Here is a list of the top 7 best marketing health care trends in 2021, which are considered to be absolutely important and significant. With the help of these, the healthcare world is currently moving towards some of the best innovations.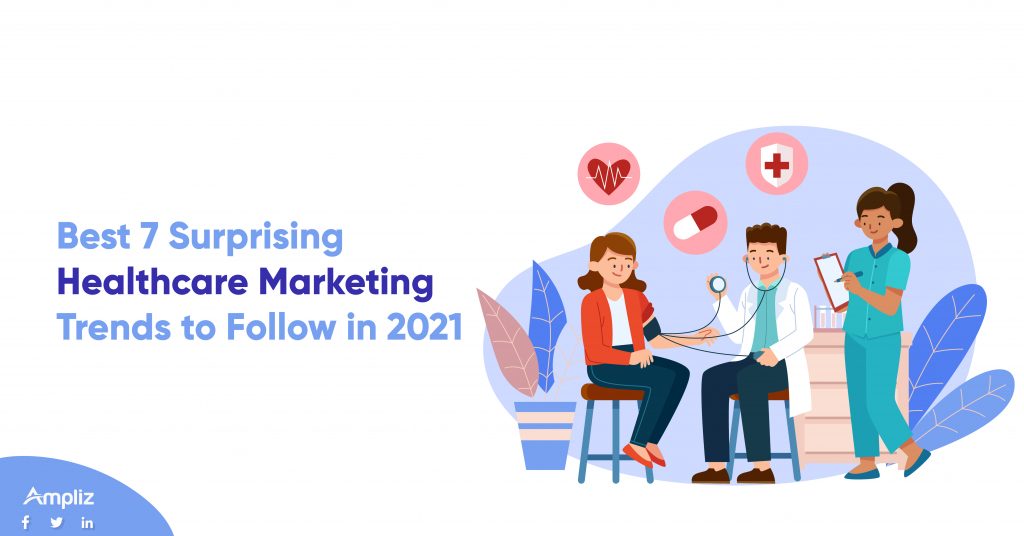 Social media
TeleHealth
Reviews
Content marketing
Digital advertising
Video marketing
Voice search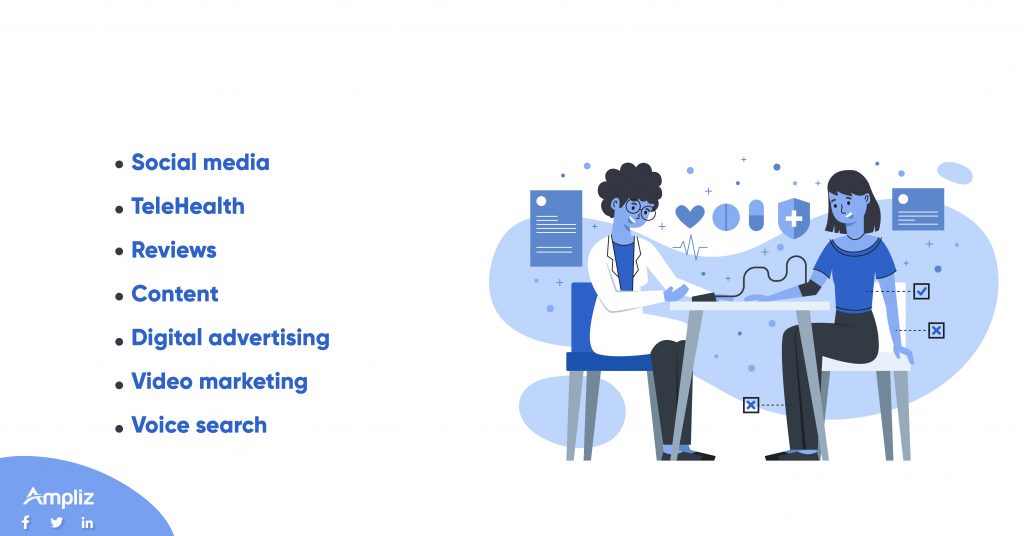 1. Social Media
Social media has become a very utilized and substantial focal point of every healthcare marketing strategy. It is nearly very rare to find a healthcare practice without a Facebook, LinkedIn or any other social media page.
A precise content, a systematic process, and time management serve as an effective healthcare marketing trend and help engage potential patients with several elements that they are searching for. Patients from different corners of the world continuously dig up social media to find recommendations.
If you think that you are ready to be on a social media platform, then make sure it suits your target group or population and demography, and create exclusive content that serves well for any of the social media platforms that you want to create.
Distribute the purpose and content of your organization or company across social media and eventually, you will get to know the perfect time to post your content and reach out to your audience.
2. TeleHealth
Anyone who is aware of the latest healthcare marketing trends, for the recent years, knows for the fact that a substantial amount of care is provided to people living in remote areas, whether it is by phone, an app, portal or any website. If anyone ever has a doubt about the future of telehealth, the use of it in the remote places during the Covid-19 pandemic, put it to rest. Telehealth, during the height of the pandemic, became the primary channel for care between the provider and the patient. It helped to monitor the health of the patients and provide the essential care that is required by them, without any physical contact. This serves as an excellent healthcare marketing trend in 2021.
Patients can receive prior diagnosis, without physical contact and without visiting the hospital. Health care providers and doctors can easily identify patterns in their patients before any serious relapse occurs.
3. Reviews
One of the best and new healthcare marketing trends is the increased evolution and development of the role of reviews and the reputation. For a potential patient, it only takes 1 to 6 reviews to form an opinion on your organization or your healthcare practice.
A patient, who is looking for a healthcare provider, generally goes online and searches for the best organization through the reviews that are left behind by other patients who had made appointments earlier.
With time, it was noted that a number of people adopted self-diagnosing ways, and even when they received a referral, they did not generally take the word from their primary doctor.
Maximum of them turn to online websites to go through different reviews, coming from different people and research the overall reputation of the organization, to practice that it is into and also get to know about the providers of the organization.
Hence, it is a very important part to emphasize on maintaining the review and reputation of the organization that one is running.
Reviewing holes it's position as one of the most popular healthcare marketing trends until and unless really major Google algorithm gets updated and approved.
4. Content Marketing
The next step after building a proper medical website is probably a program that deals with content marketing.
Most of the people think that blog posts equals content marketing. Blog posts are a very effective way of content marketing but it is far from the effect that only a form of content, a practice can come up with.
There are more than 40 types of content, but the one which has a good mixture of all of them, is the most productive.
Each form of content has its own advantages and different stages of engagement, so when you decide to choose a blog post or a video as the main focal point for production of content, make sure to mix it up with the most frequently used category of content that keeps people engaged, most of the time.
5. Digital Marketing
As data has become easily available and accessible on several Social Media Ads and Google Ads, it has already become one of the best healthcare marketing trends as it has helped healthcare marketers to become more focused on who they can choose to advertise.
If your ads are presented and done in the right way, then from geofencing to demographics, no you can sharpen on the perfect patient category.
Like for instance, that is a client in the chiropractor care space. If there are leveraging social ads that drive new leads to this specific practice, then the engagement of the client will automatically increase with your organization.
Advertising in Connected TV has become more readily accessible and available. To attract potential patients, initiating quizzes for specific age groups, is a great approach to words online advertising.
Videos, which put forward real-life people to share their experiences and thoughts regarding your practice and company, again draw in more patients.
Implementation of marketing automation can lead to increased campaign conversions. Thus, digital advertising is another best healthcare marketing trend.
6. Video Marketing
The outline video marketing is growing across all types of industries, but this certain medium is specifically very essential for healthcare marketers.
A video is a very powerful element to bring potential patients. The individuals who engage with a video that is related to health, is likely to take at least one action after watching the video.
A study shows that 39% of people called up to make appointments after watching a relevant video on a particular healthcare topic.
Video will eventually become more and more commonplace because there is an increase of streaming bandwidth, especially with the introduction and gradual growth of 5G speed.
The brain has no other way, but to fixate on human forms, especially human faces. If you are already using this strategy, then you are beating out nearly 90% of your competition in the digital healthcare marketing trend.
7. Voice Search
With the immense growth of items like Amazon Echo, Google Home, iPhone's Siri, and many more, the use of voice search is gradually becoming one of the common searches related to healthcare marketing trends in 2021.
In a survey that was conducted recently, above 71% of the participants stated that they preferred to use a voice assistant to search for anything rather than typing their queries in the search bars.
The feature of voice search is still young as it arrived only 2 years ago, but has become a very integral part for interacting with search engines because it is mainly used in mobile devices, and for the last two years, the use of in-home devices have outburst and thus, the increase of voice search gradually took shape.
With the advancement of technology and other developed ways, in the future, we may come to see that the healthcare industry is catching up with higher adoption rates, in different verticals.
The share of the healthcare industry will continue to grow digitally in 2021, and way beyond.
The healthcare industry, with upcoming time, may experience some growth rates and trends which it has never come across before.
Ampliz's advanced Contextual Intelligence Platform is one of the leading examples of taking a leaping step towards adaptability of such dominating healthcare marketing trends aiming for better B2B healthcare data solutions.
To know more in detail, visit Ampliz, or get in touch with us at [email protected]