Are you looking to find list of companies using Salesforce in USA? Do you know the secret to beat your competitor?
It is filling the gaps that your competitor has left.
Today all businesses rely on CRM for knowing and managing customers, managing sales pipelines, improving communication within the organization, and so on. CRM has become an integral part of the business.
When it comes to choosing the CRM, salesforce is the first choice of 90% of businesses.
Salesforce is definitely a leader in the CRM industry, but it has some cons.
You can recognize these cons and can present yourself as a better alternative to Salesforce.
From higher cost to poor customer support to complex setup, salesforce has some cons with which their customers are not happy.
You can solve these issues in your CRM and reach out to your prospects to market your CRM.
By solving these issues you can become a good alternative to Salesforce.
Once you do it, or while you are in the process of making your CRM better, you would require to reach out to the companies that using Salesforce.
Reaching out to them will help you in knowing about their review of Salesforce, their requirements, and their pain points.
They can tell you what other features they are looking for in CRM.
But to reach out to them, you need the list of companies using Salesforce in USA, and their contact details.
If you want this list and ways to get their email address, keep reading this blog.
Top List of Companies Using Salesforce in USA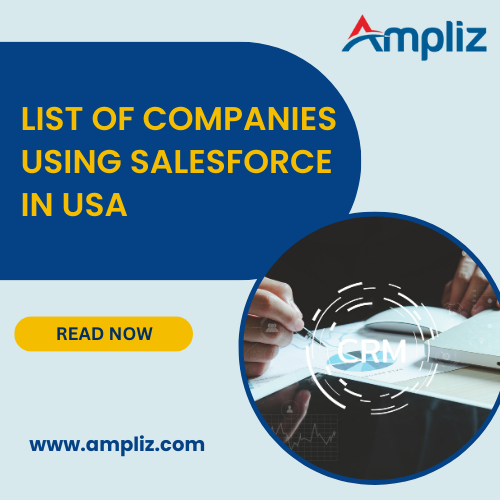 With around 1,50,000 customers worldwide, Salesforce is the number one CRM.
Due to a range of ready-made solutions tailored specifically for the needs of different industries and business departments, many companies using salesforce in USA.
Salesforce has a total of 12 industry clouds that include
Consumer goods
Retail
Media Energy and utilities
Financial service
Public sector
Education
Healthcare
Non-profit
Manufacturing
Communication
Travel and hospitality
Top Companies That Use Salesforce in 2023
| | | |
| --- | --- | --- |
| Company | Employee Size | Revenue |
| US Bank | 70,000 | $23 billion |
| Macy's | 88,857 | $8.6 billion |
| Progressive Insurance | 43,326 | $47 billion |
| Ben & Jerry's | 2,000 | $936 million |
| Mayo Clinic | 70,650 | $13.8 billion |
| BMW | 118,909 | $122.4 billion |
| Zara | 12,589 | $13.2 billion |
| McDonald's | 200,000 | $23.2 billion |
| Tesco | 242,911 | $56 billion |
| Wells Fargo | 246,577 | $78.4 billion |
If you are looking for a contact details of Salesforce clients list in USA, Fill the form below.
How to Find Companies That Use Salesforce?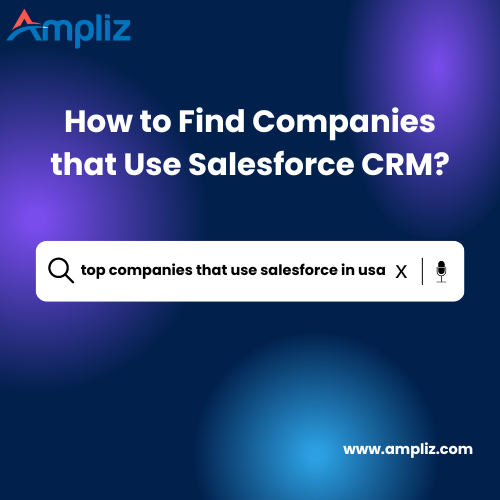 Find companies that use Salesforce requires some deliberate efforts such as checking customer success stories pages, using LinkedIn filters/searches, attending Salesforce events, and so on. Let's see each of these in brief.
1. Check the Salesforce Customer Success Stories page
This is a great resource for finding companies using salesforce CRM and includes case studies of how they use the software to drive their business forward.
2. Use LinkedIn
Search for job postings on LinkedIn and filter by "Salesforce" in the skills section. This will give you an idea of which companies are actively seeking employees with knowledge of the platform.
3. Attend Salesforce events
Attend one of Salesforce's many conferences or events where you can network with other professionals who work with the software and potentially learn from them which companies utilize it.
4. Utilize third-party databases
There are several online databases such as Ampliz, Hoovers, ZoomInfo, and Data.com that allow users to search for companies based on specific criteria including CRM usage like Salesforce.
Once you have the list of companies using salesforce, the next step is to find their contact details. Let's see how you can find their contact information.
How to Get Contact Information of Companies that Use Salesforce?
There are so many methods by which you can get the contact information of the key decision-makers of these companies.
You can go on the company website, you can check their LinkedIn profile, you can google them, and so on to find their contact information. But these methods are time-consuming and very often they fail to provide accurate information.
So, the effective and easiest way to get the contact information of the company is to contact data providers.
These data providers provide you with the email address, phone numbers, and Linkedin profiles of the key decision makers of the company.
Contacting B2B data providers saves a lot of your time from researching.
Use Ampliz to Get Contact Information of Companies using Salesforce
Once you decide to go with a data provider to find the contact details of companies, the next step involves deciding on the data provider.
Among so many data providers, finding the reliable and authentic is a challenge.
When it comes to finding a reliable and authentic dataset provider, Ampliz is the best one.
As Ampliz provides you 98% accurate, real-time updated, and compliant contact information of your prospects.
The Ampliz dataset provides you with an accurate and updated email address, phone number, and LinkedIn profiles of key decision-makers of the company.
Along with contact details, Ampliz also provides you with other details like demographic, technographic, and geographic information about your prospects.
Why Ampliz is the Best Choice When it Comes to Choose a Dataset Provider
Ampliz collects the data from 100+ credible sources and gets them validated by 800+ experts which ensures the accuracy of the data.
With the blend of human and AI, Ampliz refreshes the data at regular intervals which ensures the latest information of the data.
Ampliz meets all global data protection and data privacy regulations which makes the data compliant.
This makes the Ampliz data unmatchable most recommended among marketers.
For more information, click the form below and get in touch with us. 
Conclusion
This list of companies using Salesforce in the USA highlights just how many businesses are now leveraging this powerful and versatile CRM.
From small startups to large corporations, more and more organizations are recognizing the value of Salesforce and taking advantage of its features to improve their customer relationships.
As a result, it is likely that this trend will continue in the coming years as more companies move towards a digital-first approach.
Salesforce can be the first choice of the companies but not the only one. Companies want to explore other choices that give them the same benefits at a lower cost.
So, you can reach out to them to know reviews, and requirements, that help you to curate your product and market your product.
FAQs Related to Companies that Using Salesforce
How to find companies that use salesforce?
Salesforce has a great list of success stories, so start by checking out their official website. You can also search for companies that use Salesforce on LinkedIn, Twitter and other social media platforms.
Furthermore, you can use referral programs or contact people who work at companies that are already using Salesforce to get recommendations.
Finally, you could use specialized websites like Ampliz to find companies that are using Salesforce.
How many companies use salesforce?
According to the Salesforce website, more than 150,000 companies use Salesforce. These companies range from small businesses to global enterprises and span a wide array of industries.
Salesforce has become an essential tool for businesses to track leads, manage customer relationships, and grow their sales.
What industries use salesforce?
Salesforce is used across many industries, including healthcare, retail, finance, education, government and nonprofits.
It helps organizations of all sizes to manage their customer relationships and business processes more efficiently.
Whether it's streamlining a sales process or providing personalized service to customers on a large scale, Salesforce has a solution for everyone.