Are you wondering why there is no improvement in your sales?
The answer lies within your sales pipeline. If your sales pipeline management process is efficient, there should be some changes in your sales every day.
According to the Vantage Point research report, 72% of sales managers conduct sales pipeline review meetings several times a month. In order to scale the sales pipeline management process, most of the sales managers try different hacks on a regular basis.
In order to scale your sales pipeline management, we have covered a few efficient steps to manage your sales pipeline and its different stages of it.
What is a sales pipeline?
A sales pipeline is a way used by sales professionals to keep track of the number of potential buyers they have during each sales cycle. Any lead which shows some intent of purchase is considered a part of the pipeline.
The sales reps observe their leads' behaviour across different stages of the sales process and forecast the possible closed deals to build a pipeline. Every opportunity is different from each other.
Sometimes, a few leads skip the stages and jump to the final stage, if they have the right intention to buy. In this case, before coming to you, they do enough research on your product or services and they are ready to buy.
Hence, measuring a lead's behaviour and positioning him/her in the sales process are significant steps to set your sales pipeline.
6 ways to manage your sales pipeline
Poor pipeline management could be the cause of inaccurate sales forecasting. Creating a proper sales pipeline is more important.
Here are the complete steps to create a healthy sales pipeline and manage it:
Get your Prospect: The first and initial step is to find your prospect through different channels such as subscriptions, social media, content marketing, etc.

Find the real potential: Once you get the prospects, find his/her requirements and see if your product/service is relevant to his/her requirements.

Find the decision-maker: One this qualification process is done, find the decision-maker.

Follow up: If you receive the responses, it is good to go. If not, don't forget to follow up with different content to nurture.

Analyze the responses: Based on the responses to each email, determine the next move of your lead.

Create your pipeline: According to the movement of each lead in the sales cycle, you need to position them in the sales process to set your pipeline.
The aforementioned steps are the overall process of creating and managing the pipeline. So, let's look at these 6 key steps for effective sales pipeline management.
Don't forget to follow up
Focus on better leads
Have an eye on the pipeline metrics
Keep your sales cycle short
Nurture your prospect with more and relevant content
Manage your sales pipeline with automated tools
Don't Forget to Follow up
The common mistakes are found in the sales domain is missing the follow-ups. Most of the sales reps focus on the fresh leads than the old leads.
Hence, not following up with the existing leads may lead to missing the paid customers.
Follow up is kind of a gentle reminder to your prospects. If you have a huge number of leads to follow up, you can automate your email with the sales follow-up email template to send follow-up emails on a regular basis.
According to SuperOffice, following up is the third biggest challenging factor for the sales team.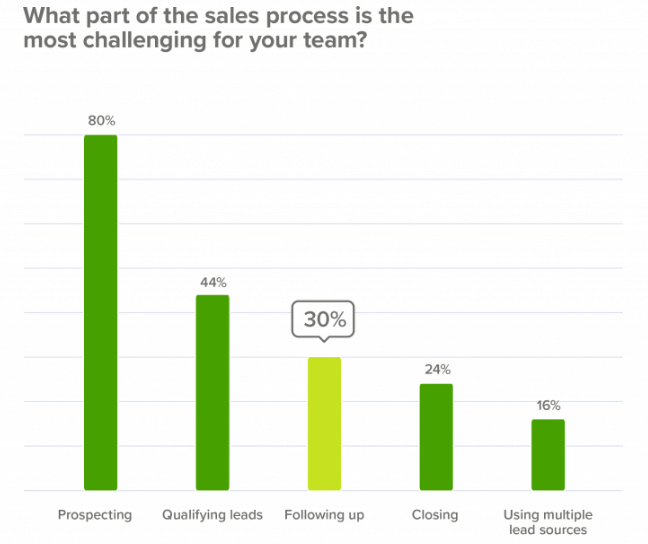 Focus on better leads
Most sales reps go through each and every lead one by one they have listed on their dashboard. It is always wiser to focus on better leads and spend time on them.
You can identify the best leads by their buying behaviour, interest level, requirements, etc. Also, you can use a lead scoring system to identify potential prospects.
Similarly, try to drop the dead leads who don't respond to your emails, not having requirements or not having intentions to buy the product. Spending time on the dead leads will not provide good results.
Have an eye on the pipeline metrics
In order to have a healthy pipeline, you need to monitor a few metrics:
The total number of deals in your pipeline
The average size of the deals
Qualified opportunity in your pipeline
The average life cycle of a deal before it gets closed
Instead of the overall estimate of your pipeline, you need to micromanage your pipeline by monitoring these metrics. This will not only provide a healthy pipeline but also will provide the opportunity to identify the improvement areas that you are lacking.
Keep your sales cycle short
According to Coinsights, 27% of sales reps have mentioned the long sales cycle is the biggest challenge in converting the leads to customers.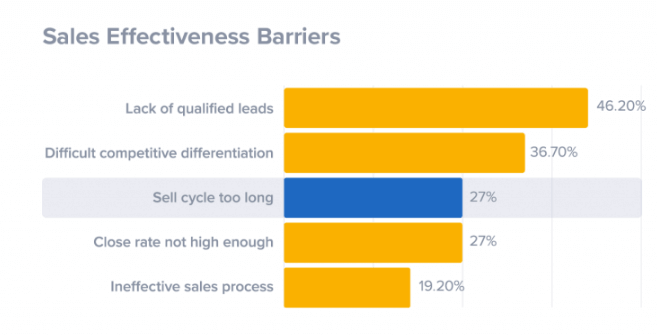 Most of the long cycle leads either have changed their mind or have chosen the alternative product/service as their solution. Hence, keeping the sales cycle short is significant to manage the sales pipeline.
Sometimes, in order to keep the sales cycle short, sales reps follow up 10 to 12 times in a week which leads to missing the leads. Instead, you can plan your follow up and reduce the times of follow up.
For example, as per follow up procedure you need to send sales follow-up emails step by step. But in order to reduce the follow-up times, you can customize two contents in one email and send it.
Nurture your prospects with relevant content
Content plays a vital role when a lead moves from one stage to another stage in the sales process. Nurturing leads through relevant content is significant in this stage.
Generally, we divide the content into three parts as per the different stages of the sales funnel.
Top of the funnel: When your lead is top of the funnel and you need to nurture him/her, you can share your blog, articles, videos, infographics, FAQs, etc.

Middle of the funnel: The valuable resources should be provided to the leads when they are in this stage. It can be e-books, case studies, white papers, etc.

Bottom of the funnel: This stage is called the consideration stage. In this stage, the leads are likelihood customers and you can provide a free evaluation, trail, coupon code, etc.
Lead nurturing makes sense when you share valuable content as per their movements in the sales funnel.
Manage your Sales pipeline with automated tools
When you handle a plethora of leads per day, it is very hard to keep track and send the follow-up emails to all the leads in each stage. Also, measuring their behaviour and position them in the sales funnel manually is another biggest challenge for the sales reps.
In order to have an accurate and healthy pipeline, use automated tools like best CRM software, collaboration tools, sales intelligence tools, productivity apps, etc. It helps to manage your task in the easiest way when you deal with multiple leads in a day.
Sales pipeline vs Sales funnel
Generally, people use both the terms interchangeably and the myth is that both terms are the same. But the fact is that the sales funnel is a visual representation of the conversion, whereas, the sales pipeline is the number of opportunities your reps are expecting to close.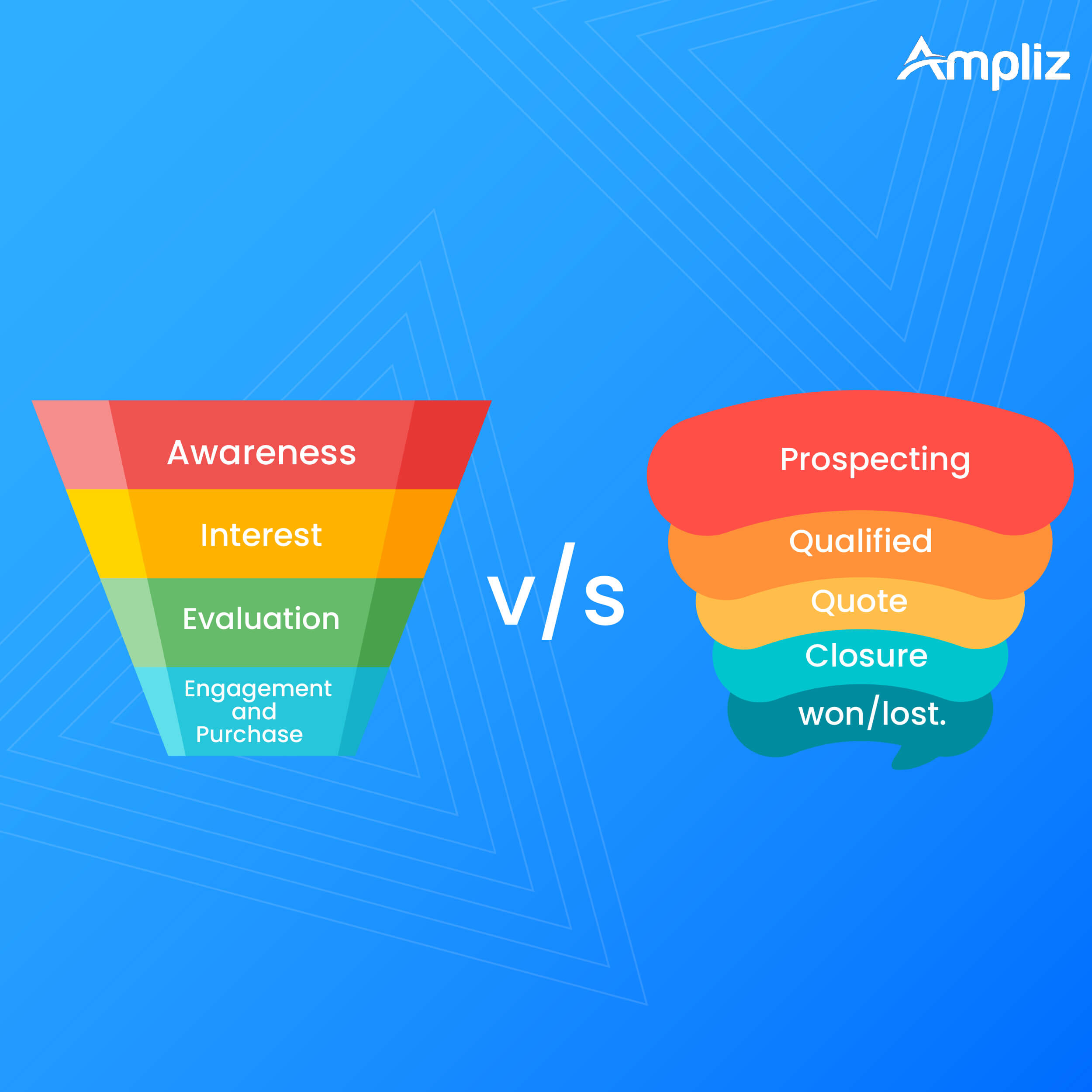 The different stages of the sales funnel are awareness, interest, evaluation, engagement and purchase. But the different stages of the sales pipeline are prospecting, qualified, quote, closure, and won/lost.
Different stages of the Sales Pipeline
As explained above, there are different stages of the sales pipeline and it is very important to understand each and stage of it.
Prospecting:

In this stage, you find a lead through different channels and your research on his/her account. Enter this lead to the pipeline.


Qualified:

Once this lead is entered into your sales pipeline, check if your product/service can fulfil his/her requirement. If yes, then this lead is a qualified lead.


Quote:

Once you are done with the qualification process, you need to move your lead to the next stage. In this stage, you need to focus on two things: a – product/service feature, b – price. Quote the price based on the features you are providing. For example, for a larger number of features, you have a high price and for the basic features you have a low price.


Closure:

In this stage, you need to put the final proposal you can offer. Document everything you have discussed in your call and send the final proposal. Probably, you can offer a membership discount or discount for upgrading the package.


Won/lost:

This is the final stage where you may lose or win the deal. If your lead accepts your proposal, then good to close this deal, if not, try to find out where you have lacked and how you could have dealt in a better way to get this deal.
For a sales team, a healthy sales pipeline is required for a good conversion. If your pipeline is not accurate, the sales forecasting will also be affected.
Therefore, managing your pipeline and keeping sales pipeline management systems accurate is an integral part of a business.