Are you looking to close the deal faster and at the best price? Then you must pitch only the key B2B decision makers of a company.
No matter how good your product is, or how proficient your sales team is, unless and until you don't reach the right decision-maker in a business, you can't close your deal.
The difference between pro salespersons and beginner salespeople is their ability to reach the decision-makers of the company. Reaching key decision-makers of a company is so important to make quick sales and get a good deal on your product. It also helps you in fine-tuning your lead-generation approach.
Different companies have different titles for their find b2b decision makers in a company, in some companies, it's CMO, in some it's CEO, and in small companies or start-ups, the founder is the decision maker. And therefore before reaching out to anyone you must check twice to avoid wasting your time.
let's understand what B2B business decision makers are and how to reach out to them.
What is a B2B business decision makers?
A business decision-maker is a high-level employee, often a department manager or the head of the department, who possesses all the authority of making strategic buying decisions on all kinds of products and services.
These decision-makers are often responsible for maintaining the productivity in the respective teams and may also be given authority to make strategic decisions to acquire new products or services that help them to achieve maximum efficiency and outcomes.
The post of the decision-makers varies based on the size of the company. In smaller and medium-sized companies, company owners are the decision makers, whereas in larger companies, heads of departments have the authority to make any buying decision.
So, before you prepare your pitch make sure you contact the right person.
How to recognize and Find B2B decision makers?
In B2B business, there are about 7-8 people involved in the decision-making process. So recognizing them is quite challenging sometimes, especially in private firms.
In that case, making the persona of a decision-maker will be quite useful. For that, you must decide the qualities that key decision-makers should possess.
For example,
Should they be able to manage budgets?
Should they possess strategic oversight of the company's operation?
Should they have a lengthy period of service that gives them more influence internally?
These considerations help you a lot in reaching out to the right person. Another way to recognize the key decision maker is by checking their social media profile like LinkedIn.
Here you can get a lot of information about them. You can verify the influence of the person through some of your mutual connections. 
You can leverage your mutual connection by asking them to refer your business to the decision-maker of your prospecting company.
Thus, once you recognize the decision maker of the company, you need to reach out to them. But how? Let's discuss 10 different ways to find B2B decision makers in any B2B company.
Contacting the right list of B2B decision makers for your company benefits you in so many ways like 
1. Saving Time
Reaching and meeting the right business decision-maker will result in a quick process. If you approach the wrong person, who doesn't have any authority or power to make the sales decision then it will not help in any way.
2. Avoid the Block
If you approach the lower-level executives, the chances are that they may stop you from reaching the higher-level executives due to some selfish motive. That's why it is better to directly reach the top decision-makers of the company.
3. Sell Higher Value
Top-level decision makers buy on the basis of strategy or business fit, not product or solution fit. Therefore they are more likely to invest more, which help them reach growth objectives or align with cost-cutting measures.
Thus reaching out to the right decision-makers is of prime importance to get the best value for your product. But how would you get there? This blog is just for that. We are going to discuss some methods which will help you to identify the right decision-maker for the company and ways to reach them.
Top 10 ways to Find B2B decision makers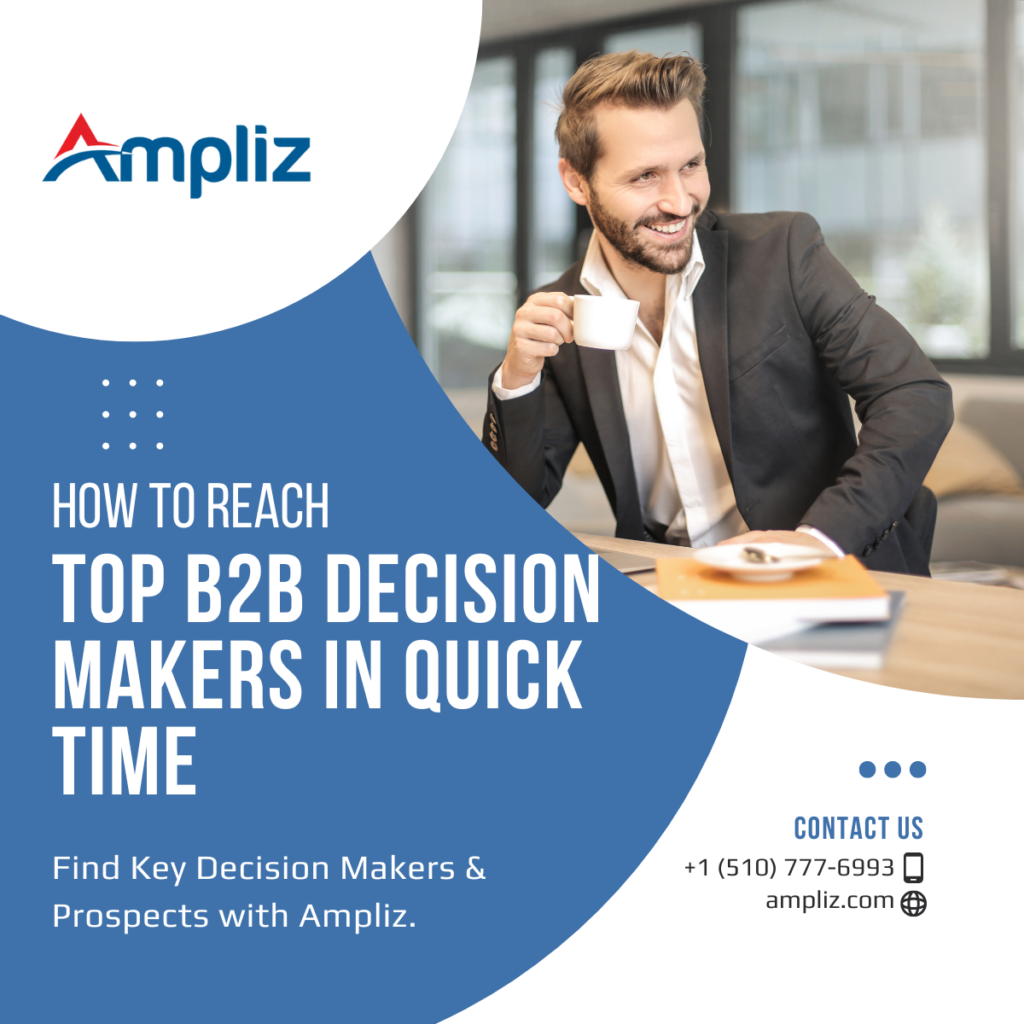 Identifying the right People
Building Connections with Decision Makers
Leveraging Social Media Platforms
Using Email Marketing Strategies
Utilizing Automation Tools
Choose the Right Time
Do Some Research
Get a reference from some authorized person
Talk about them
Follow Up Regularly
1. Identifying the Right People
As a business-to-business (B2B) marketer, it's important to identify the individuals who are involved in the decision-making process for your target accounts. These are the people who will ultimately determine whether or not your products or services are a good fit for their organization.
As per the report, in a company of 100-500 employees, about 7 people are involved in the decision-making process.
There are a few different ways to go about identifying the key decision-makers at your target accounts. First, you can look at the organizational hierarchy of the company and identify the titles of the individuals who sit in positions of power.
For example, if you're selling software to large enterprises, you'll want to target CIOs, CTOs, and other IT leaders.
Another way to identify B2B decision makers is to look at the buying journey for your product or service and identify which stage of the journey requires a B2B decision maker's approval.
For example, if you're selling marketing automation software, you'll want to target marketers who are responsible for making decisions about technology investments within their organization.
Finally, you can also use account-based marketing (ABM) strategies to specifically target B2B key decision-makers at your target accounts.
ABM allows you to customize your marketing messages and outreach efforts to appeal directly to the individuals who are most likely to influence a purchasing decision.
Once you've identified the key B2B decision makers at your target accounts, you can start developing relationships with them through targeted content and personalized outreach.
2. Building Connections with Decision Makers
The chances of conversion or even getting a response from the B2B decision-makers get amplified when they are familiar with your name. 
And you can do this by building a connection with them.
However, this is difficult to do when there is so much noise and competition out there. How can you cut through the noise and find B2B decision makers easily to reach?
Here are some tips:
1. Use LinkedIn as a platform to connect with decision-makers 
LinkedIn is a great platform for connecting with other professionals in your industry, including a person most business buying decisions are made by.
Use LinkedIn's search features to find B2B decision makers in your target market, and then reach out to them directly.
2. Attend industry events and trade shows
Industry events and trade shows are excellent places to meet face-to-face with B2B decision makers in your target market.
Do some research ahead of time to find out which events will be most relevant for you, and then make sure to attend and network with as many people as possible.
3. Get involved with online communities and forums related to your industry
Online communities and forums can be great places to connect with B2B decision makers, as they are usually very active participants in these types of spaces.
Make sure you are adding value to the conversation and providing helpful insights or advice when you can, as this will help you build trust and credibility with other members of the community, including decision-makers.
3. Leveraging Social Media Platforms
As a business-to-business (B2B) marketer, it can be difficult to reach your target audience. Business decision-makers are often inundated with marketing messages and it can be hard to cut through the noise.
However, there are some effective ways to reach BB decision-makers and one of the most powerful is through social media platforms.
When used effectively, social media can help you connect with your target audience, build relationships, and ultimately drive sales.
As per one survey, 75% of B2B buyers and 84% of C-level or Vice-president level executives use social media to make purchasing decisions. 
Here are some tips for leveraging social media to reach BB decision-makers:
1. Use LinkedIn Groups
LinkedIn groups are a great way to connect with other professionals in your industry or niche. You can join groups that are relevant to your business or target market, and then participate in discussions and post content that will be seen by group members.
This is a great way to get your name and brand in front of potential customers.
2. Connect on Twitter
Twitter is another platform where you can connect with business decision-makers. Follow companies and people that are relevant to your business or industry, and engage with their content.
Share helpful articles, make thoughtful comments, and retweet interesting content that will help you get noticed by potential customers.
3. Host a Webinar or Google Hangout
Webinars and Google Hangouts are great ways to connect with potential customers and build relationships. You can host a webinar on a topic that is relevant to your business or industry, and invite businesses
4. Using Email Marketing Strategies
Email marketing is one of the most effective ways to reach out to BB decision makers. It allows you to directly target your audience with a personalized message and can be highly customized to fit your needs.
To maximize your email marketing efforts, consider using the following strategies:
1. Use segmentation to target your audience
Segmenting your email list will allow you to send more targeted and relevant messages to your subscribers. This will help improve your open and click-through rates, and ultimately lead to more conversions.
2. Go beyond the basics
In order to cut through the noise, your email marketing must be top-notch. Make sure you are using an engaging subject line, beautiful visuals, and compelling copy. Also, consider using personalization techniques such as dynamic content and customer segmentation to further improve your results.
As per the report, personalized email improves click-through rates by 14% and conversion rates by 10%.
For your email marketing strategy to work effectively and get the maximum outcome of it, you need an accurate and updated database of your prospects. How do you get that? 
You will get many B2B database providers who provide you the database of your prospects, but the database has to be accurate, real-time updated and authentic. And when it comes to these attributes, Ampliz is the best choice you can make.
Ampliz provides you with 98% accurate, and real-time updated database of our prospects that ensures you the highest open rate, and response that helps you close more deals.
3. Timing is everything
Sending your emails at the right time can make a big difference in terms of engagement. Experiment with different days and times to find what works best for your audience and business goals.
4. A/B Test Regularly
Always be testing! Try different versions of your emails – from subject lines and calls to action to visuals and layout – and see what performs best.
Regular A/B testing will help you fine-tune your email marketing strategy and ensure that you are always getting the best results possible.
5. Utilizing Automation Tools
Automation tools are of great help in reaching your target B2B decision-makers in a company. This tool allows you to know who is the decision maker of a particular company with their email address, phone number, LinkedIn profile, etc.
One such tool is Ampliz. Ampliz provides you with accurate and real-time updated data of your prospects. With the Ampliz SalesBuddy feature you just need to go to the website of the company you are trying to pitch, and you will get the details of the decision maker of the company consisting of an email id and LinkedIn profile.
Ampliz also allows you to request more details on the data with custom data, and data enhances features.
Ampliz lets you create a list of contacts that you want to reach out to. You can do this by importing your existing contact lists, or by manually searching for contacts within the platform.
Once you have your list of contacts, you can start creating and scheduling your outreach campaigns.
By utilizing automation tools, you'll be able to quickly and easily connect with BB decision-makers – freeing up your time to focus on other important tasks. Reach Ampliz now to get top decision makers in a company in quick time.
6. Choose the Right Time
The most underrated yet effective way to reach out to decision-makers is to select the right time to approach them. As the senior management is always busy in meetings at day time, so, that is not the right time to pitch them.
Pitch them either in the evening or in the morning, when there is nothing to divert their attention.
7. Do some research 
With whatever product you are going to pitch, research the competitors. See the features of their product, and study how their product and yours are different. What makes your product unique and how it will make your prospect's life better?
This will make your pitch better and help you to convince the prospect better.
8. Get a reference from some authorized person
Your chances of getting a reply from the person increase if you give him a reference of some known authorized person. For this, Linkedin is the best place. Rather than pitching the person through email,  pitch them through LinkedIn email or message, by which you can leverage the benefits of mutual connection. 
Thus, you may sound somewhat familiar with the person and your chances of getting a meeting with the person will increase.
9. Talk about them
Talking about their problems and pain points is the best way to get their attention. If you just talk about yourself and your product you can't get their attention.
So the best way to reach out to decision-makers is to know their pain points and talk about them.
10. Follow Up Regularly
A most underrated yet important tip to follow is to follow- up regularly. It may seem like your regular work as a sales rep, but sometimes due to a lack of motivation or pre-assumption of getting a negative response, you may avoid taking the follow-up.
As per the survey, 80% of sales require 5 follow-up calls, after the meeting.
Conclusion
Reaching out to B2B decision-makers can be a daunting task, but it doesn't have to be. With the right strategies in place, you can quickly and effectively make contact with your target audience. We hope that these 10 strategies have helped shed some light on how you can reach business decision-makers more easily and efficiently.
Remember that research is key when trying to capture their attention, so make sure you are well-informed before reaching out!