Claims Data
Using the claims data, healthcare sales and marketing team can target healthcare providers using the focus area and specialty type with a high precision. Claims data in the usa helps to find and reach physicians based on their primary specialty, practice type, and treatment procedures. Ampliz claims data helps you narrow down the physicians who matter the most to your business.
To understand claims data, one needs to understand the documented patient-doctor communication. These are the data that are collected during the patient-doctor interaction and properly maintained for future implementations.
It is leveraged for advanced medical research to come up with efficient conclusions or outcomes. This again used to supercharge sales and marketing practices in pulling in revenues.
So what is this claims data and how is it obtained?
Let's understand this first, to unfold pages of its usage, significance, and benefits gradually.
What is Claims Data?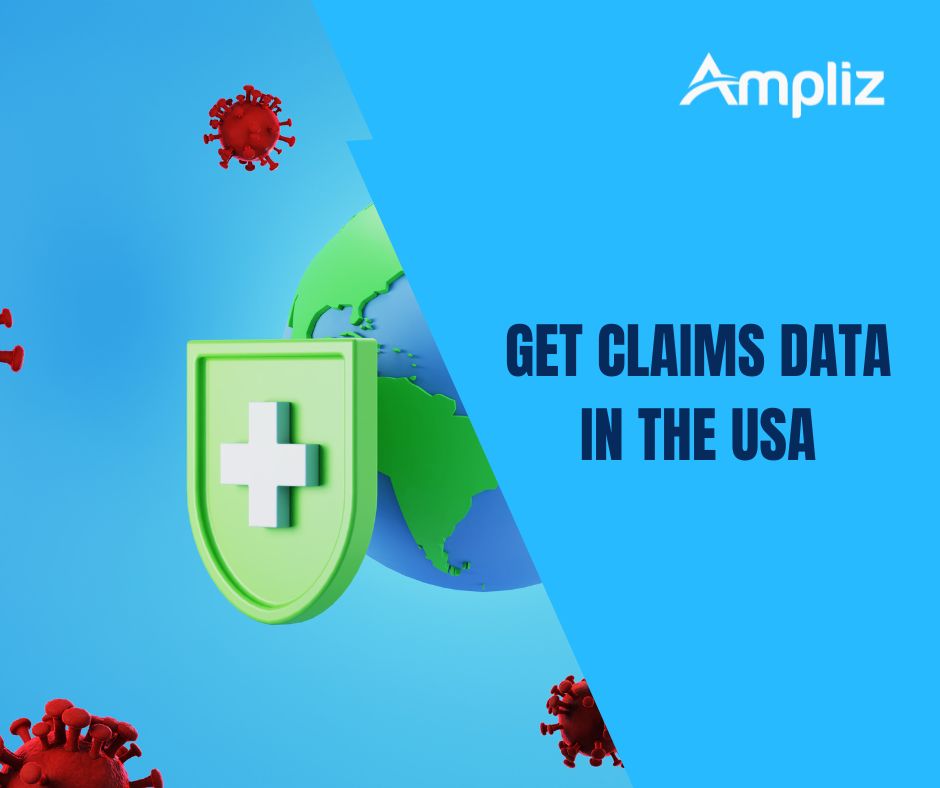 Claims data give a clear insight of the physician specialty, physicians group, their practice type, prescribing nature, and more. Using claims data, you can leverage you target efforts and reach the healthcare professionals based on their practice patterns.
Claims Data can be called administrative data or medical records that are being documented by a certified healthcare provider against their patients.
Let's understand by an example. Let's say you visited a hospital with some particular illness and got an appointment with a doctor.
He gave ear to your problems, understood your symptoms, and recommended some medication or test details.
Taking it further, you got admitted and diagnosed with the illness and paid your bills through insurance. So all these data starting from prescription, test details, bills to insurance information, all these become your claims data.
This is further stored and maintained for medical research purposes. So what are the types of claims data available or what are all possible data that fall under this?
Let's find out the types of healthcare claims and how it helps.
Types of Healthcare Claims Data In The USA
In this section, you will explore all possible varieties of this data.
One of them will be Rx claims data. It basically means a prescription drug claim that is usually claimed by a pharmacy or pharmacist for payment of any medical product. This is otherwise known as pharmacy claim data.
So what includes pharmacy claim data?
Well, pharmacy claims data include a whole lot of data like drug name, drug strength, dosage, fill date, financial information, days of supply, de-identified patients, and prescriber codes. All these data are used for advanced healthcare research and studies.
All these data help in keeping track of a patient's diagnosis and ailment history to provide better healthcare in the future.
These healthcare claims data are collected from all types of healthcare institutions which includes clinics, nursing homes, inpatient hospitals, outpatient hospitals, surgical centers, physicians offices, and all other available healthcare establishments.
These are collected from all possible formats and usually stored in electronic format for easy access from anywhere anytime.
So what are its uses?
How does it help mankind in the most efficient way?
Let's understand in the next section.
Uses of Healthcare Claims Data
The healthcare claims data contribute to better healthy lives of the patients with multiple benefits. It has helped medical research and advanced studies give a new angle that focuses on a completely new dimension of patients' life and the healthcare industry as a whole.
So what are these uses?
Here we go.
1. Healthcare Research
Among the two wide uses of these data, healthcare research is the most promising and beneficial sector that makes the best use of this data for mankind.
Among the studies that used claims data, 49% were focused on access to healthcare, followed by 23.8% on quality.
Access to healthcare studies has examined the effects of different social or policy changes on patient use of health services.
One of the qualities of care studies used these data to establish benchmarks for left ventricular ejection fraction test rates for Medicare recipients, while another examined the association between office systems and variations in diabetes care.
2. Sales and Marketing
The second most widely uses of claims data is, many healthcare-providing companies or businesses have started leveraging this data to design best practices for their sales and marketing team to build a greater revenue pipeline.
From data like the number of patients recorded with specific illnesses, names of prescribed drugs, region-based patient metrics, and insurance reports, businesses are able to develop customized strategies to market their products with targeted audiences of estimated higher conversion rates.
After having a look at the best uses of the claims data both in healthcare research and healthcare businesses, it's time to find how you can leverage this data for your businesses or what are the benefits of using claims data in brief.
Let's explore more.
What are the Benefits of Claims Data
From reaching the physician based on their National Provider Identifier (NPI) to practice patterns, claims data help healthcare sales and marketing team in several ways.
Here we go.
Supercharge productivity of your sales and marketing team
Improve targeting with specific data
Start answering more and more questions
Gain market intelligence like never before
Boost up product development
Enter the market smartly
From all the above information, it's conclusive to say that claims data plays a vital role in the field of medical science as well as sales and marketing for different healthcare businesses.
The demand of the same seems to be increasing constantly and hence estimated to be used largely by a wide variety of healthcare businesses in coming times.
So if you are looking out for any such Rx claims data for your business, don't hesitate to write to us at [email protected] and in the meanwhile give it a try to explore our newly designed all-in-one healthcare intelligence platform.
How To Target Physicians Precisely with Claims-Based Specialty Data
Do you want to know how and when to sell to your healthcare segment? We can help.
Ampliz offers the best healthcare data available in one spot.
Whether you're looking for detailed physician's data, generalized healthcare data, or something more, we are a resource you can trust.
We provide extensive data for a range of industries, including medical device suppliers and manufacturers, pharmacies, and healthcare advertising companies.
Here's what you need to know about using Ampliz for your healthcare data information.
Why does the quality of your healthcare data matter?
Without the right healthcare data, marketers and sales teams won't be able to properly target their potential audience.
If your business is currently in a phase of failing to reach the right healthcare prospect or physicians. Also, many drug manufacturers and medical device companies are finding it increasingly difficult to get accurate healthcare data to leverage their marketing efforts.
With marketing costs soaring alongside production costs, it's more important to have precise healthcare data to accurately target your healthcare audience.
Why Choose Ampliz for The Best Healthcare Data & Physician's Data
The last thing any marketer or product supplier wants is to waste time and money on advertising to physicians who don't want what they offer.
There is a better way.
You can maximize every sales presentation by knowing who wants your products.
Better still, you can save significant overhead costs by simply knowing how to contact these potential buyers.
You can access personalized, reliable, and efficient healthcare data when you choose Ampliz.
Here's what you need to know about our healthcare data.
#1. Claim-Based Specialty Healthcare Data
Ampliz provides claim-based specialty healthcare data that helps you target and reach the right physicians. With this new method of categorizing healthcare providers, your company gains precise insight into your audience.
Using the comprehensive and real-time claim-based specialty data helps to target physicians based on their practice patterns, speciality, sub-specialty, and treatment procedures.
With the better insights, you can enhance your marketing decisions and reach the right physicians with 10X precision.
#2. 2M+ Physicians Data in One Spot
When you choose us for your healthcare data, you get access to over 2 million physicians' data instantly. This includes their email, direct-dial, location, funding, investments, hospital affiliation, prescribed drug partnerships, specialty, practice type, and so much more.
Using comprehensive healthcare data insights, you can target and better reach the right healthcare providers (HCP).
#3. Largest healthcare data, you find nowhere
The healthcare data sets we provide are comprehensive and gives you untargled insight of the healthcare provider who matters the most.
The healthcare data attributes include primacy contact information and surgical trends to guide you to reach the right potential healthcare prospects.
Healthcare data attributes can give your business a competitive advantage in your industry.
#4. Cleansed Data You Can Trust
Our data goes through a thorough cleansing process. As soon as it goes through our system, we cleanse it to weed out errors, inconsistencies, and duplications if they exist. This ensures that the final product you receive is pure, unadulterated, physicians' data that you can trust.
#5. Trusted By Over 5,000 Businesses
Ampliz data is used by over 5,000 businesses, helping them improve sales numbers and reach the right healthcare provider (HCP) with robust healthcare database. Our ultimate goal is to scale your marketing efforts with accurate healthcare data. We'd love to help you reach the right healthcare provider (HCP).
Our comprehensive healthcare data sets help you connect with key prospects in the healthcare industry. Unleash accurate healthcare data and leverage your sales opportunities.