With the outbreak of Covid-19, the healthcare system has been stretched too thin to work properly.
Moreover, manufacturing companies and firms are in urgent need of accurate data to make a strategic solution for better results.
But what is the purpose of collecting healthcare claims data? The medical claims data in us is essential for two categories. First, for marketing strategies and second for prevention strategies.
And marketing strategy is one of the main concerns in healthcare manufacturing. Without any prior knowledge of the target audience, it is extremely tough to sell goods and provide services. Data collection helps marketers to understand their target audience better and increase sales.
These datasets include necessary information like age, gender, geographic location, personal preference, and interest. It also includes testimonials, complaints, and suggestions.
This helps marketers to:
Gain valuable insights and trends
Build audience profiles and trends
Organize effective marketing campaigns
Provide personalized information
Turn potential clients into customers
Save lots of money from paid promotions
Increase ROI
Moreover, medical claims data is also essential in planning prevention strategies. With timely and precise information, it would be easier for a manufacturing business to provide adequate treatment and control the outbreak.
But, what is claims data in healthcare, and how does it help find the target audience? Let's find out.
What is Medical Claims data in US?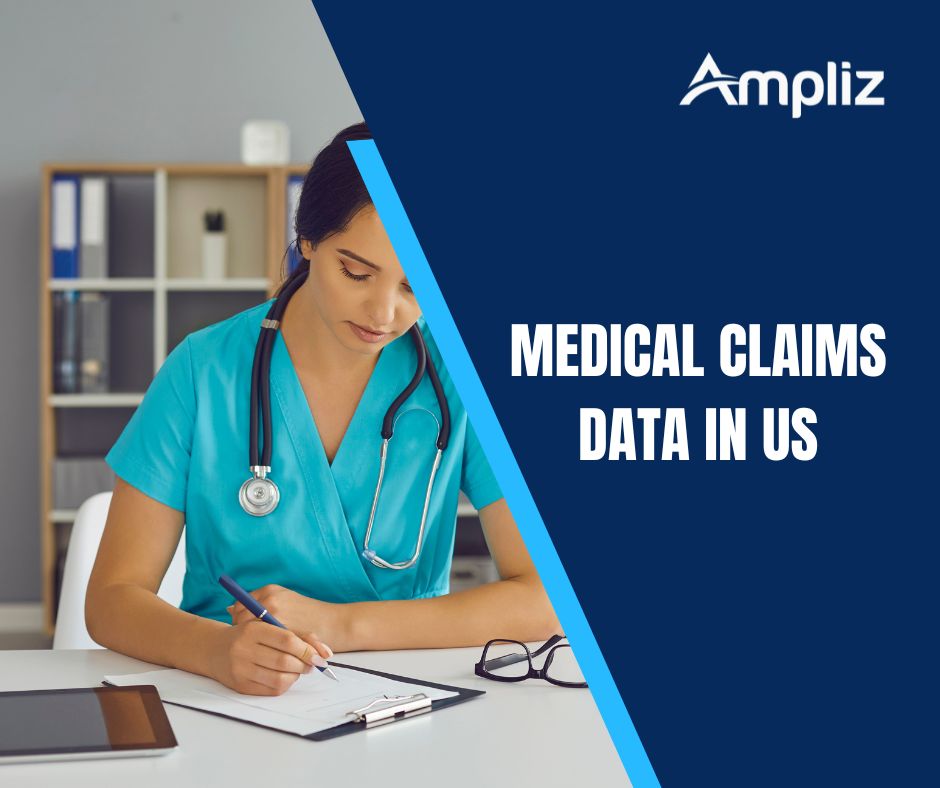 When it comes to healthcare, healthcare claims data is an intense industry. It is a critical tool to drive the improvement in population health to address the issues that are related to quality healthcare service.
Medical claims data includes information at the patient encounter level, regarding diagnosis and treatment.
Besides, healthcare claims data plays a critical role in analyzing improved healthcare delivery.
However, to garner the benefits of medical claims data it is essential to use it effectively.
It provides a broad view of patient interaction across a wide range of healthcare and reduces selection bias and efficiently provides access to large and diverse samples.
There are two types of datasets; quantitative and qualitative
Quantitative datasets are usually in the form of numbers like percentages, comparisons, etc.
Qualitative datasets are usually in the form of words like descriptions of the quality, appearance, etc.
Overall, healthcare claims data easily evaluate the quality of healthcare provided by healthcare firms and manufacturers.
Get Medical Claims Data to find the right clinical experts all across the US
How do Medical Claim data help in Market Sizing & Targeting?
Medical claims data is critical in understanding the in-depth diagnosis procedure for drug administration.
But how does medical claims data help in understanding a patient's journey? Let's understand it by claiming data examples.
Suppose a patient visited the physician regarding some health issues, the healthcare claims data tracks what all took place during that visit.
It also helps in figuring out the conditions with which the patient is diagnosed, what procedure is being performed by a doctor, and what drugs and medication are administered.
In this way, medical claims data helps in understanding patient behavior and how therapies are being changed for market sizing & targeting.
And for targeting the market, healthcare claims data use different applications such as-
Size & target market by product, diagnosis, and procedure
Identify a market by share by indication
Compare the overall market share based on prescribed medicine or therapies
Predict ample opportunity based on the indication of interest
Along with targeting the market based on patient behavior, medical claims data also use physician targeting to keep your business far ahead.
Target physicians by their diagnosis pattern.
Advance identification of physicians treating rare diseases.
Target physicians based on certain office procedures followed regularly.
Overall, by targeting market-based diagnosis and procedure, medical claims data track patients' healthcare activity across various channels and entities.
How these healthcare datasets are organized and distributed
First data is accumulated from various resources like hospital directories, academic publications, conferences, trade shows, medical journals, etc. But this information changes with time as the professionals change their jobs or get promoted. These changes should be updated and in datasets.
With the help of data appending, data cleansing, and data enrichment these healthcare datasets can be kept accurate and updated with time.
Further, these datasets can be segmented based on specialty, which helps in personalizing healthcare marketing campaigns.
What information do these healthcare datasets provide?
Healthcare datasets are made to provide exhaustive information about healthcare industry decision-makers. So these datasets include all the necessary information of the healthcare professionals like name, specialty, designation, phone number, email id, and Linkedin profiles.
Ampliz- A one-stop solution for healthcare data needs
It might be tough to find an expert that could advise you in targeting the market as per the ongoing trends and patient behavior.
There are two prominent barriers faced by the pharmaceutical company: the first is low disease prevalence and the second is misdiagnosis.
But Ampliz healthcare is globally one of the prominent and comprehensive healthcare contact solutions.
Providing healthcare claims datasets helps in gaining a better understanding of patient management.
Ampliz healthcare datasets have a record of 4.6 million physicians, 8200 plus hospital contacts, 230,000 healthcare contacts, and up to 95% data accuracy.
By enabling pharmaceutical companies with this data, Ampliz helps in creating a roadmap for new and undiscovered clinical experts.
Moreover, healthcare claims data allow pharmaceutical companies to identify and engage with physicians working on their target diseases.
And this physician relationship is quite important from the development phase to clinical trials and product launches.
Besides, Ampliz healthcare claims datasets solution also supports your commercial planning and execution. By using these assets, the pharmaceutical firm can effectively size and target the market.
On top of that, sales and marketing teams can also use healthcare claims datasets for competitor analysis and finding marketing trends. 
And it's all possible with the list of data that Ampliz has in its Healthcare Datasets–
Hospital & Executives info
Company's data
Physician Email Lists
Medical Claims
Prescription based data
Clinical performance
Financial Metrics
By accessing a wide range of data, the pharmaceutical firm or any Healthcare Related industry can identify clinical trial sites, find the perfect expert for the diseased state and also collaborate with the center of excellence.
Final Words
Ampliz combines Real-world Evidence(RWE) with the leading data on healthcare facilities and providers to provide a deeper level of intelligence regarding the target buyers and a greater understanding of regional and national markets. And it views patterns and populations that could easily align up with your product discovery and accelerate your go-to-market strategy