Ampliz Ambulatory Surgery Centers data gives you key data insights into the most rapidly growing segments of the healthcare industry.
Ambulatory surgery center (ASC) data also provides an unparalleled view of hospital operations by incorporating information on surgical procedure trends, relationships with IDNs, and profiles of facility executives.
Using Ambulatory & Free-standing Surgery Centers Data, you can target and reach the key decision-makers in Ambulatory surgery centers, Ambulatory care certified nurses, Ambulatory outpatient surgery centers, surgicenters, emergency care physicians, and US Ambulatory surgery centers.
Increase your business opportunities by engaging the decision-makers in ambulatory surgery centers who are interested in buying surgical equipment and devices.
How Does Ambulatory Surgery Centers Data Help?
With Ambulatory surgery centers data, you can get access to data insights on more than 11,000 ambulatory surgery centers (ASC) across the US.
Empower strategic decision-making and drive growth in complex healthcare segments with detailed data on physician affiliations, surgical trends, technology purchases, procedure volumes, quality metrics, and payor mix in each outpatient surgical facility.
Ambulatory Surgery Centers Data will Help you Target and Reach
ASC clinical director
Outpatient Registered nurses
Surgicenter staff nurses
ASC-certified medical assistant 
Licensed ASC physicians
Surgical technologist of Ambulatory surgical center
ASC Gastroenterology endoscopy technician and exclusively more
How Many Ambulatory Surgery Centers (ASC) are in the US?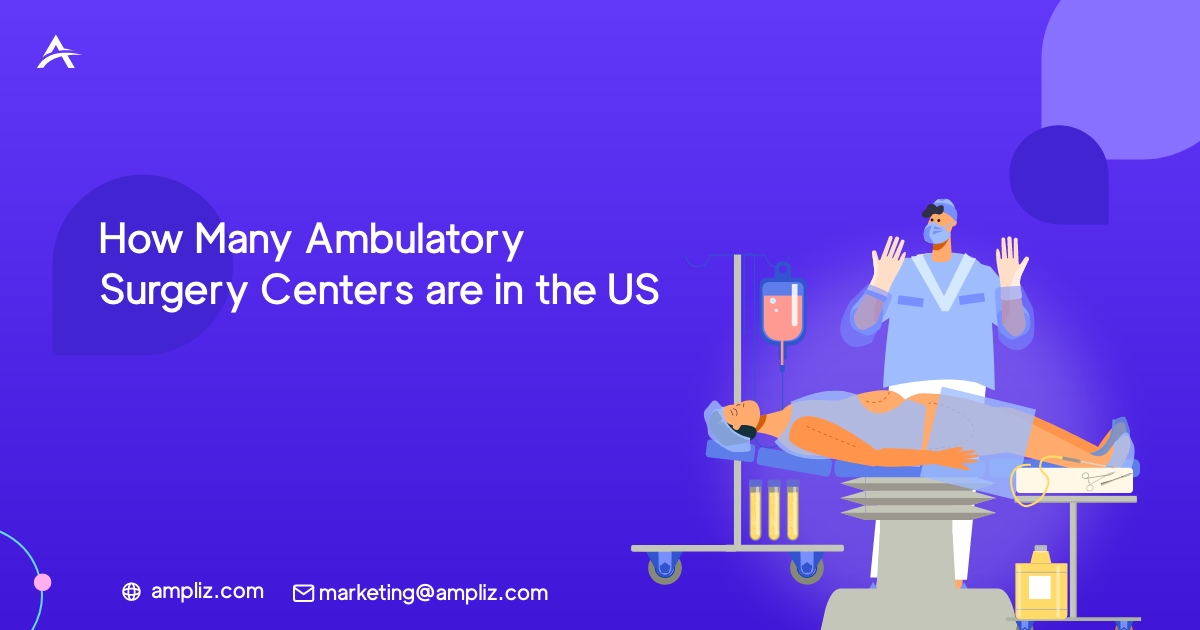 According To Ampliz Healthcare Intelligence Platform, In the US there are currently over 9280+ active ambulatory surgery centers and 177,554 people employed in the Ambulatory Surgery Centers industry in the US as of 2021.
Access More Trends and Analysis of Ambulatory Surgery Centers in the US
The ASCs will most likely form joint ventures with hospitals and other healthcare systems.
The ambulatory Surgery Centers industry provides surgical services, emergency procedures, and immediate assistance on an outpatient basis.
According to Becker's Hospital Review, on average, 30.0% of the total volume of ambulatory surgery center (ASC) surgeries administered are ophthalmology surgeries, followed by orthopedic (15.0%), gastroenterology (14.0%), and pain management surgeries (10.0%).
What is an Ambulatory Surgery Center?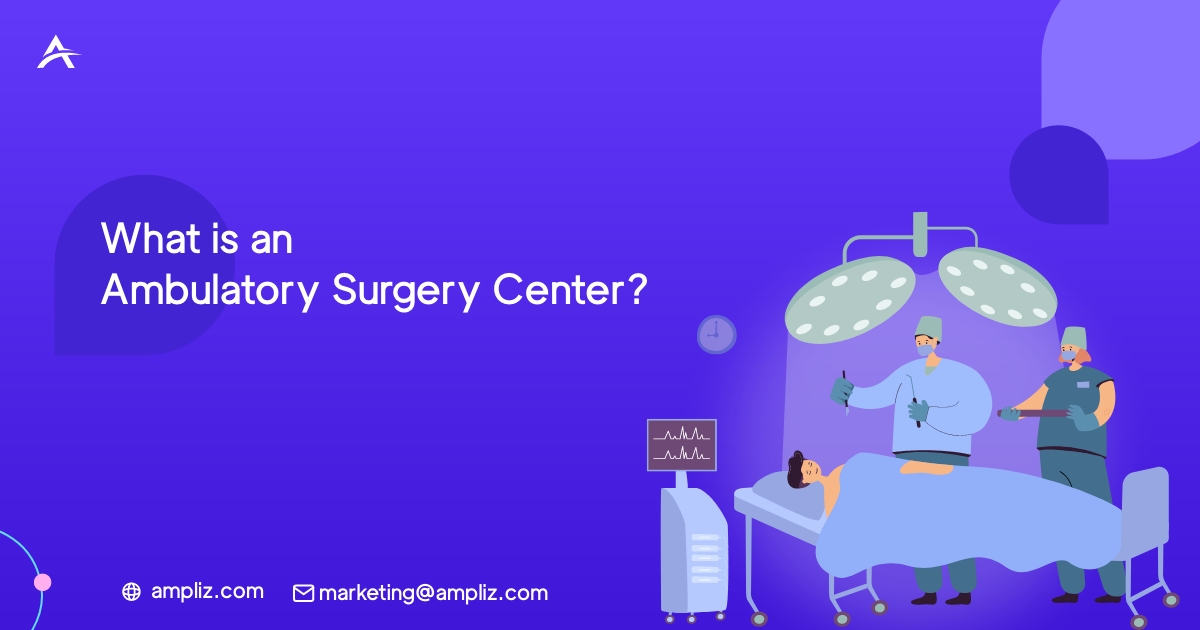 Ambulatory surgery centers (ASC) are also known as outpatient surgery centers or same-day surgery centers.
Ambulatory surgery centers (ASCs) are facility centers where surgeries are performed without hospital admissions.
In contrast with many hospitals, ASC offers an incredibly convenient, cost-effective, and stress-free environment.
Patients who prefer ASC arrive on the day of their surgery, undergo the procedure in a fully equipped operating room, and recover under the care of highly skilled nurses without being admitted to a hospital.
In 1970, a group of anesthesiologists established the first ASC in Phoenix to provide patients with high-quality, affordable surgical care.
Keeping that tradition today, most ASCs are owned and operated by physicians in their communities.
Some ASCs are jointly operated and managed by local hospitals and physicians.
By involving doctors in the ASC management, the facilities ensure that those who truly care about the patients are involved in making the right decisions about the equipment and developing policies that will ensure quality patient care.
This makes ASCs great places for physicians to practice and great places for patients to get quality care.
Over the past four decades, ASCs have worked to improve patient care and advance outpatient surgery.
Consequently, ASCs have introduced various medical innovations that are beneficial to everyone, not just those who receive care from them.
Benefits of an Ambulatory Surgery Center
Listed out are the various diagnostic and surgical procedures done by the Ambulatory Surgery Center.
Hence using surgical procedures, you can identify and reach the right ASC physicians by specialty:
Ophthalmology (eye) procedures, such as LASIK, cataract removal, and glaucoma treatment.
Ear, nose, and throat (ENT) procedures, such as tonsil removal, sinus surgery, and the removal of benign lesions.
Orthopedic procedures, such as minor fracture repairs, minor joint surgery, and injections.
Gastroenterology treatments, such as colonoscopies, endoscopies, and polyp removal.
Vascular procedures, such as varicose vein treatment and pacemaker battery changes.
Urology/proctology procedures, such as vasectomies, kidney stone treatments, and prostate biopsies.
States with the Greatest Number of ASCs
Here are the number of Ambulatory surgical centers in the US:
| | |
| --- | --- |
| US cities | Ambulatory Surgical Centers (ASCs) |
| California | 1,213 |
| Florida | 722 |
| Texas | 710 |
| Georgia | 514 |
| Maryland | 434 |
| New York | 333 |
| New Jersey | 323 |
| Ohio | 317 |
| Arizona | 263 |
| North Carolina | 253 |
Top 10 companies in the Global Ambulatory Surgery Center Market
Here are the top Ambulatory surgical center operators and developers in the US
| | | | | |
| --- | --- | --- | --- | --- |
| Hospitals with ASC | Location | Year established  | ASC facilities | Revenue size |
| Tenet/United Surgical Partners International | Dallas, TX | 1998 | 400 | $2 billion |
| Amsurg | Nashville, TN | 1992 | 258 | $9.9 billion |
| Surgical Care Affiliates | Deerfield, IL | 1997 | 210 | $2 billion |
| SurgCenter Development | Towson, MD | 1993 | 200 | $35.9 million |
| Surgery Partners | Brentwood, TN | 2004 | 180 | $1,055.7 million |
| HCA Healthcare | Nashville, TN | 1968 | 143 | $14.293 billion |
| Physicians Endoscopy | Jamison, PA | 1998 | 60 | $98.6 million |
| Covenant Surgical Partners | Nashville, TN | 2008 | 48 | $8.4 million |
| Pinnacle III | Lakewood, CO | 1999 | 40 | $5.0-25 million |
| Regent Surgical Health | Westchester, IL | 2001 | 28 | $17.8 million |
Looking to reach physicians in an outpatient setting or ambulatory surgical centers?
Ampliz Ambulatory surgery centers data unlocks complete data insights of:
Practice type
specialty
Diagnostic and surgical procedures
Practice areas
License
Location
Number of surgeries, and more
Using reliable ASC data, you can quickly pace your opportunities and power your business.
Ambulatory Surgery Centers Data will Cover the Following Insights
With Ambulatory surgery centers data
You can target ideal selling opportunities in the large ambulatory care market, including 1.6 million allied health professionals
Find and locate inpatient acute care environments, including cardiology, orthopedics, gynecology, advanced dermatology, and outpatient surgery centers
You can get access to payment reforms, technology advancement, patient sentiment, and other insights are that drive change in the ambulatory care market
Target the key physician influencers across multiple facilities in Ambulatory surgery centers.
Get comprehensive information like funding, partnership, specialties, practices, license details, primary email, direct dial, etc.
Unleash the Ampliz ASC healthcare data and start reaching the decision-makers of Ambulatory surgery centers.
Frequently asked questions on ASC
How big is the ASC market?
The global ASC market size is projected to reach a staggering $493.5 billion by 2027, growing at an impressive annual rate of 10.6%.
This growth is driven by population aging, increased demand for minimally invasive treatments, and the development of advanced surgical technologies.
To capitalize on these trends, Ampliz provides marketers with comprehensive data about ASCs and their procedures – giving them the insights they need to identify the right opportunities and create effective campaigns that drive growth.
What is the average ASC profit margin?
The average ASC profit margin is usually between 15-25%, but this can vary greatly depending on the size of the business and the overall industry.
How many ASC operating rooms are there in the US?
The number of existing ASC operating rooms in the United States is rapidly increasing every year.
According to the American Ambulatory Surgery Center Association, there are currently over 6,600 licensed ASC's and 10,000 different ASC operating rooms across the US alone.
With Ampliz you can easily access up-to-date information about these facilities and use our powerful intelligence tools.
How many ambulatory surgery centers are there in New York?
Ampliz's comprehensive database has the most up-to-date and accurate information about the number of ambulatory surgery centers in New York.
With our powerful search engine, you can quickly locate and count all of the ambulatory surgery centers in New York.
As a marketer, this data can help you create hyper-targeted campaigns that are more effective and efficient.
How many outpatient centers are there in the US?
According to the latest data from the Centers for Medicare & Medicaid Services (CMS), there are a total of 5,871 outpatient centers in the US.
By using our powerful Ampliz platform, you can leverage this data to accurately identify and target key population segments within these outpatient centers for your marketing campaigns.