Avail this list of Singapore pharmaceutical companies to enhance the segmentation and targeting and make your campaign a grand success this year.
Are you on the hunt for reliable and innovative pharmaceutical companies in Singapore? Look no further!
Avail this list of pharmaceutical companies in Singapore to enhance the segmentation and targeting and make your campaign a grand sucess this year.
From industry giants with a global footprint to homegrown players making waves in their niche areas, these top-rated firms have all earned their place on our coveted list.
Get ready to discover cutting-edge solutions, state-of-the-art facilities, and pioneering research that are redefining healthcare delivery in Singapore and beyond.
So let's dive right into it!
Singapore or the lion city is famous for its advanced pharmaceutical manufacturing, technological sectors, and booming economy.
Singapore is home to a range of healthcare businesses, from hospitals and doctors' practices to pharmaceutical companies.
For investors looking to invest in the sector, there are many listed companies that offer exposure to the local healthcare market.
With comprehensive information about each company, investors can gain a better understanding of the opportunities available in Singapore's healthcare sector.
And with recent innovations and technology, Singapore has seen a significant amount of growth in the pharmaceutical sector.
From pharmaceutical, cosmeceuticals, and nutraceuticals contributors to the delivery of these drugs and medicines, pharmaceutical and band theiotechnology companies in Singapore experimenting with different formulas and strategies to scale their business.
According to the Indian Economic Survey 2021, the domestic market is expected to grow 3x in the next decade.
But what is the reason for this outstanding growth?
The answer is the complete support of the Singapore government to the pharmaceutical industries.
Moreover, the operational risk is minimum in Singapore.
According to BMI's operation risk index, Singapore scored 82.2 out of 100 at operation risk management higher than the regional average of 53.6.
Due to this reason, Singapore has evolved into a highly attractive hub for the pharmaceutical industry.
And it is also pricing world-class infrastructure, a highly-skilled biomedical force, and favorable business opportunities.
Furthermore, by leveraging the benefits of new technology and innovation, the future of the pharmaceutical industry in Singapore looks promising and Singapore is expected to be a major player in the pharmaceutical industry.
Now let's have a look at Singapore pharma company list
List of the pharmaceutical companies in Singapore 2023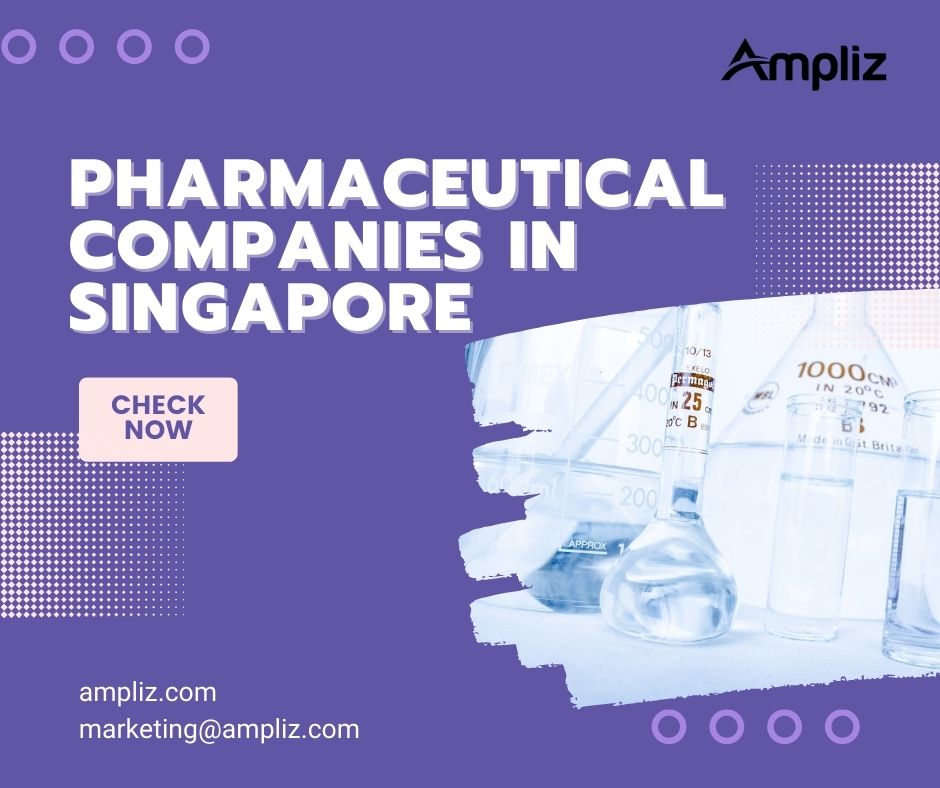 Raffles Medical Group
| | |
| --- | --- |
| Website Url | Contact Details |
| rafflesmedicalgroup.com | +6563111111 |
Raffles medical group is one of the popular pharmaceutical companies in Singapore.
Moreover, it is one of the leading integrated private healthcare providers in Asia and serves patients in 5 countries covering 14 cities.
It also manufactures and distributes pharmaceuticals, nutraceuticals, vitamins, and medical diagnostic equipment.
And the best part about Raffles medical group is that they offer their services in many domains such as health screening, insurance, clinical trials, corporate programs, and much more.
Wave Life Sciences
Wave life sciences is a pharmaceutical industry that is creating a powerful genetic toolbox with the potential to impact many serious conditions for which there are hardly any medicine or procedure.
Besides, this company also bridging the gap between patients and the health community by providing excellent service in clinical trials and studies.
And that's how with innovation and new technology, Wave life sciences are emerging as the most prominent and largest pharmaceutical companies.
Sphaera Pharma
| | |
| --- | --- |
| Website Url | Contact Details |
| sphaerapharma.com | +91 124 418 7500 |
Sphaera pharma is a pharmaceutical company that is leveraging the benefits of drug discovery and development capabilities to bring innovative products for patients' health and well-being.
Unlike other pharmaceutical companies, Sphaera Pharma follows a target-based approach instead of focusing on specific disease and applications.
This target-based approach enables the company to be flexible and easily adaptable to the changing need of the biotechnology and the pharmaceutical industry.
Moreover, Sphaera Pharma focuses on translational components. It networks with the scientific community that allows them to cater to a wide variety of therapeutic areas and identify the science that needs to be advanced.
MSD Singapore
| | |
| --- | --- |
| Website Url | Contact Details |
| msd-singapore.com | +65 65088400 |
MSD Singapore is an innovative and global health leader whose vision is to make a difference in the life of people through the production of innovative medicine, vaccine, and animal health products.
Moreover, the core area in which this pharmaceutical company is expertise is cancer, diabetes, hepatitis, cardiometabolic disease, Alzheimer's, antibiotic resistance, and acute hospital care.
And the company is applying global reach, scientific excellence, and financial strength to deliver the product to people in need.
To get the details of Key Decision Makers of these companies, contact us now.
Ampliz will serve you with all the relevant B2B Healthcare data you need for your business needs.
AstraZeneca, Singapore
| | |
| --- | --- |
| Website Url | Contact Details |
| astrazeneca.com | +65 9839 8164 |
AstraZeneca is a science led-biopharmaceutical company that focuses on the discovery, development, and commercialization of prescription medicine to transform patient health.
Moreover, the company primarily focuses on three important treatments of diseases that are respiratory and autoimmunity, Cardiovascular & metabolic diseases, and oncology.
And the best part about the company is that via collaboration it also focuses on inflammation, infection, and neuroscience.
GSK- Singapore
GSK is another biggest contributor to the biomedical science industry with huge investments in the medical industry.
And this company has a great presence in Singapore consisting of two manufacturing supply sites and one vaccine manufacturing facility.
Moreover, the company deals with three key business areas such as prescription medicine, vaccines, and customer health products.
This way, GSK is driving scientific innovation to deliver the highly standard vaccines for patients.
Beacons Pharmaceuticals
| | |
| --- | --- |
| Website Url | Contact Details |
| beacons.com.sg | +65 6265 2336 |
Beacons Pharmaceutical is one of the largest and biggest manufacturers of generic pharmaceuticals.
Moreover, this company also provides a comprehensive suite of fully integrated one-stop contract manufacturing options.
And the company also produces a wide range of solid, liquid, and semi-solid dosage products.
Besides, the company works closely with the world's top pharmaceutical companies with its team of highly skilled and experienced scientists.
It provides all innovative, testing, and commercialization tools to bring out the best product in the marketplace.
ITS Science & Medical
| | |
| --- | --- |
| Website Url | Contact Details |
| its-sciencemedical.com | +65 62730898 |
ITS Science and Medical is another pharmaceutical company in Singapore that has 40+ years of experience in providing a comprehensive range of products in the medical industry.
This pharmaceutical company is the largest provider of medical instruments and hospital infrastructure.
And it also provides services in many domains such as analytical instruments, life sciences, pharmaceutical, animal research, and medical infrastructure.
With the skill and experienced staff, it claims to provide the highest level of customer satisfaction.
iNova Pharmaceuticals
| | |
| --- | --- |
| Website Url | Contact Details |
| inovapharma.com | +65 63403540 |
iNova is a pharmaceutical company that has a long history of providing quality and trusted healthcare products.
It also distributes a wide range of market-leading prescription medicines, and consumer healthcare products to over 20 countries across Australia, Asia, and Africa.
Moreover, the company's portfolio includes health supplements, dermatology, cardiology, respiratory health, allergy, and female health products.
Healthcare Asia
| | |
| --- | --- |
| Website Url | Contact Details |
| healthcareasiapac.com | +65 69092765 |
Healthcare Asia is a pharmaceutical company in Singapore that delivers therapeutic products at competitive prices without any compromise on quality.
Moreover, Healthcare Asia is bridging the gap between manufacturers and stakeholders.
And company's business portfolio consists of a wide variety of products in different oncology areas such as blood cancer, prostate cancer, bone cancer, skin cancer, and other cancer drugs.
Moreover, the company also monitors the list of new approved FDA drugs to keep up with the changing environment of the pharmaceutical industry.
Why Invest in Healthcare Companies in Singapore?
There are many reasons to invest in healthcare companies in Singapore. As a developed country with a strong economy, Singapore offers investors a stable and prosperous environment in which to do business.
The healthcare sector in Singapore is also growing rapidly, with the government investing heavily in the development of world-class healthcare facilities and infrastructure.
This is creating opportunities for healthcare companies to expand their operations and tap into new markets.
In addition, the Singaporean healthcare system is highly efficient and ranks among the best in the world.
This makes it an attractive destination for patients from all over Asia, who are willing to pay premium prices for quality treatment.
Healthcare companies in Singapore are thus able to generate high revenues and profits.
Finally, the political risk environment in Singapore is relatively low, which gives investors greater certainty when making long-term investments in healthcare companies.
These factors make Singapore an ideal location for investing in healthcare companies.
List of Listed Healthcare Companies in Singapore
There are many healthcare companies that are listed on the Singapore Exchange (SGX).
These companies cover a wide range of businesses including medical devices, pharmaceuticals, biotechnology, healthcare services, and more.
The following is a list of some of the healthcare companies that are listed on SGX:
3A Healthcare
Aoxin Q & M Dental Group
Acumen Research and Consulting
Adventa Berhad
Allied Tech Corporation Ltd
APAC Realty Limited
Asia Medic Holdings Pte Ltd
Asiapharm Laboratories Pte Ltd
Biolidics Limited
BioPolus Inc
Biosensors International Group, Ltd.
Capital and Commercial Trust Management Limited
Conclusion
In conclusion, healthcare listed companies in Singapore offer a wealth of potential investment opportunities.
With the growing demand for medical care and technology, these companies are well-positioned to take advantage of the current market trends.
Therefore, investors should do their research into which healthcare stocks provide the best returns and invest accordingly.
Ultimately, investing in healthcare can be hugely rewarding if done correctly with due diligence and an understanding of the sector's needs and potential growth prospects.
Frequently Asked Questions On Pharma Companies In Singapore
What are the largest pharma companies in Singapore?
There are several large pharmaceutical companies operating in Singapore, including Novartis, Pfizer, and GlaxoSmithKline.
These companies have a significant presence within the country's healthcare industry and contribute significantly to its growth and development.
Novartis is one of the largest pharma companies in Singapore with a focus on developing innovative medicines for treating cancer, cardiovascular diseases, respiratory illnesses, and neurological disorders.
The company has invested heavily in research and development activities to drive innovation in healthcare.
Who is the biggest pharma in Singapore?
The biggest pharmaceutical company in Singapore is Pfizer, a globally recognized leader in the field of medicine.
Founded in 1849, Pfizer has been committed to developing new and innovative medicines that improve people's lives for over 170 years. The company employs over 90,000 people worldwide and operates in more than 175 countries.
How big is the pharmaceutical market in Singapore?
The pharmaceutical market in Singapore is a significant industry with an estimated value of USD 1.5 billion, according to a report by the International Trade Administration.
The market is expected to continue growing due to the country's aging population and increasing healthcare expenditure.