Table of Contents
Are you looking to liquidate the assets that are no longer in use so that you can invest in the required modern technology machines?
Getting rid of the equipment that you no longer require will free up some space and fetch you some money that you can invest in machines that can reform your facility.
But where do you find such buyers? Is there anyone who buys used medical equipment?
If you are looking for the answers to these questions, then you would be surprised to know that there are many people who are ready to buy your used medical device.
Read the blog till the end to know the buyers of used medical equipment and why they buy it.
Let's start with the types of medical equipment buyers.
Types of Used Medical Equipment Buyers
Finding the right buyer for your used medical device is no longer challenging, as there are many people who are looking for used medical equipment.
As per the experts, the pre-owned medical device market is expected to reach $8.7 billion by 2025. The types of people that may need your pre-owned medical device include Original Equipment Manufacturers (OEM), Healthcare providers, Private companies, and charities.
Let's understand a bit about each one of these buyers.
Original Equipment Manufacturer(OEM)
One of the types of buyers you can target is OEMs.
Many OEMs are looking to repurchase used medical equipment which they can refurbish and sell to their customers. Some OEMs have offers such as buy-back, or trade-in that you should take advantage of for selling your used medical device, but you won't get enough value.
Healthcare Providers
Healthcare providers such as other hospitals also sometimes buy used medical devices directly from other hospitals. So look for the healthcare providers who may be interested in buying your products.
Private Companies
The other more convenient option for you is to sell to private companies. There are plenty of companies that purchase used medical equipment and then sell them as used machines or refurbish them.
The major benefit of selling to private companies is that you have full control over the selling process, these companies take a very small amount of commission from it.
Charities
The last option doesn't benefit you much in terms of monetary gain but can give you some opportunity for social cause and goodwill. But you need to be so sure of the authenticity of the organization as they sometimes resell it and make money instead of using it for a good cause.
Now let's see some private companies that provide you with the best value for your used medical device.
Among a wide array of buyers available, it's tough to choose the right buyer that pays you the right value for your medical device.
And therefore there are some factors that you should consider while choosing the right buyer to sell your product.
Important Factors to Consider When Choosing a Buyer
When you are ready to sell your used medical device, it is important to choose the right buyer.
There are a few factors you should consider when making your decision:
The price offered:
Make sure you compare offers from different buyers to get the best price for your device.
The terms of the sale:
Some buyers may require you to sign a contract or agree to certain terms before they will purchase your device. Be sure to read over any contracts carefully before signing.
The reputation of the buyer:
Do some research on potential buyers before making a deal. Make sure they have a good reputation and will be able to follow through on their offer.
Your personal preference:
Ultimately, you should choose the buyer that you feel most comfortable with. If you have any questions or concerns, be sure to ask them before making a decision.
Now that you are clear about what you should look for in the buyer, let's review the different options available to you.
Buyers of Used Medical Equipment
1) Soma Tech Intel
If you are looking to sell used medical equipment that too without a middleman and with hassle-free logistics, then Soma Tech Intel is the best place for you.
They purchase the used medical device from hospitals, surgery centers, sales representatives, biomedical and clinical engineers, material managers, supply chain directors, etc.
They buy the pre-owned machines that you sell, refurbished them, and then sell them to their customers.
Some of their top requested items are
Infusion Pumps
C-arms
Anesthesia Machines
Electrosurgical units
Surgical Tables
Heart-lung machines
etc.
2) All states M.E.D
All states M.E.D. is another private company that buys your used medical device with the greatest possible value and helps you to free up your space.
In return for your used medical device, they provide you with either money or new or furbished equipment.
Isn't it a win-win situation for both you and your buyer!!
3) AA Medical Center
In the mission of providing access to quality, affordable, and used medical equipment to doctors and surgeons around the world, AA Medical Centre buys the used medical equipment from you in return for the highest value possible.
This way you can free up your space for the most required machine.
4) Gumbo Medical
Gumbo Medical is another private company that helps you to get rid of your used and no more required medical devices. Partnering with this company will help you
To get fair compensation for your medical device
Assist you in removing your equipment at no cost
You also do not need to worry about disposing of, recycling, or selling the equipment
You don't have to worry about the shipping expenses
5) Merzy
Merzy is another private company that buys used medical equipment from you and sells it to customers. They provide you with full transparency of the entire bidding process.
When you are choosing Merzy to sell your used medical devices:
You gain the maximum value of your device by getting exposure to the entire Merzy buying network
You can easily post and manage your items with their guidance in the app
There is complete transparency of buyers, sellers, and the final closing auction price
6) Gopher Medical
Gopher Medical is yet another private company that buys medical devices from you in return for the best price.
7) AKW Medical
AKW is another private company that buys your used medical devices. With Around 50 years of experience, it buys your used medical device at utmost transparency and in return of great value.
AKW Medical buys all kinds of medical products that includes
Autoclaves, patient monitors, electrosurgical units, tables, chairs, microscopes, surgical lights, and more.
Why Are People Buying Used Medical Equipment?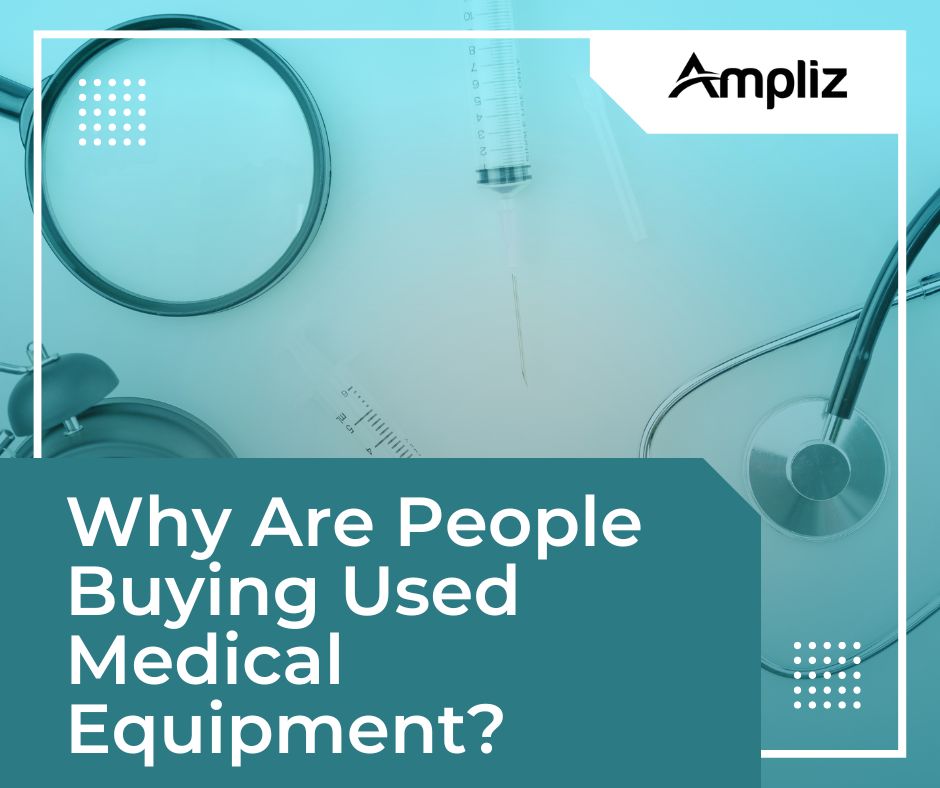 The used medical equipment market is surprisingly robust, with a wide range of buyers seeking good deals on everything from exam tables to x-ray machines. The reasons for this are varied, but most buyers have one thing in common: they want to save money.
For many small clinics and doctor's offices, buying used medical equipment is the only way to stay within budget.

With the high cost of new medical equipment, it's simply not possible for many businesses to keep up with the latest technology. By opting for used equipment instead, they can get the same quality at a fraction of the price.
Another common reason people buy used medical equipment is that they need specific items that are no longer being manufactured. This could be due to a change in technology or regulations, but it means that certain older pieces of equipment are suddenly precious. If you have a need for something rare or hard to find, the used market is often your best bet.
Finally, some people simply prefer used goods over new ones. There's something about a well-made piece of equipment that has been around for a while that just has more character than a brand-new model fresh off the assembly line. Whatever your reasons for considering used medical equipment, remember that there are plenty of others out there with similar needs and budgets. With a little patience and research, you're sure to find exactly what you're looking for at a price you can afford.
Conclusion
Selling unused pre-owned medical devices is the best decision you can make that helps you to liquidize your assets, free up space, and you can get trade-in credit for new equipment.
Though you have multiple options available to you in terms of buyers, choosing the right one is a must.
Do your research well, compare the price, and reputation of the product to get the best deal for your product.
Frequently asked Questions about Medical Equipment
Is it legal to sell used medical equipment?
Yes, it is legal to sell used medical equipment. However, there are certain regulations and guidelines that need to be followed in order to ensure the safety of both the buyer and seller.
Firstly, any medical equipment being sold must be properly sanitized and disinfected before being resold. This is crucial for preventing the spread of infections or diseases.
Secondly, depending on the type of equipment being sold, there may be additional regulations that need to be adhered to. For example, selling certain types of diagnostic imaging machines may require obtaining a license from regulatory bodies such as the FDA or EPA.
Lastly, it's important to note that some states or countries may have their own laws regarding selling used medical equipment. 
It's always best to research local regulations before starting any business involving the resale of medical products.
Overall, while there are some rules surrounding selling used medical equipment – following them can make for a profitable and worthwhile venture!
Who are the buyers of used medical devices?
As discussed, there are many people who buy used medical devices, such as Original equipment manufacturers, charities, private companies, and healthcare providers.