The process of medical billing and coding consists of several steps from scheduling appointments to payment submission.
Similarly, various treatments and procedures collectively determine how to submit claims to the payers.
In addition, not paying attention to detail there are chances of losing potential revenue due to incorrect claims.
So, overlooking the process and loopholes in coding adversely affects the revenue cycle of healthcare facilities.
So, stay here and read this blog on the List of Top Medical Billing Companies in the USA.
Common Medical Billing Challenges
The financial strength of any hospital or medical practice depends on the performance of its revenue cycle.
Likewise, medical billing is a crucial part of revenue cycle management. In addition, making daily operations efficient helps to reduce the burden of administrative tasks.
Outsourcing medical billing to professionals enables hospitals, physicians and practice staff to shift focus to more important tasks.
Especially, the practitioners are able to drive better patient health outcomes and prevent revenue losses. Here are some most common medical billing challenges:
Claim Denials
Insurance companies deny the medical claims if there are any errors in the submission process. In addition, the medical billing team should submit claims accurately to make sure that practices get paid for services.
For example, oncology practices can outsource oncology medical billing services to prevent the chances of claim denials.
Patient Eligibility Verification
Submitting claims to the payers for services which the patient's insurance does not cover leads to claim denials. So, practice staff should confirm before scheduling appointments of the patients about their eligibility details.
The front office of medical practices must verify the patients' insurance details to avoid payment delays and claim rejections.
Incomplete Information
Manual submissions may lead to human errors and billing staff may submit incorrect information or miss any important piece of information required to submit accurate claims.
In addition, medical practices should focus on clean claim submission and maintain a proactive approach while documenting the medical claims.
Hiring medical billing companies help hospitals and providers maintain hassle-free revenue cycle processes and get timely reimbursements.
Here is a list of top 26 medical billing companies in the USA which are empowering physicians, hospitals, independent practices, group practices, and laboratories to achieve a seamless revenue cycle process.
List Of Medical Billing Companies In the USA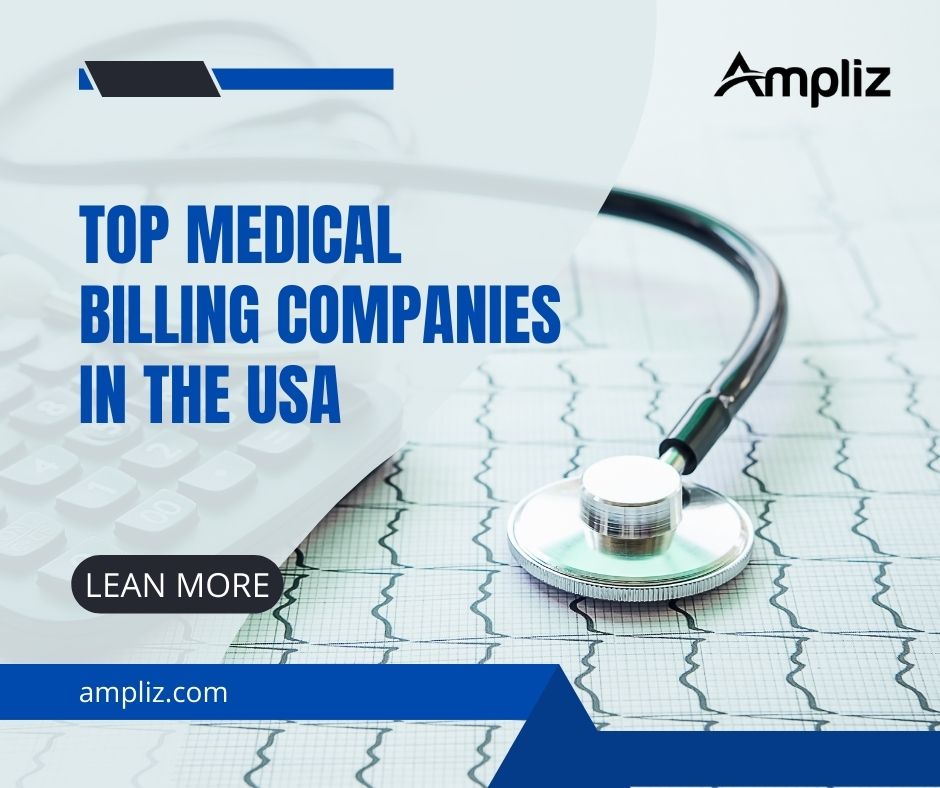 Physician Billing Company
Physician Billing Company helps medical practices to avoid revenue losses and maintain an efficient revenue cycle process. In addition, healthcare providers can optimize revenue collection, reduce accounts receivable, and maximize reimbursements with Physician Billing Company.
Further, physicians can reduce the billing and coding inconsistencies with their revenue cycle experts. Medical practices can outsource urology medical billing services to Physician Billing Company to improve cash flow.
Medcare MSO
Looking for a reliable healthcare revenue cycle management (RCM) partner? Choose Medcare MSO. Our comprehensive RCM services enhance cash flow, reduce denials, and increase patient satisfaction. With experienced professionals and advanced technology, we streamline processes for optimal financial management. Trust Medcare MSO to optimize your revenue cycle and improve your healthcare practice.
In addition, it offers practice management solutions and healthcare recovery assistance to healthcare organizations of all sizes.
Laboratory Billings
Laboratory Billings assists laboratories to attain a smooth revenue cycle with efficient medical billing services. In addition, labs can optimize the revenue cycle process with effective billing and coding with the experts of Laboratory Billings.
Like healthcare facilities, clinical and reference labs require accurate medical coding and billing to increase profitability. So, Laboratory Billings is one of the top billing companies offering tailored solutions to all types of labs.
Billing Paradise
It is also a top medical billing company with offices in California and Texas. Similarly, Billing Paradise offers revenue cycle management solutions to hospitals and independent practices.
Other services like AR support, denial management, eligibility verification, and credentialing are also offered by this medical billing company.
AdvancedMD
When it comes to healthcare technology, AdvancedMD is one of the leading company. It offers cloud medical software to ensure practice productivity and help optimize workflows to medical practices.
In addition, AdvancedMD helps to automate practice processes with cloud-based software and help providers manage their practice smoothly.
Kareo
Kareo is a technology solution to help independent practices thrive in the healthcare industry. It enables practices to streamline practice workflows and drive efficiency.
Also, Kareo helps practices to optimize patient experience, get reimbursements, and improve patient collections.
CareCloud
Being one of the top healthcare information technology companies, CareCloud aims to help providers to ensure optimal care delivery.
Additionally, Kareo helps to increase collections and achieve an efficient revenue cycle process for hospitals and medical practices.
Cure MD
Cure MD is a leading health information systems provider allowing practices and hospitals of all sizes to streamline clinical operations. It offers technology solutions like EHR for all specialty services, practice management services, and medical billing services.
Athena Healthcare
Athena Healthcare helps medical practices to optimize workflows of healthcare facilities with technology solutions. Medical practices, patients, and insurance payers can connect with Athena to drive better clinical and financial outcomes.
Revele
As a healthcare outsourcing company, Revele helps practitioners to ensure seamless claim handling to ensure revenue cycle success.
Revele offers RCM and medical billing solutions to improve the financial health of medical practices. Specialties like oncology can outsource oncology medical billing services to enhance their financial outcomes.
Infinit-O
Infinit-O helps healthcare organizations to scale efficiently and streamline the revenue cycle. In addition, this company offers both technology and billing services to optimize the RCM process of physicians.
So, their specialists take care of every part of the revenue cycle.
Promantra
As a BPO service provider, Promantra offers medical coding, eligibility verification, AR management, denial management, and billing services. For more than a decade, Promantra has been offering medical billing services to providers.
4D Global
This medical billing company offers healthcare providers to improve the process of claim submissions, payment posting, AR management, and verification services.
Medical billing specialists at 4D Global help providers to speed up their business growth.
Medwave
Medwave offers healthcare practitioners to streamline practice operations with technology solutions. In addition, it helps to improve the medical billing process and attain optimal revenues.
20/20 MD Billing
It is a medical billing company in the USA offering revenue cycle management services to healthcare organizations. With more than a decade of experience, 20/20 MD Billing has helped medical practices boost collections and optimize financial health. Hospitals can outsource billing to 20/20 MB Billing to thrive financially.
24/7 Medical Billing Services
24/7 Medical Billing Services have been offering RCM services to practices for more than a decade. It offers billing services for various specialties and enables hospitals and providers to optimize their financial health.
5 Star Billing Services, Inc.
This medical billing company helps to maintain accurate, efficient, and high-performing revenue cycle processes. Also, 5 Star Billing Services, Inc. offers specialty specific RCM services to help providers improve overall collections.
ABCS RCM
This billing service provider helps to streamline the back-office procedures to improve the revenue cycle. ABCS RCM helps medical practices to improve cash flow, reduce accounts receivable, and minimize revenue losses.
Absolute Solutions
Absolute Solutions helps healthcare providers to run practice processes smoothly and attain a seamless revenue cycle. In addition, medical practices and hospitals can improve the bottom line and increase efficiency with their billing services.
Accurate Medical Billing
This is a full-service medical billing company helping providers focus on patient care by managing their RCM process. It offers benefits verification, online scheduling, pre-authorization, and credit card processing services.
ACP Billing Service
ACP offers full service billing solutions and offers end-to-end RCM optimization services to medical practices in the USA. In addition, their experts help providers to increase productivity and profitability at the same time.
Advanced Pacific Medical, LLC
Advanced Pacific Medical, LLC is a team of revenue cycle management experts aimed at improving financial outcomes of providers. It offers medical billing services to internal medicine, physical therapy, and primary care practices.
Alpine Medical Billing
Alpine Medical Billing offers mental health medical billing services to providers. In addition, they offer personalized solutions according to the needs of providers.
Alta Medical Management
Alta Medical Management offers practice management solutions to help providers focus on patient care. As a revenue cycle management company, it simplifies the complexities of the billing process for healthcare providers and hospitals.
AMBSI Inc.
Being a medical billing company in the USA, AMBSI Inc. offers revenue cycle management services to hospitals, group practices, and independent practices.
Also, their medical billing team works with various EHRs. Providers can outsource urology medical billing services to increase the financial health of their practice.
CollaborateMD
CollaborateMD is a cloud-based practice management and medical billing software that optimizes clinical and financial workflows for healthcare organizations.
Specializing in practice management systems, the platform integrates with leading EHRs to create a seamless combination of efficient front-office workflows and superior back-office revenue cycle management.
This results in enhanced financial outcomes for healthcare providers while enabling them to concentrate on providing quality patient care.