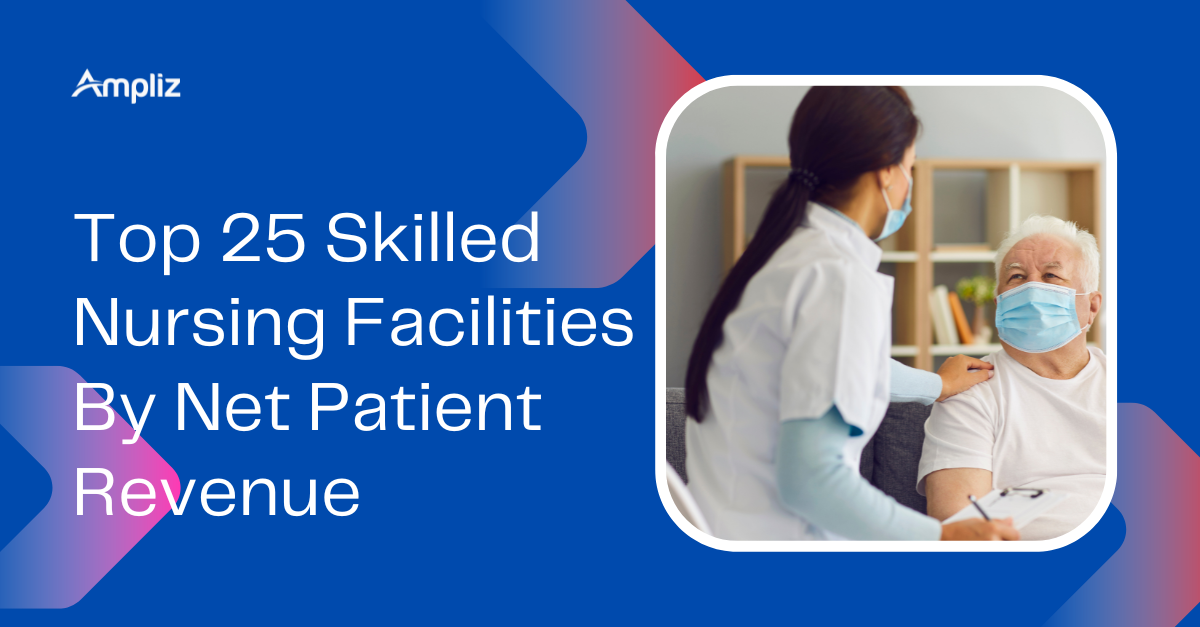 Skilled nursing facilities (SNFs) are an important part of the U.S. health care system, providing vital services to patients in need of long-term care and rehabilitation. But just how many SNFs are there in the US?
In this article, we'll take a look at the numbers behind skilled nursing facilities in the United States and discuss why they're so important for our healthcare system.
We'll also explore what services they provide and how they differ from other types of long-term care facilities. Finally, we'll discuss some of the challenges that SNFs face as they try to meet the needs of their patients.
There are almost 16,963 skilled nursing facilities in the USA but do you think these all 16,963 facilities will become your customer?
Clearly no, right? As some of them may not require your product and some of them may not have a budget to buy them. Therefore before approaching the lead you need to qualify that lead to reduce the chances of rejection.
One of the essential factors for qualifying the lead is to check whether the prospect is able to buy your products or not, and do they have a budget to make a quick buying decision!
And that depends upon its revenue generation. The more revenue it makes, the more it has the ability to buy the required products.
So let's see some of the skilled nursing facilities with the highest net patient revenue. Before that let's understand what net patient revenue of any skilled nursing facility is.
What Is Net Patient Revenue And How To Calculate Net Patient Revenue
The Net patient revenue of each nursing facility indicates its financial strength. Net patient revenue is basically revenue generated from patient service collected from payers.
Net patient revenue is calculated as patient revenue minus discounts.
Net Patient Revenue= Total Patient Revenue-Patient discount
Higher net patient revenue indicates more patients choosing that particularly skilled nursing facility.
Curious to know which nursing home is generating the highest net patient revenue?
So as shown in the table in 2021 California-based Ensign group generated the highest net patient revenue of $2,447,335,871, followed by the Pennsylvania-based Genesys group which generated net patient revenue of $2,233,146,911.
| | | | | |
| --- | --- | --- | --- | --- |
| Sr. no | Name of facility | Headquarter | Number of beds | Net patient revenue |
| 1 | The Ensign Group | California | 23,172 | $2,447,335,871 |
| 2 | Genesis HealthCare | Pennsylvania | 41,977 | $2,233,146,911 |
| 3 | Life Care Centers of America | Tennessee | 27,179 | $1,904,811,558 |
| 4 | ProMedica Senior Care | Ohio | 22,973 | $1,712,391493 |
| 5 | Consulate Health care | Pennsylvania | 15,603 | $1,272,675,621 |
| 6 | Providence group | Utah | 13,599 | $1,184,527,375 |
| 7 | Lifecare service | Lowa | NA | $1,180,025,721 |
| 8 | Centers health care | New york | NA | $1,008,478,575 |
| 9 | Brius Healthcare | California | NA | $964,916,920 |
| 10 | Trilogy Health Service | Kentucky | 7,773 | $935,915,635 |
| 11 | Signature HealthCare | Kentucky | 12,480 | $910,523,434 |
| 12 | Saber HealthCare Group | Ohio | NA | $849,379,714 |
| 13 | Ciena HealthCare | Michigan | 9,079 | $840,245,978 |
| 14 | National HealthCare Corporation | Tennessee | 9,463 | $792,436,407 |
| 15 | Good Samaritan Society | South Dakota | 10,504 | $761,886,918 |
| 16 | Pruitt Health | Georgia | 10,283 | $750,436,870 |
| 17 | Seva Senior care | Georgia | 19,343 | $725,681,186 |
| 18 | Complete Care Management | New Jersey | NA | $686,530,776 |
| 19 | CareRite Centers | New Jersey | NA | $675,134,322 |
| 20 | American Senior Communities | Indiana | 8,746 | $672,253,775 |
| 21 | MediLodge Group | Washington | NA | $651,983,379 |
| 22 | Autumn Lake Healthcare | New jersey | NA | $645,027,024 |
| 23 | Infinity Healthcare Management | Illinois | 9,645 | $619,290,550 |
| 24 | Legacy Healthcare | Illinois | 1700 | $582,937,917 |
| 25 | Athena Healthcare Systems | Connecticut | NA | $568,962,939 |
Many people get confused between nursing homes, assisted living facilities and skilled nursing facilities, but as a marketer, you should not get confused. For a successful marketing campaign, you must be clear about what skilled nursing facilities are and what nursing homes are, and how they differ from each other.
Let's briefly understand these terms, so that you can target your prospects better and increase your sales.
The number of skilled nursing facilities in the US
There are a variety of skilled nursing facilities across the United States that provide care for patients who are unable to care for themselves. The number of skilled nursing facilities in each state can vary based on the population and the need for these services.
In some states, there may be a higher demand for skilled nursing facilities due to the elderly population or the prevalence of chronic illness. These facilities play an important role in providing care for patients and their families and can be found in both rural and urban areas.
What is a Skilled Nursing Facility?
As per the definition, the skilled nursing facility is an in-patient treatment and rehabilitation center staffed with trained medical practitioners. There are about 16,963 skilled nursing facilities in the USA, among which Texas has the maximum number of facilities of 1407.
Nursing homes and assisted living facilities are for non-medical care, whereas skilled nursing facilities are for medical care.
People choose nursing homes or assisted living facilities when they require greater assistance in daily living activities like bathing, eating, using toilets, moving, dressing, etc.
Whereas people choose skilled nursing facilities when they require some medical care even after they get discharged from the hospital.
People choose skilled nursing facilities if they require further medical care in any of the below cases:
Stroke recovery
Wound care
Rehab after surgery or illness
Terminal illness
Serious memory issues
Around-the-clock care
Like in nursing homes and assisted living facilities, people here in skilled nursing facilities will get assistance in all the daily living activities but the main difference is for a short period of time.
All the medical practitioners like doctors, registered nurses, and speech therapists will be available in skilled nursing facilities, whereas in nursing homes and assisted living only nurses are available.
The cost of skilled nursing facilities is covered under medicare but not that of nursing homes and assisted living facilities.
Thus, though almost the same types of care are being taken at skilled nursing facilities, assisted living facilities, and nursing homes their purpose is different.
Having this list of skilled nursing facilities handy helps a lot in your marketing campaign. But do you think having only names and revenue details will serve your purpose??
No, right? You will definitely require an updated contact list of these skilled nursing facilities. But going through a dictionary or surfing the net is so time-consuming. And that's why Ampliz does that for you.
Ampliz provides you with 98% authentic, updated, and reliable datasets of skilled nursing facilities, that comprise email ids, phone numbers, and addresses.
Conclusion
In conclusion, the number of skilled nursing facilities in the US has grown dramatically over the years. This growth is due to a combination of factors such as an aging population, technological advances, and an increased demand for long-term care services.
With so many options available to those who need skilled nursing care, it's important to research each facility carefully before making a decision. Every individual's needs are different, so it's important that they find a facility that can meet their specific requirements.