What are Integrated Delivery Networks (IDN)?
An integrated delivery network (IDN In US) is an organization with a group of allied healthcare providers along with local healthcare facilities.
Integrated delivery networks (IDNs), is an organization that manages end-to-end healthcare facilities of one or more healthcare centers in a defined geographical location.
IDNs are created with a vision to provide quality care and improve patient satisfaction.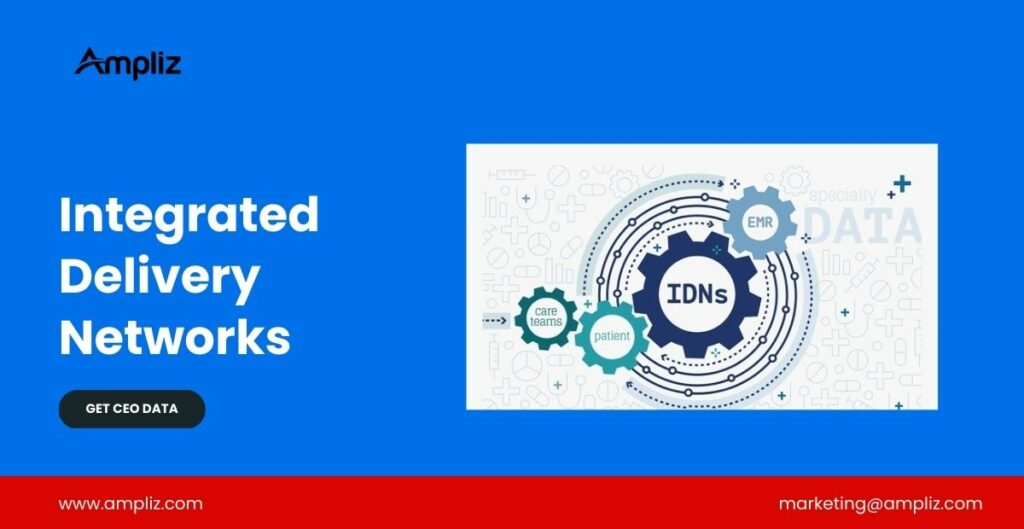 On average, there are 576 IDNs in the United States. As of April 2020, Nashville-based HCA Healthcare is the largest IDN in the United States with 214 member hospitals and a total net patient revenue of nearly $42.6 billion.
Common Spirit Health and Kaiser Permanente are honored with the second and third largest health systems concerning revenue size and the hospital network.
Know-How IDNs Impact its Business
Is IDN important to my brand? Do I need to concentrate on IDN now or can I wait?
How can I target IDNs with integrated delivery network data?
How do I engage with my targeted IDNs?
Ampliz integrated delivery network data will give you clear data insights into healthcare facilities, revenue size, patient volume, collaboration, affiliates, funding status, partnership, recent contribution, surgical trends, investments, and exclusively more.
Using clear insights, you can reach healthcare stakeholders, IDN influencers, outpatient providers, allied healthcare providers and payer groups.
Advantages of Integrated Delivery Network
IDNs provide you with a wide array of inpatient and outpatient care services for hospitals, physicians group, ambulatory surgery centers, Private Health clinics, and Scan centers.
Leverages your healthcare influence and buying power
Help you negotiate and handle the competitor payments contract in a way that a group purchasing organization (GPO) would help
Gives you contract compliance for healthcare products and services
Classifications Of IDNs
IDNs are classified based on the integration level of member healthcare facilities, healthcare procurement, hospices, and care coordination.
Horizontal integration: National, State, government, and investor-owned IDNs come under horizontal integration.
Horizontal integration includes the formation of the multi-hospital system, mergers, and strategic alliances with allied hospitals to form a local integrated network
Vertical integration: Vertical combinations include the acquisition of primary care physicians, healthcare maintenance organizations.
Vertical integration offers cradle-to-grave healthcare services — ranging from prenatal care to hospices and assisted living facilities — all within the system.
Why Integrated Delivery Networks are Important in Healthcare
As the IDN landscape evolves, having a clear strategy for engaging Champions, Gatekeepers, and Influencers will become increasingly important.
To identify stakeholder groups most receptive to a product value proposition, the engagement strategy should consider three critical factors: Product differentiation, Product usage, and degree of IDN Consolidation.
With economic pressures escalating and related to the profitability of the hospital industry, provider network integration and consolidation will remain a defining factor of the US healthcare landscape.
USA Integrated Delivery Network Market Growth
Over the last decade, the US has witnessed the increased evolution of health systems into highly integrated delivery networks (IDNs).
IDN's level of influence has grown substantially as networks with the integration of acute hospitals, outpatient providers, and payer groups.
According to a new report, the United States integrated delivery network market was worth USD 998.8 billion in 2019 and is expected to rise at a compound annual growth rate (CAGR) of 10.1% from 2020 to 2027.
In the coming years, there will be an increasing demand for value-based healthcare services.
As more and more geriatric populations age, they are prone to chronic disease. In turn, this will create a huge buzz for affordable healthcare services and boost the growth of the US IDN market.
The market is also expected to be driven by the ongoing consolidation of healthcare facilities, either through collaborations or partnerships.
Largest IDNs in the US
Here are the Top 20 IDNs listed based on the net patient revenue, number of member healthcare facilities, and staffed bed size.
Require more data insights of IDNs?
Get started with Ampliz for free and get access to compete healthcare IDNs data. 
Ampliz gives you comprehensive data insights of IDNs including revenue size, patient volume, collaboration, affiliates, funding status, partnership, recent contribution, surgical trends, investments, and exclusively more. Explore Ampliz healthcare dataset.
Top 20 IDNs by Patient Revenue
| | | | | | | | |
| --- | --- | --- | --- | --- | --- | --- | --- |
| Rank | IDN Name | State Code | ID | Staffed bed size | Total Number of Member Hospitals | Number of Discharges | Net Patient Revenue |
| 1. | HCA Healthcare | TN | 4710 | 42,190 | 214 | 1,923,773 | $42,673,974,296 |
| 2. | Common Spirit Health | IL | 981465 | 23,358 | 197 | 959,084 | $29,358,722,418 |
| 2. | Kaiser Permanente | CA | 4713 | 9,625 | 43 | 444,072 | $29,176,611,660 |
| 4. | Ascension Health | MO | 4695 | 16,713 | 117 | 679,089 | $18,788,901,219 |
| 5. | Providence St Joseph Health | WA | 4716 | 10,345 | 56 | 463,500 | $16,286,062,476 |
| 6. | Kaiser Permanente Northern California | CA | 845347 | 4,163 | 21 | 209,916 | $14,359,957,345 |
| 7. | Tenet Healthcare | TX | 4685 | 15,870 | 87 | 652,017 | $14,140,396,155 |
| 8. | Kaiser Permanente Southern California | CA | 845346 | 4,487 | 15 | 185,367 | $14,011,636,037 |
| 9. | Trinity Health | MI | 4712 | 10,471 | 59 | 574,749 | $13,737,577,562 |
| 10. | University of California Health | CA | 560423 | 4,651 | 21 | 178,254 | $13,032,563,332 |
| 11. | Dignity Health | CA | 4698 | 7,407 | 48 | 384,556 | $11,656,703,049 |
| 12. | Community Health Systems | TN | 542233 | 13,783 | 100 | 496,596 | $10,823,928,332 |
| 13. | Universal Health Services | PA | 7055 | 20,607 | 170 | 719,554 | $9,471,725,806 |
| 14. | Northwell Health | NY | 4744 | 6,075 | 21 | 287,889 | $8,970,564,399 |
| 15. | University of Pittsburgh Medical Center | PA | 6448 | 7,072 | 36 | 274,760 | $8,796,223,659 |
| 16. | Cleveland Clinic Health System | OH | 274173 | 4,504 | 18 | 218,142 | $8,666,646,603 |
| 17. | New York-Presbyterian Healthcare System | NY | 7066 | 3,945 | 13 | 204,905 | $8,355,307,233 |
| 18. | Life Point Health | TN | 7004 | 9,374 | 86 | 312,900 | $8,269,550,749 |
| 19. | Mass General Brigham | MA | 7001 | 1,019 | 17 | 158,399 | $8,089,311,911 |
| 20. | Advocate Aurora Health | IL | 965729 | 6,695 | 29 | 263,632 | $8,052,905,383 |
What Healthcare Companies Should Know Before Reaching IDNs?
IDNs deliver coordinated, high-quality care to patients through their vast networks of healthcare providers, much like accountable care organizations.
Many health systems have a wide range of services; as a result, providers can accommodate nearly all their patients' medical needs without requiring them to seek out-of-network care.
Additionally, this can improve the communication and collaboration of the patient's entire continuum of care and help to reduce revenue loss from network leakages.
A large integrated delivery network (IDN) is also capable of leveraging its market influence to increase its negotiation power in a similar fashion to a group purchasing organization (GPO).
In this way, IDNs can lower overall healthcare costs by securing price competition in the supply chain.
Reaching the IDN Influencers
Accelerate engagement with IDN using the right data sets. Identify, target, and leverage your engagement efforts with the right IDN influencers based on their quality initiatives, innovative contracting, disease-specific investment, healthcare facilities, and more.
With more than 9,100 distinct IDN healthcare data, Ampliz gives you an unparalleled level of intelligence on every hospital and IDN in the United States.
Accelerate your healthcare business with targeted, accurate healthcare IDNs and healthcare data sets.
Frequently Asked Questions On IDNs
How many IDNs in the US?
On average, there are 1100 IDNs in the United States in April 2023.
What is the largest IDN in the US?
The largest IDN (Integrated Delivery Network) in the US is Kaiser Permanente.
Founded in 1945, this non-profit healthcare organization serves over 12 million members across eight states and Washington D.C.
The network includes more than 39 hospitals, over 700 medical offices, and employs around 200,000 staff including physicians, nurses, pharmacists, and administrators.
What is IDN in healthcare?
IDN stands for Integrated Delivery Network in healthcare. It is a system of healthcare providers and facilities that work together to offer coordinated care to patients.
IDNs are designed to streamline the delivery of medical services, improve patient outcomes, and reduce costs.
An IDN typically includes hospitals, clinics, physician practices, nursing homes, rehabilitation centers, and other healthcare organizations.
What are the advantages of an integrated delivery network?
An integrated delivery network (IDN) is a healthcare organization that provides comprehensive patient care services across multiple locations, including hospitals, clinics, and physician practices.
There are several advantages to implementing an IDN:
1. Improved Patient Outcomes: An IDN can provide coordinated care across different settings, which leads to improved patient outcomes.
Patients receive consistent care from a team of providers who have access to their medical history and work together to create treatment plans.
2. Increased Efficiency: By integrating various healthcare services under one umbrella organization, an IDN can streamline administrative processes and eliminate redundancies in operations.
This saves time and resources for both patients and providers.
3. Cost Savings: Implementing an IDN can result in cost savings due to reduced duplication of services and more efficient use of resources such as staff members or equipment.
4. Better Data Management: An integrated delivery network has the ability to collect data from different sources across its various facilities into one centralized database for analysis purposes leading them towards evidence-based clinical decision-making approaches that ultimately benefit patients.
5. Enhanced Provider Satisfaction: Working within an IDN allows providers to collaborate with colleagues in other specialties creating opportunities for professional growth through collaboration with other highly skilled professionals leading them towards job satisfaction.
What percent of hospitals are in an IDN?
An IDN, or Integrated Delivery Network, is a healthcare organization that includes hospitals and other facilities that provide coordinated care to patients.
While there is no exact figure for the percentage of hospitals in an IDN, it is estimated that roughly 60-80% of hospitals are part of some form of network or system.
What are the integrated delivery networks in the US?
Integrated delivery networks (IDNs) are organizations that provide a comprehensive range of healthcare services and products to patients within a defined geographic area.
These networks bring together hospitals, primary care physicians, specialists, pharmacies, labs, and other healthcare providers under one umbrella to offer seamless and coordinated care.
There are several IDNs in the US that operate across multiple states and regions.
Here are some examples:
1. Kaiser Permanente: This is one of the largest IDNs in the country with over 12 million members across eight states.
It operates hospitals, medical centers, clinics, and pharmacies all linked by an electronic health record system.
2. Mayo Clinic Health System: With facilities in Minnesota, Wisconsin, Iowa, and Georgia; this IDN offers integrated care through its network of hospitals, clinics, and specialty centers.
3. Ascension Health: Based out of St Louis Missouri; Ascension Health has more than 150 hospitals operating in over 20 states as well as numerous outpatient clinics providing coordinated health services to its patients.
4. Geisinger Health System: With locations throughout Pennsylvania; this organization includes physician practices & community-based programs along with their flagship hospital with the goal to provide a better patient experience.
5. Cleveland Clinic: Located primarily in Ohio but offering additional facilities outside state lines. Cleveland Clinic is another example of a large-scale IDS operator featuring several multispecialty centres.
These IDNs have proven successful at improving patient outcomes while reducing costs by streamlining processes like referrals or diagnostic testing which reduces redundancies compared to individual healthcare providers working independently from each other.
What is the largest IDN in Florida?
The largest IDN (Integrated Delivery Network) in Florida is the AdventHealth system.
With 50 hospitals and hundreds of outpatient facilities, AdventHealth has a strong presence throughout the state, providing comprehensive healthcare services to millions of Floridians.
This network offers a wide range of medical specialties including cardiology, oncology, neurology, orthopedics, and more.