Find Chiropractor
How do you find a qualified chiropractor? The answer is at Ampliz. We are America's leading resource for finding healthcare providers and have helped countless people in their search for quality care.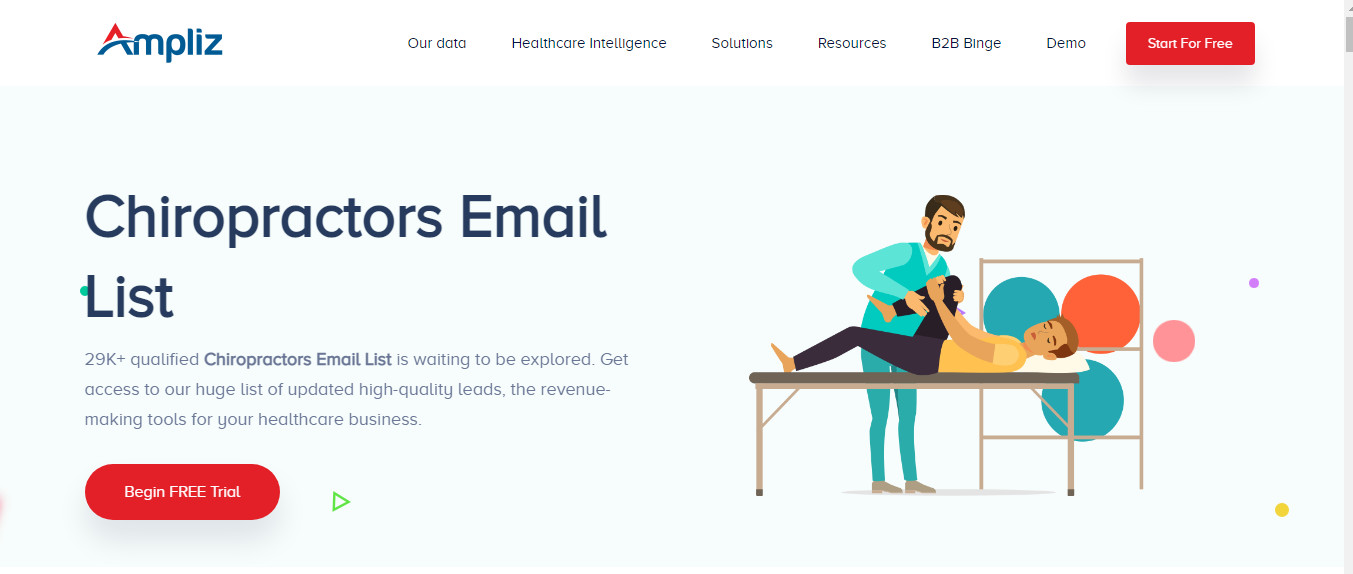 With increasing cases of joint pain, misalignment of bones, and other bone-related issues, the demand for chiropractors in the US are rising insanely. So if you are looking for the best chiropractors list in the USA, luckily you are on the right page that will guide you in reaching the right chiropractors based on their speciality, practice type, location, expertise, and more.
The term chiropractors have gained huge popularity within a very short course of time. Today, many sportspersons and athletes are facing bone-related issues and they are hunting for the best chiropractors and chiro treatment.
This has opened a broad gate of opportunities for the US pharma companies dealing with chiropractic drugs, equipment, and related services. If you are one of the many such chiropractic products businesses operating in the US, it becomes inevitable for you to catch hold of the top list of chiropractors operating in the US.
Along with the growing demand for chiropractors, the demand for chiropractic products is also increasing. This has resulted in the formation of innumerable startups dealing with chiropractic products. Using the chiropractors contacts, you can market all your chiropractic supplies, and services to the right chiropractors aligned with their specialty, location, and practice type.
So how it would be possible to have yourself in the spotlight in this huge competition? This is where the experts like Ampliz steps in. We help you amplify your business revenue by getting you connected with the right decision-makers in the healthcare industry. With millions of validated data, you can reach out to the healthcare professionals or therapists who can help you scale your business revenue.
Why go for the Right Chiropractors Database?
Before you step into the platform for the journey of finding the right chiropractors for your business, you need to understand why you need the right set of chiropractors for your business. The main reason is to maximize the conversion and your business ROI. A personalized chiropractor's database will help you connect to the right chiropractors who best fit your business needs and demands.
It will help you convert the maximum of them and close maximum deals which in turn will boost up your company's revenue and excel the sales and marketing goals that you have set which helps you in closing deals more and faster. So for that, you need a high potential, target-specific chiropractors database that will convert in real.
How to find a Good Chiropractor?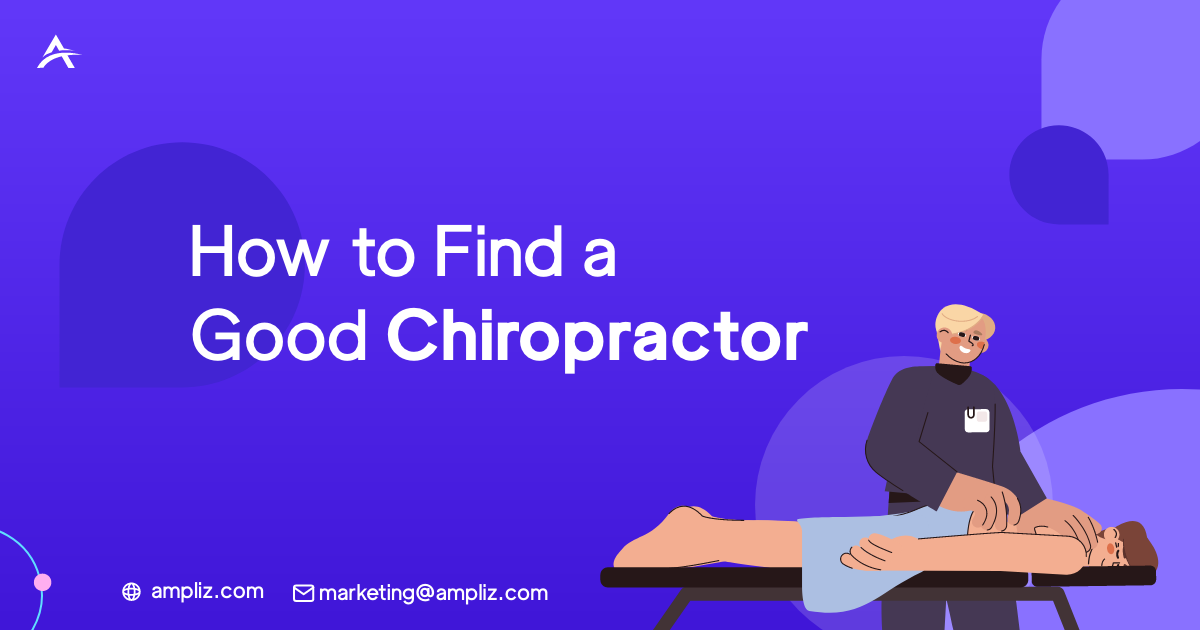 This is a question that bangs almost every healthcare business owner's head majorly who is operating in the US. It's not like that there are no good chiropractors in the state so that they struggle to find one. It's that.
There's a lot of good chiropractors in the city but reaching out to them is the most challenging task. This is due to the huge ongoing competition. Every business wants to extend its reach to the top chiropractors in the city.
So sometimes it becomes very much critical to catch hold of them and even to figure out whether they match your business needs or not.
Fill the form and book a demo with our data experts.
So how to find a good chiropractor in competitive markets like the US?
Here's when the experts like Ampliz steps in. Ampliz comes with an advanced Healthcare Intelligence platform that stores and manages millions of verified databases of physicians from all over the US and even the globe. Here you can get hold of your desired chiropractors with complete ease by just following some simple steps.
Our data experts are always there to help you on sourcing the right chiropractor who matters the most. They will help you address your question of how to find a good chiropractor without much effort.
You can even start searching for chiropractors by name, location, specialty, etc.
Don't you believe it? Yes, it's 100% true.
So how to reach chiropractors by practice?
How do I find a chiropractor by name?
In the next section, we will help you decode these million-dollar questions hitting your mind currently. At Ampliz. We help you connect with the right chiropractors and healthcare professionals based on their treatment and practice type.
Let's explore.
How to find a chiropractor by name?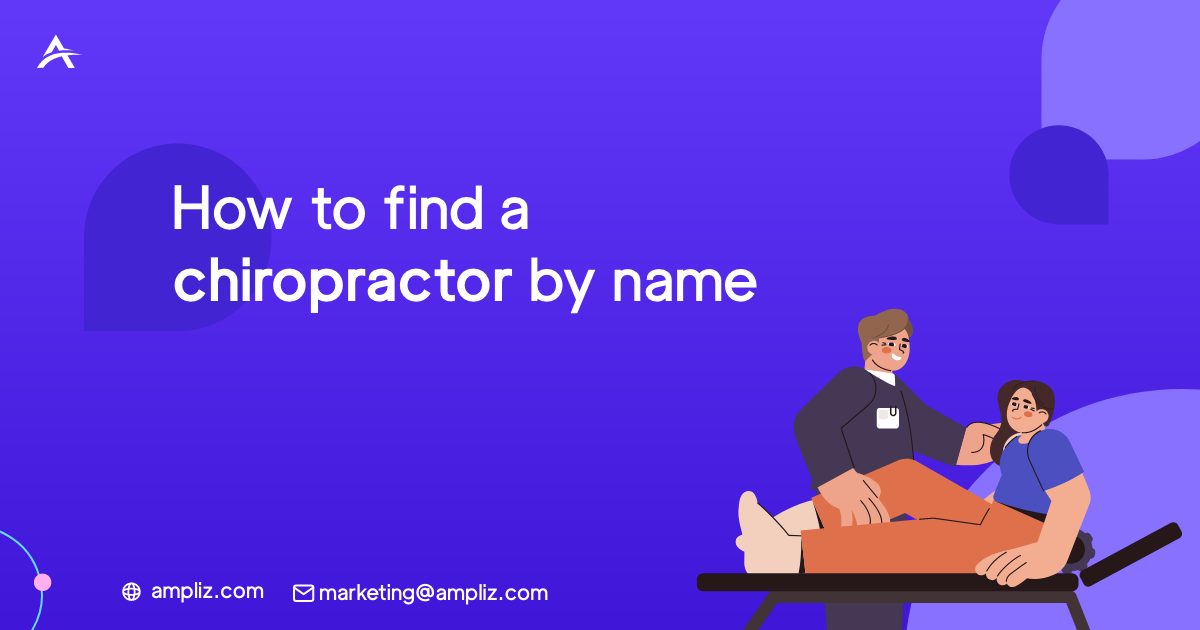 There have been a lot of questions that hit us continuously surrounding the idea of reaching out to the top chiropractors in the US for greater business benefits. And this is what pushed us to prepare a separate blog for the mentioned cause that will address the entire step-by-step process to reach out to the top chiropractors out there.
In this section, we will be answering the question, How to find a chiropractor by name, with a complete step-by-step guide using our advanced B2B Intelligence platform.
Let's start.
1. Signup/Login to the Platform
The very first step you need to take is to sign up on the Ampliz platform. Navigate to the Ampliz sign up page, enter your name, and email address along with a strong password hit the sign-up button at the bottom.
Once after signing using your email address, you will receive a confirmation code to your email address. Enter the confirmation code to confirm the next step. All Set, you're done!
You can now find chiropractors or other healthcare professionals based on their location, specialty, etc. Using the filter, you can sort the right prospects and hit on the save button or export to your CRM directly.
Now you are all set for the next step.
2. Click on Physicians
Once you login into the platform, you will be redirected to the welcome page with three different sections. You will be facing three sections named Physician, Hospital, and Executive. Now, as you are looking for the list of chiropractors, you will be going for the option 'Physician'.
From there you will be redirected to our database platform and from there starts your main search process.
3. Click on Specialty
Select the top section 'Specialty'. There you need to type for the chiropractor and select one of the choices from the many that will be showcasing over there. Select Chiropractor. Once you are selected, you will be shown all the results available in our database matching your search criteria.
The search results include the database of all the chiropractors specializing in different segments of medical science. If the available results are matching your criteria then bang on, or else if you want specific segments to be targeted, then follow the next step.
4. Select Sub Specialty
Just below the specialty section, there you will be finding a whole lot of sub chiropractor specialties names or options mentioned. The choices would be like:
Sports Physician
Rehabilitation
Orthopedic
Nutritionist
Neurologist
Internist
Independent Medical Examiner
Occupational Health
Radiologist
Chiropractor
From all of the above-mentioned sub-specialties, choose the ones that you are looking for and you will be getting more segmented and specific search results matching your criteria. Now if you are wondering how to find a chiropractor by name, not to be worried, the next section is your direct answer to the problem.
5. Select on Name
Among the many available filters, 'Name' is the topmost one and gives businesses like you the direct gateway to reach out to the chiropractors of your choice, Isn't it amazing?
Of course, it is. So all you have to do is select on the Name filter and search for the first name of the chiropractor that you are looking for.
And bang on, you will be having the available chiropractor directory matching the first name of the one that you were looking for.
But do you want your search to be more precise based on the location, hospital name, license validity, etc?
Then just go for the following steps.
6. Add Needed Filters
Along with specialty, subspecialties, and name, multiple other filters make your search more precise and give more segmented and target-specific results.
So what are they?
Here we go.
Name
Hospital Name
NPI Number
Location
Advance
Here, all the above-mentioned filters help you get a more intent-specific chiropractor directory that meets your business needs. By using these above filters you can restrict your search to particular hospitals, targeted locations, and more.
Note: All the above-mentioned filters are locked for premium users. While signing up for the first time and login in, you will be given 10 free credits to explore which means, you can get free access to the contacts of 5 chiropractors. But the filters will be locked there.
To unlock the filters and get access to a huge number of chiropractors, you can upgrade your account to a yearly or monthly plan. To 'Upgrade', you can select the 'Upgrade' button in the top right corner of the page and select the plan of your choice. By this, you will be given access to the locked filters and enjoy a seamless search.
For any confusion, you can write to us at [email protected], and our data experts will help you out through all your queries and get them solved with zero doubt.
7. Save Your Contact
It's time to save your contact. Out of the top chiropractor's list in the USA, once you have found the chiropractors of your choice, it's to save them. Save the contacts with the button named "Save" positioned to the right of your respective contact.
Once you do that, you can get access to the contact details of the respective chiropractors, and using those you can build high ROI-driven outreach campaigns.
Note: Once you save one contact, the credit will be deducted from your existing credits.
The above-mentioned 7 steps are the shortcut to your million-dollar revenue model. It will help you close profitable deals with chiropractors frictionlessly.
I hope this even answers your question, where can I find a chiropractor?
It's Ampliz. At Ampliz, you get the privilege of accessing a highly validated and 100% tailor-made chiropractors list that stands to the needs and demands of your healthcare business.
Finding a chiropractor is easy. But to find a chiropractor who is interested in your services is complicated which Ampliz makes it simplified for you. So next time if you want to find a chiropractor, Ampliz is the best way to engage the right chiropractors without investing much of your time, effort, research or resources.
To know more about our advanced 360-degree healthcare intelligence platform, visit here. For any business or healthcare data-related queries feel free to reach out to our skilled and energetic data experts at [email protected]. You will be assisted through your entire process of data sourcing without any questions.