Though people won't be spending as much time on email as they spend on social media, they still prefer email as their primary form of communication. Many top-level executives prefer to receive industry news and new product launch details through email. But for that, you need an accurate and updated email id.
There are multiple ways by which you can find someone's email address from LinkedIn, among which the most effective and efficient way is to use Linkedin from LinkedIn, among which the most effective and efficient way is to use Linkedin Recruiter.
Whether you are looking to fill some vacant position or connect with prospects, or for link building, LinkedIn can be of great help to avail the accurate and updated email id. Almost about 600 million people across the world use LinkedIn irrespective of their industry.
And that's why LinkedIn is the best place from where you can get the Email of your prospect.
But many times you find it quite challenging to get someone's email address from LinkedIn as it requires you to invest great time and effort. This is because you might lack the right tools and the right methods that drive your result. It should not take more than 10 mins to get emails of either one person or 100 from LinkedIn.
Unsure to do this? Read on, to know sureshot ways to extract emails from LinkedIn successfully.
Top 6 ways to find someone's mail id on Linkedin
There are four ways to find an email address from LinkedIn, two of which are free and the other two require you to invest some money. Let's see these methods in detail.
1) Check your prospect's profile
One of the easiest ways to find mail from LinkedIn is to just type his/her name in the search bar, and hop on to their profile.
For all your first connections you can see their email address on their profile under the contact info section. But if the person is not in your connection then you won't be able to see their mail id unless the person has allowed it for all the people in settings. Like this profile.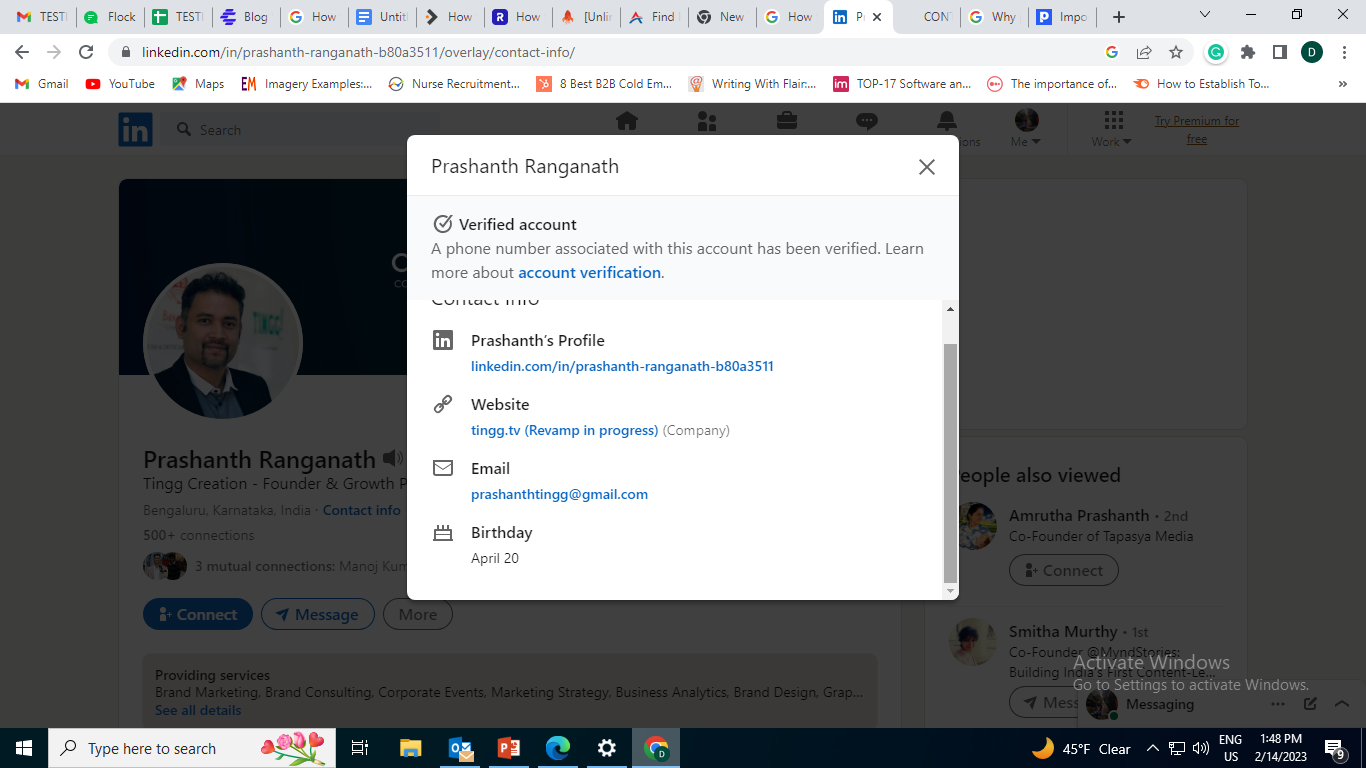 This person is not in my connection, though I am able to see his email id in the contact info tab in his profile.
But most people don't allow anyone other than their first contraction to see their mail id. And that's why if the person is not in your connection you won't be able to see their mail id like this.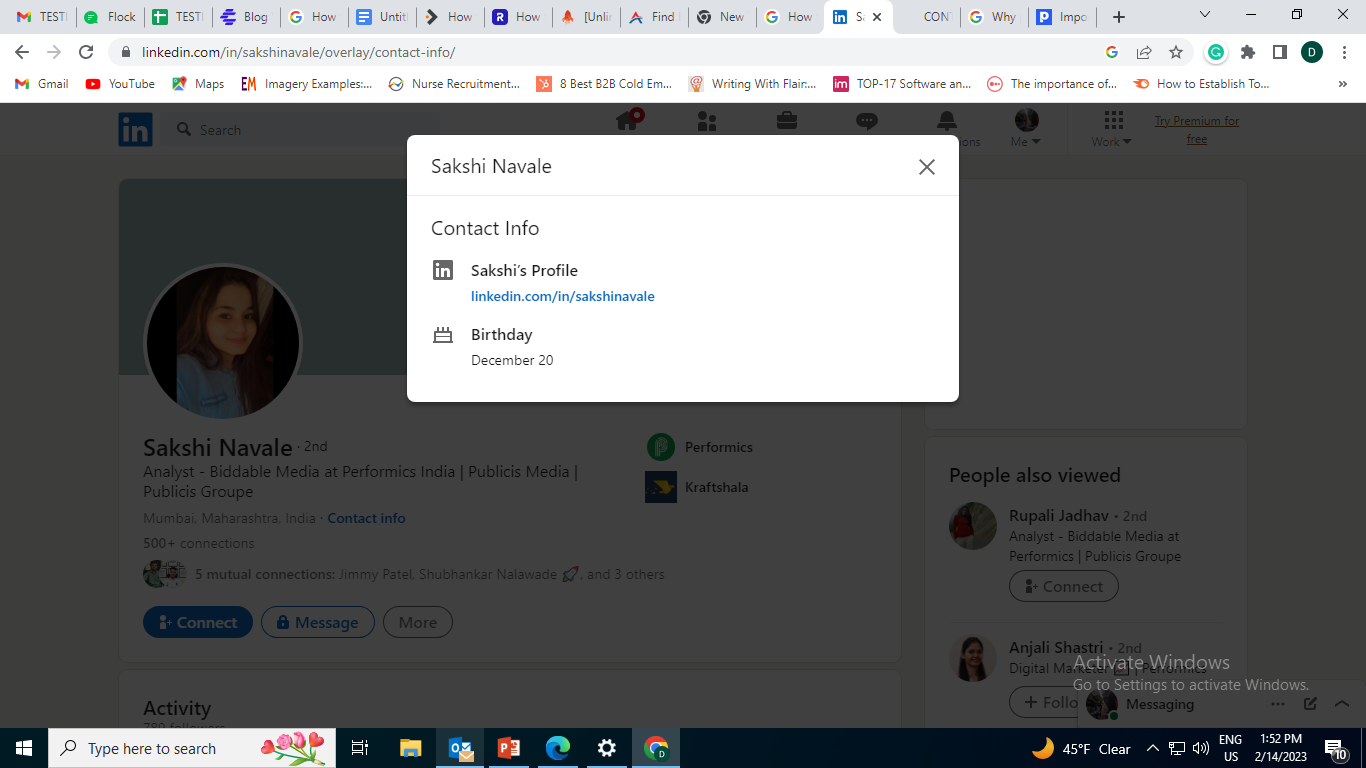 Sakshi is not in my connection, and that's why I am not able to see her connection.
2) Request email in the message
But what if you are not able to find a person's email id even if he/she is your first connection? How will you get the email id of the person then? Simply do a private message.
In the message introduce yourself, and ask for an email address along with the purpose. But make sure to sound professional to get a prompt response from them.
If the person is interested he/she will share the email id with you.
3) Check Their Banner
The other not-so-common method of getting email addresses from LinkedIn is checking the cover photo or banner of the person's LinkedIn profile. Nowadays many B2B professionals invest in high-quality banners and place their email IDs and other contact details there to get more opportunities.
4) Check their Bio
The LinkedIn bio section holds the same importance as the person's C.V. That's why many people write everything about their expertise and experience in their LinkedIn Bio. Sometimes they also mention their email address for getting a new opportunity.
So checking the Linkedin bio section may also be helpful in finding email addresses from Linkedin.
5) Use LinkedIn Sales Navigator
Now, both the above-mentioned methods are time-consuming. You will get the email of your prospect only when they will accept your connection request or they will respond to your message.
And this makes you wait to take your next steps of action. And that's why you must opt for another method. One method is using the LinkedIn sales navigator to get emails from LinkedIn. Its pricing starts at $79.99/month for users for a core subscription. Let's understand how you can use it if you have the one
1) Search any profile on the Linkedin sales navigator. Now, comparing it with any standard profile, you will observe that the sales navigator will let you access more information about the profile even if you are not connected.
2) If you have a lead's company name you can google it and see the company's website domain name.
3) Now, run another google search, with the person's name and company's domain name to see if you are able to find their email Ids or not.
This way with the help of a Linkedin sales navigator you will surely get the email id of your prospects.
Moreover, you can use Linked Helper to scrape and export information and messages from the LinkedIn Sales Navigator inbox.
6) Use the email finder extension for LinkedIn
Another and most effective method of finding emails from Linkedin is by using an email finder extension for Linkedin. These LinkedIn email extractors are easy to use as they let you extract the email list directly from the person's profile without jumping on any platforms.
Some of the popular tools for this are
1) Ampliz salesBuddy
2) Lusha
3) skrapp.io
4) ContactOut
All these tools operate in a similar way, they cross-reference the Linkedin profile on which you are with their stored data.
For example, in the case of Ampliz salesBuddy, 
Go to the Linkedin profile of the person whose email you require
Click on the Ampliz salesBuddy extension and the pop-up will appear on that person's Linkedin profile
Here you can see the email address and save it.
This process is relatively fast and efficient and fits right with the daily prospecting workflow that makes your teaching process much easier.
Ampliz is a global B2B database provider. Ampliz is known for its 98% accurate, real-time updated database that ensures you the highest open rate and response from your prospects.
Ampliz collects data from 800+ credible sources and gets them validated by 100+ experts to give you the most accurate and real-time updated database. With the help of AI and ML, Ampliz tracks the buying history of your prospects and provides you with the database of your most potential customers that ensure you higher conversion rates.
Strategies for Verifying Emails Found on Linkedin
Verifying emails is a must before you start your outreach process. Because if the email is not verified, then you may have to face a high bounce rate which spoils your reputation.
There are a few different ways that you can verify an email address that you found on LinkedIn. The first way is to simply send a test email to the address in question. If you don't get a bounce back, then the email is probably valid.
Another way to verify an email address from LinkedIn is to use a tool like Email Permutator. This tool will take an email address and permutate it, adding or removing characters to create a list of possible variations of that email address.
You can then take this list and plug it into a bulk email verification service like Kickbox or BulkEmailChecker. These services will tell you which of the permuted addresses are actually valid.
Finally, you can try using LinkedIn's own messaging system to contact the person in question and ask for their correct email address. If they respond, you'll know that the email address you have on file for them is probably valid.
Key Takeaways on How to Get Someone's Email from LinkedIn
1) Try every method
Don't just rely on any one method. You need to try different methods to get the desired results.
2) Bulk enrichment quickens up your process
As a marketer or salesperson, finding the emails one by one from each profile consumes a lot of your time. And that's why the best way is to gather up the accounts and leads into lists and then enrich them in bulk in your CRM. This saves a lot of your time.
3) Invest in a better email extraction tool
Make sure to invest in the tool that gives you the maximum hit rate. Don't just invest in any of the tools to find emails from LinkedIn. The tool should be effective enough to give you the highest hit rate.
Conclusion
All in all, LinkedIn is an invaluable tool for uncovering email addresses. With the right technique and know-how, you can easily find the people you're looking for and gain access to their contact information. Whether it's a potential business partner or an employee, using LinkedIn to discover emails will ensure that your outreach efforts are more successful than ever before. Let us know if this comprehensive guide helps you uncover any new contacts! Reach Ampliz now!!