SaaS Customer Acquisition Challenges: The success of your company hinges greatly upon your ability to attract and retain customers. This is especially important in the software-as-a-service (SaaS) world, where recurring revenue is key.
However, acquiring customers in this competitive market presents customer acquisition challenges. What's more, as an Indian company, you will face additional challenges when looking to scale your business.
Cultural norms make it difficult for businesses to grow beyond a certain point without putting significant time and resources into breaking out of their local markets.
At the same time, Indian consumers are becoming more discerning about the services they use and are becoming increasingly wary of giving their personal information to companies they don't trust.
On top of that, many Indian users don't have access to Google or other search engines which makes it harder for them to find local SaaS companies in India online.
What are the challenges of the Indian SaaS Market?
Sales and marketing are often the first departments to see budget cuts when startups are trying to get their business off the ground.
Faced with limited resources, founders of these companies may be reluctant to make investments in sales and marketing before they have a product that's ready for market.
However, this is short-sighted thinking when it comes to SaaS customer acquisition challenges.
As a SaaS company or any other software company that offers a subscription-based service, you need to make sure your customers stay subscribed.
One of the major customer acquisition challenges is communicating your value proposition becomes harder when your website and materials are in a language that many potential customers can't understand.
Another challenge is that prospecting with bad data makes it more difficult for new customer acquisition and expands your reach.
While the internet is growing rapidly, many users are still on lethargic connections and aren't comfortable signing up for services that show up bad data or stale data.
This blog post is designed to give you a quick primer on what are the customer acquisition challenges so that you don't go broke while trying to grow your user base.
Real Also: SaaS Customer acquisition Strategy
List of the challenges faced by SaaS Companies in India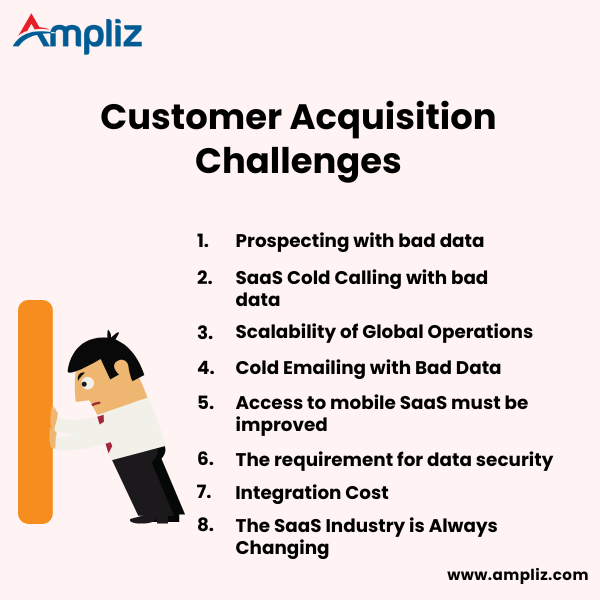 The Indian software services industry is experiencing a rapid shift, and thus customer acquisition challenges. The traditional waterfall software development model is giving way to continuous integration and agile practices.
SaaS products are increasingly replacing on-premise systems.
And artificial intelligence, machine learning, and virtual reality are fast becoming standard tools for developers.
In this challenging new environment, the demand for SaaS products has never been greater in India- also, the customer acquisition of a SaaS companies.
Small and medium businesses are no longer content with clunky old software. They want programs that can be accessed from any device with an internet connection instead of installing bulky desktop applications or disc copies.
And as more customers catch on to this new world of software as a service, it's also become easier than ever for them to find the services they need.
1. Prospecting with bad data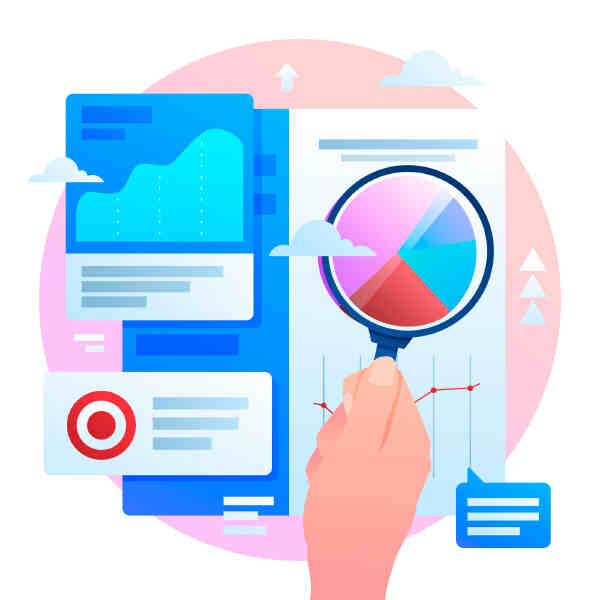 One of the main SaaS customer acquisition challenges is that a lot of the data in the Indian market is bad, which makes it difficult to find and prospect customers.
This can result from a variety of factors, from incorrectly entered data to non-standardized formats and spelling issues.
Bad data can be a huge drag on your new customer acquisition efforts while mitigating challenges facing by SaaS industry. Bad data can also lead to cold-calling prospects by mistake.
SaaS companies that cold call are significantly more likely to get a bad lead, which means that you waste time on false positives and miss real opportunities.
This puts you at a disadvantage compared to companies that use modern marketing tools like real-time lead scoring and marketing automation software that automatically filters out bad leads.
It makes customer acquisition of a SaaS companies difficult. To avoid prospecting with bad data, you can rely on Ampliz– the best b2B data provider.
2. SaaS Cold Calling with bad data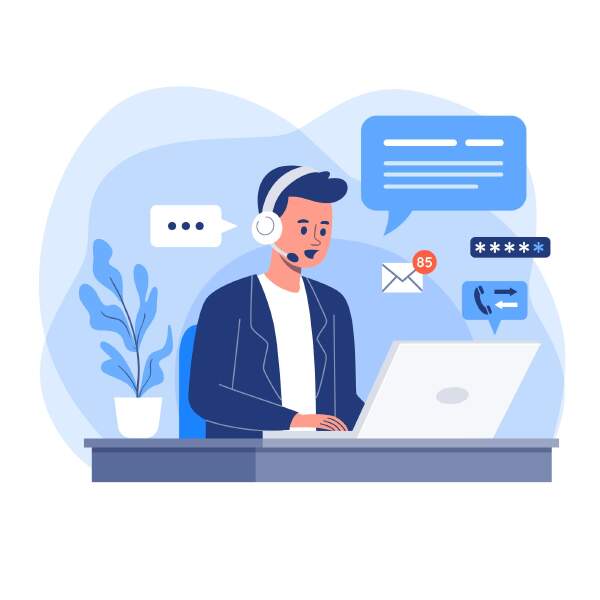 Cold calling is an effective new customer acquisition strategy under SaaS customer acquisition challenges, but it can also be a source of bad leads if your data is incorrect.
Many companies in India struggle with data quality issues that are likely to lead to bad leads. For example under challenges facing by SaaS industry, your data might contain spelling errors, or it could be formatted incorrectly.
You might notice that data fields don't display correctly on your marketing and sales platforms. Or, certain data fields might be missing data.
Data quality issues like these make it difficult to use for new customer acquisition. Enhance your customer acquisition with Ampliz– the leading b2B data provider.
3. Scalability of Global Operations
When it comes to international expansion, the majority of early-stage SaaS startups in India struggle with GTM. Running digitally led demand generation campaigns and then establishing local customer-facing teams is a common strategy used by successful businesses when expanding into new markets.
It will be up to the leadership to hire the right talent from around the world in order to build locally rooted teams that are internationally connected through shared culture and knowledge.
4. Cold Emailing with Bad Data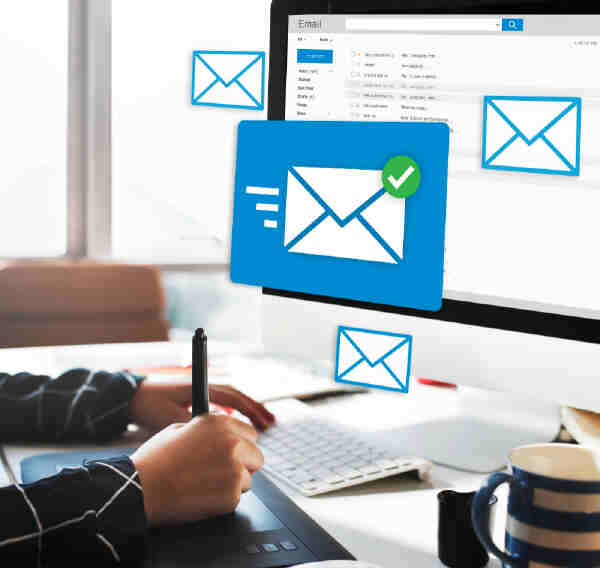 Cold emailing is a great acquisition strategy that many companies use for new customer acquisition. However, if your data is bad, it might be difficult to find the right people to send emails to.
Data errors like bad email addresses and incorrect information can lead to cold emails going to the wrong people. Cold emailing is an impersonal way of prospecting for new customer acquisition.
If your data is bad, you'll likely send emails to the wrong people. And, thus more challenges facing by SaaS industry. Save yourself from the pain of cold emailing marketing for SaaS with bad data with the help of Ampliz B2B data provider in India.
For example, if you notice that some emails are going to incorrect email addresses, you might want to investigate and make sure that the data is correct.
If you notice that your data is incorrect, you should correct it as soon as possible. You can also use modern marketing tools like real-time lead scoring and marketing automation software that automatically filters out bad leads to make sure you're only emailing people who have a chance of customer acquisition of a SaaS companies.
If you want to update your incorrect data,
5.Access to mobile SaaS must be improved
Many leaders in the SaaS industry believe that this distinction provides significant room for expansion. Another strategy for increasing sales in this industry is to provide clients with access to programs via mobile devices.
Furthermore, in 2022, it will undoubtedly be critical to continue improving software in order to better serve the mobile sector.
6. The requirement for data security
As consumers and businesses become more cautious about who they trust with their data, vendors will face significant challenges in data storage, security, and privacy.
In the eyes of privacy-conscious end users, public disclosure of data collection procedures with complete openness and accountability will be the mark of a trustworthy company.
7. Integration Cost
Integration necessitates highly qualified specialists, who may not be present on every IT team. This may increase installation costs due to the potentially high cost of SaaS integration.
Businesses may require outside assistance, such as integration as a service provider.
Choosing a solution that provides seamless integration with all of a company's systems and, preferably, comes with an open API is the best way to cut integration costs.
Read Also: SaaS Outbound Sales Strategy
8. The SaaS Industry is Always Changing
The next issue that everyone in the SaaS industry is aware of is the rapid advancement of technology.
Like the majority of businesses in this industry, your software may change as cutting-edge technological advances. As a result, you must be adaptable. If you don't, you may quickly lose relevance.
8. Problems with Integration
Inadequate integration may cause a number of issues, such as the CRM's inability to sync accounting or sales data.
Because users frequently make changes and upload files to various systems, the data must be updated consistently across all systems.
9. Reduced willingness to spend money on paid goods
Freemium is consuming the world. Almost all reports indicate an increase in the number of freemium offers on the market.
Given the strong product-led growth trend, declining willingness-to-pay over time, and the availability of free versions of virtually all "games" in the app store, it's a challenge you might want to reconsider.
10. Not paying enough attention to the SLA
An SLA (Service Level Agreement) specifies what to expect from the provider and what to do if something goes wrong.
Uncertainty about your agreement's terms can cause a variety of issues and, in the long run, harm your vendor-client relationship.
Businesses must ensure that the SLA meets their specific requirements and that both parties understand all of the terms of the agreement.
11. Compliance and privacy changes
In a world where privacy comes first, security and regulatory compliance must be an afterthought.
Customers rely on your software to help them maintain compliance while managing customer data, as well as to keep that data safe and secure. As laws change, your team must act quickly.
To keep up with the changing legal landscape, products must be updated on a regular basis.
Final Thoughts
As you can see, there are many hurdles to overcome when it comes to acquiring customers for your SaaS companies in India. However, these challenges are not insurmountable.
With the right approach, you can overcome these issues and solve new customer acquisition to grow your business. Customer acquisition of a SaaS companies is a key part of any business, and as an Indian SaaS company, it's even more important for you to nail it.