Looking for b2b database provider in India? Data is the fuel that helps run the B2B engine and help them run as they are supposed to. Any B2B brands know that they are indispensable for a brand's success.
After all, B2B data is regarded as the backbone of the branding strategy.
Today B2B Brands are surrounded by low ROI or poor campaign results. Even though there are several reasons for it, B2B data tops the list.
One of the ways to deal with a low performing B2B database is by approaching a verified and reputable b2b database provider in India.
You must partner with the database selling companies in India that help brands make the most of the dollars invested.
Leverage the marketing intelligence in order to have improved integrity, increase targeting accuracy marketing as well as help close deals faster.
Are you looking for the best data providers in India 2023? Read further!
B2B Data Selling Companies in India 2023
B2B Data must be as such to help marketers to leverage the marketing intelligence in a manner that fuels your lead generation goals for your target personas.
The data stored in the B2B database allows marketers to leverage the intent data of customers through multiple platforms.
Use email marketing campaigns to make the most of your campaigns. You can personalize messaging and content in the form of attractive newsletters to your audience.
Remember, when you use email marketing for lead generation and target the key decision makers, the prime focus of B2B business should abide by the privacy compliances like CPPA and GDPR.
If you carefully articulate the email marketing strategy, marketers can establish their brand in the best possible way.
Find the Best B2B Database Provider in India 2023
You already know that it is important to find accurate and verified B2B database companies in India 2023. Every country has a set of key factors on which a particular technology works currently.
As you are in business, you look for b2b business data providers in India for reaching out to your prospects (D2C). Similarly, the businesses approaching other businesses need to have a B2B database in India.
What's better than looking for the best B2B data provider in India? The rise in the need for B2B databases has helped businesses to ensure that they have positivity and growth.
You must always intend to choose the database from all the data selling companies in India.
Factors to Choose B2B Database companies in India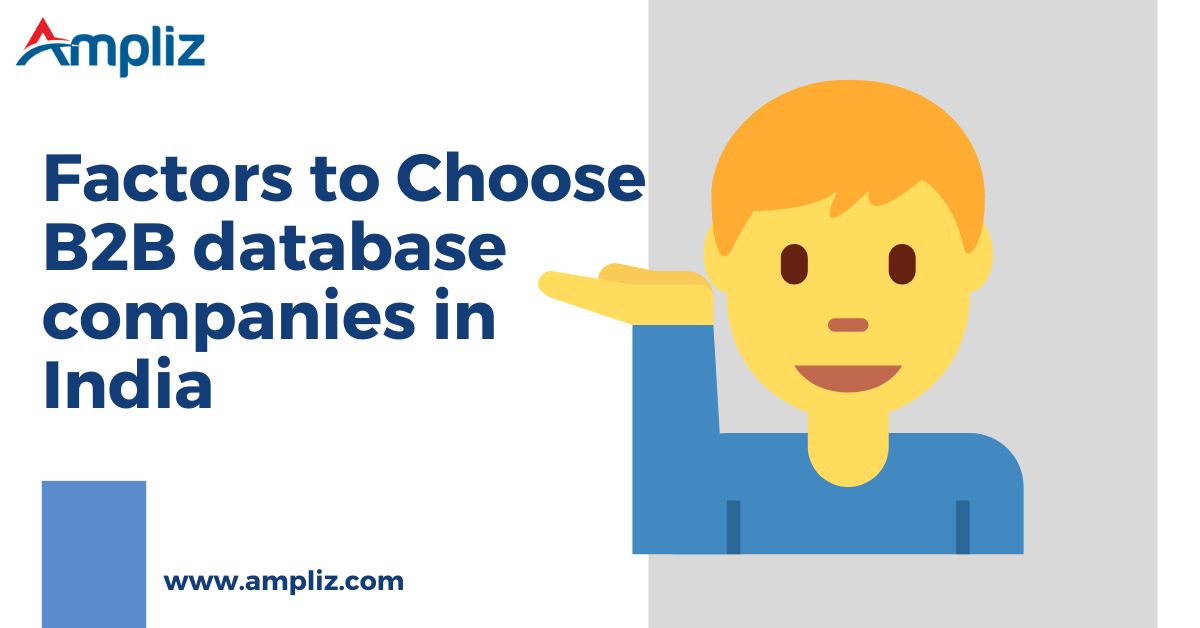 1. Freshness of the Data or Updated Dataset
B2B database providers in India need to make sure that they gather, filter, and store the right data. You need to make sure that the database providers have the appropriate and a good team of data engineers. They will need to gather and filter the data as per the real-time information. They gather information on various aspects of the business to help the businesses reach out to the prospects with an appropriate percentage.
2. Target Criterion
While you choose the database provider for your business, it is important to ensure that you meet the target criterion for your business. It means that once you have a target-specific group of people through emails, then go for the best methodologies. Before you choose the database provider, you need to be assured of your target audience. Now, work on chalking out the ideal customer profile. And, now connect with the database providers to see if they have the B2B database for your ICP.
3. Cost Per Contact
The cost per contact is the cost calculated by B2B contact database India to retrieve a contact using its features. The main goal is to find a business provider that offers maximum service at an affordable price and cost-effectively. Otherwise, the company's overall bottom line or annual budget will be ruined. This is why it is so important to find an affordable B2B provider for him that offers maximum value at the lowest cost.
4. Flexibility
Flexibility plays an important role in business development. This saves time and manual effort by providing a smooth workflow for both sales and marketing teams to quickly complete the entire process. When choosing a B2B database provider in India, you should look for one that offers instant responsiveness and freedom for your business.
Reach Ampliz to get all types of industries database such as manufacturing company database, advertising and media companies database, automobile companies database, IT industries, chemical companies database, healthcare industries database and etc, Fill a form now to get B2B database in India.
Tips to Choose the Right B2B Database Provider in India
No matter in which corner of the world you run your business, it can be difficult to choose the right database provider. It is equally challenging to locate the ideal right database companies in India.
Want to make it easier? Here are some of the tips to choose the right database provider in India. Let's take a tour of the best ways to choose the awesome database provider in India.
1. Articulate your Goals and Needs
One of the critical steps of the process is to have a clear understanding of the goal and vision for the products. If you do not have a clear comprehension of it, it can be difficult to find the data partner that not only fits your needs but also meets your requirements. You need data as per your Ideal Customer Profile (ICP) that resonates with your buyer persona. So, you need to have the proper vision of what you want out of your database. Also, ensure that all your marketing goals are aligned with your target audience. Sure, there are differences among the
2. Analyze the Provider Based on Key Factors
Make sure to have a comprehensive research process to determine whether the company you are choosing must be able to meet the requirements. Ask specific questions to the respective database company. You are better positioned to ascertain what is right for your business. Ask them questions:
Is the data regulatory compliant?
Does data have specific data protection, privacy, and security?
Does the vendor follow feasible, legal, and responsible data collection practices?
Do they have data for the industries or audience segments or specific markets?
What features and integrations or what data points do they provide with different plans?
3. Look for the Best Quality and Coverage
75% of companies that have reduced their investment in data quality have experienced a decline in marketing and sales performance. Sales departments have lost thousands of dollars and hundreds of hours on one resource because of good prospect data. And, taking the statistics into account, it makes more sense to invest in companies offering a reliable and accurate database.
The ability of the database provider to have the finest data coverage with regular updates makes it the best. They must have top data quality, but also ensure that your partner with the best database partner. Ask them if they have contacts or company data for international brands or companies. Know that reputable and verified data vendors are more eager to offer data-related support to boost the exploration of the international market.
4. Check Pricing for Data Services
Pricing is a great factor whether you want to believe it or not. And, when you are looking to partner with a B2B service or product provider, you need to make sure that you keep the investments in check. It is often said that you do not get what you pay for. However, do not shy away from negotiating a good deal with additional benefits.
At the end of the day, you want to sign a good deal as well as save a few bucks. Ask the provider if they have plans that are flexible and offer a comprehensive database. Learn more about the product and how they can help you to align with the business marketing goals. Get to know more about the plans, subscriptions, or cancellation charges- all the pricing-related questions.
5. Go for Top Class Customer Service
When you select the best B2B database provider, make sure that you have added significance to customer success. Now, considering that a signed contract with the B2B database provider India is for at least one year, you have to use the services of the same provider for that long. It makes assessing customer service easier while selecting the data partner. Ask the respective questions B2B database provider:
What type of customer service one should expect and what does it include?
When can you call customer support and what kind of communication mode do they use- chats or emails?
What is the turnaround time for either general or specific interests?
Will the database provider arrange product training to ensure that the team on board is ready and accustomed to the tool?
Make sure that the support staff is polite and supportive of your team.
Wrapping Up with Ampliz
Data can either profit or ruin your business. Consider it to be the bloodline of your business that empowers you to drive visible and tangible results. With that brought in the open, you can always rely on the database services provided by Ampliz.
Ampliz offers a comprehensive list of all kinds of B2B databases you are looking for. Whether you are looking for companies or C-level executives, get it all in one place. They understand that the key aspect to having the B2B database that works is to have the appropriate collection process. With more than 800+ data engineers on board, they gather the data first from multiple sources, and then scrutinize them or filter them, and lastly, they record them on the master database.
The Ampliz database is highly comprehensive and exclusive for the individual looking to use the database for marketing purposes. They have all the details on the individuals and companies including demographics, technographics, firmographics, and more. So, do not miss out on the best database that can amplify your business.
FAQ: B2B Data Providers in India
Which is the best B2B database provider in India?
Ampliz is the best B2B database provider in India. We provide access to over 20 million Indian companies and entrepreneurs.
Our data is updated in real-time, so you can always be sure that you have the most up-to-date information about your prospects.
With our advanced search engine, you can easily find and target just the right customer profiles for your needs.
How do I choose a B2B database provider in India?
Finding the right B2B data provider in India is no easy task. You want to make sure that they have reliable and accurate data sourced from a wide range of sources.
You also want to make sure that the data is up to date and relevant for your needs.
Researching different providers and asking questions regarding their process, data collection methods, and pricing should be your first step.
Additionally, ensure the provider has customer support available if you need help with the data or have any other queries.
Finally, thoroughly review their terms of service and privacy policies before signing any contracts.