Struggling to reach the right chief marketing officer to promote and sell your products? Let's learn how to find the right CMO email list.
A B2B email marketing strategy can enable you to increase engagement, leads, conversion and ultimately profit.
As per the report, 59% of B2B marketers cite email as their top channel for revenue generation.
40% of B2B marketers claimed that email marketing is the tactic that is critical to their success.
Like these B2B marketers, you can also leverage the benefits of email marketing, but for that you must have the right contact details of the right persons.
Finding the right contacts for your business can be a daunting task – especially when it comes to B2B CMOs.
Connecting and communicating with the potential B2B CMOs for your product promotion and brand awareness can take your business to the next level.
And for that you must have an accurate and updated CMO email list. And for that Ampliz is at your service.
With Ampliz, you don't have to worry about searching far and wide! In this article, we'll discuss why Ampliz is the perfect choice for finding comprehensive B2B CMO mailing lists from countries around the globe.
As a marketer, you know the importance of having access to the right contacts. Learn more about how this list can help you reach out to key decision makers and increase your sales opportunities.
What is a CMO Email List?
A CMO email list is a list of email addresses of chief marketing officers (CMOs). These are the people responsible for overseeing all marketing activities within an organization, and they play a vital role in determining the success or failure of a company's marketing efforts.
The CMO email list database can be used by organizations to target these key decision-makers with their marketing messages.
It can also be used by researchers to study trends in marketing, or to identify potential customers for a new product or service.
A Chief marketing officer mailing list typically contains the name, title, and email address of each CMO on the list.
It may also include other information such as the CMO's company name and size, industry, or location.
What are the Benefits of Using a CMO Email List?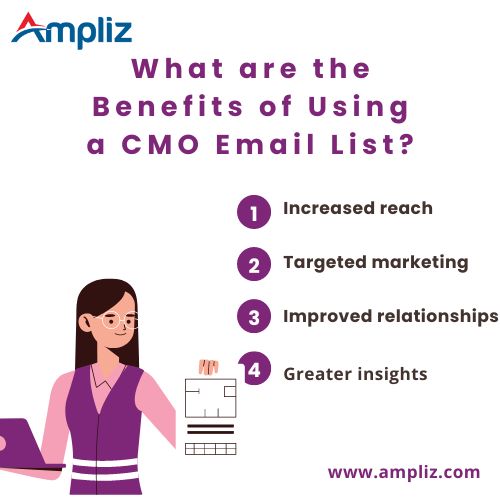 A verified CMO email list can be a valuable asset for any business. It is the most valuable resource for any business to increase revenue and brand awareness.
CMOs are responsible for managing revenue, customer acquisition with a revenue mindset with a separate focus on revenue generation, product adoption, pricing, branding, and design.
This makes it essential for you to target them with the right business approach for closing a good amount of sales deal.
Here are some of the other benefits of using a CMO email addresses:
1. Increased reach
A CMO email database gives you access to a wider audience than you would otherwise have. This can help you to reach new potential customers and grow your business.
2. Targeted marketing
With a CMO mailing list, you can target your marketing efforts more effectively.
This can help you to save time and money by only reaching those consumers who are most likely to be interested in your products or services.
3. Improved relationships
By using a CMO email addresses, you can build better relationships with your customers. This can lead to repeat business and increased customer loyalty.
4. Greater insights:
A verified CMO email list can provide you with valuable insights into the needs and wants of your target market.
This information can help you to improve your products or services and better meet the needs of your customers.
How to Use a CMO Email list Effectively?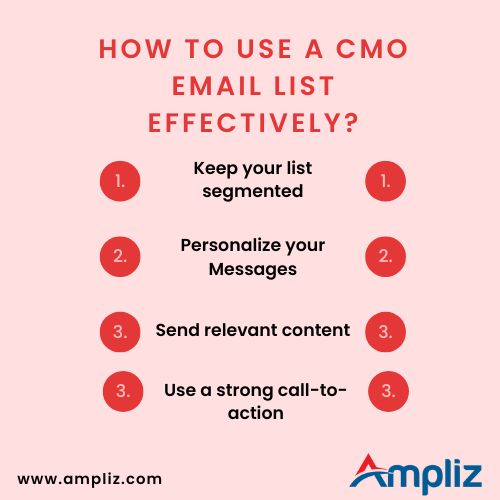 In order to use a CMO email list effectively, you should consider the following tips:
1. Keep your list segmented
One of the most important things you can do when using a CMO email list is to keep it segmented. This means that you should create different lists for different types of customers or prospects.
For example, you might have a separate list for potential customers and one for current customers.
2. Personalize your Messages
When you send out messages to your CMO email list, be sure to personalize them. This means including the recipient's name in the subject line and/or message body.
You can also include other personalization details such as their company name or location.
3. Send relevant content
It's important that you only send relevant content to your CMO email list. This means content that is interesting and useful to your target audience.
If you're not sure what type of content to send, consider conducting a survey or asking your subscribers what they would like to see more of.
4. Use a strong call-to-action
Your emails should always include a strong call-to-action (CTA). This is what tells recipients what you want them to do next, such as click through to your website or make a purchase.
Make sure your CTAs are clear and concise so that recipients know exactly what to do.
How to Access Ampliz's Comprehensive CMO Email List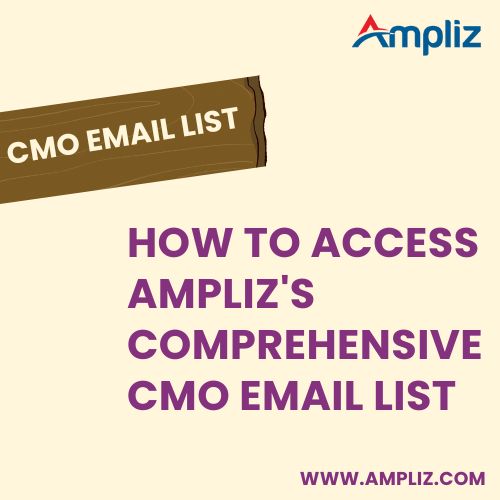 Accessing Ampliz's comprehensive CMO email list is easy. Simply follow these steps:
1. Go to the Ampliz website and create a free account.
2. Once you're logged in, click on the "Lists" tab at the top of the page.
3. Select "CMO Email List" from the drop-down menu.
4. Enter your email address and click "Subscribe."
5. That's it! You will now have access to Ampliz's comprehensive CMO email list.
Tips and Strategies for Maximizing the Efficiency of Your CMO Email List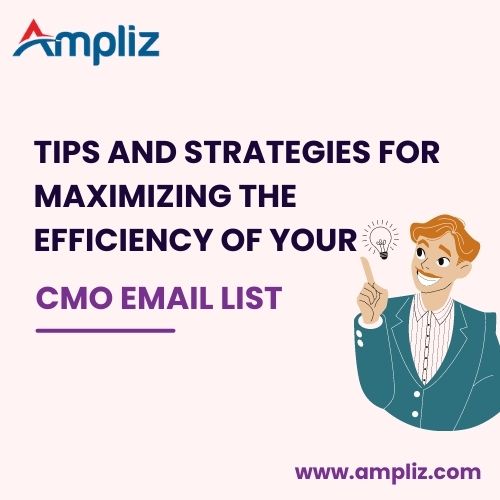 Assuming you have a CMO email list:
The best way to maximize the efficiency of your CMO email list is by segmenting it. This way, you can send targeted content to small groups of people who are more likely to be interested in it.
Not only will this improve the chances that your emails will be read and responded to, but it will also save you time in the long run.
To segment your CMO email list, start by identifying different groups of people on it. For example, you might segment by industry, company size, job title, or location.
Once you've identified these groups, create separate lists for each one. Then, when you're crafting your emails, make sure to customize the message and content for each group.
This will take some extra time upfront, but it's worth it to ensure that your emails are as effective as possible.
In addition to segmenting your CMO email id, there are a few other strategies you can use to maximize its efficiency.
First, make sure that your subject lines are clear and concise. Be sure to include a call to action so that recipients know what they should do next.
Additionally, keep your messages short and to the point; no one wants to read a novel in their inbox.
Finally, always test your emails before sending them out to ensure that everything looks right and that all the links work properly.
Conclusion
As a CMO, having access to an email list of potential customers can make all the difference in your marketing efforts.
With the right email list, you can target and reach out to people who are likely interested in your product or service and increase conversion rates.
We hope this article has been helpful in introducing you to the basics of creating and using an effective CMO email list that will help drive sales for your business. Good luck with building up your mailing list!
FAQs on Find CMO Email List
How to find CMO Email address of a company?
Finding the CMO Email address of a company can be tricky. The best way to do this is to search on LinkedIn or alternatively you can use websites like Ampliz which provide data on contact information of executives including their email addresses.
However, not all companies have made their executive contact information public so if that is the case, you may need to resort to guessing or using other creative methods.
Can I import the CMO email marketing list into Mailchimp easily?
Yes, you can! Mailchimp makes it easy to transfer your email marketing list from one platform to another, so importing your CMO email marketing list into Mailchimp should be a breeze.
All you need to do is connect the two services and you'll be able to easily transfer your contacts.
Where Can I buy CMO Emailing list at best price?
With Ampliz, you can find the best CMO emailing list in one place at an affordable price.
Our database contains millions of accurate and verified contact details of top CMOs from all over the world.
All you have to do is choose the filter criteria that fits your needs and get an instantly generated list with all the CMO contacts that meet your selection.
Try it now at Ampliz and enjoy great prices for high-quality lists!