Who is your Ideal Customer?
How do you define your Ideal Customer Profile?
The more detailed and planned your Ideal customer profile the better it is for your business. It should be accurate so that organizational and product aligns with the customer needs.
Businesses have multiple buyer personas. Everyone involved in buying decisions is a buyer persona profile.
Each of them having their product evaluation criteria to suit their needs. Having a buyer persona for each of them can help better align marketing and sales activities with the persona requirements.
In this article, you'll discover:
Why Ideal Customer Profile (ICP) is important?
How do you create your ideal customer profile (ICP)?
What is the Importance of ICP
Ideal Customer Profile (ICP) or buyer persona ensures all business activities align with acquiring and serving your customers' needs. You need to pay attention to the way you present your company, and you'll start noticing that many will start talking about what they do – not, what the customer needs.
When choosing a product or service, people by nature are attracted to what they trust; similarly towards businesses they know and trust or are referred by a trustworthy source.
The best way to build trust is to show understanding and empathy towards your customers.
First, address the pain points of your potential customers. Only then they will be open to exploring your offering. Create buyer personas and continually use them to guide your business. It can help keep you focused on the needs of your customers.

How do you create your Ideal Customer Profile?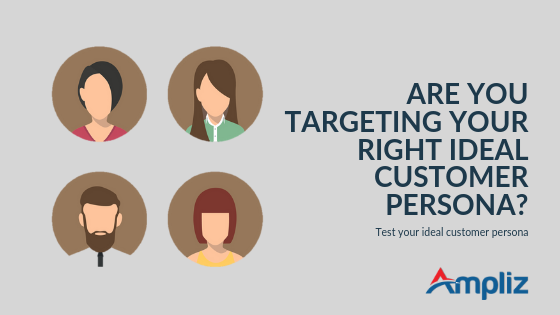 The great thing and the most tiring part of creating a persona profile is are you don't have to spy on people to understand them. Just reach out and ask them. Most of the people will reveal the information you need to create an ideal customer profile (ICP).
Be prepared to document the answers to your questions.
The questions are as follows.
Who are your customers?
.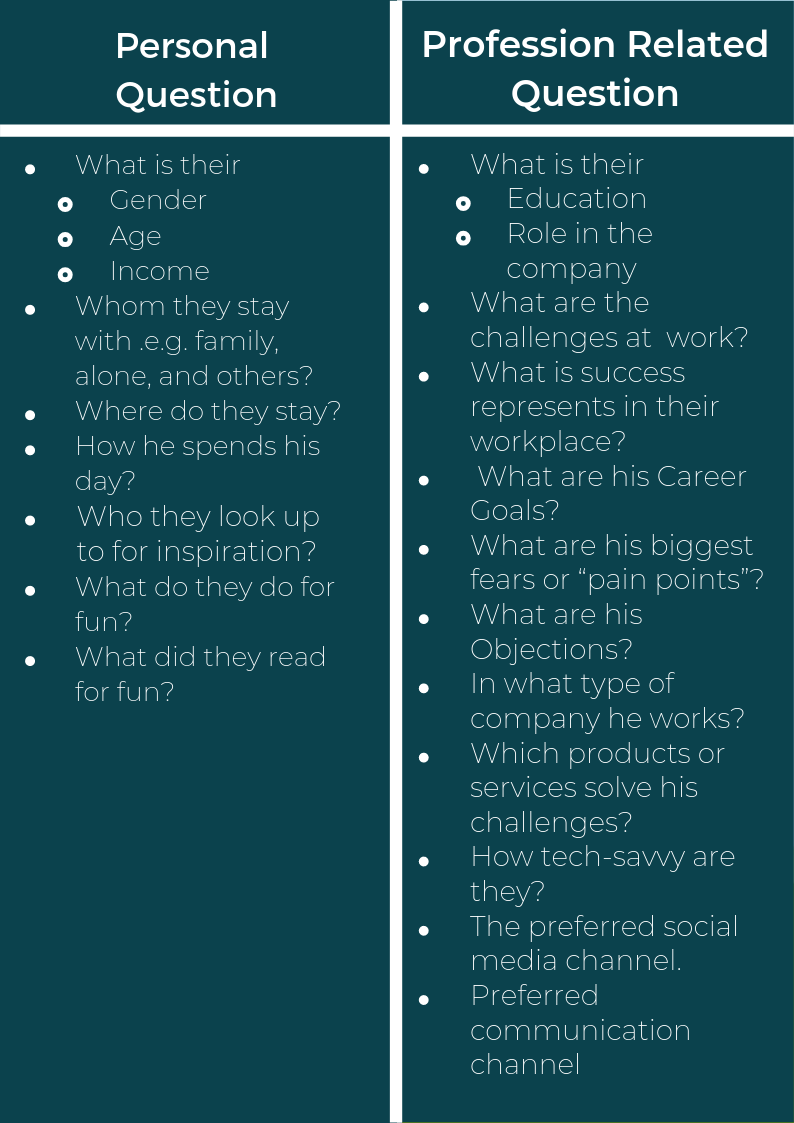 .
The big question is, where do I find these people?
1. Survey existing customers
Ask your already existing customers. You can learn a lot about your audience by asking the right questions and find out what makes them tick. Incentivize your survey (like free credits to use the product or Amazon Coupons) to convince them. However, their answers will be of much more value for your buyer persona research.
Qualtrics, SurveyMonkey Typeform and Typeform alternative are great tools to conduct such surveys. They already have predefined templates that you can modify to your requirements.
2. Invest in one-on-one interviews
You don't need a big budget to invest in focused groups or individual meetings with your existing customers. They provide valuable data for your buyer personas.
You might be able to spot unique pain points, challenges, or motivations that are unique to your product or service.

Zoom, Google Hangouts, and Bitrix24 are great tools for conferencing. They have free trials as well as affordable pricing.
3. Check your analytics
Google Analytics and exclusive Social Media Channels' Insights can provide you with demographic data about the people who are currently interacting with your site and your social profiles, such as their location, age or device, spending, location, type of industry and other valuable information.

Tools like Leadfeeder and Lead Forensics can also shine a light on the anonymous traffic visiting your site.
4. Talk to your employees
Your customer-facing employees like the salesperson, partnership manager, customer support and people in similar roles are likely to have a wealth of information about the customers they deal with which is at your arms reach.
Run the questions in the above table by your sales team and collate their answers. If you notice some repetitive behaviors and information, add them to your buyer persona.

Tools that help you here are Trello and Google Docs.
5. Explore the Social Media Analytics Program
If your business is active on social media channels, the insights can give you tons of inputs that can help you frame the ideal customer profile.

Tools that can help you leverage social media are
Facebook Audience Insights
This tool for getting data on the interests and demographics of your followers. You need to have 1000 followers to gain insights.
LinkedIn Insights
This is a great tool to understand your B2B target. It gives in-depth information about the kind of businesses, departments, job roles, seniorities, and the location where you have maximum interaction.
Twitter Analytics
This tool gives insight into household income, urban, rural, location, demographics, and social information.
Group the persona into groups, e.g., Users and Decision-makers. Users and decision-makers each of them have their pain points. Address them and influence them to be your product evangelists.
These are the customers who will get you referral revenue. The leads coming through a referral will be of high relevance and converted quickly. The customer experience then helps to further the revenue generation opportunities.
.
It's time you designed and distributed it across the organization.
How you represent your Ideal Customer Profile (ICP) is very important. The way you represent will leave an imprint on the different stakeholders' mind.
ICP will aid you in getting your messaging right across all your channels of interaction. Not only that it will also help give your business a personality through the way have you addressed your customers' problems.
Before I list you the tools, the fields that you need to have are:
Photo
Including a photo humanizes your persona and helps your team picture a human being whose problems need to be solved.
Backstory
Plug CRM data into your persona to flesh out their interests and hobbies.
Psychographic Attitudes
Here, you list typical buy habits and preferences. Try to find some patterns in your marketing and web analytics.
Demographic Identifiers
Competitive audience research and CRM data will help you hone in on your target market. Demographic identifiers are significant for targeted email campaigns.
Goals & Motivations
List what makes your persona prioritizes. List any personal and professional objectives you've uncovered during your research.
Roadblocks
Draw on quotes from your customer support tickets and any FAQs you frequently see to figure out what stops your audience from achieving their goals.
Sales Objections
These are your persona's pain points. Here you list why a sale might fall through.
Quote
Your quote sums up your persona in one bite-size example. Consult your sales team and revisit sales emails to figure out what statement best reflects your persona.

The tools that will help you design your ideal customer profile are listed below:
Bootstrapped Customer Persona Template (Content Harmony)

Free customer persona template is easy to understand and gives you a compact, two-page snapshot of what a typical customer might look like, so that's an excellent place to start.

McorpCX Persona

A highly interactive platform. With this program, you can map personas to specific projects, organize your qualitative research data under each persona tab, and export your personas into PDF form for easy accessibility later on.

Akoonu

Akoonu let you create beautiful customer personas, but it also fully integrates with your MA/CRM software. It also includes CRM Journey Map data, messaging and branding style guides, automated content inventories, and more.


Xtensio (Fake Crow)

You should find full value in the free version of Xtensio, which lets you create up to 5 personas and gives you access to all of the software's tools and modules. Alternatively, if you want to upgrade to Xtensio Plus, you can create any number of folios, enjoy unlimited exports of your personas, and remove the Xtensio branding from your documents.


Make My Persona (HubSpot)

This tool is especially valuable for HubSpot customers because you can use your personas in conjunction with other HubSpot software to track buyer habits through the sales funnel.

If you don't love the constraints of Make My Persona's 19 questions, you can create your personas using HubSpot's free template. This template breaks personas down into four sections (Who, What, Why, and How) and includes space for you to start brainstorming solutions that overcome their common objections.


Persona Topic Matrix (Inflow)

Inflow's Persona Topic Matrix is a free tool meant to help you analyze segment-based content gaps. While this tool doesn't leave very much room for the "persona" part of a buyer persona, it's great for organizing your existing and upcoming content along the buyer's journey.


UserForge

UserForge is another beautifully designed free tool —if a little stark. Like Xtensio and PersonaDrive, UserForge is another tool that makes collaboration between a team easy. There are also rumors that UserForge 2.0 is on the horizon. We'll have to wait and see if that adds more functionality to this tool.

Test the Persona
Personas are ready, and you have started creating content. Questions that need answering are:

Does your content align with the ideal customer profile?
The answer to the first question lies in A/B testing the content. A/B testing is primarily used to create compelling landing pages, useful e-mail messages, and designs. It compares two sets of content targeted to the same audience and lets you know what is working.
A/B testing allows marketers to make data-driven decisions that exponentially improves performance and drives better conversations. Better conversations lead to conversions.
Does your ideal customer profile need realigning?
Now, after continuous A/B testing, you have got the content, website, and email messages working for you.
The next questions are:
Is your voice reaching your ideal leads?
Does your persona need tweaking?
How do I approach tweaking the ideal customer profile?
The leads you are getting can have their personality. However, it is the dream of every business to have that ideal customer. What can you do to get that perfect customer?
The answer is asking them. Exchange content with your ideal customers and ask for feedback. There is a tool that can make this arduous task more comfortable, but before achieving that, you have to carry out specific actions. They are: –
Gather content you feel will resonate with your ideal customer.
Gather your ideal customers' content that you find intriguing and have an opinion about it.
Craft emails and messages that will share your opinion.
Tool for ascertaining your ideal customer profile aligns with real people: –
Ampliz SalesBuddy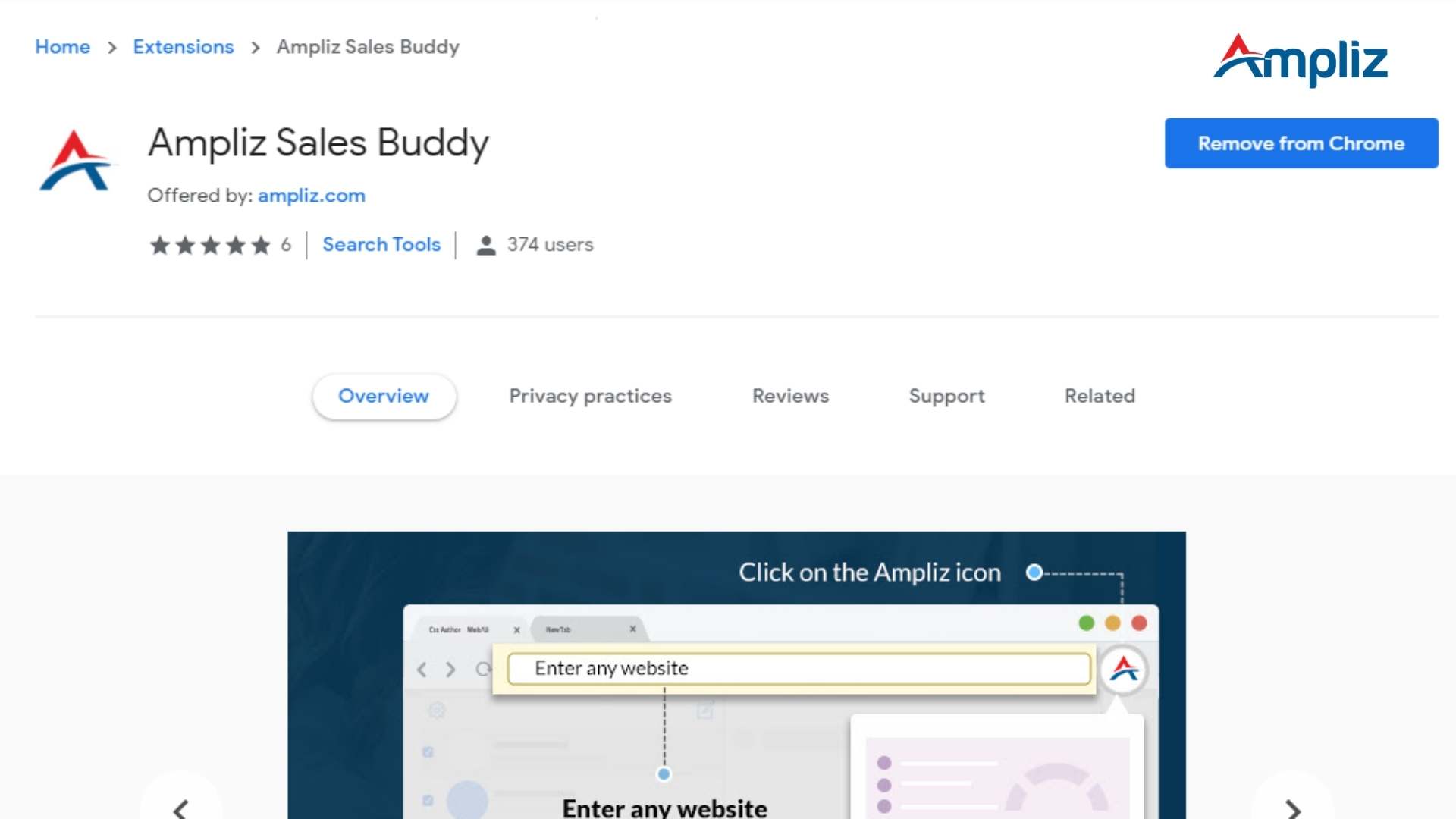 SalesBuddy is a free B2B lead generation tool by Ampliz. It is a lightweight Chrome Plugin that gives you leads based on your buyer persona. You Sign Up for the tool and set the buyer persona. Currently, it lets you set only five parameters (Industry, Revenue, Employee Count, Location, and Department). However, more parameters will be available in future versions.

However, to use the tool you visit the website of your ideal customer and click the tool in your browser you can find if the industry is relevant to you through the ProspectFit Score. If the score is more than 50% you can see "Similar Companies". Select "Better Matches" if score is less than 50% to find company data exactly matching your persona.

The SalesBuddy tool lets you find similar companies and contacts based on your buyer persona. It's still currently under development and scheduled to have a public beta launch in late September 2019.

However, the good news is Ampliz have a private beta launch for Early Beta Signups which you can Sign Up and start using it early September 2019. You can also book a demo here.
You can find the relevant contact information under the Contacts tab favorite them to the list and reach out to them and do two things:
Share with them feedback about their content
Ask them how they feel about your content
It will help you create a rapport and understand how the personas exactly think about your content. You will get to hear opinions straight from the horse's mouth.
Hitting the Home Run
For higher ROI and target marketing ideal customer profile or buyer persona are a crucial element. It helps you understand your customers and, more importantly, how your product or service can reach your ideal customer that will use and eventually become the evangelist for your product.
Empathy is the most prominent sales converter. Once there is an emotional connect it becomes easy to convert leads to sales.

So, once your buyer persona is ready, integrate them across teams. And it will allow everyone to not only to help track the buyer persona data but also get the most out of it.
You'll substantially increase the likelihood of your advertising and marketing messages hitting home — and turning into sales, as a result.