As a business, your primary goal is to make sales. There are a lot of other things that you need to focus on to run a business efficiently, but sales are primarily how you make money. It's a tough process and every business trying to increase it knows the pain behind the process.
If you're into business, chances are that you might not have gone without hearing about sales intelligence. But, even those who have heard about it, don't use it for their business or understand how it can cause an impact on their business. While some organizations that do realize its potential, do not travel an extra mile to gather all the relevant material.
Either way, B2B sales intelligence Platform is an undervalued gem, that can help boost sales directly if utilized the right way. However, if you're new to the term you might have more than a few questions about sales intelligence and the ways it can impact your business. Don't worry, we've got you covered!

What is Sales Intelligence?
Sales intelligence is the actionable information that you collect about your sales prospects or target customers. It is an intensive process involving a wide range of tools that can be used to collect, monitor and study the data of the existing customers as well as potential clients. Sales intelligence tools helps any salesperson stay on top of their game by understanding the customer and tuning their pitching strategies to their likes.
It is imperative to understand that every aspect of the business must be fast-paced to compete in the cut-throat market competition. And sales being one of the most competitive areas of business, is not only fast-paced but also leaves little time for any research.
Salespeople are most of all busy pitching customers with products and services, so there is no question of them doing intensive research trying to understand each and every customer. Therefore, in times like these, business intelligence sales tools can be one of the biggest assets and help them understand the likes and behavior of the customer in the most convenient manner.
Let's try to understand sales intelligence with a simple example
Let's begin by diving into the customer's psychology. Suppose that you go to a market to buy a hairdryer. You're standing at the crossroads of two stores, and deciding where to go and make a purchase. That's when you hear the salesman from one store appealing to everyone to buy their product and telling its features. You listen to it and decide to go into the store until this happens.
The salesman from the other store has been watching you standing there for a long time, He comes to you, asks you about your routine, how frequently you want to use the dryer, which brand were you using last and so on. He then presents you with the perfect model that fits your needs like a dream. The question is, which experience do you like more?
From the above example, it is easy to understand why as a customer you'd prefer to go to store two over one. The experience that you just felt is nothing but personalization and this is what B2B sales intelligence tools helps you achieve in its quintessence.
Read Also: Find target ICP with AI sales intelligence
Importance of Sales Intelligence
Sales intelligence must possess a lot of customer sensitive data because that is how the sales reps can have an accurate analysis of the true behavior of the customer. This data ranges from events, contacts, structures of a department along with job responsibilities, purchase intent, predictive indicators, etc.
If you look at it generally, sales intelligence has its direct impact on the sales and marketing teams in an organization. Whatever the efforts that both of these teams in your organization is currently putting, consider it magnified with sales intelligence.
Most businesses often suffer because they are not able to get in front of the customer at the right time, in spite of having the most technologically advanced and benefitting products. In order words, your business is missing out on buying cycles or opportunities. With sales intelligence int he picture, all of this vanishes. Organizations no longer need to worry about missing an opportunity for a sale.
Another important aspect of sales is identifying the ideal prospect. After all, you don't want your sales prospects to waste their time on people who don't need your product. While accomplishing this task manually requires a lot of time and resources, it can be done in a hassle-free manner with sales intelligence. Sales reps no longer require spending a lot of their time going through data. They can simply focus on what's important!
Best Sales Intelligence Platforms
Now that you know about the benefits of sales intelligence for your business, it's obvious to look for some of the best sales intelligence tools out there. But before having a look at the same, check this list of best sales prospecting tools out.
Also if you'd like to know more about sales tools, we have an exhaustive list on it as well.
Let's look at the sales intelligence tools available in the market today!
Ampliz SalesBuddy – The only sales intelligence tool you need
Ampliz SalesBuddy is a browser extension (Chrome for now) tool – A lightweight B2B sales intelligence tool to fill your pipeline with more qualified prospects.
With this tool, your sales and marketing teams gain all the B2B Intelligence you need to qualify the right prospects, increase pipeline & maximize deal closures.
This tool will reduce the number of man-hours spent on collecting data about your prospects and get them instantly. With the right prospects shortlisted with Ampliz SalesBuddy, you save time in the overall sales cycle.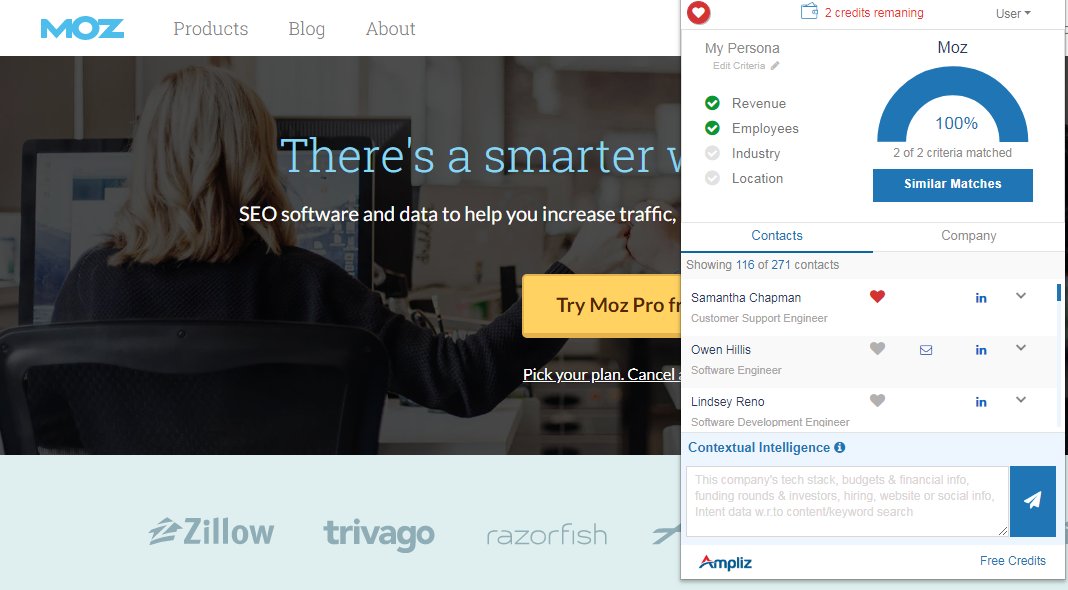 Adapt
When it comes to top sales intelligence tools,, Adapt is one name that you can't go without hearing. It is a global B2B contact and database company that ranges across multiple industries. With more than 90 million business contacts and 250,000+ users, organizations can find the right connections to building qualifying leads from the platform. The industry-specific database in Adapt consists of information such as job title, direct dial and email addresses of the customer that can be utilized by sales reps to engage the prospects at a much faster pace.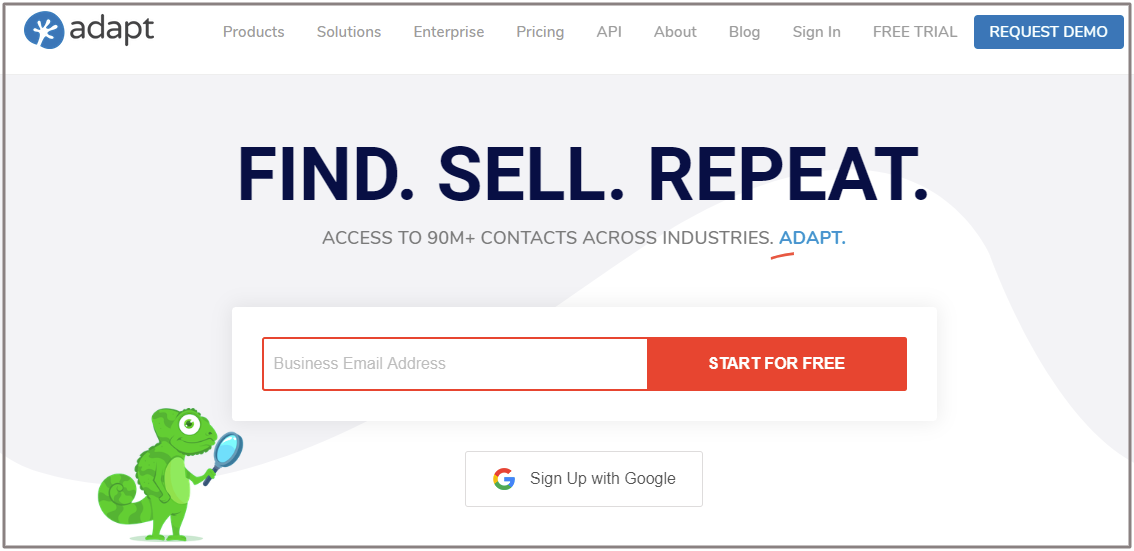 LinkedIn Sales Navigator
LinkedIn is a great platform for B2B businesses. So, if you're into one, you must not neglect the power of LinkedIn's paid Sales navigator service. The platform is great for salespeople who utilize LinkedIn as a prospect generating source.
It is well known that LinkedIn has a network of more than 500+ million members and organizations can learn how to use Sales Navigator tap into the potential of the platform. Not only can sales rep build a prospect list based on job titles and responsibilities but also monitor relevant discussions to engage prospects in a better manner.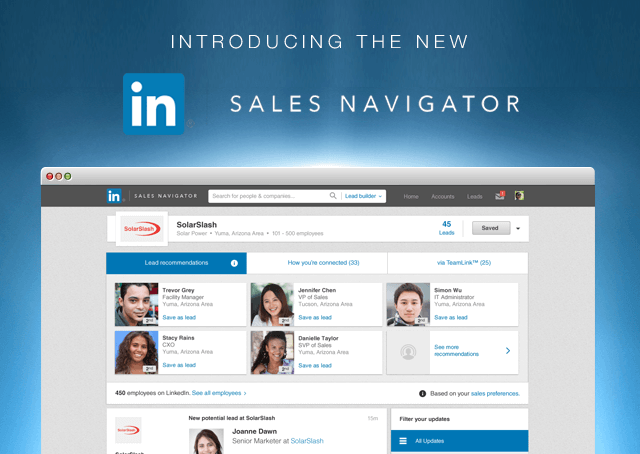 HG Insights
A concretely tech-driven sales intelligence platform, HG Insights focuses on website tech and provided marketers and sales rep with accurate and precise technological insights, whose foundations like in advanced data science.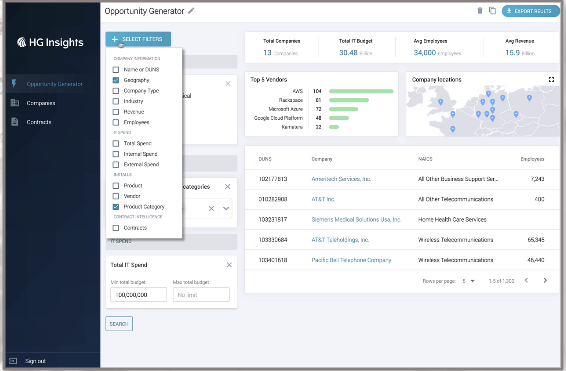 Clearbit
With the sales intelligence tool of Clearbit you can have two products namely prospector and enrichment. Both these products make it easier for you to find accounts to target, get full information about outreach, and turn any new lead into a complete and detailed customer profile.
Clearbit sales intelligence tool enables you to get enough insights to send your target the right message and close more deals.
Hubspot Sales Hub
It is one of the top sales intelligence tools that help automate and scale sales processes. It enables you to track, manage, and communicate with your leads. It also provides you with an email template to save you time in outreach and communicating with your prospects.
This sales intelligence tool of HubSpot lets you personalize and automate your emails and follow-up tasks, and record and analyze your sales call data.
Uplead
It provides you with a lead database of more than 46 million verified B2B businesses. Uplead's sales intelligence tool provides you to choose from 50 filters such as location, company revenue, job title, and company size to create a targeted list of prospects.
Uplead business intelligence sales tool allows you to have real-time email verification, which enables you to have up-to-date contact data.
Due to this data accuracy, Uplead is one of the best sales intelligence tools for the sales team to collect prospect information.
Datanyze
Datanyze's business intelligence sales tool helps you to gather your prospect's contact information including mobile numbers and email addresses by extracting them from Linkedin.
You can leverage the benefits of this artificial intelligence tool for sales by downloading its chrome extension. It also enables you to use filters to search for leads.
Conclusion
Studying the customer's personas and behaviors can be the difference between a successful business and an ordinary one. More to this, the key to the sustainability of a business in the market lies in how intelligently do businesses present their products to the customer. It's always about being at the tight time in front of the right audience. Sales intelligence can help organizations accomplish all of this effortlessly.