For your health care business, data is an extremely valuable piece of a puzzle, when it comes to qualifying your business as an operational prospect. But, if you are thinking of collecting this huge amount of data manually, it will consume a lot of time and will probably be inaccurate.
Here, the best sales prospecting tools come to the rescue. The sales prospecting tools easily provide you information that are relevant and are cost effective as well. If you are using few of the best sales prospecting tools, then you are already using a stable and strategic targeting platform. Using this has two main benefits:
By using the correct prospecting tool, You can find prospects based on your customer profile, collect the information that you need, and prioritize reaching out to more people. If you are using the accurate information that is being provided by the sales prospecting tools, then you can be sure that you are using the best opportunities for your healthcare business and you are not just overlooking a few things that have the chances to slip through the tiny cracks, just because your internal sales database is not updated.
Using a sales prospecting tool can help you align the value proposition for every prospect and helps you to match your messaging. You can literally use your healthcare analytics and data across your whole sales cycle- starting from convincing your target, to making or taking an initial call, to ensuring your discovery call and confirming what you have already learned before and not starting from scratch again.
Listed below are best sales prospecting tools and best B2B prospecting tools for your health care business:-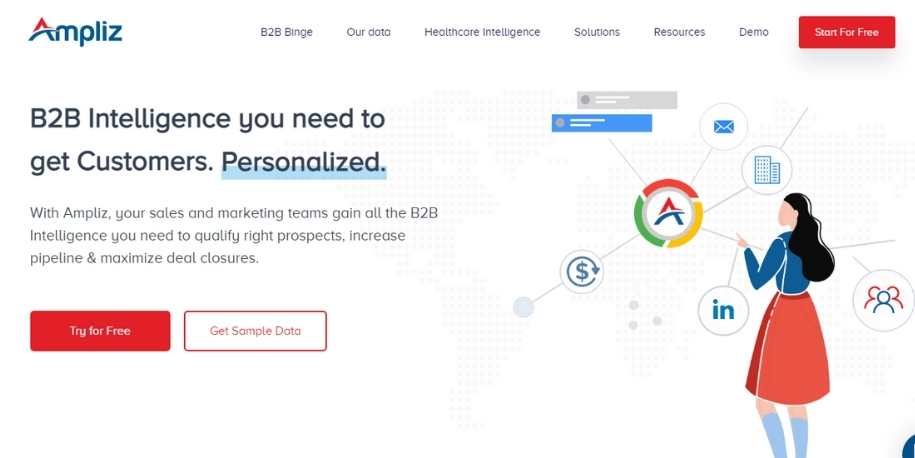 Free trial- 10 credits every month
Paid plans- $480 per year
With Ampliz SalesBuddy, you can set your perfect customer persona and get the right prospect, based on the same. You can easily identify the category that matched your business and also focus on the right set of prospects.
It is considered to be one of the best sales prospecting tools because here you can easily filter the contacts based on the seniority level and other 25+ categories and directly go through the contact information of the prospect.
2. Leadfeeder
Rating- 4.7/5 (G2 Crowd)
Free trial- 14 days
Paid plans- $55 per month
Leadfeeder is specially designed to help you find new prospects and leads by carefully tracking down which companies often visit your website, even if they do not contact you or fill out any specific form.
All you have to do is just simply install the Leadfeeder Tracker and then connect to your Google Analytics account, and that is it. After you have done this, now you can track and analyze the pages that people are visiting mostly. By knowing this, you will get to know better how to develop more outreach and engagement strategies, based on the behavior of each lead. It will also help you to find out prospects that you might not have been aware of.
Apart from the ones mentioned above, Leadfeeder also helps you to find the contact and any information for employees, from any company, that visit your website.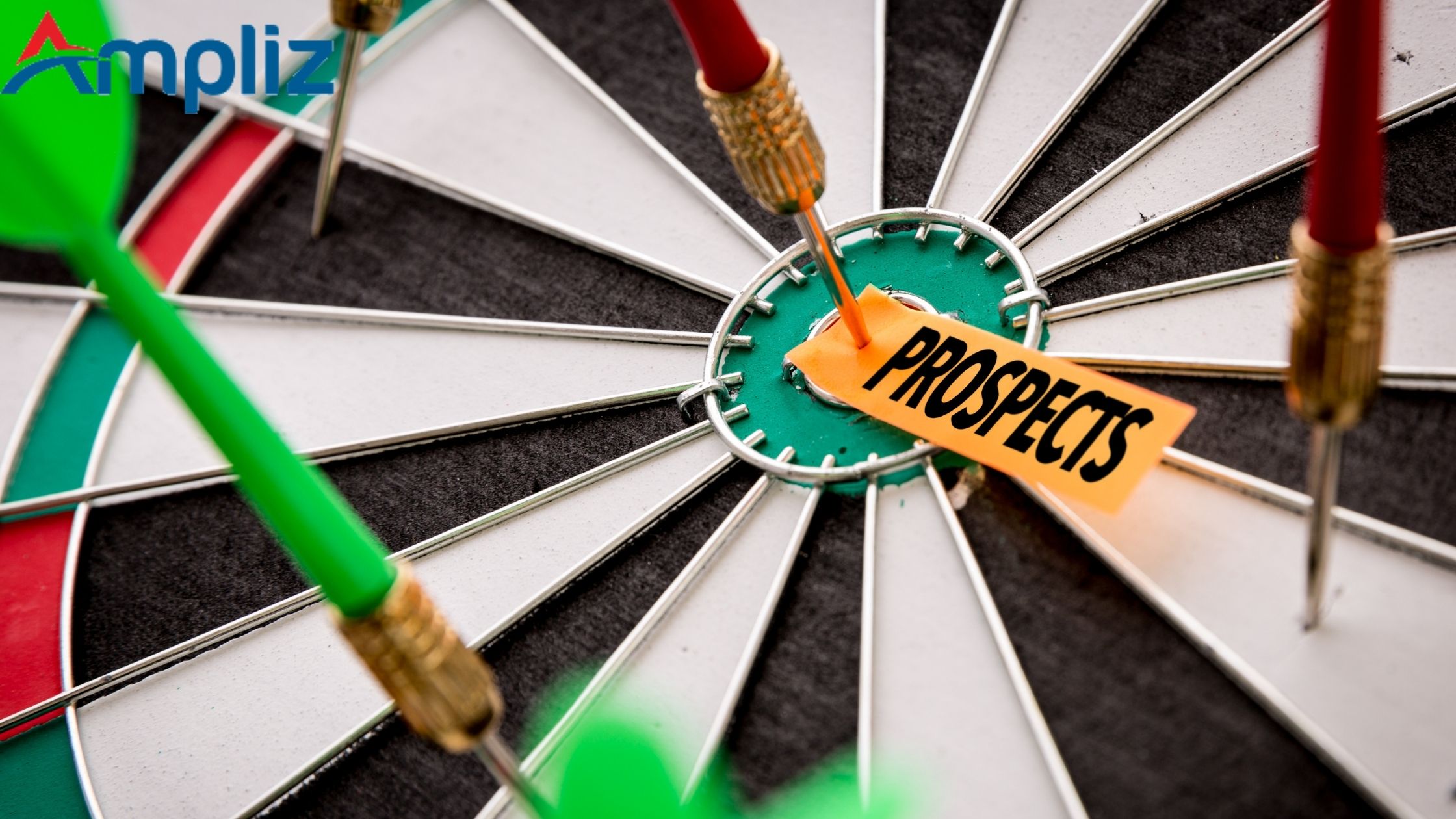 3. FollowerWonk
Rating- 4.⅖ (G2 Crowd)
Free trial- offered
Paid plans- $29 per month
For most people, Twitter can continue to remain a goldmine, but if you start using FollowerWonk, You can swim more deeply into the analytics of Twitter. FollowerWonk can be used for finding specific keywords in people's bios. For example, if you search "video marketer", it will show you a list of users who consider themselves as video marketers, along with other information such as their location, who else they follow on Twitter and the topics that they often tweet.
Using FollowerWonk, you can tweet them directly or you can also attempt to find out the user's contact information using the process mentioned above.
5. Hunter
Rating- 4.⅖ (G2 Crowd)
Free trials- to look up 100 emails
Paid plans- $39 per month
Hunter, which is formerly known as Email Hunter, works as an uncomplicated Google Chrome extension. It easily finds out all the associated email addresses, of any specified domain. Also, it will give you a score on, how likely it is for someone to reply to that email address.
It also serves as one of the best sales prospecting tools because even when you fail to find a given prospect's mail address, Hunter provides you with all the similar patterns behind all the email addresses that are associated, so that you can easily guess your target's contact details.
You can also gather a bulk of email addresses through Google Sheets add-on which helps you find all the emails that are linked with a domain and then automatically copies all of it to a Google Spreadsheet.
6. Skrapp
Free trial- 150 email search per month
Paid plans- $39 per month
Skrapp is considered to be one of the best B2B prospecting tools, at the moment. If you use Skrapp for your healthcare business, it becomes possible for you to gain access to different people and their details, from various platforms, like LinkedIn.
It is already used by several companies such as Oracle, Cisco, Adobe, and many more. Your company should connect to LinkedIn profiles, in order to get the latest information of top leads from different business websites.
7. Prospect.io
Free trial- 30 days trial
Paid plans- $149 per month
Prospect.io is a very effective B2B sales prospecting tool, in the online healthcare marketing industry. If you use the Prospect.io tool, it can efficiently use the multi-channel sales automation platform and boost the productivity of your outbound sales team.
Sometimes, your business may also proceed for sales outsourcing. For such a situation, your marketing and sales team, that has been outsourced, should be acquainted with the sales playbook.
Prospect.io will allow your business to discover high-quality lists that generally combine personal emails, social touches and follow-up calls. The multi-channel campaign feature makes it easy to connect and communicate with consumers.
The healthcare business which is already using prospect.io presently, have attained their goals for lead generation.
These tools mentioned above serve as one of the best sales prospecting tools and best B2B prospecting tools. It increases your efficiency in less time and connects you with your matching prospects.
We have tried to bring forward to you the best sales prospecting tools that are quite a buzz in this current year. To know more about the popular trends and insights of the healthcare industry, do not forget to read our latest blogs.
Try and discover our Contextual Healthcare Intelligence Platform to get the best-customized healthcare data and enjoy our services.
To know more details about us, do visit Ampliz and also feel absolutely free to reach out to us at [email protected].