Are you looking to access the database B2B list of companies in Germany?
Who doesn't have a dream of capturing the market of constant innovation and never-ending opportunities? You grow 10 folds when you target such markets. Germany has such a market of never-ending opportunities.
Germany is the home of some of the largest and most successful companies in the world. From household names like Volkswagen and Siemens to lesser-known companies like METRO, Germany has a thriving economy with a diverse range of companies.
But when you step down into such a huge market, getting lost is obvious if you don't have any guidance. You need to research a lot in terms of companies the country has.
You need to research the company, its net revenue, the size of the company, etc. All this takes a lot of your time and effort.
To cut down some of the time you spend in this research of the best company in Germany, here we are going to list out 15 top list of companies in Germany based on revenue in 2022.
List of Companies in Germany 2023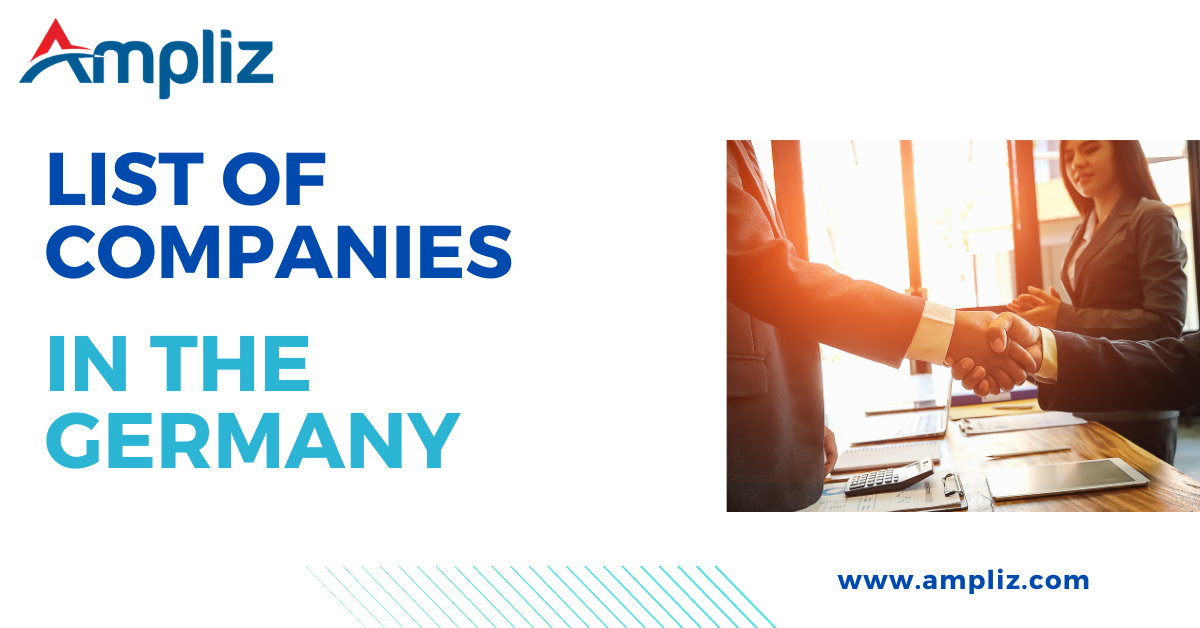 | | | | |
| --- | --- | --- | --- |
| Name of Company | Type of Industry | Location | Revenues 2022 |
| Volkswagen | Motor vehicle manufacturing | Lower Saxony, Wolfsburg | $299.82 B |
| Uniper | Electricity, oil and gas | Dusseldorf | $287.8B |
| McKesson | Healthcare | Baden- Württemberg Stuttgart | $273.90B |
| Allianz Reinsurance | Insurance | Bavaria, Munich | $163.95B |
| Schwarz Group | Grocery retail | Germany | $158.1B |
| BMW | Motor Vehicle | Munich | $139.79B |
| Deutsche Telekom | Telephony and wireless telecommunication son | Bonn | $123.72B |
| E.ON | Electricity Oil Gas energy | Essen | $120.86B |
| Deutsche post | Freight and logistics service | Bonn | $101.31B |
| Bosch | Industrial Machinery Equipment manufacturing | Gerlingen | $94.89B |
| BASF | Gasses manufacturing | Reihnland | $93.72B |
| Siemens | Retail | Bremen | $92.79B |
| Mercedes Benz | Motor Vehicle | Bavaria, Munich | $21.8B |
| Metro | Retail | Bremen | $18.9B |
| Munich Re | Insurance | Munich | $3.14B |
Such details about the company will help you to pitch them better. But while you start your outreach process, you need to keep certain things in mind. Let's see which are those.
Factors to Keep in Mind While Targeting the German Top Companies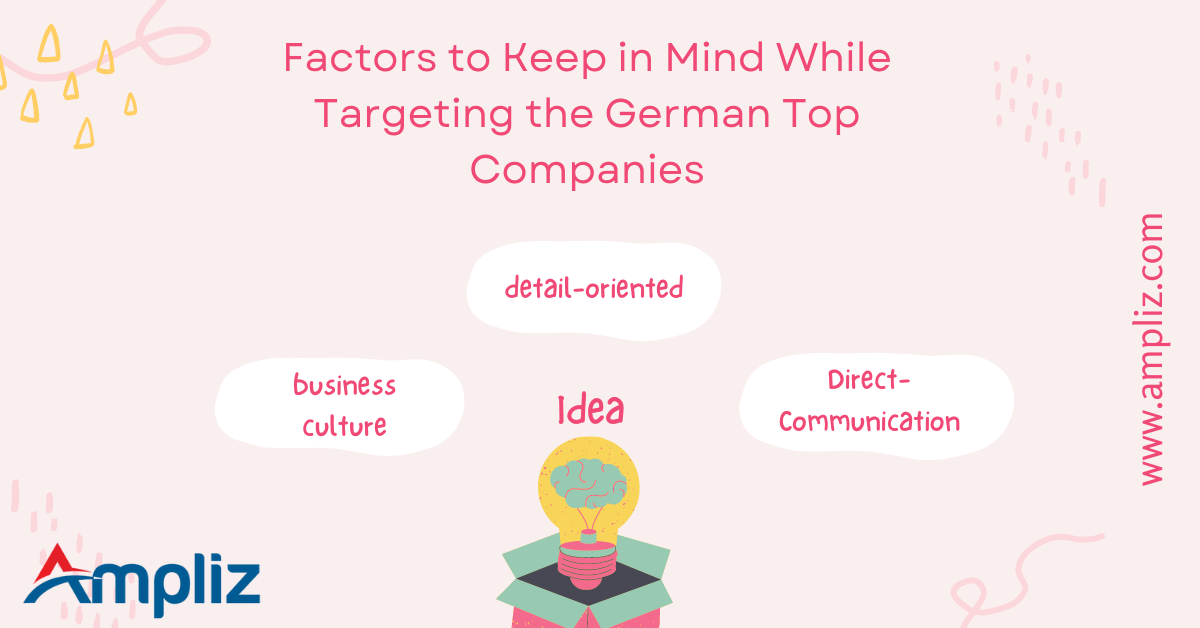 As the world's fourth-largest economy, Germany is an attractive market for businesses of all sizes. However, when it comes to targeting B2B companies, there are a few key factors to keep in mind.
First and foremost, it's important to understand that the German business culture is quite different from that of other countries.
For example, German businesses tend to be much more formal than their counterparts in other countries. This means that when you're targeting German top companies, you need to make sure your communications are professional and polished.
Another key factor to keep in mind is that Germans tend to be very detail-oriented. This means that when you're making a sales pitch or presentation, you need to make sure every last detail is accounted for. Otherwise, you run the risk of losing the deal altogether.
Finally, it's also worth noting that Germans are very direct communicators. This can be both a good and a bad thing – on one hand, it means you always know where you stand with a German business; on the other hand, it can sometimes come across as being too blunt or even rude.
Again, it's important to strike the right balance when communicating with German businesses.
Keep these key factors in mind and you'll be well on your way to success when targeting B2B companies in Germany!
Reach Largest Companies in Germany With the Best Email Database Provider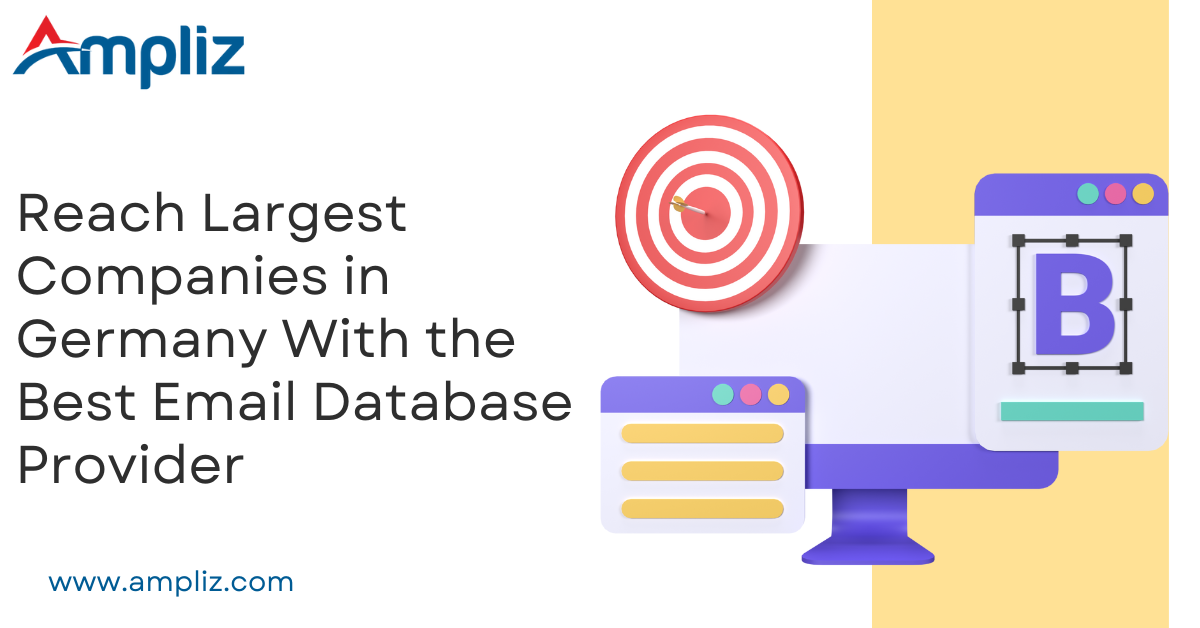 To take the maximum benefit of the ocean of opportunities in Germany, you must have the correct strategy to pitch them and stand apart from your competitors.
You can grow your business and make more sales only if you follow efficient sales prospecting techniques.
When it comes to prospecting techniques you will rely on both cold pitching and inbound leads. Both inbound leads and outbound lead generation have an equal scope of fetching you high-paying clients.
As per the 2021 report, 34% of marketers assert the effectiveness of cold pitching. Cold pitching also lands you the same result as inbound leads.
With inbound leads, you can close the deals easily, while with cold pitching you can build trust with your prospects. With cold prospecting, you can build strong relationships with your prospects which help them to become your long-term customers.
But for this to happen you must have an updated and targeted email list of your prospects.
And the question comes: where do you get this?
So one way to get this email id is to get it from Linkedin. But to get the email id from Linkedin either the prospect must be in your connection list or you must have a premium account. It's not possible for you to have all the prospects to be in your connection, and purchasing a premium connection is also costly.
So what's the other way? The other way is to buy them from some data providers. Data providers provide you with a database of your prospects that includes an email list, phone number, LinkedIn profile, etc. To make the most of your outreach process, this email list has to be accurate and updated.
This database not only gives you names, and contact details of companies in Germany, but other details such as technographic, geographic, demographic, and firmographic details of your prospects.
How to Buy German Company Email List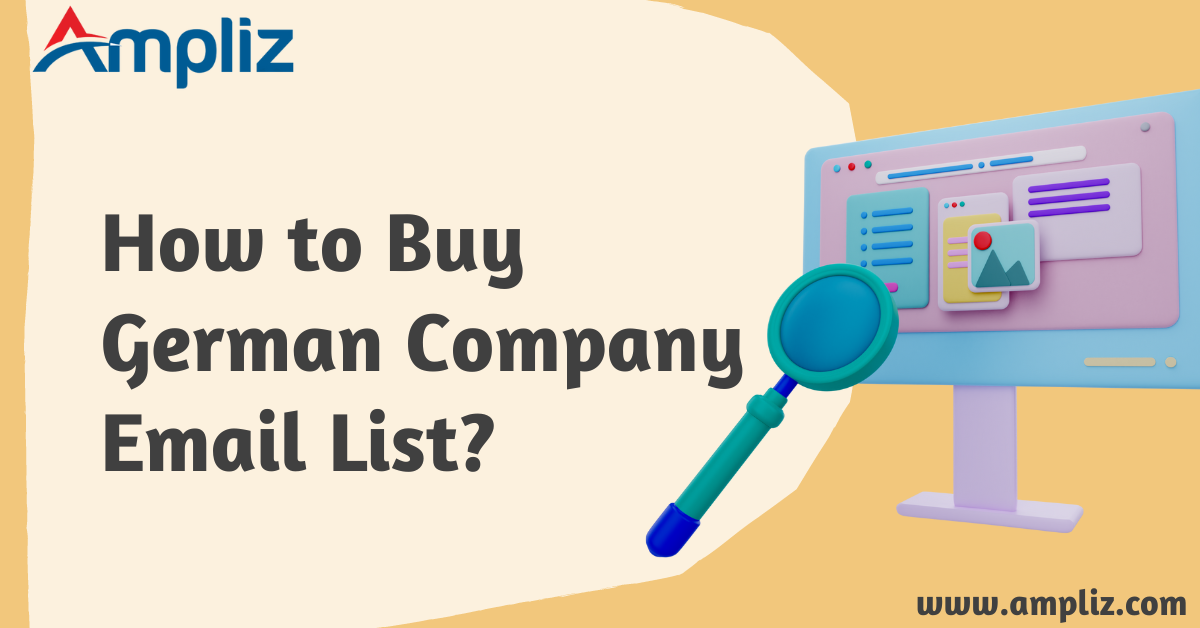 Now that you know the benefits of buying German email addresses lists from the data provider, the next things come, how to buy and where to buy. These two are the most important factors that decide the success of your outreach process.
Among so many data providers for the German top companies, choosing the right one is very difficult. You should set some parameters that will help you to finalize the right data provider for you. For example, you should consider some aspects like
1. Experience and track record
It's important to choose a data provider with a good track record and experience in providing high-quality data.
2. Data quality
This is perhaps the most important factor to consider when choosing a data provider. Make sure that the provider you choose offers high-quality data that is accurate and up-to-date.
3. Coverage
Another important factor to consider is the coverage offered by the data provider. Make sure that the provider offers coverage for the areas that are most relevant to your business.
4. Pricing
Of course, you'll also need to consider pricing when choosing a data provider. Make sure to get quotes from several providers before making a decision.
Once you meet these requirements with any data provider try their free version. Once you are satisfied with the free version, then only buy the database.
Get an Email List of biggest companies in Germany with Contact Details with Ampliz.
So now you must be ready with your checklist of parameters of database providers of the largest companies in Germany. Before you look further, try the Ampliz database. Trust us, you won't regret it.
Ampliz provides you with the most accurate, real-time updated, and targeted database of your prospective companies in Germany.
With the help of cutting-edge technology, Ampliz tracks the buying history of your prospects and gives you a targeted database of your prospects.
Also, Ampliz collects data from 800+ credible sources and gets them validated by 100+ experts to give you the highest quality data with utmost accuracy and reliability.
With such a database, you achieve your sales goals fast and easily.
To experience such results, fill out the below form, and one of our team members will get in touch with you.
Conclusion
Targeting B2B companies in Germany can be a complex and challenging task, but if you keep the five key factors discussed above in mind, you will have an easier time reaching your desired target audience.
From understanding cultural norms to utilizing effective digital marketing strategies, there are many ways to ensure that your product or service is seen by those who need it most.
With the right strategy, targeting B2B companies in Germany can be a great way to expand your business into this important market! Find the contact details of B2B decision makers from Companies in Germany with the right B2B data provider and target the right audience. 
FAQ: List of German Companies in Germany
1)How many companies are listed in Germany?
As of 2021, there are around 3.5 million registered companies in Germany, ranging from small businesses to multinational corporations. However, the number of companies listed on German stock exchanges is much lower – currently at around 600 publicly-traded firms on the Frankfurt Stock Exchange alone.
These include well-known brands such as Volkswagen, BMW, Adidas, and Deutsche Bank among others. The majority of these listed companies fall into one of three categories: DAX (30 largest), MDAX (mid-cap), and SDAX (small-cap). In addition to these publicly traded firms, there are also several hundred privately held companies in Germany that would likely be considered "large" by global standards.
Overall, the German corporate landscape is diverse and thriving with a mix of both established conglomerates and innovative startups contributing significantly to the country's economy.
2) How do I find company details of List of largest German Companies?
To find company details in Germany, there are several steps you can take:
1. Use online directories: The German Federal Gazette (Bundesanzeiger) is a free online directory that provides information about all companies registered in Germany. You can search for a specific company using its name or registration number.
2. Check the website of the Chamber of Commerce: Each city in Germany has its own Chamber of Commerce (IHK), and they maintain databases with information on local businesses.
3. The other way is to buy the database of companies from database providers. These database providers provide you a database that includes the name of the company, the email id of key decision-makers, their Linkedin profiles, firmographic, demographic, and geographic details.
3) How many Fortune 500 companies are in Germany?
As of 2021, there are a total of 27 Fortune 500 companies in Germany. These companies represent various industries including automotive, technology, healthcare, and retail. Some notable examples include Volkswagen Group, Daimler AG, Siemens AG, Bayer AG, and Deutsche Telekom AG.
These best companies in Germany collectively generate billions of dollars in revenue and employ thousands of people across the country.
Despite the challenges posed by global economic conditions and competition from other countries businesses; German firms have maintained their position among the world's top-ranking corporations due to their innovative products/services offerings and strong management practices.