Who are the Best B2B Email List Providers?
Ampliz has the latest and most accurate b2b email list from across the globe.
We have accurate and verified records of Executives in the US and other countries with our reliable B2B Contact Data.
The demand for B2B contact databases is increasing day by day. If you are looking to get updated records of executives b2b email list, and more from across the globe then you should go with this article.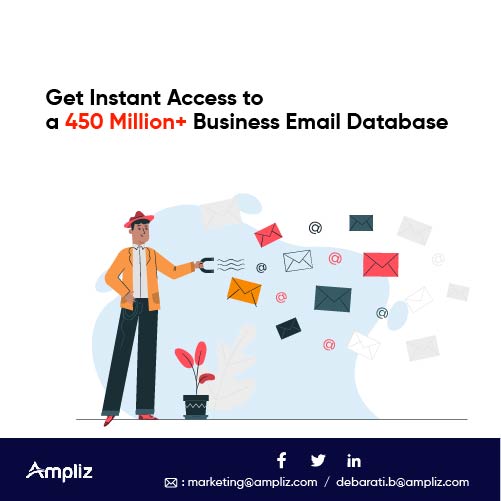 Get the Most Accurate B2B Email List
Business Email Lists – Instant Access to a 450 Million+ Business Email Database
B2B email lists are pretty easy to understand and handle.
They are a list of contacts that you have grown naturally or the one that you have purchased that includes a reference or email addresses.
If you're looking to reach business owners or those who require accurate email addresses, Ampliz's b2b email lists will be perfect.
With their comprehensive and accurate records on over 450 million+ businesses across the US, Canada and UK, our data is an excellent resource for marketing campaigns. It can also help with current client records.
In recent times, Google provides you with a massive number of email list providers. You also get to purchase email lists to take your existing services or any exclusive offerings to a larger audience.
We, at Ampliz, focus on providing you with the most accurate B2B mailing lists, which matches your exact target audience and practically reaches all your needs and requirements.
We stand as a tough competition when it comes to beating other companies in B2B email lists.
With our email list, get to experience the most extensive database of numerous contacts and businesses, which eventually will lead you to find new companies.
Get to discover your perfectly matching audience that will help you to grow your sales as fast as possible.
We are considered to be one of the best B2B marketing database provider because, with Ampliz, you get the most extensive set and the most qualified email lists that allow and also guide you to search thoroughly through the most occupied crowd and at the end, reach key decision-makers who will ultimately guide you to reach heights in your business.
Best B2B marketing database provider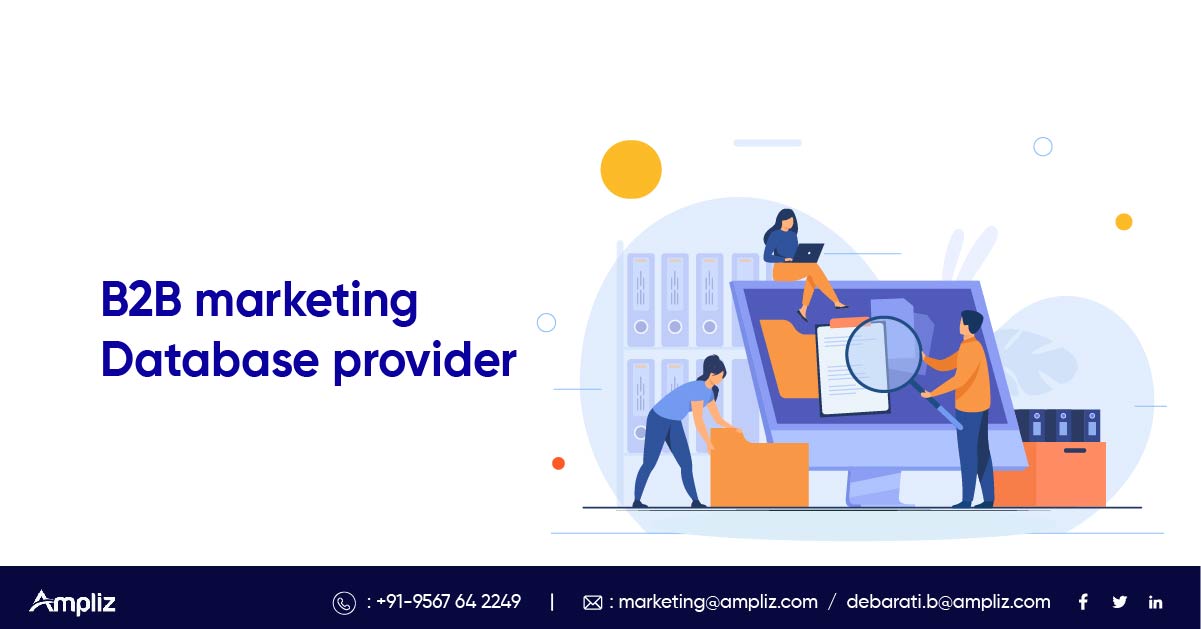 Ampliz is one of the best B2B marketing database providers, and our data comprises the following qualifications:-
Trusted sourcing : We go through an analysis process where hundreds and thousands of public records are thoroughly researched to find out all the records along with initial points. For the generation of initial sets, we source from trustworthy third-party vendors.
Data verification : To keep our data close to real-time data, we try to keep it as relevant as possible. Every 30 days, we run a data refresh procedure along with the ML engines.
Data cleansing : We clean our data regularly to provide you with information that is ready to use. Using our ML engines, we fetch your location, designation, employee size and company revenue.
Purchase Email Lists With Ease
Now, here we expect you to have questions regarding who is probably the best B2B email list providers, will it be worth buying B2B database, from where you should purchase email lists, and more.
Well, here we have all the answers to your questions:
Q1. Who is the best B2B email list provider?
Ampliz's B2B email list is handy because you will already have a list of all the important people with whom you want to contact when you think of carrying out cold email prospecting.
Our b2b email lists tries to save you from the hard work of finding hundreds of email addresses and also promote email campaigns to hundreds of subscribers, all in one go.
Q2. Will it be worth buying B2B email database?
The answer is YES! If you buy our email list, it will save a lot of precious time because, without much hard work, you reach many potential leads and not just waste time finding each of them manually.
Suppose You want a group of subscribers who will be focused on your business.
That means they want to work for your business or want to buy products from you.
Buy a B2B email list which only consists of contacts of small business groups who are mainly concerned with digital marketing, whereas you, on the other hand, offer legal services to corporations.
Therefore, it will probably not bring you many conversions.
Well, this may result in unsubscription from your subscribers because it is an awful decision to spend your heavy budget on a group of cold subscribers who are not at all interested in the products that you sell, nor do they want to work with you.
Thus, you can figure out that buying B2B data is worth it if you expect a return on the investments that you have made.
And to complete every job simple, here we are to help you to deliver the goods.
Q3. From where should you buy email lists?
If you search to buy email lists, you will probably drop somewhere to provide you crazy and not-so-reliable results.
It happens because thousands of list providers dig the web for email addresses randomly and sell them to gain a lot of profit.
Also, It will eventually lead to poor-quality results because either they are dead or considered spam from beforehand.
Therefore, running your business campaign to these may affect your conversions and deliverability rates severely.
Ampliz offers you an email list that is limited to your target population.
It is segmented into interests, past and presents purchasing behaviour, interests, and more such factors.
It makes things easier for you because you will be able to identify the importance of the email list and let your campaign reach the ideal crowd of subscribers.
Also, we would like to show you our database split in the following list :
120 million+ Contact Information
21 million+ Direct Dials
7 million companies
Guaranteed 95% above accuracy
Ampliz b2b email list stand out from the rest because of the reasons stated below :
| | |
| --- | --- |
| Updated Data – | We keep updating our data every 30 days because we like to keep it very close to being real-time and as accurate as possible. You will never ever come across any data that is invalid. |
| Segmented database – | Our B2B mailing lists are a set of highly segmented databases and consist of up to date mechanisms and grasping technology. |
| Futuristic data mining – | The collection of data is done from trustworthy data sources through data mining processes by more than 1000 data miners. |
| More than 95% accuracy – | We have already set a milestone for the delivery of data and that too, with an average accuracy amount that reaches upto 95% and above. |
If you want to know more about such latest information, hacks, and trends related to healthcare, marketing, and sales, then visit our official page, Ampliz.
Also, do not forget to explore our Contextual Healthcare Intelligence Platform, where you get the best collection of data, collected from all over the world.
If you want to reach out to us or contact us directly, then do drop your mail at [email protected]