46% of salespeople didn't intend to go into the sales profession.
.
The job of the salespeople is a daunting one as they need to generate lots of customers for the firms they are working.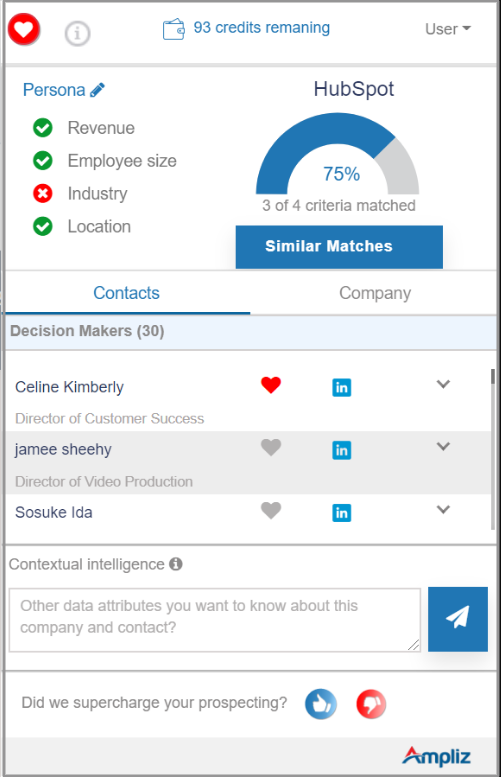 .
The salespeople have to find the opportunity and then reach those prospects and even have to detect and catch the right nerve of the prospects. And turn those prospects into customers, who are ready to avail either your services or products.
.
Huff. Tough cookies!
.
<pre style="font-size:15px"><strong>Read some amazing sales stats here: </strong><a href="https://www.ampliz.com/resources/sales-statistics/"><strong>31 Mind-Blowing Sales Statistics You Need to Know In 2019</strong></a></pre>
.
The good news?
.
There are some amazing tools out there for sales guys which can make prospecting easier. These tools can save your time which can be utilized for other tasks or to grab other customers.
.
In this article, you'll discover 12 amazing prospecting tools that will help you in improving your productivity and deliver better results.
You can know about our Sales Prospect tools, Ampliz.
Sales prospects are tough to find, it's hard to know what they want, and you never know if the meeting will go well or not. With Ampliz, this becomes much easier. This article discusses how Ampliz can help with your sales prospecting efforts by providing access to contact information as well as company intelligence that helps you in the sales process.
Also, do check out this ultimate list of sales tools that we published recently!
.
Let's dive into…
.
.
.
This Free tool is a directory of new business and products, where you can hunt for the prospects quite easily.
.
Even expanding its features from being just the directory of businesses and products, Product Hunt is a place for discussion. It's a serious prospects platform, where you can easily grab your future clients.
.
.
.
Everyone knows the power of LinkedIn. Not new to the sales department, this is another amazing tool which can be easily utilized by the smart salespeople to generate lots of prospects in quick time and less effort.
.
LinkedIn advanced search feature is a goldmine for sales and marketing professionals, who are looking for targeted prospects.
.
Read This LinkedIn Prospecting Checklist: 8 Techniques for Successful Prospecting 
.
.
.
AngelList offers another great platform for the salespeople to hunt for their prospects. Just like above both free tools, the AngelList is a free tool, which is perfectly designed for startups and investors.
.
All salespeople can utilize AngelList for refining their prospects by filtering the organization types and stage of funding.
.
.
.
Direct access to all the email addresses of the account you are looking for, the Email Hunter offers an easy way to get all the web's email addresses. All you need is the company domain!
.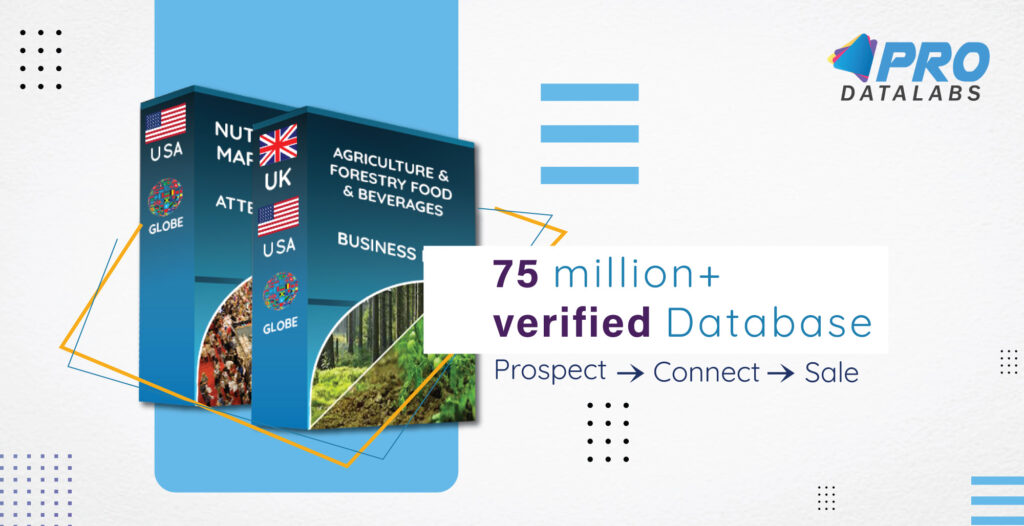 ProDataLabs is a very well-known e-commerce B2B database provider. This tool enables you to explore new sales opportunities by delivering verified and genuine databases.

Their database enables you to connect with prominent customers all over the globe and generate quality leads for your service or product. They nurture your marketing campaigns with their best in class database.

You can acquire their databases in just a few clicks: search- add to cart- pay- download, and also take advantage of their amazing offers on all datasets.
.
.
This Voila Norbert is a freemium tool, which can help you to find the contact details of your prospects!
.
How does it work?
.
You just need to enter the prospect name and company name. And the tool will automatically display the email address of your prospect.
.
.
.
Zoominfo is a database giant that offers the best insights over the quality of the leads, the salespeople have.
.
Analyze the company general available information and also, get the deeper contact details of the prospects with Zoominfo.
.
.
.
Mention is a media monitoring tool that can help you remain in touch with all the latest happenings on your prospects.
.
Stay in touch with your prospects, and get to know all the activities of the prospects and professional happenings as mentioned by the prospects.
.
.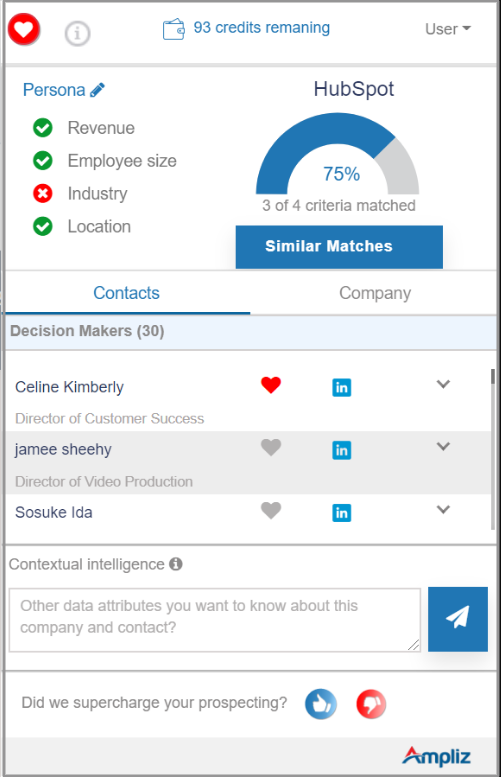 Ampliz SalesBuddy is a browser extension (Chrome for now) tool – A lightweight B2B Sales Intelligence tool to fill your pipeline with more qualified prospects.
.
This intelligence tool gives a score to that prospect, it's called Prospect Fit Score. Higher the score better is fit to your persona.
.
It gives you hard-to-find key decision makers' contact info with their email, LinkedIn profile, and phone number.
.
.
.
Calendly is a great meeting scheduling tool that helps your prospects to book meetings with you at the time best suited for both of you.
.
Create a calendly link and share it with your prospect. You can also share the link with the team and let them join.
.
.
.
Lusha is a simple B2B tool which helps you to enrich and verify business profiles. It helps you to find email addresses, phone numbers and LinkedIn profile of your prospects.
.
It helps a salesperson to connect with the prospect. You can also integrate it with CRM and other software you're using!
.
.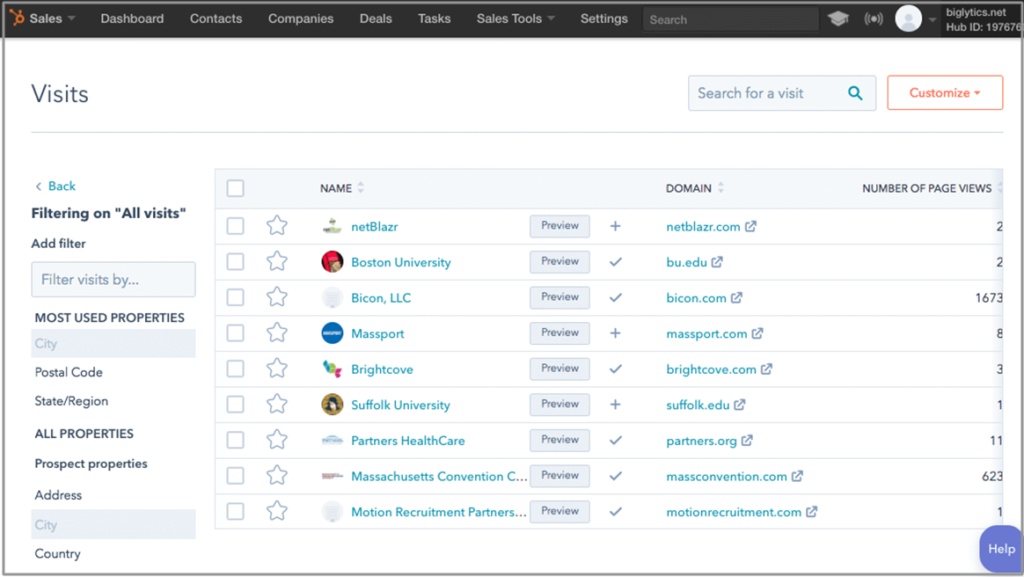 .
Hubspot is the World's renowned tool for email management and tracking. It allows you to create custom email sequences.
.
It also offers the option to track email open and click-through rates. Hubspot helps the salespeople to automate several routine sales jobs.
.
Now It's Your Turn!
.
You just accessed the 11 awesome prospecting tools. Which one is your favorite? Or do you want to add any to this list?
.
Just drop your views in the comment section below.
---
Get Your Free eBook Now and Start Generating Leads Through LinkedIn
.