How to find doctors email addresses for free? Where can I get accurate doctors email addresses?
If you are planning for an email marketing run targeting doctors, you will need a targeted doctors email list.
There are numerous websites allowing you to have access to doctors email addresses. You might get email data free of cost from certain websites, but remember that real, verified, and validated data tends to be expensive. Nothing is free in this data-driven world.
Ampliz is the leading source of doctors email addresses or healthcare email list providers. Every tiny detail on the healthcare professional in the Ampliz healthcare database is updated and refreshed regularly.
Collected from numerous credible sources, verified by data experts, every doctor's email list goes through manual and AI-based verification.
However, for those planning to find doctor's email addresses by themselves, here is a quick walkthrough of the considerable steps:
How to Find Doctors Email Address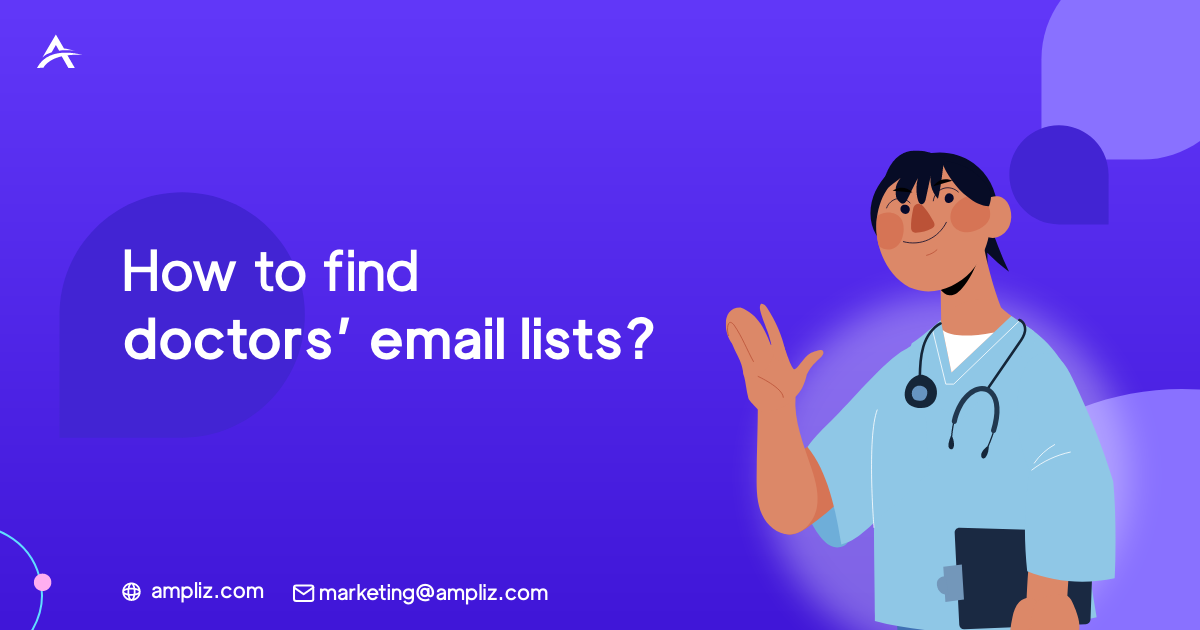 Believe it or not, finding doctors email lists is not as easy as it sounds. For those B2B marketers or pharma markets interested to find data on their own, this blog brings 5 of the best methods to use while finding doctors email addresses.
Let's have a look.
1. Comb through websites
A long shot but definitely, worth a try!
Visit the healthcare professional or doctors' website to see if contact information is available. Don't give up if you do not find direct email address information.
Physicians are peculiar about sharing their information publicly to avoid spammers or hackers who find easy access to email-linked personal information.
The alternative way is to have an eye on the footer of the website- its menu for supply chain, vendor, or sourcing information.
You may find an email address for the administrator or a management executive or required to fill out a form.
2. Perform a Quick Google Search
Another longshot, but you can try searching for a doctor's name with the email address with it on the Google search engine.
If the email address of the respective doctor has been published on the Internet, you will find it. And, if this simple method works, then you save a lot of time by accessing other avenues.
3. Leverage LinkedIn
Linkedin is the best platform to find the enriching details of professionals. It provides you with the option to search for professionals based on filters like designation, location, specialty, industry, company size, and others. There are more than 2.8 million doctors in the US only.
Invite the physician on your LinkedIn connections, and then you can request them to share their email address in order to continue the engagement.
With an updated LinkedIn profile, you can have access to a huge chunk of doctors email addresses. If you have a company page, then keep it updated ad compelling to get doctors' email addresses in the best possible way.
4. Use Extensions
There are certain free tools like Ampliz Chrome Extensions compatible with your browser to get doctors email addresses. However, each extension comes with its own limitations and restrictions while providing free doctors email addresses.
Along with this, you can use an email checker to see whether the email you collected is authentic and up to date or not. Once you use this email checker, it ensures if the email address is valid or not.
It also makes sure that you need not send test emails and experience a huge bounce rate- which would only bring a negative impact on the email address and flag you as a spammer.
5. Game of Guess
Last, but not least, you can play the game of guess to find the email address of the doctors. It is not as random as it may sound.
Generally, a practice or a healthcare system uses the same format for curating the email addresses of their respective professionals. For example, you can create an email address in the following format:
[first-name] [last-name]@domain.com
Search through the provider to learn more about the email address format of the doctor.
Get Started
The Best Option? Our Ampliz Doctors Email Addresses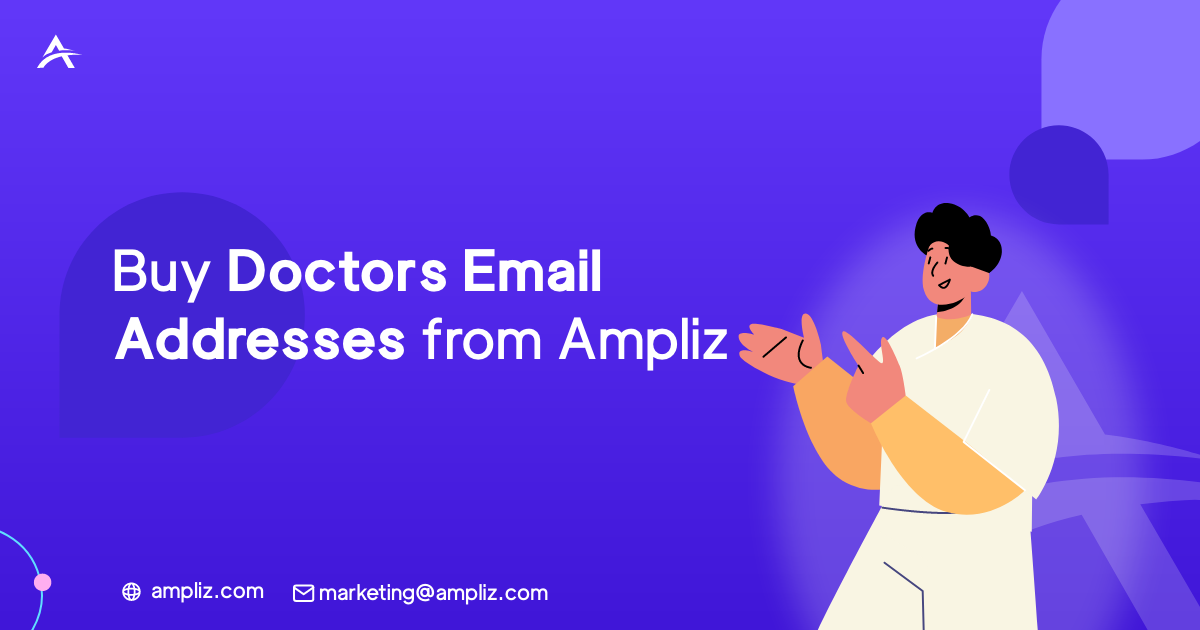 Investing resources, time, effort, and money in finding authentic and accurate email addresses can be difficult and challenging for businesses.
If you are a healthcare organization looking for doctors email addresses, then Ampliz offers you an updated and verified email database.
The email list involves information about the healthcare professionals like contact numbers, email addresses, web addresses, city, state, country, specialty, license information, and much more.
Above all, the email database is verified by the data experts – both manual verification and AI-based verification. The database allows the pharma marketers and the B2B marketers to customize the data with the segmentation, strategize marketing plans of action, and curate marketing campaigns accordingly.