Every sales or marketing professional is more or less acquainted with the term buyer persona. The term ideal customer profile is generally the lesser-known one. Although they seem quite similar, there's a fine line of difference between the two. In this article, we'll look at buyer persona vs ideal customer profile – what is the difference?
What is Buyer Persona?
A buyer persona is a fictional representation (sample) of your potential customers based on the data acquired by market research or based on the information of your existing customers. The buyer persona is set after having lots of research-based data of your present and past customers to target the right prospects. It is a roadmap that guides you on how to communicate and nurture a customer in an authentic manner throughout his/her journey in the sales funnel.
The data for creating a buyer persona includes the buyer's goal, his/her psychological traits, social habits along with little data about his/her company. It helps you understand your customers better and customize the pitch accordingly. It also helps improve the product or service and understand customer's behavior.

How to create a buyer persona?
There are two key factors you need to consider while creating a buyer persona.
Personal Data
Professional Data
Personal Data
When you consider personal data, it includes name and job title, professional background, his/her awareness of your product or service, demographics, etc.
Name and job title: Assign a name (that should be unisex) and job title to your persona. If you wish, you can create two personas for males and females separately.

Professional background: You can consider professional background information such as projects he has done, years of experience in the current position, etc.

Awareness of your product: This information is very significant. You should know how far your buyers (existing customers) were aware of your product before using it. Score the level of awareness and consider it. If the score is unexpectedly low, educate your prospect during the consultation and through content.

Demographics: Consider gender and age because it will help you to tailor your pitch, message, email, etc.
Professional Data
But the professional data includes the Firmographics, KPIs, challenges, goals, job features, technology, team, challenges, ultimate goals, etc.
Firmographics: Consider this information such as the industry type, department, and buying process. It will help to understand your buyer's KPI, challenges and goals.

KPIs: Considering KPI while creating a buyer persona will provide a better understanding of your prospect and you can find out if your service or product can help him/her.

Challenges: Consider the common challenges most of your customers (existing customers) were facing. It will help your sales team to figure out if your product adds value to the customers and fixes their problems.

Goals: When it comes to goals, your sales reps will have a better understanding of the prospect's goal. For example, you are from the data industry and your client's goal is to increase revenue and provide convenience to the employee. In this case, knowing the goal of your client made you clear that s/he is the right prospect. Your quality data will provide good leads and your client's sales reps will have a maximum conversion. This is his/her employee's convenience. Also, with maximum conversion, the revenue will be increased.

Technology: You should know the type of technology your buyers are using and check if your product is compatible with it or not. For example, you are selling SAAS based products and your prospect is nowhere related to SAAS based products. In this case, there is no point in targeting this prospect.

Team: Your buyer persona should contain team information such as the team size, the obstacle the team is facing and how your product can solve their problems.
What is an Ideal Customer Profile?
Ideal customer profile is the description of a company to whom you want to sell your product or service. There are two types of ideal customer profiles; One – a company profile to whom you are targeting (B2B) and second – a decision maker's profile who leads the company. While creating an ideal customer profile, the data like employee size, revenue, industry type, geographical location, etc. are being considered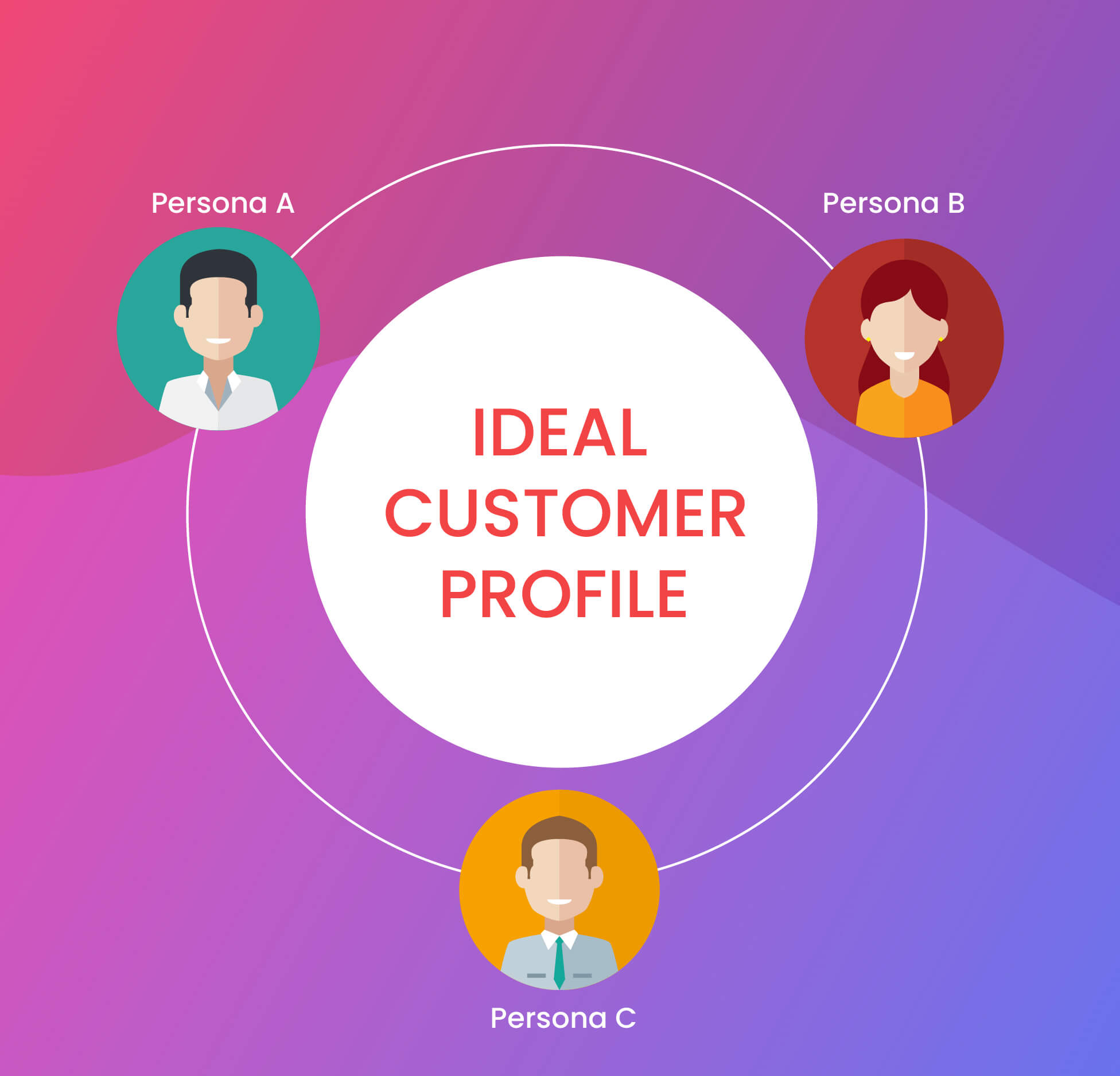 The objective of an ideal customer profile is to identify your potential customers. If your prospect doesn't meet the criteria (that you have set for your ideal customer profile), your sales reps or outreach people will not waste their time.
It also helps you to streamline your sales prospecting process as you have hands-on information about the companies, to shortlist the potential companies you need to focus, to tailor your sales pitch better, to increase the number of quality leads and focus on the sales and marketing efforts on the companies those are likelihood clients.
How to create an ideal customer profile?
There are different factors to consider for the ideal customer profile or buyer profile.
Company Information
When it comes to company information there are different areas to cover.
Industry: These days, a plethora of industries have multiple businesses. You need to understand the industry type and if you can provide solutions to their problems. This is common practice to assign a code or short form of the industry. For example, SIC can be used for Standard Industrial Classification.

Revenue: Revenue is the mandatory factor to consider for your ideal customer profile. It is very easy to determine as per their employee size and product cost.

Region: Sometimes, a few businesses have limitations. For example, you don't provide the service to certain regions due to legal issues. In that case, it is very important to set these criteria for your buyer profile.
Personal Information
The personal information is required for your ideal customer profile if it is a decision-maker. Don't go into deep, but little information like the title of the person and the years of experience in the same domain, etc.
Your product and services
It is good to have separate ICP for separate requirements. For example, a company that provides AI-based service and software tools that solve the small and middle-size business. For this type of client, it is good to have separate ICP.

Buyer Persona vs Ideal Customer Profile – What is the difference?
According to the survey by Tony Zambito back, 80% of the companies believe buyer persona and ideal customer profile are the same.
Here are a few points to differentiate both terms:
Buyer persona provides the idea to identify the individual potential customer whereas ICP provides the best-fit account of a company or a decision-maker to whom you want to sell your product or services.
A buyer persona is a fictional representation (based on researched data) of your potential customers but ICP or buyer profile represents a type of company that is a good fit for your product or service.
Buyers persona is set based on personal data whereas buyer profile or ICP is created based on company information.

The data for buyer persona is based on the job title, psychological traits, professional background, product awareness, demographics, etc.. But the data for ICP is based on the company information, decision maker's information, company revenue, employee strength, budget, etc.

When a buyer persona is helpful to your salespeople to identify the potential customer, ICP helps your marketing team to tailor the content, message or email accordingly.

A buyer persona is being used in all stages of the sales but ICP is being used only for top lead generation.
If you observe both the definitions, you can find several differences between them. An ideal customer profile is quite broad compared to buyer persona. In other words, a buyer persona can be considered a subset of the ideal customer profile.
You may have to create different buyer personas once your ideal customer profile is created. In order to create a buyer persona, you need to develop your understanding regarding the company they belong to. That is where ICP comes into the picture.
Hence, focus on the industry type you are targeting and then drill down into more specific personas later.
The above description made you clear about the difference between a buyer persona and an ideal customer profile (ICP). These are not the same but connected to each other. If we have missed any other factors to differentiate those, please feel free to mention it in the comment box.