A pharmaceutical company database is all you need to take your product to the right audience at the right time. But you are not sure where to find it, and whom to trust.
Undoubtedly, data is the new oil, but only if they are accurate, updated, and targeted. Faulty, outdated, and insufficient data will do more harm than good. Amidst so many data providers, finding the most reliable and authentic is challenging.
To ease some of your burdens, we will discuss how you can find pharmaceutical company datasets.
Before we discuss how to find the most accurate, updated, and targeted database of pharma companies, let's discuss what a pharma company database is, what all information this database gives, and what all factors one should consider before buying the database.
What is a Pharmaceutical Company Database?
Pharmaceutical company database are nothing but sets of information that help you reach the right target market at the right time. This pharmaceutical company database gives you all the necessary information that helps you to pitch your prospects better.
What Type of Information do these Databases Consist of?
Wondering what makes the pharma company database so powerful? Pharmaceutical sales databases can boost your sales 10x, provided they are accurate, updated, and targeted.
This database consists of direct mail, phone number, and Linkedin profile of key decision-makers of the company.
Along with contact details, this dataset also provides you with geographic, technographic, firmographic, and demographic information about pharmaceutical companies.
Keeping this information handy, you can run your outreach campaign effectively and drive desirable outcomes.
But to get all these benefits of a pharmaceutical company database, you must consider factors that help you to choose the right data provider. Until you don't select the right data provider, you won't be able to reach your target audience effectively.
7 Essential Factors to Consider While Choosing a Pharmaceutical Company Database
To get the maximum return on investment on the time, money, and effort you spend on your outreach process using the database, you need to consider some factors.
These factors are:
1. Scalability
A good database provider should be able to scale your business as it grows. This means supporting larger datasets, handling more traffic, and providing higher availability.
2. Performance
The performance of a database is critical to its usability; users expect fast response times and minimal downtime or data loss.
3. Security
Data breaches can result in significant financial losses or legal penalties, so security is paramount when selecting a database provider.
4. Integration capabilities
Your chosen database provider should integrate easily into your existing tech stack without requiring extensive development work on your end.
5. Cost-effectiveness
Database providers vary widely in terms of pricing structure and cost-effectiveness for different use cases; evaluate their plans carefully before making any commitments.
6. Customer Support
In the event that you run into issues using the service, having access to prompt and effective customer support can make all the difference in minimizing downtime or data loss.
7. Quality
Last but not least the quality of the dataset. The quality of the dataset has to be up to the mark. The dataset should be most accurate, real-time updated, targeted, and compliant. Without these, you may face a higher bounce rate in your cold email outreach campaign.
By considering these factors when choosing a database provider, ensure that you select one that meets all your needs while offering long-term value for the money invested!
Now let's discuss how you can find the proper pharmaceutical company database that checks all these factors and gives you all the necessary information.
How to Find the Pharmaceutical Company Database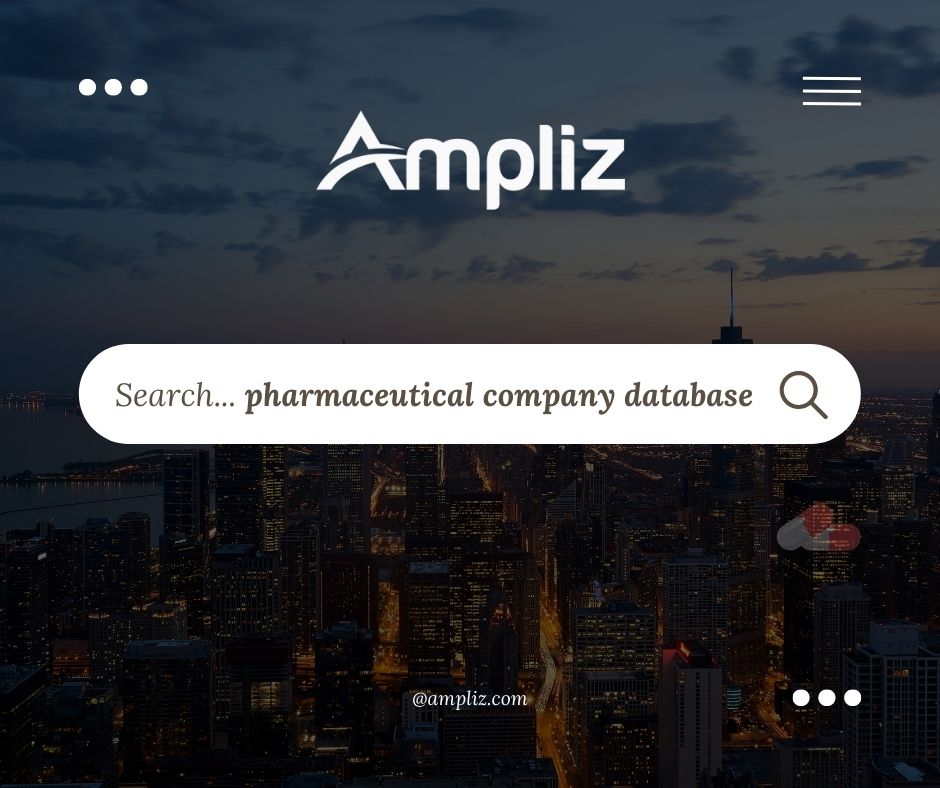 Based on the information shared above, list what information you require and what factors you should consider.
Make a list of all the providers that you may find appropriate.
Check all the providers against the information you want and the factors you wish to fulfill.
Once you do this study, you will be able to finalize the one that is worth investing your money.
When it comes to the factors mentioned above, quality, scalability, security, cost-effectiveness, integration capabilities, and customer service, Ampliz is the best one you can rely upon.
Ampliz provides you with a 98% accurate, real-time updated, and targeted database of pharmaceutical companies you are looking to reach.
What makes Ampliz superior to others?
Ampliz collects data from 100+ credible sources and validates them from 800+ experts. This gives you an accurate database of your prospects.
Ampliz lets you choose the recency of the database. You can select the database as latest as 30 days, 60 days, and 120 days, with an accuracy of >85%, >75%, and 75%.
With the help of state-of-the-art technology, Ampliz tracks the buying history of your prospects and gives you the targeted database of your most potential customers.
Ampliz offers you a database with 25+ search filters, with which you can get a customized database.
Ampliz healthcare database has complied with all the necessary security requirements.
Ampliz's most accurate, real-time updated, targeted, and compiled database helps you get
More open rate
More Responses
Higher conversion rate
and ultimately more sales.
Conclusion
Quality of the data is the most crucial factor when choosing a pharmaceutical company database because poor quality data may lead to poor and wrong decision-making and damage your reputation.
When you do cold outreach with faulty and outdated data, the email marketing software may disintegrate your reputation. Instead of reaching inboxes, your mail will deliver in either spam or junk.
And that's why you must consider some factors while choosing a pharmaceutical database for your business growth.
FAQs About Pharmaceutical Data Providers
1) Where can I find pharmaceutical data?
Plenty of database providers provide the pharmaceutical company database you are looking for. But when it comes to quality data that includes accurate, real-time updated, targeted, and compliant data Ampliz is the best place.
Ampliz ensures you:
Higher open rate
Less bounce rate
More conversion and sales
2) Which database is used in the pharmaceutical industry?
In the pharmaceutical industry, several databases are used for various purposes, such as drug discovery, clinical trials management, pharmacovigilance, regulatory compliance, and supply chain management. Some of the commonly used databases in the pharmaceutical industry include:
1. Chemical Databases:
These databases contain information on chemical structures and properties of drugs that are screened or synthesized during drug discovery processes.
2. Clinical Trials Databases:
These databases store data related to clinical trial design, patient enrollment, and retention rates, adverse event reporting requirements, and other aspects of clinical research.
3. Electronic Health Record (EHR) Systems:
EHR systems maintain comprehensive patient health records that help clinicians monitor medication adherence levels and track disease progression over time.
4. Safety Data Exchange Agreements (SDEAs):
SDEAs facilitate sharing of safety data between pharmaceutical companies involved in joint development programs.
5. Regulatory Databases:
Regulatory bodies like FDA maintain public access databases containing information on approved drugs, including their indications for use, dosage regimens, etc.
Overall there is no single database exclusively used by the pharmaceutical industry; instead, a combination of different ones depending upon specific needs at each stage of the product development lifecycle would be utilized by Pharmaceutical companies.
3) What is the best pharmacy database?
The best pharmacy database would depend on the specific needs and requirements of the user. However, there are several reputable databases available in the market that offer high-quality information and reliable resources for pharmacists, researchers, and healthcare professionals.

One such database is Clinical Pharmacology by Elsevier. It provides detailed drug information, including dosages, interactions, contraindications, side effects, black box warnings, and more. Additionally, it includes diagnostic tools like calculators which allow you to determine creatinine clearance values or evaluate opioid conversion dosing.

Another popular choice is Micromedex by Truven Health Analytics – A part of IBM Watson Health. The platform offers a broad range of information from drug identification to adverse reaction management options. There's also an expert advisory board that reviews all content before publication in order to ensure accuracy.

Other notable pharmacy databases include Lexicomp (Wolters Kluwer), RxList (WebMD), UpToDate (Wolters Kluwer), etc., each having its own unique features catering to different aspects of pharmaceutical research.

Ultimately any decision should be based on what type of data you require access to for your purposes; whether it be patient education materials or clinical guidelines for medication dispensing practices.
4) What is a pharmaceutical database?
A pharmaceutical database is a comprehensive collection of information related to drugs, medications, and other healthcare products.
It contains essential details such as the chemical composition, therapeutic uses, side effects, dosage recommendations, and trade names of various medicines.
Pharmaceutical databases are an indispensable tool for pharmacists, doctors, researchers, and other medical professionals who rely on accurate drug information to make informed decisions about patient care.
These databases provide reliable updates on new drugs that come into the market and any changes in existing ones.
Moreover, these databases also help regulatory bodies like the FDA (Food & Drug Administration) monitor the safety and efficacy of different medications by keeping track of adverse events reported by patients or healthcare providers.
Overall it can be concluded that Pharmaceutical Databases store vast amounts of valuable data related to medicine, making them an essential resource for anyone working within the health industry.
5. Where do pharma companies get their data from
Pharmaceutical companies rely on various sources of data to develop and commercialize their products. Here are some of the primary sources:
1) Clinical Trials:
Pharma companies conduct clinical trials to test the safety and efficacy of their drugs. These trials involve patients, who provide valuable data about how the drug works in real-world settings.
2) Electronic Health Records (EHRs):
EHRs contain comprehensive patient information such as medical history, diagnoses, treatments, lab results, and prescriptions. Pharma companies can use this data to identify disease patterns and monitor drug effectiveness and side effects.
3) Patient-generated Data:
Patients produce a vast amount of health-related data through wearable devices that track vital signs like heart rate, blood pressure, or activity levels. This type of data is particularly useful for tracking chronic conditions.
4) External Databases:
Many pharma companies also leverage external databases like government health records or insurance claims databases to gain insights into disease prevalence rates and treatment outcomes.
5) Social Media:
Social media platforms have become an essential source of healthcare information for many people worldwide. By analyzing social media conversations related to specific diseases or treatments, pharma firms can understand consumer perceptions better.
In summary, pharmaceutical companies gather crucial information from multiple sources, including clinical trials, electronic health records (E.H.R.), patient-generated data via wearables devices & apps., external databases like government agencies' public records systems as well as other relevant resources available online such as social media platforms where consumers share their experiences with medicines used by them over time- all these different types contribute significantly towards driving innovation in modern medicine today!
6) What are the big 3 in the pharmaceutical industry?
The big 3 in the pharmaceutical industry are Pfizer, Roche, and Merck & Co.
These companies have a significant presence in the global market and hold a dominant position in the research and development of new drugs.
Pfizer is the largest pharmaceutical company by revenue, with a portfolio of blockbuster drugs such as Lipitor, Viagra, and Lyrica.
Roche is known for its leadership in oncology medications such as Herceptin and Avastin. Meanwhile, Merck & Co has developed game-changing products like Gardasil (vaccine for HPV) and Keytruda (immunotherapy for cancer).
These three major players have established themselves through their investments to innovate new treatments that address unmet medical needs while staying ahead of competitors by investing heavily in research and development efforts.