Lusha does not cut it anymore for your business? Or, are you looking for Lusha alternatives to complement it? Either way, you should be glad that there are several free lusha alternatives that can uplift your marketing strategies. Ampliz is the top and best lusha competitor.
Let's understand a little about Lusha, Lusha Alternatives, and Lusha Competitors.
What is Lusha?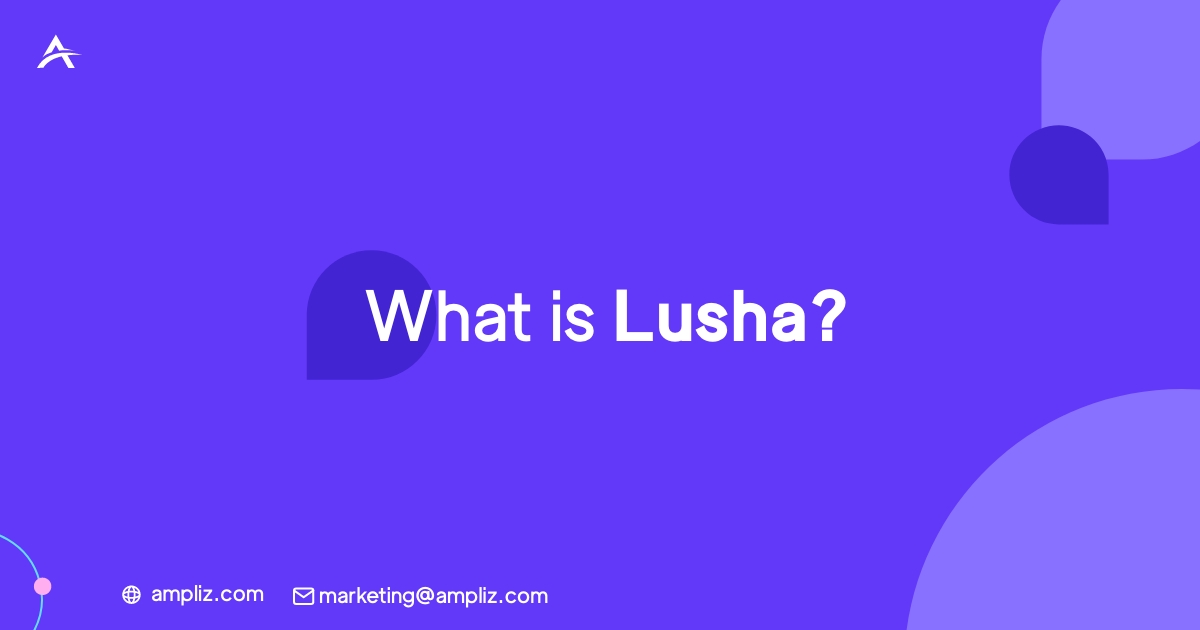 Lusha is a B2B database providing platform that offers high quality, premium data which is needed the most by companies. It is a powerful data tool to find email addresses, contact numbers, and other information.
The Lusha Chrome extension enables you to find contact information through multiple channels and social media profiles.
Who is the best Lusha Alternative?
Ampliz is the best Lusha alternative that not only entails the information of business individuals but also ensures to be data policy compliant. The expert data scientists update, refresh and verify each data to the real-time information.
Each email database is segmented in more than 50 attributes and is easy to customize for every marketer to leverage the database as per the need.
Why choose ampliz over Lusha?
Wondering why choose Ampliz over Lusha?
Let's quickly compare Lusha vs Ampliz.
1. Ampliz is not just data-driven, in fact, they ensure to enrich, up-to-date, and verify their contact business email addresses. Whereas, Lusha is based on data collection and storage of information, which might be changed based on real-time information. This increases the obsolescence rate and there is no guarantee of the recorded data.
2. Lusha collects data and it might not be GDPR compliant, i.e., it is officially not allowed to share personal or business contact information. On the other hand, Ampliz has expert data scientists to verify and validate every data ensuring that they are data policy compliant.
3. Ampliz ensures all the data recorded are easy to access and handle even by beginners. So, it makes it possible for the files to be CRM friendly by making it possible to export in different formats. Whereas, Lusha only allows a CSV format which might not be convenient for every organization.
Compare Lusha vs Ampliz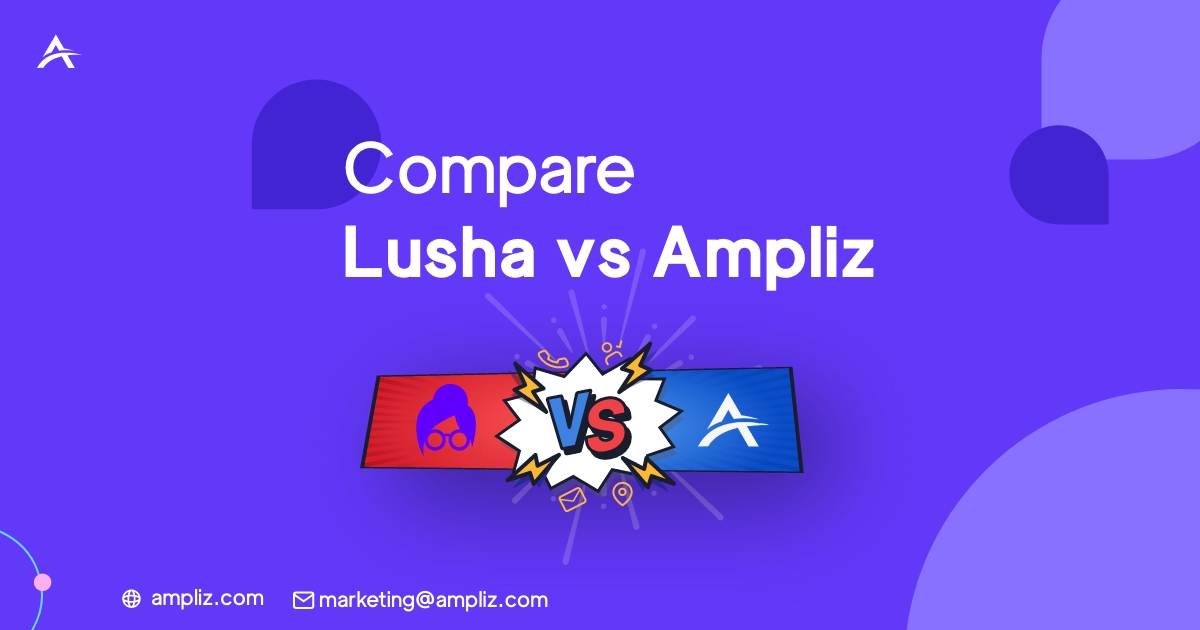 Here's a quick comparison of Lusha with Ampliz
| | |
| --- | --- |
| Ampliz | Lusha |
| 400 M+ Business Profiles | 100M + Business Profiles |
| Access 5.2 M+ C-level Contacts | Access >4 M+ C-level Contacts |
| Free Credits | Free Credits |
| 25+ Data Attributes | Limited Data Attributes |
| Revenue Size Details | No Revenue Size Details |
| Data Sourced & Validated by Human & AI | Machine Generated Data |
| Data Processed by in-house Data Experts | Data Mined & Verified by Machines |
| 95% Email Deliverability Guarantee | 85% Email Deliverability Guarantee |
Top Lusha Alternatives and Competitors in 2023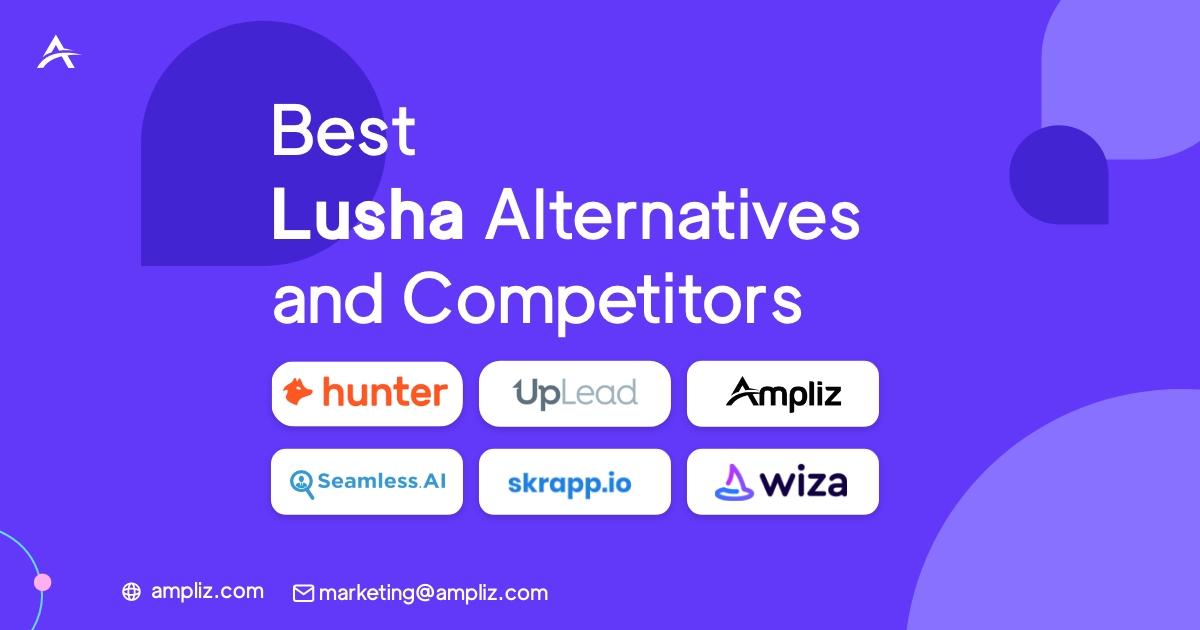 Ampliz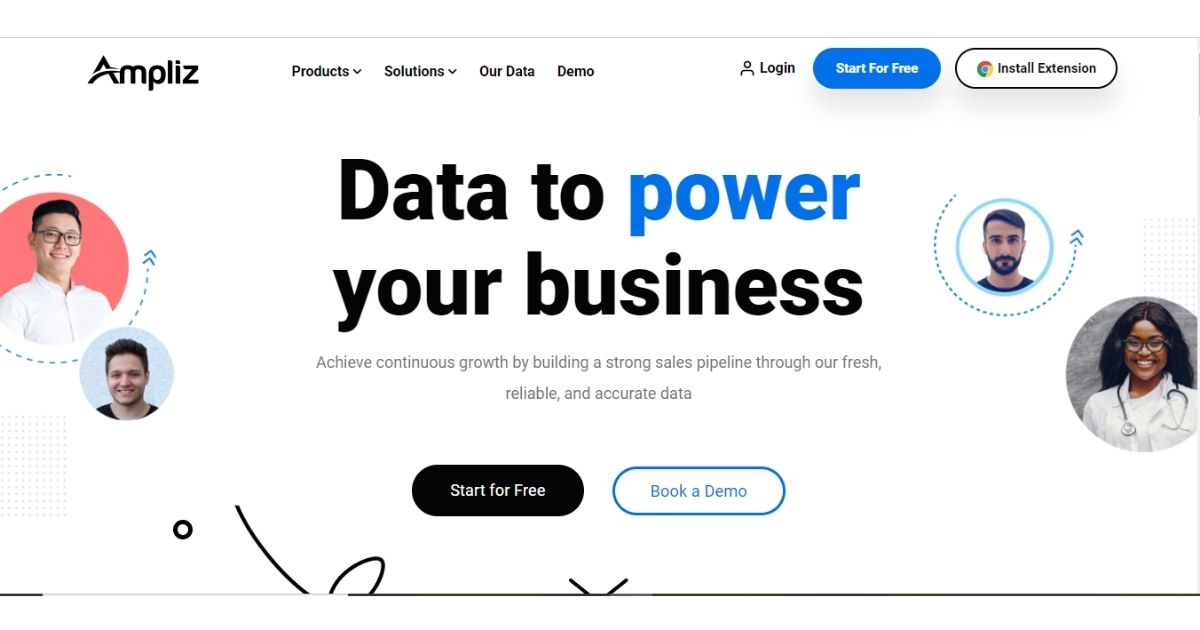 Ampliz is an APAC, Healthcare and B2B sales intelligence platform to meet the lead generation leads. Their verified and updated email database enables the sales and marketing teams to find the right prospect decision quickly.
You can enjoy a free trial or free version before you make up your mind about the Ampliz APAC, B2B and healthcare database. They help in the easy and hassle-free data export and import, lead capture, lead qualification, and lead segmentation.
Wiza
With Wiza, you can curate an email list with the help of information from LinkedIn. The organizations can leverage the Linkedin Sales Navigator feature to find the right prospects and build a list of verified emails. Therefore, the email list is ready for a quick outreach. It also notifies the organization via email and also takes care of the deduplication during the process across various multiple tasks.
Seamless AI
A B2B database provider but with a little twist. Every time, a search is performed, the respective artificial intelligence researches and ensure that the email is verified; and directs dials in the real-time information. This keeps the data refreshed and updated regularly. Seamless.AI also provides a Chrome extension for email finders. They have a unique approach. Even though the results achieved are mixed, it is worth it.
Hunter io
With Hunter, you can find and verify the professional email addresses from companies, domains, or specific professionals on the Internet. The best feature of the platform is the ability to not only inform the email address of the respective individual but also inform the email format for the company. Isn't it better, that you can create multiple email addresses based on the format and reach out to the targeted ones?
Hunter enables the users to find email addresses for the ideal prospects and connect with people who matter to your business. More than 200+ million email addresses are listed on the master repository, with effective search filters or data attributes, and it is regarded as one of the powerful tools for email finding.
Skrapp io
A SaaS Chrome extension email finder for B2B prospecting on social networks of professionals. With their awesome export feature and the simple UI for beginners focusing on acquiring gleaning bulk information on LinkedIn.
Lead IQ
No need to sacrifice your clean salesforce. You can get access to millions of data from Lead IQ like name, contact number, email addresses, titles, and accounts. With the well-pre created data from Lead IQ, the organization can focus on the sales pitch and enriching customer relationships.
Contact Out
Get access to millions of data from Contact Out with their market-leading business and recruiting intelligence. It provides billions of phone numbers and millions of email addresses. The best feature abt their email database is that the emails do not bounce back. The database is accurate and the email bounce rate is low compared to other providers (as reviews say). The search tool is intuitive has a simple UI for beginners.
MailsHunt
A relatively smaller tool for finding emails and contact numbers of any individual who you want to target for your marketing strategies. Connect with people who matter to your business with MailsHunt. Generally, it would be nice for you to support the new and smaller tools for email finding. The domain search lists find the email addresses of all the people in a specific company.
Anymail Finder
One of the alternatives to Lusha and Hunter with a specific key advantage- only a few emails are charged, like the ones that are server verified. The emails that match a certain pattern are free of cost. You can test it for free. And, most of the users might already know that they are great at one-on-one live support to their customers.
Get Prospect
A generation tool along with an email finder. All you need to do is select the criteria of your choice and the tool will help you get a data list. The list contains the names, email addresses, positions, company names, LinkedIn URLs, industry, website links, and much more. Now, harvesting and outreaching LinkedIn profiles and prospects became even easier.
ProspectDaddy
SmartReach.io has a provision for a plug-in tool for LinkedIn as well as Gmail. Tracking down contact information while you are just browsing on LinkedIn or Gmail as you compose a new email for your prospect. The Gmail feature is reviewed to be unique and cool for the data collecting executives. In any case, you use Gmail a lot, this can be a fruitful tool for the outreaching desired number of prospects.
Snovio
Snovio helps in creating and launching personalized email marketing campaigns to the respective prospect lists. They make use of specific tools to explore the technologies used on the prospects' websites. The extension for email verification aids in ensuring that the emails collected are correct to the real-time information. Enrich your lead data with the missing data attributes to help in better target, customization, and personalization.
Finder. io
An advanced email finder and verifier software that enables the users to get access to the email addresses of ideal prospects. They implement the right tools for the businesses and track down market trends and advantages that drive efficiency in the businesses. Their software aids in reducing the effort levels in terms of time and money.
Slik Prospector
The Slik Prospector helps in finding email addresses from Gmail IDs and LinkedIn profiles. They enable the users to curate marketing campaigns that are customized and personalized to target the ideal prospects. Save it to your resort or you can export it in a CSV format promising to ensure a delivery rate of 98%.
Clearbit Connect
Clearbit Connect will let you have access to personal and company information from Gmail and within every conversation accessed. Find more email addresses and businesses email addresses of your prospects instead of scrolling through websites or guessing emails.
AeroLeads
A great tool for generating several leads and prospects. The multipurpose tools help in finding the best email, generating leads for the CRMs from LinkedIn, Gmail, and other platforms. Either you can add more details to your existing leads or find phone numbers, email addresses, and more information on the prospects.
Find That Lead
Find That Lead is a platform for businesses looking forward to getting hands-on data or information on the business. With their email-finding tools, you can convert more than 43% of acceptance rates while sending out invitations.
ListKit
For those businesses who are struggling with finding the right data, this ListKit is the best platform. With their tools, users can have access to the hyper-personalized B2B database that is delivered to the inbox within 24 hours. The ListKit database improves the reply rates of cold emails and LinkedIn outreach campaigns by approximately 20%.
Improver.io
Improver.io is a simple and user-friendly Chrome extension that informs about the contact information from diverse social networks. We aid 2500+ recruiters and business managers to get access to ideal prospects. Their data helps the B2b Businesses to enrich their leads, track down candidates through email, and speed up the marketing strategies.
Email. Echelon
If you find yourself guessing for the email addresses, then Email. echelon is a low-cost and easy solution. All you need to do is enter the first name, last name along with the domain. After this, the algorithm of the Email. echelon helps in finding the email addresses for the prospects.
Hope you guys liked this article on Top and Best 20 Lusha Alternatives and Competitors in 2023.