Recent technological advancement and post-pandemic implications from 2020 are forcing the modern workplace to evolve. With just a few months left of the new year, you must stay on top of the best recruitment practices to attract the best talent. With the job market getting competitive and shifts to Al-powered hiring, recruitment trends continue to emerge.
It's getting easier for candidates to apply and interview for more positions than in the past. However, with low unemployment and strong hiring, companies need to stay ahead of the curve with the best recruitment tips.
This blog post will cover the best recruitment practices you should be aware of in 2023 and beyond. By the end of this article, you'll be equipped with the knowledge and understanding of recent trends in the recruitment landscape and, in turn, hire the best talent for your company.
4 Recruitment Trends Expected In 2023
As we move towards 2023, staying on top of the recruitment process is crucial to hire top talent. To stay competitive in the evolving job market, businesses may need to hire dedicated software developers who can adapt to new technologies and trends, much like the recruitment practices discussed in this article. From shifts in recruiting expectations and Zoom interviews becoming the new normal, there has been a substantial switch in the job market. Below we'll discuss the top trends expected in 2023 that will help your company in its recruiting process.
A. Remote Work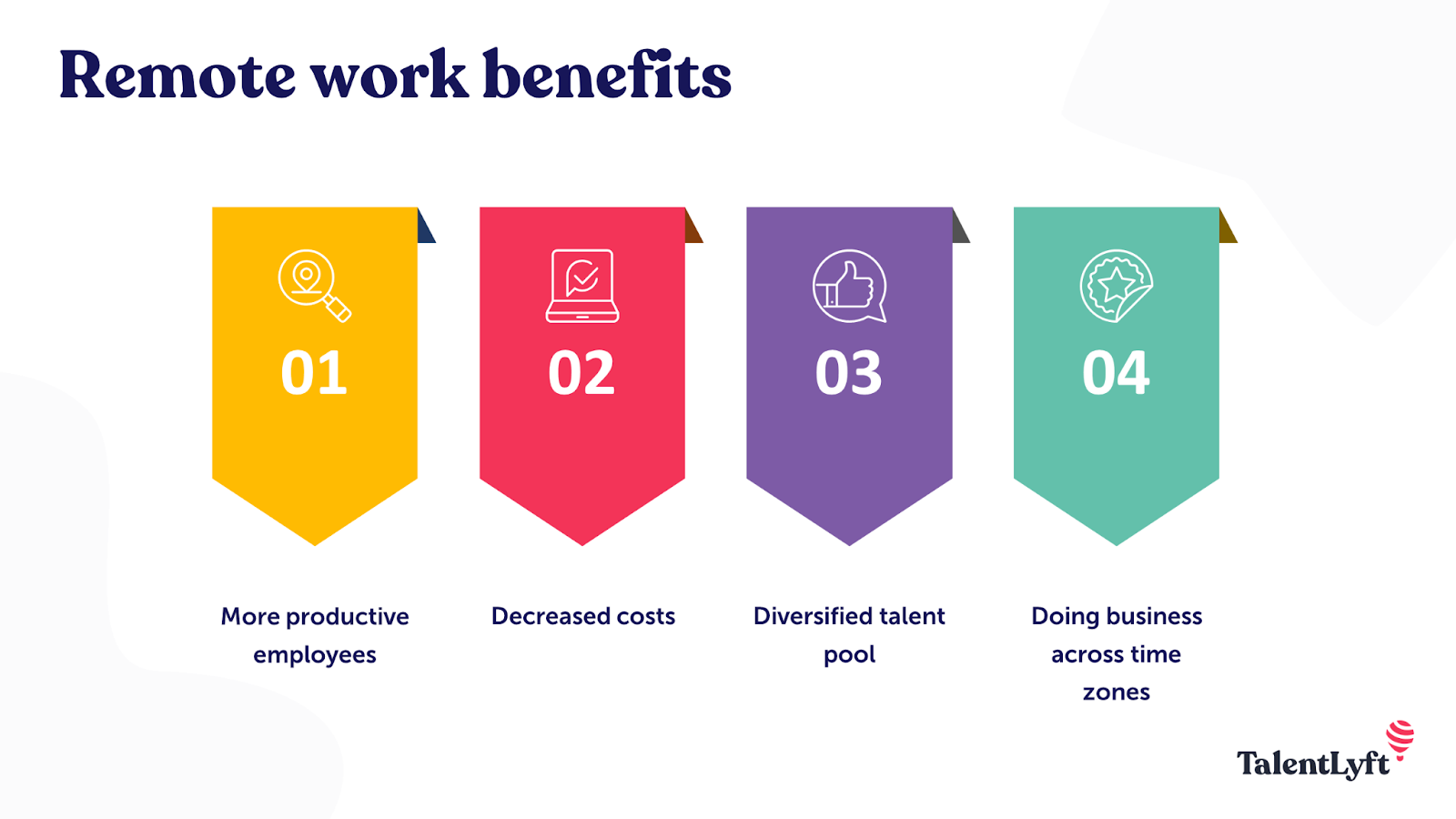 Undoubtedly Covid – 19 left a remarkable change in the business world. Now people have a taste of working at home and are reluctant to go back to working any other way. In fact, studies have shown that 85% of employees believe that remote work is here to stay. Most workers value the opportunity to WFH (work from home).
This acceleration to remote work has helped employees perform better in the workforce and helped companies attract candidates using this strategy.
For instance, recruiters are seeing that job seeker, especially in the technology department, drop out of the interview process if remote flexibility is not an option. Remote work's benefits aren't just limited to recruiting efforts, though.
Furthermore, international hiring has become the new standard in recruitment. Employers can now source talent globally, expanding their reach beyond their local area thanks to employer of record (EOR) services. These services enable companies to tap into a vast pool of talent worldwide, ensuring access to the best candidates for open roles.
With inflation and the cost of fuel rising, commuting is becoming a large expense. Hence, it also helps retain existing talent by offering existing employees the flexibility of working from home.
If employee turnout used to be a problem, especially with no visible lookout, it's not anymore. Now companies leverage attendance management software to ensure employees are working when they are expected to.
B. Company Values
Your company's core values are the fundamental beliefs of your workplace's identity. It should reflect its daily culture, employee experiences, and general politics. Essentially, it is the deciding factor that helps job seekers determine if they are on the correct path and fulfilling their goals.
Hence, employees are now focusing on working with companies whose personal values, behavior, and beliefs align with the company's culture.
If a company does not take its core values seriously, it's automatically putting itself at a disadvantage in the job market. When properly addressed, your values give employees a common purpose to understand and aim towards. Your business can communicate its company values in the recruiting process by:
Have company values written in the job description
Encourage recruiters to repeat existing values during interviews
Keep candidates up-to-date with additional information on your company's values and overall mission
C. Power Skills
It's not a secret that Al and automation have changed the future of work globally. As more and more employees allocate work towards the machine, it becomes important to know what skills employees should and should not have. Essentially, jobs needing power or hard skills are replaced as these are much harder for machines to learn.
This is because hard skills require technical learning and measurement. In addition, some companies, especially in the tech industry, are measuring prospective candidates' abilities through skill tests.
One example of this is the WooCommerce skill test. This test is designed for the screening stage of the recruitment process for hiring a developer to ensure they have the right skills and knowledge for the specific job.
While soft skills are still valued in the workplace, employees are now expected to change and adjust constantly. In short, things are changing when it comes to skill sets. No longer is it just important to have emotional intelligence, a professional attitude, and a work ethic.
Recruiters are now noticing gaps in this skill set in the talent market as they are recruiting.
Hence, they have identified the following top 5 hard skills to include in their recruitment strategy:
Innovation
Creativity
Leadership
Adaptability
Collaboration
D. Diverse, Equity, & Inclusive Strategy
Diversity in the workplace has become larger than in the real world – it has transformed into a mentality. Employers are now increasingly coming to realize the importance of enhancing the level of diversity and inclusion among their employees.
Companies can identify opportunities and explore new solutions by recruiting professionals from a wide range of backgrounds.
Even from the client's perspective, employees feel more welcomed and accepted. When employees feel accepted, they are happier and stay longer in the company. As a result, organizations with greater diversity within the workplace have lower turnover rates.
Like any business, diversity recruiting strategies are constantly changing and evolving as companies draw a connection between workplace diversity and employee satisfaction. Unfortunately, many employees feel their employer needs to do more to promote diversity.
Employers can take action to create a more diverse and inclusive recruiting strategy:
Offer internships to targeted groups
Source from different pools of talent
Develop an employer brand that illustrates your diversity
9 Best Recruitment Practices To Find Worthy Talents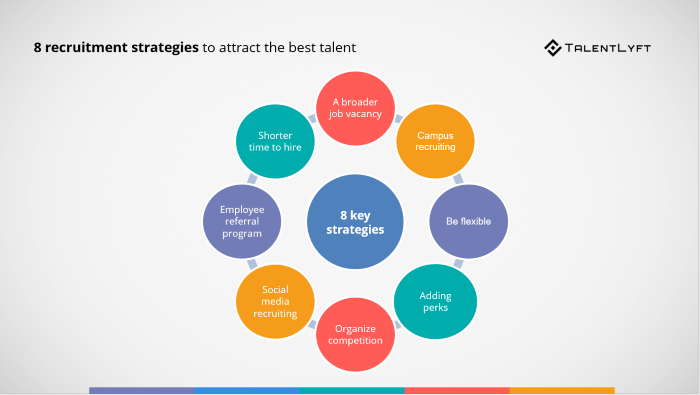 As a result of these trends, you can expect continued and increased competition for top talent and a stronger emphasis on talent management. However, properly implementing these practices allows you to stand out by hiring talented candidates. Businesses looking to hire Node.js developers should consider the importance of aligning their recruitment strategies with the evolving trends in the job market.
1. Positive Candidate Experience
Emphasis on candidate experience and personalization is not new, but the importance is greater. Job seekers no longer go to the company asking "if the company likes them. Instead, they are actively searching if they like the company and if they'll fit in with its culture.
That being said, companies should also be prepared to answer candidate questions. In general, job seekers want clear, honest, and consistent communication. While first impressions matter, companies must attract and impress candidates during all stages, both during the interview and via email and phone communications.
In this case, employers can create messaging specific to each job. For instance, recruiters seeking to hire the best list of candidates in a health organization can personalize their email by being specific about the healthcare experience they are looking for. Email templates are a great way to get an idea of the basics of a great email and personalize candidate experience.
By effectively paying attention to each step of the process, you'll be well on recruiting the best candidates that will make a difference in the health organization they become a part of. Remember that recruiters are the face of the company. To attract top talent, they need to improve the candidate experiences.
Here are some ways you can personalize the candidate experience:
Communicate with candidates often
Know your company's values, missions, and goals
Make sure interviews are prepared before the interview process
Respectfully let the employee know where they stand throughout the job process–if they've been selected or not
2. Employer Branding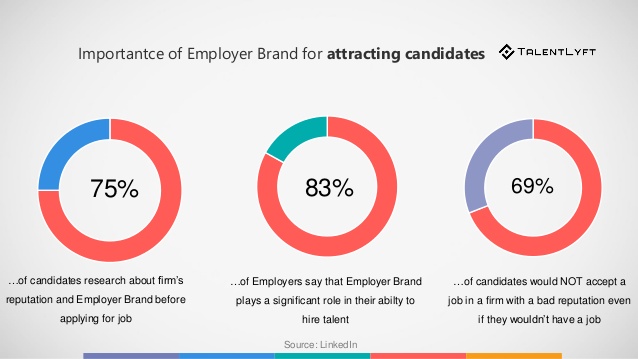 Today, employer branding is crucial for building brand awareness in recruitment. Thanks to technological advancements and social media, companies are now taking a more proactive approach to attracting and finding the best candidates in their recruitment efforts. Companies miss out on hiring top talent without a strong employer brand.
So, what exactly is employer branding? Employer branding refers to the perception current, or potential employees have of your company. Essentially, it's how you communicate the entirety of the employment experience. Creating an authentic positive employer brand requires a ton of work – however, it pays off.
Some ways you can build your employer brand include:
2.1 Looking Closely At Your Company's Culture
Company culture has an effect on every facet of your organization, from recruitment down to performance and retention. When your employer brand is authentic and linked with positive company culture, hiring the best talent will be much easier. This involves looking at your brand carefully and finding out what other people think about it.
You can do this by conducting employee and candidate surveys and scheduling workshops. For example, if you have a brand that focuses on performance supplements and sports nutrition, you can see what workers say about your products and if they actually help with their workouts or diets. Even customer review sites can give you a good idea of how people perceive the authenticity of your fitness drinks.
Similarly, if your company focuses on creating positive employee experiences like sending farewell messages or supporting your employee's development, chances are, you create a positive employer brand, and more people want to be a part of your company.
2.2 Using Social Media For Brand Promotion
Your company should have a social media presence. They are not only a great place to reach your talent where they already are, but these platforms allow you to promote your brand by highlighting the good work you're doing in your field and your community.
For example, you can shine on an employee's accomplishment to show that your company allows its employees to take the initiative and be recognized for doing so.
3. Data-Centric Recruiting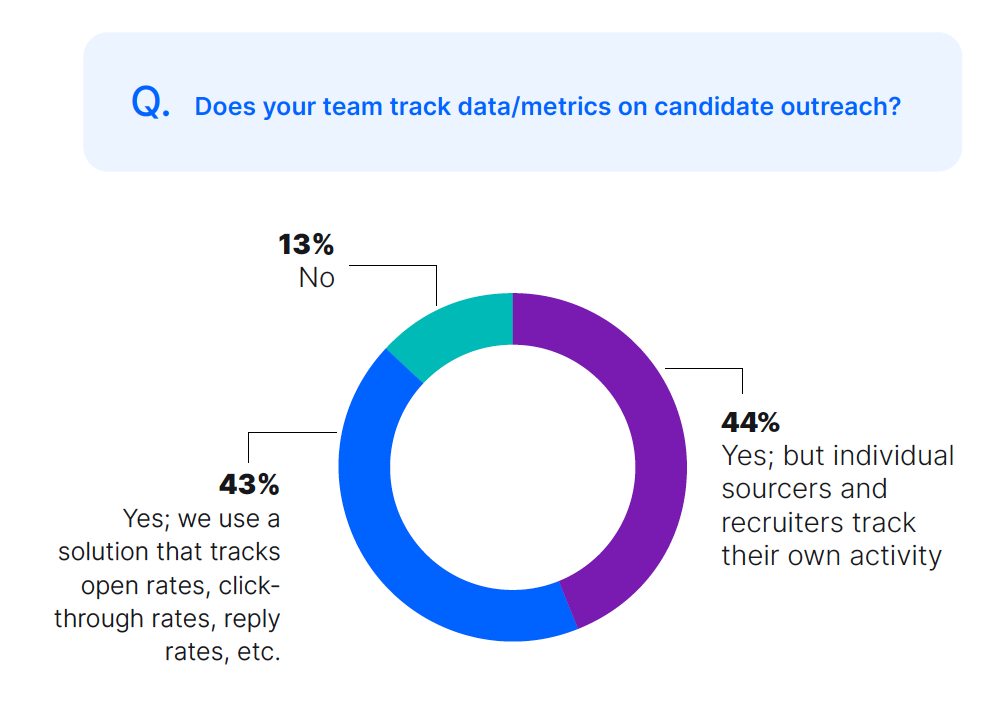 The use of data intelligence and its benefits are no longer a new concept in the world of recruitment. In fact, data-driven metrics are today's hottest recruiting trend. Gone are the days when data was used only for recruiting decisions. Today, advanced technology makes hiring decisions more precise than ever.
These dynamic tools are new types of recruiting strategies that enable recruiters to make hiring plans using data. It also allows recruiters to gain insight into which areas their recruitment strategies function well or otherwise. 
Sources of this data involve other technology tools like SaaS recruitment software (Application Tracking Systems) and marketing platforms in helping to manage the candidate pool and track applicants through the selection process. The data from software can help measure tactical metrics such as time-to-hire, candidates per hire and offer acceptance rate, making the process much simpler.
In addition, data-driven recruitment helps in allocating your budget and increasing productivity. For instance, you can track how many emails members of your hiring team exchange with candidates to see if there are specific stages where you can speed up your time to hire.
4. Hybrid-Work Model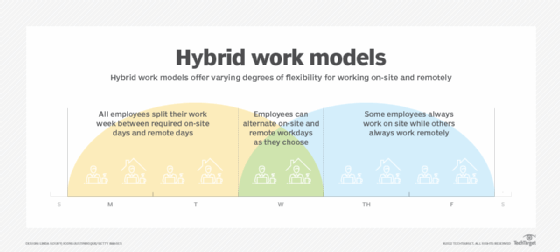 During the pandemic, there was a rapid shift to employees working from home. Now, as we move on from the pandemic restrictions, there's a more global demand for flexible forms of working, particularly to retain the element of remote work. Thus, the hybrid model became the go-to option.
In short, a hybrid model is an approach to recruitment that blends two forces: in-person and online. This allows individual candidates to have the best of both worlds, where they have the flexibility to get work done when, how, and where they're more productive. Hence, companies not utilizing this popular approach to attract top talent are automatically at a disadvantage.
5. Recruiting Automation & Al

It's no surprise that the world of artificial intelligence has penetrated the recruiting landscape, especially in management processes. Going by the statistics, its significance will increase more than ever, and we'll see more companies adopting this solution in 2023.
One of the biggest benefits of leveraging smart management software is that it saves you time by automating tedious tasks such as screening resumes, scheduling interviews, sending reminders, and managing candidates' progress. This makes it the best recruiting tool when screening and selecting new hires and reducing cost per hire.
The use of conversational chatbots is becoming a popular AI deployment in recruitment. These chat boxes save time by taking over routine tasks and filling in gaps by constantly being available.
In short, recruitment marketing automation allows you to automate and streamline repetitive tasks in the recruitment process, allowing recruiters to focus on finding qualified candidates.
6. Employee Referral Program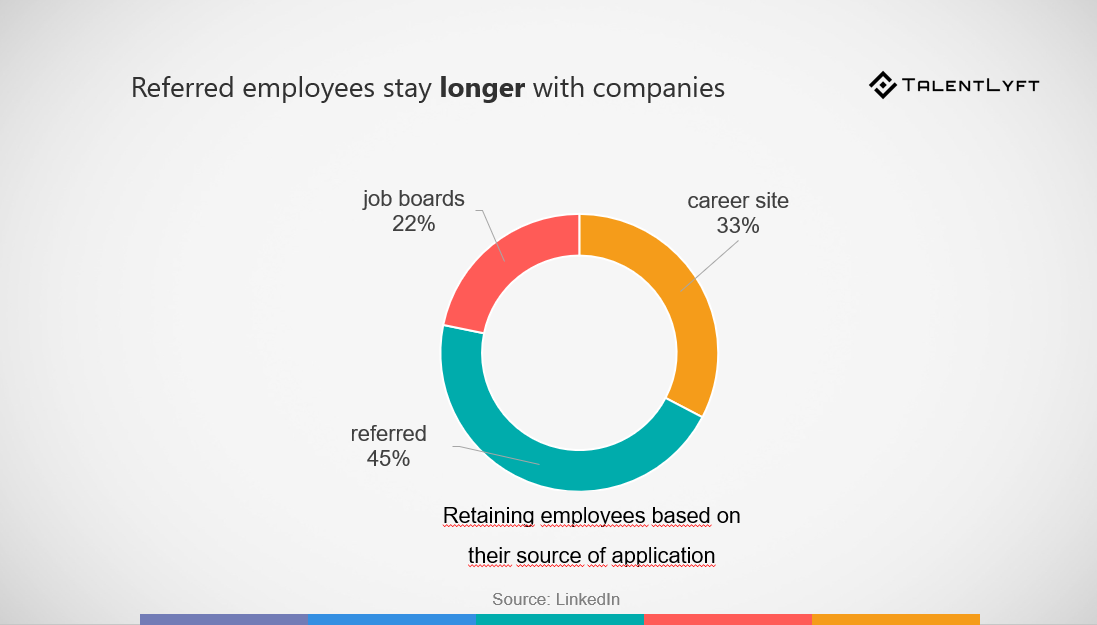 Recruitment is hard work. While recruiting software and plugins are great at improving the recruitment process by quickly advertising open positions at your company, they can be costly.
Leveraging your current employees, on the other hand, is much simpler. According to a report on social recruitment, the best talent comes from within.
That being said, most companies have an employee referrals program today. For one, your existing employees know your company's culture the best and, in turn, understand what kind of talent you are looking for.
In addition, employees have networks of people with similar skills and career ambitions. For these reasons, referred candidates are usually the best candidates you can hire.
7. Greater Use Of Social Media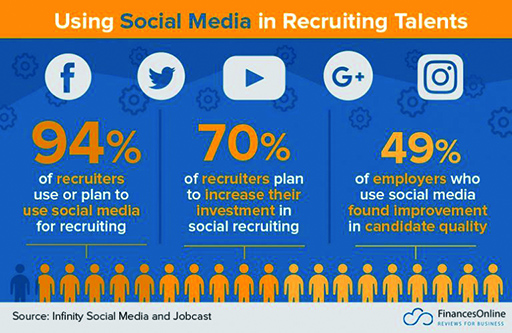 Social media is no longer just a trend. It's the most common tactic used for talent acquisition. Since the majority of people use at least one social media website, it makes sense to leverage these platforms to attract and hire perfect candidates. This provides an alternative path to traditional recruiting methods.
For one, social media recruiting increases job visibility. Today, every ideal candidate you could consider is on social media. There are more passive candidates than active job seekers, employers need to find methods to reach the two. Social media is the greatest way to do so.
Whether a job post or advertisement, recruitment content on social media allows you to promote your needs and reach a wider audience.
For instance, If you're looking to start a SaaS company, you should know that competition is one challenge talent acquisition teams face in SaaS recruitment.
However, with so many social media platforms easily accessible, you can easily target your audience and find the perfect candidate for your SaaS company.
In addition, content such as recruitment presentation videos and photos make great storytellers and make an organization stand out. They grab candidates' attention, engage, and even inspire them. To attract the best clients, creating high-quality video content for inbound marketing is essential to demonstrate that your company is relevant to the job seeker. This way, your online presence allows you to connect more with potential candidates and business partners.
8. Trending Freelance
The world of freelance is changing. The field is more appealing, with people preferring a digital nomad lifestyle and greater flexibility. People are no longer expected to work as full-time employees either.
Since there are over 1 billion freelancers in the world, it makes sense to leverage freelance platforms to attract suitable candidates.
With that, more resources are dedicated to making it as efficient and successful as possible. This remarkable development will continue unabatedly next year.
9. Recruiters As Business Leaders
As recruitment is the most important business strategy, talent acquisition leaders are now thinking long and hard before letting go of recruiters. This is because effective recruiters support your company to achieve faster growth. More so, yesterday's recruiter's role is changing constantly.
Equipped with efficient technological tools and know-how, they're more equipped to better engage with candidates. For instance, they are now proactively sourcing from outside and internal talent pools. The simple workflow enables recruiters and hiring managers to form close relationships and eradicate constraints to excellent talent pool management.
Conclusion
As businesses search for talents amid emerging technologies, knowing effective strategies will help give you a leg up on the competition. Regardless of the hiring strategy or technology trend, the final aim remains the same. Companies must attract the right talent in a way that improves the candidate experience.
The practices above will help companies adjust to the newly evolved workplace and improve their recruiting process. Creating a positive candidate experience and improving your employer branding are just some of the things you can do to attract top talent.
For greater chances of hiring the best candidate, you need to evaluate your company's culture and see what existing employees or other people think of your brand.
Essentially, a positive impression of your company will help you find motivated employees who want to be a part of something great. Did you find this post on the top best recruitment practices helpful? Subscribe for more articles like this one.