Are you struggling to attract top talent in the healthcare industry?
Look no further! In 2023, it's time to revamp your recruiting strategy and start utilizing email templates that are proven to be effective.
We've compiled a list of three must-have email templates that will help you stand out in a crowded market and secure the best candidates for your team.
So let's dive into these game-changing healthcare recruiting email templates and take your hiring strategy to the next level!
The quality of care at any hospital comes down to the staff.
Caregivers can completely transform the patient experience, so it's important to make sure you're finding the best candidates out there.
Healthcare recruitment can sometimes get tricky, but if you pay attention to each step of the process, you'll be well on your way to recruiting quality candidates that will make a difference in whatever healthcare organization they become a part of. 
Of course, your recruiting starts with research.
After you're done evaluating hundreds (or even thousands) of resumes, your next step is getting them to a way to consider the organization you represent.
That first line of communication is their first impression of you, so you need to pay attention to how you reach out and follow up throughout the process.
Healthcare recruiting email templates are an incredibly useful tool for anyone that wants to streamline their process, save time, and make meaningful connections with quality prospects.
In this article, we'll go over the basics of a great email, and then get into specific template examples for different scenarios.
Email basics for your healthcare recruitment agency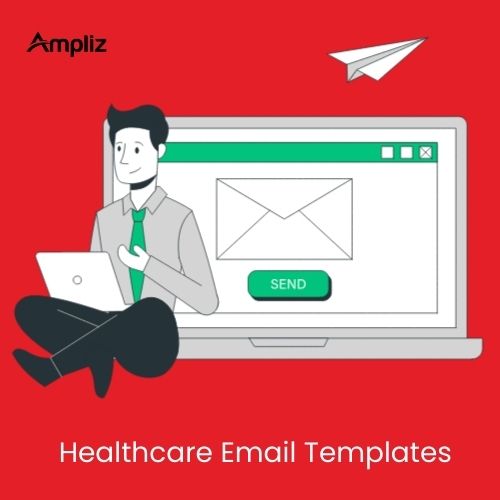 From cold recruiting email templates to final follow-ups, there are different templates to follow for each step of the communication process.
First, make sure you have the bases covered.
1. Subject
Make sure to keep this short and sweet.
Include something personal if you can, and be straightforward.
Don't write anything so long that it will end up getting truncated in the email feed.
2. Intro
Introduce yourself—state who you are and your reason for reaching out.
Try to write with energy and convey your professionalism.
Always keep it friendly and professional!
3. Body
In this portion of the email, you want to create excitement around your reason for emailing.
Make sure to set expectations, regardless of the specifics of the email.
4. What comes next
As you reach the end of your email, make sure you give the recipient an opportunity to follow up or take action in some other way.
You should set a timeframe when you can or identify a goal that should be reached.
No matter the nature of your email, it's important you have the basics down, so you can focus on the details to help you secure the most ideal candidates for the job.
When it comes to more specific reasons for reaching out, consider some of the email templates for your healthcare recruitment agency below to help you get started.
Introductory email template for healthcare recruiters
After going through countless resumes, maybe you finally stumbled upon the perfect candidate.
Your next step is structuring the perfect introductory email. You can follow the basic healthcare email template and the example below to get started on your own.
Don't be afraid to make it personal!
Example 1: Healthcare Recruiting Email Example
Subject: Cardiology position with Alpha Healthcare

Hi Jane,

My name is Linda Summers, and I'm a talent acquisition specialist with Alpha Healthcare.

I have been looking for someone for a cardiology position and came across your profile on LinkedIn. Based on your credentials, I think you'd be a very strong candidate for this opportunity. Your experience at West End Medical particularly stood out to me.

At Alpha Healthcare, we are dedicated to delivering the absolute best in patient care and keeping our facilities equipped with the latest and most reputable technology in the industry.

I would love to schedule a time with you to speak further about this opportunity if that's something you'd be interested in. It should only take up to 20 minutes to chat, I am available this week on Tuesday at 2 pm or Wednesday at 10 am. Let me know if you're free to speak at either of those times.

I look forward to speaking with you soon.

Thanks,

Linda
Take note of the simple and straightforward introduction.
Then, you make the candidate aware of what part of their experience made them seem like a good fit.
It's important you both know why you're about to engage in the interaction.
Share the most relevant information and features about your organization.
If you're not sure what that is, think about what you have to offer and think about how it might meet their needs.
Remember, the recruitment process is all about finding an equally beneficial match.
After you make initial contact with several candidates, you'll be able to conduct interviews and start to do follow-ups.
Follow-up Healthcare Recruiting Email Templates
Before you hire anyone, you might need to send some follow-up emails while you're interviewing other candidates.
You don't want great candidates to lose interest, so make sure you stay in contact throughout the process.
You want to make a good impression and show them you're on top of everything.
Follow-up Healthcare Recruiting Email Example
Subject: update re: cardiology position with Alpha Healthcare

Hi Jane,

I hope this email finds you well!

I just wanted to touch base about where everything stands with the position at Alpha Healthcare.

Thank you so much for your time and patience while we go through the interview process. Sometimes it can take a little longer than expected but you can rest assured that it is just to ensure we select the best match for the role. Your understanding is genuinely appreciated.

At the moment, we are in the final stages of the interview process and are expecting to have decisions made by the beginning of next week. If anything changes, of course, we will contact you if we become aware of anything.

I will touch base again when I have some more information for you. In the meantime, if you have any questions for me, please feel free to contact me at any time.

Sincerely,

Linda
When it comes to the follow-up email, there are a few things you want to make sure you get across.
You should show that you respect their time and that you're invested in their potential.
Make sure you don't let this part of your recruitment process drag on too long, as candidates are more likely to respond to a faster offer, especially if it meets their requirements.
After you start to wrap up the decision-making process, you can start thinking about what to say to your chosen candidates.
Once you have a decision made, don't waste any time sending out that last email to make your offer.
Job offer email template for healthcare recruiters
After the interview process, hopefully, you have one or more candidates in mind for the job in question.
The offer is your last chance to make an impression that makes a candidate want to work with your organization.
Make sure you have fully evaluated their credentials and filled in any gaps or questions about their experience.
You want your offer to fully reflect their ability and the expectations you may have set in the interview.
Job offer email template example
Subject: Offer from Alpha Healthcare

Hi Jane,

It comes with great pleasure to inform you that we'd like to formally offer you a position with Alpha Healthcare. After getting to know more about your qualifications and speaking with you about your experience, we concluded that you are an excellent fit. Your passion for working with patients stands out and we believe your values are aligned with our organization. We believe you would be a great asset to our team.

Attached to this email you will find further information about compensation, benefits, and a detailed description of your role and expectations.

Since we are operating on a somewhat tight schedule, we ask that you please take time to review this offer and let us know what you think within five days of this message.

On behalf of our entire department, congratulations! I hope to hear from you soon. Please don't hesitate to reach out with any questions or concerns regarding anything about this role. Thank you!

Sincerely,

Linda
In the job offer email, you also want to be short, sweet, and to the point. You don't need to think of anything creative or fancy-sounding.
A simple offer is exactly what your candidate is hoping to see and that alone should generate excitement about opening it.
Make sure you remind the candidate why you believe they make a good fit. As always, feel free to make this as personalized as can.
Details will differ depending on the department and specific of the position.
In addition, make sure you mention how they fit into the organization in general.
Of course, people want to feel comfortable in their position, but fitting into the work environment is just as important.
Conclusion
With so many challenges in the healthcare industry, finding the right staff can sometimes feel impossible.
Using these top cold recruiting email templates for healthcare recruiters is the best way to make meaningful connections with valuable candidates.
Once you find candidates that fit the bill, you want to make the best impression you can and ensure you aren't missing out on the loyal and dedicated staff.
Healthcare recruiting email templates are your first step in starting a meaningful conversation with valuable candidates.
Frequently Asked Questions On Healthcare Recruiting Email Templates
How do you write an email to a nursing recruiter?
When writing an email to a nursing recruiter, it is important to follow a few key steps in order to ensure that your message stands out and effectively conveys your qualifications and interest.
Firstly, start by addressing the recruiter by name if possible.
This shows that you have taken the time to research their role within the organization and personalize your message accordingly.
Next, introduce yourself briefly and highlight any relevant experience or education that makes you a strong candidate for nursing positions within their organization.
It can be helpful to include specific keywords or phrases from the job posting or website in order to demonstrate alignment with their requirements.
In addition to highlighting your qualifications, take some time to express genuine enthusiasm for the opportunity at hand.
This could involve discussing what aspects of the company's mission or culture resonate with you personally or sharing examples of how you've contributed positively in similar nursing roles in the past.
Finally, close with a clear call-to-action – this might involve requesting information about the next steps in their hiring process or expressing availability for an initial phone screen interview.
Throughout your email, keep your tone professional but friendly – remember that recruiters are often looking not just for qualification fit but also cultural fit when assessing candidates.
By demonstrating both competence and warmth in your communication style, you'll increase your chances of landing an interview and ultimately securing a great new nursing position!
How do you email a recruiter agency?
Emailing a recruitment agency is a straightforward process that requires attention to detail and professionalism.
Start by researching the recruiter agency you wish to contact, including their area of expertise, job openings, and hiring processes.
Next, craft an email that clearly highlights your qualifications for the position or positions you are interested in.
1. Begin with a formal greeting that includes the name of the recruiter or hiring manager.
2. Introduce yourself briefly and state your reason for contacting them.
3. Make sure to highlight your skills, experience, and education qualifications in line with what they require from candidates.
4. Include any relevant links to portfolios, resumes, or websites if appropriate.
5. Be concise but provide enough information so they can assess whether you would be suitable for any current opportunities available within their company.
6. Be sure not to leave out important details such as years of experience or specific certifications.
7. Finally, thank them for taking the time to consider your application and express your willingness to discuss further if needed.
8. To ensure maximum impact make use of an eye-catching subject line which makes it easier when recruiters filter through numerous emails daily.
9. By following these tips when emailing a recruiter agency, you will increase your chances of catching their attention and landing on their radar as potential candidate.
What are the best recruiting email templates?
When it comes to recruiting email templates, there are a few key elements that should be included to make the message effective.
Here are some of the best recruiting email templates:
1. The Personal Touch – Start your email by addressing the recipient by name and mentioning something specific about their background or experience that shows you've done your research.
2. The Attention-Grabber – Grab the reader's attention with an interesting subject line and opening sentence. Perhaps reference a recent industry development or ask a question they'll want to be answered.
3. The Benefits – In this paragraph, highlight why your company is unique and what makes it stand out from competitors in terms of innovation, opportunities for growth and development, benefits package, etc.
4. The Job Description – This section should provide detailed information about the job role including responsibilities, qualifications required, salary range, etc.
5. The Call-to-Action – End with an invitation for them to apply for the position or schedule an interview if interested.
Here's a template that incorporates all these components:
Dear [Recipient's Name],
I hope this email finds you well! I came across your profile on LinkedIn and was impressed by your extensive experience in [specific skillset/industry] at [previous employer].
We're currently looking for someone like you to join our team here at [Company Name]. Our company culture values teamwork, curiosity, and passion above all else which has led us to become one of the most innovative companies within our industry.
With regards to our open position as a [Job Title], we're searching for someone who can manage multiple projects while maintaining exceptional communication skills both internally and externally.
If this sounds like something you'd be interested in pursuing then I'd love to hear back from you so we can continue discussing how we might work together!
Best,
[Your Name]
Remember: A successful recruitment email not only provides crucial details but also highlights what sets apart employers from other businesses within their field whilst also being approachable and personal.