How to get the right data from B2B data providers? Data has become vital for sales and marketing functions. The performance of sales and marketing campaigns depends significantly on data and its quality.
B2B data helps organizations to enhance their understanding about other businesses, improve decision making, create more business opportunities, and help marketing and sales teams.
To achieve all these benefits of data, the data has to be of high quality. Poor quality of data does more harm than good. As per the research by Gartner, poor quality data cause the company an annual loss of about $15 million.
Therefore, companies should prioritize the quality of data over quantity. With so many B2B data providers in the market, getting data is no longer difficult, but getting quality data is.
Only a few data providers offer you the data that help you double your ROI, and achieve the highest profit. Curious to know who they are? Read on, as we are going to list down some top data providers.
But before that, let's understand what a B2B database is and its type.
Data is the core of sales and marketing functions today. The performance of sales and marketing campaigns depends significantly on data quality.
Many B2B sales professionals and marketers are still averse to the usage of a B2B Database. Therefore, this blog aims at understanding the usage of the B2B Database from the very beginning.
What is B2B Data Providers?
B2B data providers are companies that offer data products and services to businesses. Their products and services are designed to help businesses with their marketing and sales efforts. B2B data providers offer a variety of data products, including lists of business leads, email lists, and targeted databases. They also offer services such as lead generation, email marketing, and database management.
How to Choose the Best B2B Data Providers?
There are a few factors to consider when choosing best B2B data providers.
The first is the quality of the data. Make sure to check reviews and compare pricing between providers to get an idea of what you're getting for your money.
The second factor is customer support. You'll want to choose a provider that offers excellent customer service in case you have any questions or run into any problems.
The third factor is scalability. Make sure to choose a provider that can scale up or down as your needs change.
And finally, be sure to choose a right B2B data list provider that offers a money-back guarantee so you can try out the service with minimal risk.
What is a B2B Database?
A B2B database is an aggregation of the contact information of your prospects. A right B2B Dataset is an essential toolkit for businesses that hope to achieve better customer engagement.
B2B Database focuses on the firmographic information of the target audience. The firmographic report entails all the required attributes of a prospect organization.
Looking for a verified B2B database from best b2b marketing data providers?
Fill out the form and one of our representatives will connect with you shortly.
A B2B database is of 3 types:
Paid B2B Database
Paid B2B Database or a Paid Mailing List is a directory of contacts bought from an external data vendor. A paid or rented mailing list is less time consuming and sometimes cost-effective than building an in-house list.
In-house Database:
In-house B2B Database is the set of customer details built by a business internally through Sign Ups and personal reach-out campaigns. It contains contact data of the present and the past customers. The organizations collate and maintain the databases. If opting for an in-house database, firms need to preserve the data sanitization. Organizations can take the help of multiple online tools to maintain their lists and save the effort of maintaining hygiene. It takes time to create and have very high engagement and conversion rates.
Consensual Database:
It is also a variant of an in-house database. This data is collected from forums and similar places of business interaction. These are the places where businesses leave their contacts so that they can be contacted if any of the vendors meet the desired requirements. This kind of database has a very moderate level of engagement and conversion rate. The reason is apparent "you don't know if they still have a need." Since you only know that the prospects are in your domain, they will engage with the mail and if there is still a requirement. They will convert.
Best 25 B2B Contact Data Providers 2023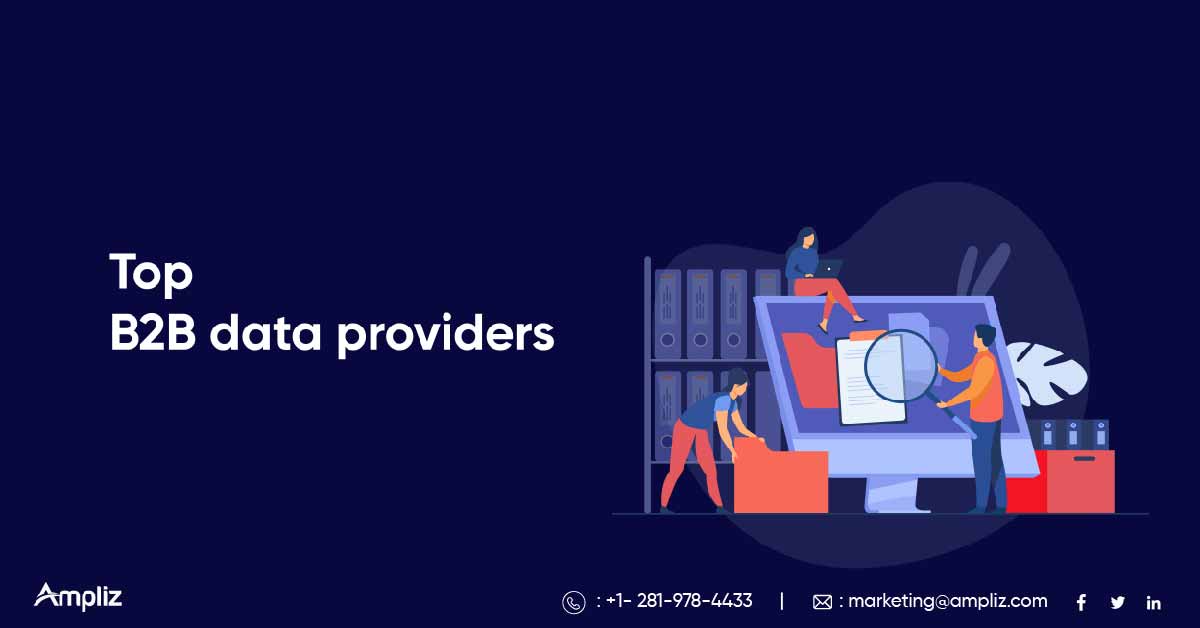 We have compiled a curated overview of the top 25 B2B Data providers 2023. Discover the list below to identify the right data provider for your needs.
Out of 25 B2b Data provider companies, Ampliz is having the best and most authentic B2B Contact Database.
Ampliz is a B2B Sales Intelligence platform to meet your Lead generation needs. We help you understand and identify your prospects with enriched data-driven insights in seconds.
Ampliz ensures the highest open rate and maximum response rate of your email marketing campaign with its most accurate, real-time updated, reliable and authentic dataset of your prospects. Ampliz collects the data from 100+ credible sources and gets them validated by 800+ experts. Ampliz ensures you the maximum conversion rate, as it offers the database of your most potential customers by tracking their buying history with the help of AI and ML.
2. Matrix Marketing:
Matrix Marketing is South Africa's premier supplier of business marketing information. Its  innovative approach to data research, technology-driven solutions, and specialized segmentation tools ensure their users can correctly identify and then target decision-makers to drive sales discussions and business development goals.
3. LeadSift:
LeadSift is a B2B intent data provider that identifies persona level insights. They combine data mining, machine learning, and AI to determine when a persona and a company are likely to be entering into a buying cycle.
4. EasyLeadz:
EasyLeadz is an India based B2B custom-data provider. This company lets its users find the contact details of their prospects while browsing their social media profiles. This company is known for its simple tool that produces accurate and customized  B2B database and sales information. India based B2B custom data as a service. High-quality B2B leads and B2B company contact databases for your lead generation.
5. Adapt.io:
Adapt is a global B2B contact and company b2b database provider across multiple industries. Adapt has over 200,000+ users and 90 million+ business contacts, including industry-specific company database and contact information such as job title, direct dial, and email addresses.
6. Databeyz:
Databeyz offers B2B Contact/Company Data helping companies maximize their reach and get their ROI. They are determined to open up the world of B2B Contact/Company Data. Their Goal? Keep Finding, Keep Giving. They exist to power Marketers. Databeyz uncovers the current movement of B2B Contact/Company Data as well as give some insights into the potential future. Databeyz offers B2B Contact/Company Data, helping companies maximize their reach and increase ROI. Databeyz is determined to open up the world of B2B Contact/Company Data.  
7. Leadspace:
Leadspace B2B Customer Data Platform empowers Sales and Marketing to find and convert their ideal customers through authentic, personalized engagement across all channels. Combining customers' 1st party data with unparalleled 3rd party data coverage, intent signals, and Artificial Intelligence, Leadspace provides a 360-degree view of customers and prospects and can accurately recommend the best marketing and sales activities to pursue.
8. Zoominfo Powered by DiscoverOrg:
One of the leading data providers, ZoomInfo provides separate platforms for sales marketing, talent management, and operations. Its content profiles include certification, employment history, online mentions, job duties, and so on. Together, DiscoverOrg and ZoomInfo now offer the most actionable and accurate business insights available today. The combined organization serves over 15,000 customers and 120,000 users across the globe.
9. Datastream Group:
Datastream Group, Inc. is a 17-year-old Data and Lead Generation company in Naples, FL they have a unique Consumer Database with over 250 million combined Opt-in emails with over 400 consumer demographic selections. 
10. X-tract:
Xtract.io brings in the power of Artificial Intelligence and Big Data to make data-informed business decisions and transform digital businesses. Their 17+ years of expertise in playing around with web data has rendered us to build our suite of products and platforms to automate data operations both on-premises and in the cloud.
11. PureB2B:
PureB2B is a data provider offering B2B Leads Data and B2B Contact Data. It is headquartered in the United States of America. PureB2B offers datasets in countries such as Australia and Belgium.
12. Salesify:
Salesify is headquartered in the United States of America. Salesify offers datasets in countries such as Algeria and Egypt. They provide a wide variety of consumer data. Salesify is a leading B2B demand generation service provider. They help businesses to accelerate their revenue by identifying, profiling, and nurturing the right decision makers within their targeted industry.
13. B2bLeadsData:
B2bLeadsData is a data provider offering Firmographic Data, B2B Leads Data, Company Data, and B2B Contact Data. It is headquartered in India. B2bLeadsData offers datasets in countries such as American Samoa and Australia.
14. Lead411:
Lead411 is a data provider offering B2B Leads Data, B2B Contact Data, B2B Intent Data, and Company Data. It is headquartered in the United States of America. Lead411 offers datasets in countries such as Guatemala and India.
15. NetWise Data:
NetWise Data is a data provider offering B2B Leads Data, Company Data, B2B Intent Data, B2B Contact Data, Firmographic Data, and Technographic Data. It is headquartered in the United States of America.

16. AnalyticsIQ:
Headquartered in the United States of America. They offer Demographic Data, Interest Data, B2B Contact Data, B2B Leads Data, Lead & Address Data, and many others.
17. Equifax:
Equifax is a data provider offering B2B Leads Data, Company Data, Consumer Credit Data & Identity Risk Data, Company Credit Rating Data, B2B Contact Data, and Firmographic Data. It is headquartered in the United States of America.
18. Aberdeen:
Aberdeen is a data provider offering B2B Leads Data, B2B Intent Data, SEO Data, Firmographic Data, Company Data, Business Ownership Data, Technographic Data, and B2B Contact Data. It is headquartered in the United Kingdom. Aberdeen offers datasets in countries such as Australia and Austria.
19. G2 Crowd:
G2 Crowd is a data provider offering B2B Intent Data, B2B Leads Data, Company Data, B2B Contact Data, and Firmographic Data. It is headquartered in the United States of America. G2 Crowd offers datasets in countries such as Afghanistan and the Åland Islands.
20. Dun & Bradstreet:
Dun & Bradstreet is a B2B Leads Data, Firmographic Data, Company Data, Company Credit Rating Data, B2B Contact Data, and B2B Intent Data provider. It is headquartered in the United States of America. Dun & Bradstreet offers datasets in countries such as Cambodia and Canada.
21. Demand Science:
DemandScience is at your service to make the demand generation process easy for you. They help you to connect with your potential prospects and convert them into qualified leads.
They provide accurate data and predictive insights that enable sales and marketing professionals to identify, activate, and convert the right buyers at the right time and help them in achieving their goals.
22. Uplead:
UpLead is a B2B prospecting platform that offers B2B contacts and company data of top-notch quality. Special features of this B2B data include real-time email verification, 50+ search criteria, technology tracking, account-based marketing, competitor intelligence, email pattern intelligence, social profile links, salesforce, 12 other CRM integration, robust API, and more
23. RocketReach:
RocketReach helps you to connect directly with your ideal prospects by providing you with the most accurate and updated database of emails and direct dials. RocketReach avails you of real-time verified data for over 700 million professionals across 35 million companies worldwide.
24. GrowmeOrganic:
This is an all -in-one sales tool that provides you with a verified email database of your prospects and sends email sequences with automated follow-ups. It extracts unlimited emails from Linkedin and exports them in the form of CSV.
25. Lusha:
usha enables you to establish fast and true connections with their leads, contacts, and candidates. It helps you to build trust using tools that allow you to enrich and verify business profiles.
Data sources of B2B Data Providers
Below is the list of various data sources for making a B2B database.
Associations
Subscribers
Buyers
Other data sources
Professional organizations
Magazine subscribers
Buyers who purchased
services or products similar
to yours
Directories
Trade organizations
Newsletter subscribers
Surveys
Seminars
Subscriptions for repeated services
Annual reports
Events
Industry directories
Trade shows
Corporate websites
Conferences
News reports
Membership organizations
Press releases
Yellow page directories
Public records
Product registrations
3 Reasons Why you Should Buy a B2B Database:
Better and faster targeting Opportunities:
A B2B list has information about industry vertical, revenue, key decision-makers, employees count, and others. These are useful to determine if a lead has the characteristics that align with the ideal customer persona. Purchasing the data means, you won't have to spend time and resources on collecting it yourself.
Cross-Channel Integration:
Cross-Channel marketing is when you selectively use offline and online marketing channels to reach the targeted audience. In consequence, you can spread your marketing spend, possibly generate more conversions and a higher return on investment (ROI). Accumulating audience data from several channels involves a lot of time and resources, which is a challenging task.
Paying for a B2B database means you have a decent number of leads to start your email marketing with SMTP Servers, create an audience for social media marketing, and maybe telemarketing. Customer relationship management (CRM) software will aid you import and integrate the data into your marketing campaigns. Social media management tools can help you to create audience for social media.
Collaborating with Vendor
Undoubtedly, high-quality leads come with a cost. In B2B lead generation, at least, the priciest list is usually the best. This price is based on the assumption that data is verified against multiple sources and actual contacts on the list rather than acquiring from some other non-reliable sources.
Therefore, be careful in choosing the partner company. The vendor should be able to tell you about their data sourcing and managing process. Ensure that the vendor has a great track record in providing B2B contacts that have excellent deliverability and conversion rates.
4 Reasons not to Purchase a B2B Database
Dated Leads
Contact lists from data vendors aren't always ready for immediate use. It needs constant updating to reflect recent changes in company affiliations, roles, and responsibilities and locations. However, not all data vendors are diligent enough to keep the databases clean so that you might end up with a batch of outdated and low conversion leads. Your chances of failure to address the right person increases.
High chance of reported as Spam
The worst thing that can ever happen after buying B2B leads is to be labeled as a spammer. Moreover, it's not a secret that data vendors sell the same contact lists to multiple customers with similar requests. Thus, there is a perfect chance that contacts in your list regularly receive a very similar offer from your competitors. It creates a wrong impression of you being one of those spammers. Therefore, you need to take the pain to personalize your messages.
Drawbacks
Data vendors are very less likely to answer how they put the database together. What kind of system they have in place? What is the source of the leads? What is the lead qualification method followed? Answers to these questions are essential so that you can have peace of mind and a certain level of confidence that your leads have a chance of a high engagement rate. The customers will be interested in your campaign's message. Or else, you might end up contacting someone who has no intention to be in any B2B databases. If this transpires, you may be chimed for sending unsolicited marketing email campaigns and banned from sending mails campaigns to people in your mailing list.
Wrong Segmentation
It will be inaccurate to say that it's easier and better to create segments when you have just bought a sales lead list for your B2B company. Just because a file has detailed firmographic and demographic information doesn't confirm the reliability of the data.
The only place where you can find great leads is the list of people you are interacting with or the roster of customers you already have. Your past customers have more affinity for a repurchase if there is an unbroken engagement with your brand. You know these customers in their entirety and understand how to segment them effectively.
Find b2b data providers that use the advanced artificial intelligence functions and enable you with insights that improve and lessen your lead generation efforts. Opt for advanced business directories that can help you concentrate on your efforts on better lead conversion and increase sales rather than stuck in the first stage of finding customers.
Buying a contact list doesn't come without risks and uncertainties, but if you're careful and strategic about it, it can pay off by adding both quality and quantity to your B2B leads list.

How to streamline Marketing Strategies with the B2B database?
Provide a Quality Customer Experience
In today's era, the expectation of B2B clientele has reached a new peak. And, receiving emails or offers not relevant to their interest or field might be annoying. This drives marketers to inculcate personalization to the strategies and posts.
Leverage the B2B data to customize your marketing communications to target customer segments. The personalization strategy helps in making sure that data collection is necessary to achieve goals with customer experience.
Focus on Content
While outreaching to new customers or existing customers, it is crucial to ensure that the message conveyed speaks rightfully for you. Buyers focus more on the value-added to the target customer that adds up in the long run. Strong informative content is a must to grab the attention of existing and potential customers.
Follow up
Establishing a personalized relationship with the prospects or clientele proves to be advantageous. The digital aspect of the marketing realm enables the marketers to outreach more people in a short span of time.
However, nothing compares to the impact of fabricating personal relationships with customers. Although a call or a meeting might not be feasible, a simple text sounds sufficient to keep in touch with the prospects and add value to the marketing efforts.
Buy B2B Data From Data Provider Company In India & Data Provider In USA
As mentioned earlier, considering buying B2B data from a data provider company can be a fruitful option for the organization. Ampliz is the Top B2B database provider that includes reliable and comprehensive information on your prospects.
The information gathered must be from credible sources and up to date as per the real-time details. Additionally, the B2b data must be verified and validated by the data experts to ensure a healthy outreach of clients.
If you want to automate your B2B marketing strategies, Ampliz is your best solution.
Get the B2B database and start customizing for your marketing campaigns.
Frequently Asked Questions: Top B2B Data Providers (FAQs)
1.What information is typically included in a company database?
The growth of your business depends upon how efficiently you do marketing of your product and sell it. But for that, you should be aware of the companies that might be interested in your product or service. Today in the market many companies are available, and they provide you with the data of your prospect's company. These company databases help you to increase the conversion rate, boost sales, and help you to take your company to the next level.
This database generally consists of names, email ids, company names, and LinkedIn profiles of the key decision-makers. This list will enable you to pitch the key decision-makers easily and smoothen your sales and marketing process.
There are many companies in India that avail you of the company database within minutes, but very few of them give you accurate and real-time updated databases and one of them is Ampliz.
Ampliz gives you the company database along with contextual intelligence right from your prospect's website. Ampliz sales buddy instantly gives you the prospect fit score, company profile, and contact information of key decision-makers
2. Are there any legal considerations that I should be aware of when buying a company database?
There are many legal considerations when purchasing a company database in India. The first consideration is whether the company database is being purchased from a governmental department or privately. In either case, there may be restrictions on the sale of this information.
1) If the purchase is from a governmental department, then it will be regulated by the Information Technology Act and the Right to Information Act.
The government may charge an administrative fee for this information but not more than Rs 100 per day for paper copies or Rs 20 per day for digital copies.
2) If the purchase is from a private enterprise, then it depends on whether it has been published with prior consent under Section 4 (j) of the Indian Copyright Act, 1957, and Section 8 (3) of the Indian Patents Act, 1970 under Sections 57-59 & 119 respectively.
3) Additionally if you want to sell this data commercially to other parties, you should get written consent from them beforehand and inform them about how their personal information can be used once sold to another party.
3. How can I use a company database to identify potential acquisition?
Generally, the data provider will give you the data of the companies that might be interested in your product or your service. But that doesn't mean that every company on the list will become your customer.
Identifying potential customers is a must for achieving a higher conversion rate. For this you must be aware of their needs, their pain points, their latest buying history, and their financial capacity.
If the company has searched for a product similar to your product and if they are able to make a quick buying decision, then that is your potential acquisition. You need to spend some time researching these details of the company.
But with Ampliz, you get all these details instantly. Ampliz sales buddy provides you with your prospect fit score, and Ampliz contextual intelligence will give you details about funding, tech stake, and automation stake, which help you to pitch better.
4.Are there any reputable companies that offer company databases?
No matter how effective and useful your product or service is, unless and until you have someone to use them. Once you are done with the development of your product according to the market research, the next important step to grow your business is sales and marketing of your product or service.
And the growth of your business depends upon how efficiently you do marketing of your product and selling it. But for that, you should be aware of the companies that might be interested in your product or service. But where do you find such companies?
Reaching out to such companies can be a game changer for your business. And that's why having company data is of prime importance. There are many companies in India that avail you of the company database within minutes, but very few of them give you accurate and real-time updated databases and one of them is Ampliz.
Ampliz gives you the company database along with contextual intelligence right from your prospect's website. Ampliz sales buddy instantly gives you the prospect fit score, company profile, and contact information of key decision-makers in a click