Since sales is the key in generating revenue, all organizations put their effort into having more sales. There are different marketing strategies they adopt to achieve good sales, sales promotion is one of them.
Sales promotion involves different promotional activities such as advertising, publicity, personal selling, direct marketing, running an offer for some time, etc. Sales promotion not only attracts new customers but also retains old customers.
What is sales promotion?
As per A.H.R. Delens, a renowned author of sales and marketing book, "Sales promotion means any steps that are taken for the purpose of obtaining an increasing sale. Often this term refers especially to selling efforts that are designed to supplement personal selling and advertising and by co-ordination helps them to become more effective."
Sales promotion is any kind of marketing activities and sales effort to promote products/services to increase sales rate. While running sales promotion, an organization should keep a few things in mind:
The cost of promotion and is it worth it?
Does this promotion damage the brand image?
Does that particular offer attract new customers?
Think, if any alternate promotion with less cost can produce more results.
"As long as the benefits outweigh the costs, moving forward is a good idea. It's crucial to take an objective viewpoint to avoid the unnecessary biases coming into play" comments James Durr of Auctioneers Property Solvers.
There are several things to keep in mind before keeping any sales promotion. Sometimes, for the sake of sales promotion, organizations offer a good deal at a cheaper price. Hence, people start thinking about the quality of the product which may spoil the brand name.
Apart from these, there are several good objectives of a sales promotion:
To increase sales rate and bring more awareness among a new audience
To stimulate old and new customers toward sales
To introduce a new product
To stand out from the crowd
To lift the seasonal decline in sales
Though different organizations adopt different promotional methods, the objectives are common. The aforementioned points are common in every organization.
Importance of sales promotion
As sales promotion is important for every organization, but now most of the organizations hire sales promotion managers to handle all the promotional activities. S/he is not only responsible for handling the promotional activities but s/he is also responsible for generating revenue from the promotion.
There are advantages and disadvantages of sales promotion. Sometimes, it affects a lot and sometimes it works well.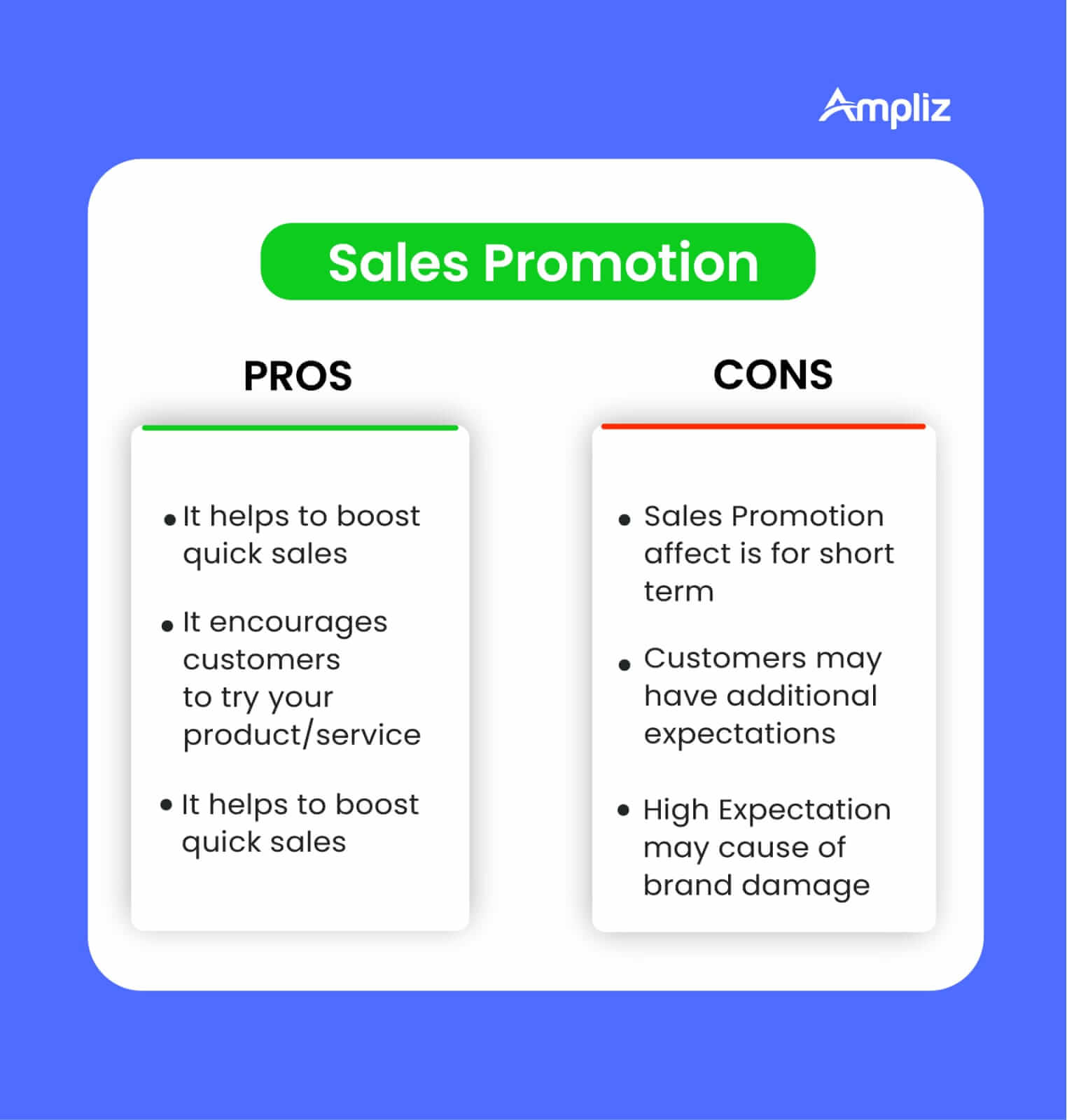 Types of sales promotion
There are several sales promotions many organizations adopt according to their business. Principally, four types of sales promotions are found in all organizations:
Consumer Sales Promotion
Dealer Sales Promotion
Business Promotions
Public Relations
1. Consumer sales promotion
Consumer sales promotion aims to attract customers by offering something valuable for the short term. Though it is for the short term, it attracts a lot of customers. The promotions can be samples, free trial, discount coupons, contest prize, price packs, etc.
When samples or free trials are provided, your customers will come to know about your product/services. Discount coupons, contest prize, and price packs are provided to attract customers. If you are new to the market, samples and free trials are the best options.
This promotion is good for the B2C industry. In order to spread awareness of the brand or attract the customers, the aforementioned promotions are result-driven.
2. Dealer Sales Promotion
Dealer sales promotion is employed when a company sells its products through retailers, distributors, or vendors. This promotion aims to stimulate sales by providing buying allowances, merchandise allowances, price deals, cooperative advertising, dealers' sales contests, etc.
Generally, this promotion happens in the B2B industry. This is also called trade promotion. Sometimes, salesmen are hired for one on one sales and in that case, the individual incentives are employed to enhance the sales.
3. Business Promotions
Business promotion is one of the efficient promotions to encourage sales. There are several ways to do business promotions such as partnership (joint promotion), sponsorship, participating in relevant exhibitions, etc.
In order to promote your brand or your products, offer a partnership with those whose audience is also your target audience. Though sponsorship is expensive, it is effective to promote your brand. Another magnetic tool of promotion is to participate in an exhibition or web submit. Bringing awareness of your brand helps attract people for the demo of your products and creates an opportunity for partnership.
These methods are especially for brand promotion than a sales promotion as brand promotion is the long-term fuel of sales.
4. Public Relations or Publicity
Public relations is completely different from other promotions. In this promotion, organizations don't have to sponsor or promote their products or services. This promotion is far away from commercial promotion. Generally, it comes from reference, reviews from experience holders, columnists or journalists. These reviews or references come from the performance of products.
The best tool for this promotion is to build good relationships with the customer, employees, shareholders, and different communities.
Sales promotion techniques
Several sales promotion techniques have been followed by different types of organizations. As explained above, consumer sales promotion adopts techniques like samples, free trial, discount coupons, custom certificates for gift vouchers and contest prize whereas the dealer promotion has other techniques such as buying allowances, merchandise allowances, price deals, cooperative advertising, and dealers sales contests.
The most common sales promotion techniques adopted by the overall types of business are:
Free Samples
Discount Coupons
Refund policy within the trial period
Quantity Gifts
Lucky Draw
Contest Prize
Provide the finance options
A sample packet of new product as a gift along with other product
Loyal Customer gifts
Some examples of sales promotion
Sales promotions are two types: internal sales promotion and external sales promotion. When the former refers to boost the internal team to enhance sales like offering high incentives, the latter refers to encourage customers to buy more products/services.
Here are a few external sales promotion examples:
Sales enhancement tools
With advanced technology, most of the organizations use automated tools to enhance their sales. It includes the different types of CRM, Ampliz Salesbuddy, Leadsquared, etc.
While CRM and Leadsquared help your sales team to organize the customers' data in one place which helps them to follow up or take action for the retention, Ampliz Salesbuddy is useful for the B2B industry. It helps your sales team to find the information about decision-makers. This information includes email addresses, LinkedIn profiles, phone numbers, and company information.
The beauty of this tool is it provides customized information about your prospects. Based on your request, this tool will provide you with more information.
Festive season sale
Though this sale is temporary and short-term, it provides way better sales than normal days. On any kind of occasion, most of the businesses offer something to attract customers. For example, on Black Friday or Christmas, you will find some kind of offer for a short period. This type of sales promotion is temporary.
Buy one Get one offer
Generally, every organization provides buy one get one free offer. It is good for both parties; businesses and customers. When there is a heavy stock of products and expiry dates are near, most of the businesses provide this offer. Consequently, the stock will be finished soon and more customers will come to you and new customers will be aware of your brand.
Also, if you are a new brand in the market and you want to sell your product, you can run some offer like this to bring awareness and to get more sales. This is the best example of sales promotion.
Customer loyalty programs
This is also another example with which most of the businesses get more sales and acquire new customers. Sometimes, a few customers like products or services and they continue to have the product or services for a long time. After a certain period, most of the businesses provide some kind of gifts to long-run customers as a loyal customer.
This program not only encourages to be a loyal customer but also entices new customers to take the long-term services.
Reward programs
Reward programs or providing extra points to the customers is a successful example of sales promotion. Mostly, this program is adopted by e-commerce or B2B industry. After close observation of the existing customers and their behavior, this program can be used aiming for the retention or referral.
Generally, rewards are provided to the customers as points to the account that can only be used for their websites to purchase. This program works as a bait to attract customers.
Joint promotions
Joint promotion is a good example of sales promotion when it comes to the B2B industry. It also helps to have a partnership with a similar type of industry. This may save a lot of costs if both parties agree on exchanging the products or services with each other.
Sometimes, both brands launch a product that consists of features of both brands and promote in the market jointly for more sales and brand awareness. When two brands work together, it grabs more eyeballs. Therefore, a joint promotion is much more effective as far as promoting sales is concerned.
Referral programs
Referral programs always work best no matter if it is B2C or B2B industry. Introduce some referral programs for a certain period, it will help you bringing new customers and encouraging the existing customers.
It has a both-way profit, a business will have a new customer whereas customers will get some amount or gifts as a referral bonus.
Let us know which sales promotion worked best for you
We have presented several sales promotions, techniques, and examples here. We would love to hear from you which techniques are helpful for you and result-driven.