Take a sportsperson as an example, and you provide that person with a selection of resources to improve and refer to while they work to get it finished, in all probability, it is okay to assume they are going to go through it more proficiently and successfully than someone without those possessions.
Sales enablement is a two-way ride that moves the indicator where it matters, motivating sales teams towards peak performance and customers to brand evangelism.
According to Aberdeen, companies with exceptionally effective sales enablement plans have:
32% of higher team sales quota achievement,
24% better individual quota accomplishment, and
23% greater lead conversion rate.
Also, 75% of companies utilizing sales enablement tools report increased sales in the preceding 12 months, with virtually 40% reporting an increase of 25% or higher. 59% of businesses that topped their revenue targets (including 72% that surpassed them by 25% or more) have very defined enablement tasks. Only 30% of underachieving companies can say that.
Tamara Schenk of CSO Insights in 2017 defined sales enablement as:
"Sales enablement is a cross-functional, strategic discipline designed to improve sales results and productivity by providing cohesive content, coaching, and training services for salespeople and front-line sales managers along the entire customer's buying journey, powered by technology."
The thing about this definition is though it was highly relevant in 2021; however, in 2022, it has lost its usefulness to some extent in defining sales enablement in its complete flair. The reasons for this are:
Sales enablement today is a data-driven process.
Sales and marketing are trying to align towards a common goal now.
Enablement needs to be aligned with the buyer personas.
Let's have a look at the more modern definition of sales enablement.
What is sales enablement?
Sales enablement is a strategic, cross-functional, measurable process designed to align with buyers' persona. It is for increasing the sales and marketing departments' efficiency and productivity by providing integrated content, training, coaching services, and tools for marketers, salespeople, and front-line sales managers through the entire customer's buying journey, powered by technology.
In a B2B organization, sales enablement products are often buyer-focused, with a fundamental goal of aiding sellers target the right consumers and engage with them successfully throughout the customer journey. It's about eradicating any barriers that might inhibit smooth exchanges and a seamless buying course.
Given that selling is now troubled with arguably more natural barriers than earlier, it's easy to see why it is of priority in establishments globally.
Why is sales enablement essential?
Sales enablement is a vital part of keeping healthy, successful sales operations. With amplified competition due to lesser entry barriers and more empowered customers, it saves sales and marketing teams precious time by keeping them aligned and in tune with content performance.
Companies today operate in a new reality: the way that buyers evaluate and make purchase decisions has changed. Therefore, it is critical to understand how important is sales enablement.
The key factors that make sales enablement important are:
Better sales readiness
Better sales engagement and retention
Success for client-facing employees
Effective use of sales tools
Better at scaling success
Better alignment of sales and marketing
More robust sales data
Modern buyers have become increasingly independent, and traditional forms of sales and marketing techniques do not work towards winning and retaining these customers.
Today's buyers have a strong predilection for buying from sellers that can add value and help them with their purchase decision.
Seventy-four percent of buyers choose to move forward with the sales rep; that's the first to share value and insight.
For adapting to these new expectations, a robust sales enablement is not only a nice to have, but also it's a competitive necessity. Sales reps should have the right content at the right time to keep buyers engaged.
Better sales readiness
Sales readiness is a core constituent of sales enablement, where the objective is ensuring salespeople have the right knowledge and skills to get the most out of every client dealings.
Being ready involves all the strategic activities that prepare reps to sell, such as onboarding, coaching, continuous learning, and reinforcement. It covers everything a rep might need to know on the job: product details, messaging, competitive positioning, and the many skills required to have valuable communications throughout the sales method.
When done right, shoppers will leave calls and meetings thinking they and their time were valued. Time spent with the reps should be well-spent – even if it does mean ending without a closed deal.
Better sales engagement and retention
Sales enablement survives to help reps achieve success. And when reps produce better results, they're more likely to be involved deeply with their careers and stick around at your establishment long period.
SiriusDecisions report states that establishments with high-performing sales provide more learning, peer learning, and advanced skills training opportunities than low-performing teams.
It extends not only to sales reps but also to sales managers. Equipping front-line managers to support reps with proper training and communication skills, develops seller engagement, and helps to march towards better results.
"How your sales managers motivate, inspire, and engage your sales teams is the single most important practice to drive seller engagement." – CSO Insights
Success for client-facing employees
Quota-carrying sales representatives aren't the only ones who need care; everyone who directly faces your consumers will also benefit from relevant content, training, and training. It includes everybody from sales engineers and consumer success to service teams, channel partners, and marketers.
When it comes to channel vendors, for instance, B2B organizations need a way to keep independent representatives engaged with your messaging and driving revenue for your brand, instead of a rival company.
Effective use of sales tools
Sales representatives might use various tools in a given time. There are CRMs, communication tools, engagement tools, intelligence tools, sales enablement tools, and many more.
Some of these tools represent significant funds for the businesses, so it makes sense that you'd want someone to ensure representatives know how to use all this tech to the fullest extent.
CSO Insights reports that sales tool usage is the 2nd-most usual main concern of sales enablement teams nowadays.
Sales enablement works with seller teams when new releases surface, provide relevant training, and make sure vendors can make the most out of their resources.
With the right groundwork, representatives can even turn their sales tools into a critical differentiator for your company.
Better at scaling success
By uniformly arming its sales representatives with recognized sales enablement tools, a business becomes less dependent on traditional top performers to bear the burden. This support helps laggards reach quotas, and propels middling sellers into the next tier.
Better alignment of sales and marketing
The optimal use of supportive content in the sales process is often a critical factor in the sales enablement equation. The salespersons are more successful when they can be responsible for prospects and leads with the right resources at the right time—as such, reinforce the relationship and collaboration between sales and marketing is a crucial aspect of sales enablement — one with many benefits of its own.
More robust sales data
With so much B2B business now taking place online, sales enablement tech has rapidly gained importance, and many of these solutions have majored in data — collating it, organizing it, and stimulating it for the sales team. Insights around consumer preferences, pain points, and personas help vendors reach prospects with a more tailored tactic, which is crucial at a time where 64% of B2B decision-makers say they won't take part with a salesperson if the communication is not personalized.
But you also have to take a look at sales enablement past the impact on sales and marketing. You need to see the extra benefits to vendors and consumers.
On the retailer side, the sales enablement method can play a significant part in:
Recruiting and On-boarding: It is all about probability. Guarantee that you are getting top talent by keeping the interview process consistent with reusable documentation. Also, provide repeatable onboarding to get that top talent up-to-speed as quickly as possible with training, content, resources, and more.

Continuous Training: Provide teaching that can be measured. Offer best practices from the industry or sales frontrunners. Enable suppliers to learn new technologies or sales tactics.

Performance Reporting Assessments: Have ways for vendors and executives to tweak performance without being too unsettling. Offer a frictionless feedback system.

Coaching: Put retailers in a position where they feel at ease taking advantage of training through videos, webinars, and documentation.
On the purchaser side, the sales enablement procedure helps:
Ensure that the sales method maps to the buyer journey for better interaction
Tailor and adapt content and communications to specific customer personas to build relationship and trust
Give buyers a way to provide connection and feedback that can be leveraged by various individuals or departments for faster response or resolution
The Sales Enablement Strategy
At a top-level, the tactic should convey what your crew does, how it prepares it, goals, and main tasks for the year in advance.
As sales enablement is such a developing area, there's a discrete lack of enablement thought leadership, best practices, and models accessible, let alone resources that specifically cover strategy.
I hope that this column and the sales enablement strategy template will aid in making the right that wrong, and generate discussions and critical feedback within the sales enablement community.
How to Create a Sales Enablement Strategy?
While there's no industry-wide arrangement on what a sales enablement strategy should include, the key components and fundamentals are:
Mission
Tactics
Serving
Plays
Goals
Responsibilities
Omissions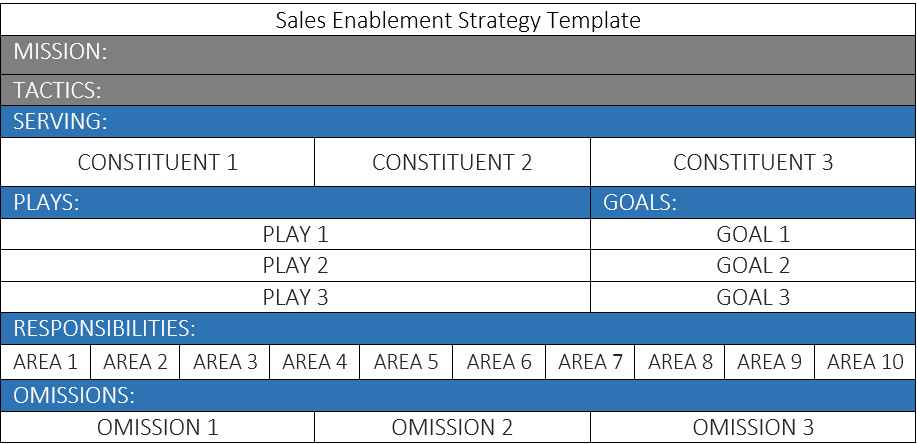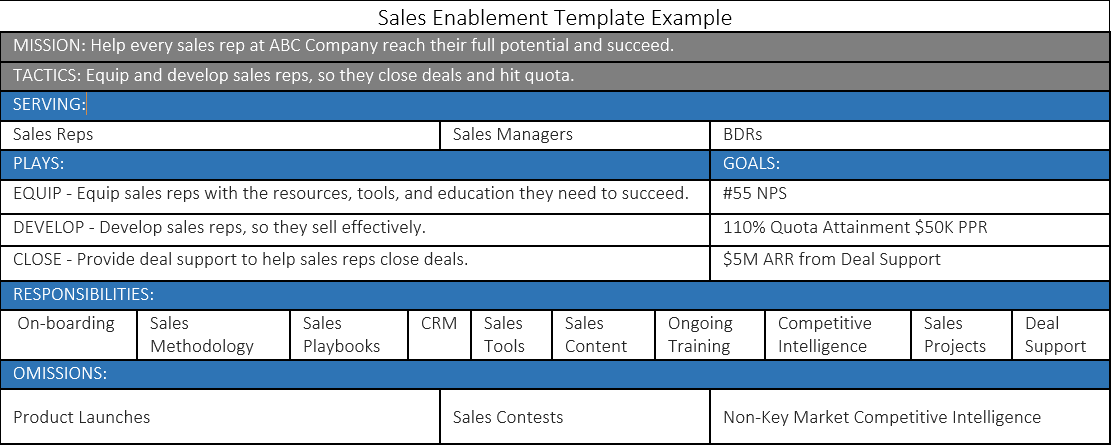 Mission
Your sales enablement team task should be aspiring and explain what your team seeks to do. It should include an emphasis on the long term and hardly ever change (if at all). In my knowledge, the best teams have a duty that is unstated and often repeated.
A long term sales enablement task acts as a North Star metric – everyone can comprehend where the squad wants to get to, even if they're uncertain of the route they'll take to get there.
Tactics
A sales enablement team's strategy should be simple to understand, encapsulate what the squad does, and will likely alter every year. In the first instance, when fashioning your plan and promising it, it'll perhaps be too lengthy.
You'll have to spend time creating it more concise and boil it down into a couple of digestible themes that tie back to a central goal that your team wants to smash.
Serving
Sales enablement's role, as its name advocates, is to empower, partner with, and eventually, serve others. You should take the time to recognize and communicate who your principal backers are (it's likely to be sales leadership and sales reps). Whom does your sales enablement crews serve should be reviewed every year and will likely expand as the businesses evolve?
Plays
It is the pleasurable part. You should jot down the key plays that'll bring your tactic to life and help the sales organization succeed. The plays are the significant initiatives that the sales enablement function will emphasize on each year.
While you can mention precise sales enablement actions and tactics in the template, it's often more appreciated to describe broad themes, as you'll likely be running several events per the subject.
Goals
There are a plethora of sales enablement metrics that we should track. However, you will initially need to devote time finding out what the key challenges are, and then build a strategy to overcome them. Once you have taken the required steps, it's then time to consider goals and measurements.
At a high level, the chief factors to contemplate when setting sales enablement objectives are:
Do business and sales objectives align?
How do they influence revenue generation?
Can you track them?
Monitor these goal-setting principles, and you'll have a rock-solid foundation on which to build a sales enablement system.
Responsibilities
Sales enablement is an extensive area, so a crucial part of constructing an enablement function is outlining the team's duties. It is frequently poorly defined and subsequently misunderstood, so clearly describing your duties and communicating this to the business is essential.
A sales enablement role can be responsible for any of these areas:
Sales process and methodology
Onboarding
Sales tools and technology
Sales playbooks
CRM
Sales projects and campaigns
Competitive intelligence
Sales content
Deal support
Ongoing training and development
Omissions
One of the most vital but overlooked parts of every sales enablement strategy is deciding and communicating what work needs omitting.
Omissions are projects that will not receive that year. There's hardly a lack of good ideas and work. You have to find it, but it's essential to decide what job does not require your attention and action.
By clearly sharing your omissions, you can help drive orientation and set the right anticipations with other teams and stakeholders.
At HubSpot, CEO Brian Halligan frequently repeated to his staff that "companies are more likely to die of indigestion than starvation."
What he meant to say was, as software as a service (SaaS) companies breed, there's always the temptation to do more. But if you're not strategically inclined, you risk becoming slow, bloated, and unfocused. This lesson is for sales enablement and any function.
5 Tips for Building Your Sales Enablement Strategy
Organizations use it to make, refine, and deliver content and knowledge to the sales team so that they can provide a valued sales experience for potential customers. And like any capable team, a sales team's success is evident through accomplishment. Realizing the five tips below into your own sales enablement strategy will improve your win ratio in no time.
Collate deal, account, and contact information in a single place: Salespeople only spend 35% of their time in sales. Given the campaign activity, any previous correspondence, and connection information into your sales enablement system can save salespeople treasured time. Use that now to engage with potential customers in a more contextually appropriate way. It's also crucial for salespeople to track and keep this information for later conversations.


Collaborate, communicate, and offer feedback: Marketing and sales teams are more connected than ever, and it matters. According to Marketo, sales and marketing orientation can help companies become 67 percent better at finalizing deals. Sales and marketing cannot exist as independent entities; both need each other to succeed. An effective sales enablement strategy is put together jointly by sales and marketing and necessitates a willingness to work together and communicate proactively. Sales enablement tech that can support this alliance— whether it's through communication networks, content hubs, or both—is a prodigious way to double down on your enablement strategy.


Give salesperson the tools they need (and want) to be effective: If the content that supports sales discussions matches up with what salesperson is looking for and helps them earn deals, they will want to implement it. But there is always the risk of representatives using outdated content: data and numbers change, links need updating, and alter the branding guidelines. Using means that ensures that the latest collateral is being served up to sales and pooled with the field will make salespeople effective, especially when it makes selling more manageable. It doesn't add additional steps to the sales method. Further, if your sales enablement technology can bond with your LMS or other training systems, reps will be able to study on-the-go and in a more contextually relevant way, making training more sticky and more effective.


Make sales collateral handy: Marketers spend hours creating stunning and applicable pieces of content for the salesperson to use in the turf. But being capable of finding that content among different sources or portals, mainly if representatives are on the go, is no easy feat. Successful sales enablement needs intuitive content that discovers representatives where they are, not the other way around. Using sales enablement tech that helps line up content with sales-related undertakings and account lists is a great place to begin, and making that content available from wherever agents are working—on mobile, offline, or in-person—is even better.


Instruct and train: What good are the finest sales enablement and CRM tools if the sales squad doesn't know how—or doesn't want—to use them? It's essential to validate the value of these tools because if the salesperson doesn't capture their value, they won't want to use them. Ensure that all salespeople go through the onboarding and hold workshops on new technologies or strategies as they are available.
Sales enablement tools
With amplified competition and amplified buyer power, sales operations and procedures have had to become more complex to provide potentials with the right content at the right time. The need for sales enablement systems has grown accordingly.
Using the right sales enablement software, sales & marketing teams can work together effortlessly to distribute timely, relevant, and on-brand content to future buyers. But with countless sales enablement tools out there, it can be challenging to fix which ones will save your business time instead of creating more work.
The tools offer solutions that incline to fit into one or more of the resulting categories: sales asset management, sales engagement, and sales-readiness. The table below categorizes the tools as:
Another way to taper down to the right set of vendors is to rely on independent analyst firms.  Three major analyst firms covering sales enablement are Forrester, Gartner,  and SiriusDecisions. All of the three analyst firms have published reports on sales enablement. You can check out this list of sales enablement tools for more information.
B2B sales enablement
B2B sales enablement emphasizes on getting the right information into the hands of the right suppliers at your establishment at the right time and place.
We all recognize that content is an essential tool for your sales team. And if you're not arming sales with the content they want, you're losing the attention and interest of your most prized leads at the most decisive points in the buyer journey.
Use these B2B sales enablement advice to stop the blame game between your sales and marketing teams and start selling more stuff.
Align on your buyer personas with the buyer journey

Buyer personas must be established by your sales and marketing teams together. They need to have these honest conversations to understand to whom they're selling to, what they're most involved in, and which topics to create content.

Before crafting any piece of marketing content, ask, "Would any of my target clients want to read this blog? Take this marketing guide? Attend this webinar?"

Sales and marketing also must have a shared understanding of the buyer journey map. The more both sides comprehend the buyer journey, the more likely you're able to effectively align your content to buyer necessities, anticipate the buyer's questions and overcome the objections they may have.


Keep your sales team in the know-how of when and where they can find marketing content

Sales representatives need the ability to adapt content to align with their buyer's requirements. They want to demonstrate that they've done their study, and they truly understand the buyer's present state. By doing this, sales representatives can distinguish themselves from the sea of competitors.

It means that marketing should craft content that supports sales representatives without shackling them. Create templates for sales reps to easily tailor content to meet the buyer's requirements. These templates can identify which features can be modified and which parts can't be changed while still communicating a unified marketing message.


Test and perfect your marketing message with your sales reps

Set it and forget it. It may work for rotisserie chickens, but it doesn't work for your marketing communication.

Your marketing team should ask for constructive criticism about the messaging in use. Is the message applicable? How is it being acknowledged? Is it convincing? Does it suck?

Sales representatives have the unsurpassed information on what objections and frequent questions appear in the discussions with leads. The response loop between sales and marketing is vital to optimizing and shortening your sales cycle.