In this digital realm, patients spend most of their time researching the best dental clinic and treatment. Read out Proven Dental Marketing Strategies To Follow In 2023.
To scale growth, creating a digital presence on all websites, listings, and social media channels is key.
If you are not leveraging your dental practice using the right dental marketing strategies, you are missing out on massive revenue-earning opportunities.
If you are into marketing  Medical devices companies, Pharmaceuticals, or healthcare marketing, it is significant to be active on all digital platforms – where your target customers are. 
And if you are a dentist, you might think that marketing your dental service is not a full-time job.
But, to excel in scaling your business, you will have to work on multiple full-time jobs simultaneously.
That is because other dental services in your local area are very competitive.
Many dentists seek help from a dental marketing agency to secure more clients. This cost-intensive proposition may not produce desired outcomes.
You can beat the competition by optimizing your marketing campaigns and advertisement design with local marketing software.
Moreover, this marketing automation software will help you to save lots of resources while promoting your local business online.
But, to be a successful dental marketer, it is crucial to keep track of digital campaigns, count website visitors, increase conversion rates, and look for opportunities to accelerate the customer base.
Here are the Top dental marketing strategies for your consideration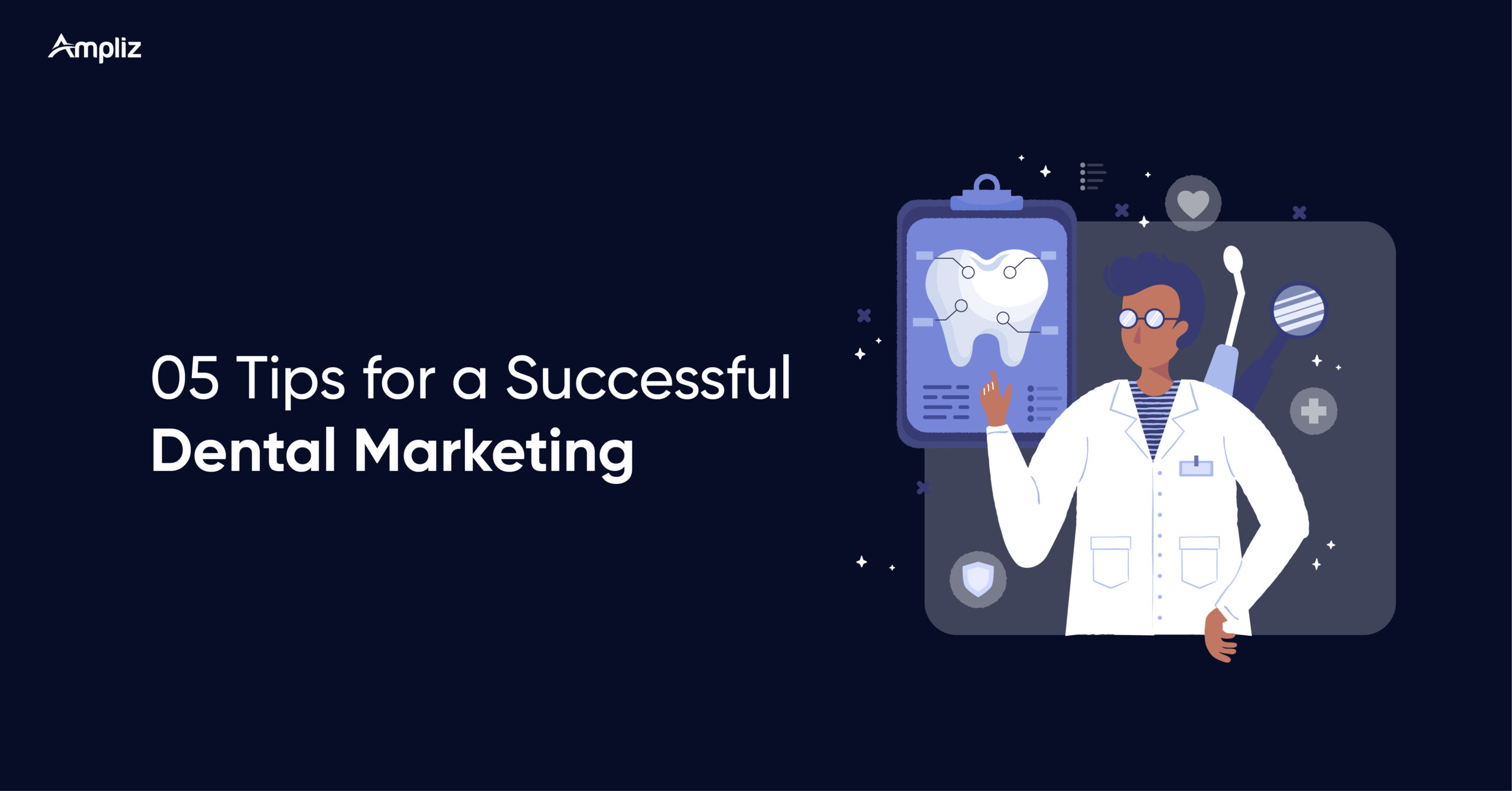 Do research on your competitors
See what your direct competitors are doing. Look at their websites, sign up for their email newsletters, keep track of their special offers, and call their offices pretending you are a prospective patient.
Learn how they do it and how you can improve your practice.
Make your brand stand out
Creating a consistent color scheme, voice, and message across all of your marketing materials, including your website, is an important part of building your dental practice's brand.
A positive reputation for your practice can be established by being a member of your community.
Sponsor a Little League team, visit schools to discuss career opportunities, give away branded toothbrushes or goodie bags.
Know your customers
If you wish to establish your dental practice to the general public, or do you cater to a specific demographic?
If you specialize in cosmetic or pediatric dentistry, for example, it doesn't make sense to market to the general public.
Figure out who you want as patients, and then make your practices appealing to that demographic.
Be a Storyteller
The storytelling process might look traditional, but it helps attract more patients and accelerate your service growth.
Today, patients understand the difference between a seller and a solution provider.
To be a successful dental marketer, you should consider adopting effective storytelling tactics, such as crafting stories that correlate with customer pain points and emotions to leave a long-lasting impact that is difficult to forget. The best stories are patient testimonials made by patients who are happy with their experience.
Furthermore, a good storyteller needs to be on top of their patient prospects. When they think of approaching any dental brand, they think of your dental services.
Above all, the main aim of being a storyteller is to assure the patients that your dental service is the best solution for their oral health problems.
Set Smart Goals
A dental marketer must set smart goals that are specific, realistic, and achievable within the set timelines. The first step is to define short-term and long-term goals.
Next, keeping a constant eye on website traffic and social media engagement will help you assess where your business stands and take appropriate action if necessary.
As your numbers improve gradually, alter your targets to achieve continuous growth.
Know Your Target Audience & Competitors
If your digital marketing is not resulting in increased engagement, you have missed a trick or so in understanding your audience, and your competitors will be in an advantageous position to acquire more clients.
To know where your target audience is, research and understand where they spend their time, the communities they follow, and the brands they like or own.
Knowing your target audience is half the battle won.
To win more customers from the digital landscape, keep track of your competitors' activities online.
Successful marketers know their competitors inside out and can plan their campaigns better to outperform them.
Be a Good Listener
When you are in dental practice and providing solutions to patients, you must know what your customers are saying about you in the digital space.
Suppose your patient had an unpleasant experience at your clinic and fuming about it on social media.
Suppose you are taking this challenge as an opportunity, following up with the customers, and addressing their concerns.
In that case, you are building trust by being a good listener. In contrast, if you are not paying attention, hundreds of your potential clients will choose your competitors over you.
Suppose you listen to your customers and respond to them promptly. In that case, they will consider giving your dental service a try.
Or best, you can ask them to consult you at your clinic. Know that by including a customer in your social network, you can build a community of people who will prefer your service over others.
Keep Learning
To be a successful dental marketer, one should keep learning. And to attain the knowledge, you can seek education blogs, research articles, e-books, subscribe to industry newsletters, and participate in medical conferences.
In essence, you can learn all the dental marketing techniques on your own by leveraging these resources.
With continuous learning, you can gain more patient insights, decode the customer pain points, know your client personas, and plan your marketing campaigns accordingly.
If there is one thing that can make you a successful marketer, it is continuous learning.
Summing Up
As a dental marketer, being successful is not an easy task.
Tracking data, brainstorming an innovative idea, keeping up with the latest pharma marketing trends, and implementing relevant marketing strategies require much effort and time.
But by following these valuable tips, you can scale like never before.