B2B marketing is hard.
Because the nature of many B2B products is technical, many marketing strategies that work for B2C companies cannot be applied in B2B marketing.
Moreover, the target audience for B2B products is often more niche and segmented, knowledgeable, demanding, and generally hard-to-impress.
As a result, there are few marketing strategies that B2B companies can apply to boost conversion rates. One of these few strategies is blogging.
When carefully developed, blogging can bring a lot of benefits to a B2B company.
According to statistics:
B2B marketers that invest in blogging get 67% more leads than those who do not
B2B companies that post blogs more than 4 times a week see a bigger increase in traffic and new leads
57% of companies that use blogging have acquired customers from their blogs
marketers who prioritize blogging are 13 times more likely to get positive ROI results
Judging by these numbers, blogging can potentially be one of the best solutions to help a B2B business boost conversion rates. Yet, 60% of B2B marketers struggle with creating engaging blog content and lose money because of a poor content marketing strategy.
As you can see, having a blog is not enough. The quality of content is what you should be striving for if you want your blogging efforts to work for your benefit. It's all about the B2B copy that you write for your blog that will or will not help you turn leads into customers.
So, let's take a look at a few useful tips that will help you write an engaging B2B copy for your blog that nurtures leads and boosts your conversion rates.
1. Plan Your B2B Copy with Your Audience in Mind
If the primary goal of your B2B blogging efforts is to boost your conversion rates, you need to know exactly who you're planning to convert.
Writing blog articles with your audience in mind will not only help you come up with topic ideas but also craft the copy that your potential customers want to read.
Here's how you can develop the audience persona to write a more targeted B2B copy:
Start with demographics. Describe your audience persona with detailed information about their age, gender, family status, education, industry, job position, income, location, and language to help you better understand the reality of your target audience.
Select the identifiers. Identifiers are the factors that help your target audience stand out. These can be their interests, hobbies, as well as their needs that may make your audience interested in your product.
Define goals and challenges. Using the demographics and the identifiers, choose the goals and challenges that your audience persona faces and describe how your product can become a good solution for them.
If you follow all the above-mentioned points, the description of your target audience persona may look something like this: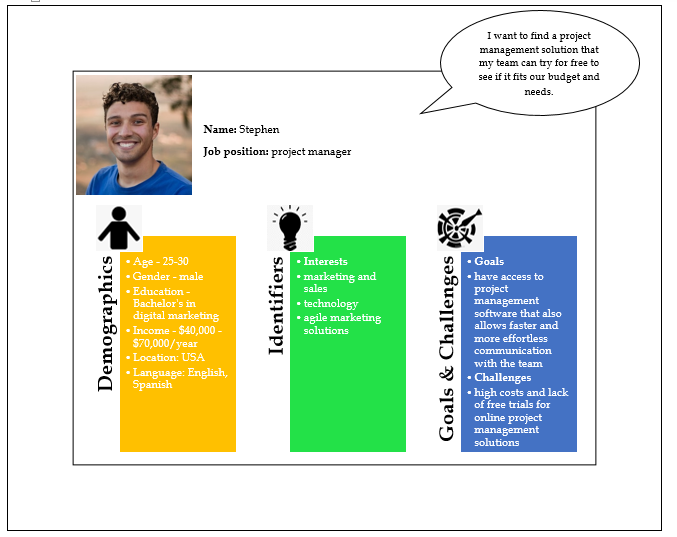 The description of a target audience persona gives you basic details on how to write and what to include in your B2B copy to make it more engaging. Most importantly, it allows you to craft a copy that directly addresses the needs of your target audience, helping you boost your conversion rate.
2. Pay Attention to the Headline of Your B2B Copy
Headlines are the first thing a potential customer pays attention to when they first visit your blog. That's why, before writing the body of your article, consider how you can effectively lure the visitors into reading the copy with your headline.
What's most important about the headlines of a B2B blog copy is that they should directly show the value that the article is carrying. Martha Kennedy, a copywriter and editor at GrabMyEssay, shares: "Our recent research has shown that B2B consumers choose to read blogs that, first and foremost, concentrate on value over the company's promotional needs."
With this in mind, you can choose one of the following types of headlines for your B2B copy.
1) A headline that includes numbers
Evidently, when a potential customer sees a headline with a compelling number in it, they are more likely to click on it and continue reading.
This fact is proven by BuzzSumo's study of over 100 million headlines, reporting that the articles that contain the numbers 5, 7, 10, and 15 in the headlines have the best performance.
The example of Tidio, a B2B company that creates and optimizes chatbots, proves this point. If you take a look at the current top-performing articles on their blog, you'll see that the ones that have headlines with numbers perform the best:

In your headlines, you can include statistics, study results, and other numerical data that will work for your benefit, adding more credibility to your article.
2) A headline with a question
Questions work well not only for the article headlines but for email subject lines as well. Such headlines spark curiosity, pushing the visitor to read the customer to find out the answer.
You take a look at the blog of Digital Olympus, a company that does link-building and outreach for B2B clients, to compare the performance of the headlines with and without questions:


As you can see, the first headline has a question in it, and its performance is considerably higher than of the headline without a question. You can use this to your advantage if you need to increase traffic to your blog posts and boost conversion rates.
3) A how-to headline
We already mentioned that B2B consumers are mostly looking for value when choosing which blog to read. And, how-to articles and guides are the primary examples of delivering value through blogging.
As a result, including the words 'How-to' or 'Guide' in your headlines can significantly boost engagement and conversions because these articles indicate immediate value. You can see that from HubSpot's example, whose how-to blogs have better performance than other articles:


As you can see, when the headline indicates the value that the article delivers, it gets more attention and more reads than other articles. You can try this approach when writing headlines for your articles if you need to boost engagement and conversion rates.
3. Consider Structure, Length, and Readability
When writing a B2B copy, structure plays an important role. It helps create a flow that will to a CTA and, ultimately, convert a visitor into a customer.
There are three main types of structure to create a more compelling B2B blog copy:
Before-After-Bridge (BAB). This type of copy structure directly addresses the needs of your target audience. You start by describing the customer's world before and after they found out about your product, and then get into detail, how and why your product became a solution.
Problem-Agitate-Solve (PAS). The PAS structure starts by identifying the problem in detail. Then, you proceed by agitating this problem and which losses it can bring if a customer does not solve it. Finally, you finish your copy by solving the problem and describing how your product can help.
Features-Advantages-Benefits (FAB). This structure goes to describing your product right away, focusing on its advantages over other similar products, and finishing with the benefits it can bring to a potential customer. For credibility, such copies should include evidentiary support.
You can use one of these structures depending on which result you want to reach with your copy. But all three work well to boost conversion rates because all of them touch upon how your product solves problems and fits the needs of your target audience.
Apart from paying attention to the structure of your copy, it is also important to keep its readability in mind.
Readability includes factors that help a reader understand the text, including sections, numbered lists and bullet points, as well as straightforward, mistake-free sentences.
To make sure that the readability of your B2B copy is on point, you can use online platforms like Hemingway App, TrustMyPaper, and TopEssayWriting that have editing and proofreading tools with readability checkers. Or if you're really struggling, you can use Jasper AI to write the copy for you. Jasper AI has a 5-day free trial you can use.
In addition to readability, it is also important to consider the length of your B2B copy.
The nature of B2B articles is more educational rather than entertaining and more focused on delivering value. To make sure that your B2B copy fits all these requirements, try to keep it not shorter than 1,600 words, which translates into 7 minutes of reading.
4. Finish with a CTA that Offers a Solution
Finally, your B2B copy should lead to a certain action. In our case, it should invite a visitor to check out the product and purchase it.
That's why it is important to finish your B2B copy with a CTA that offers your product as a solution. This CTA shouldn't be a hard sell, but should rather show value, like the rest of your article.
To seamlessly incorporate a CTA into your B2B copy, you can use it as a conclusion to your article.
Indoorway, a company that offers RTLS tracking solutions to B2B clients, successfully uses conclusions to their articles as a place for a CTA. To their article about the benefits of real-time asset tracking for manufacturers, they added a concluding CTA on how manufacturers can learn more about this solution and incorporate it into their businesses:
In the picture above, you can see that the CTA is not overly promotional, but rather offers readers to extract even more value by following the links.
Such CTAs work better for B2B consumers because they spark more interest in products without pushing it too hard.
Add Blogging to Your Arsenal of B2B Marketing Tools!
As you can see, blogging can be a powerful asset for B2B companies, helping them build authority in their industry. Knowing how to write an effective blog can be the key to unlocking its potential benefits for your company.
However, blogging can also help your B2B business boost engagement and increase conversion rates by delivering value to the consumers.
Hopefully, our tips will help you craft a compelling and engaging B2B copy that helps you turn more visitors into customers.
Author bio:
Diana Nadim is a writer and editor who has a Master degree in Marketing. She combines her passion for writing with her interest in research and creates thought-provoking content in various fields. What inspires her the most in her writing is travelling and meeting new people. Follow her on Twitter.  
Have a guest blog in mind? Write to us!