Reaching prospects in APAC may not sound easy, and targeting a specific industry can be even trickier.
However, you can do it in a few clicks in under a minute.
But, how?
Ampliz has a comprehensive email list by industry that contains details of prospects from aspects like demographics, technographic, firmographics, and geography.
Not all industry email lists contain this information on the prospects.
So, when you want to purchase email list by industry, think Ampliz.
Boost Response Rates with Industry Specific Emailing List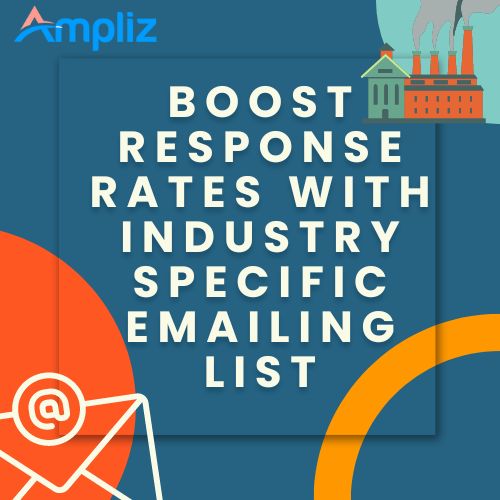 For a marketer, a successful marketing campaign only means when they get more conversion or higher response rates on their marketing copies.
In the APAC region, you can find ample industry specific mailing list providers, however, it is important to choose one that meets your specific needs.
Not all data sets are apt for all the B2B businesses.
Therefore, it is important for a marketer to figure out the ideal customer profile before setting out to hunt the industry specific mailing list.
And, Ampliz stands out to be the pioneer in providing an APAC industry email list, adhering to the diligence and versatility of the data sets.
It is the leading B2B data provider in APAC that helps marketers in generating email list by industry in a few clicks.
Benefits of Mailing lists by Industry for Marketers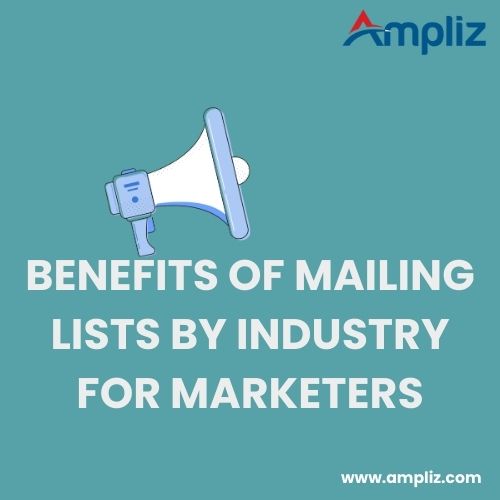 Marketers can make the most out of the APAC email list as it helps them save time and resources on scouring the internet for finding prospects.
No more wasting time on websites, social media channels, news and press releases, and other offline documents to gather information on the prospects.
As marketers save so much time and effort on finding the list of ideal prospects, they can shift their focus to developing, analyzing, and improving their marketing strategies.
As a result, the marketing team of any brand experiences growth in their response rates.
The data sets is designed with the precision to help the businesses survive the marketing challenges and meet the necessary organizational goals.
The mailing list by industry by Ampliz will not only help marketers to generate more conversions and gather more prospects but also reduces the campaign costs.
Therefore, whether you believe it or not, your marketing team will experience an invaluable experience if you buy email lists by industry in APAC.
So, what's the wait for? Make it easier for your marketer to bring more essence to their marketing campaigns.
Benefits for Sales Reps to Purchase Email list by Industry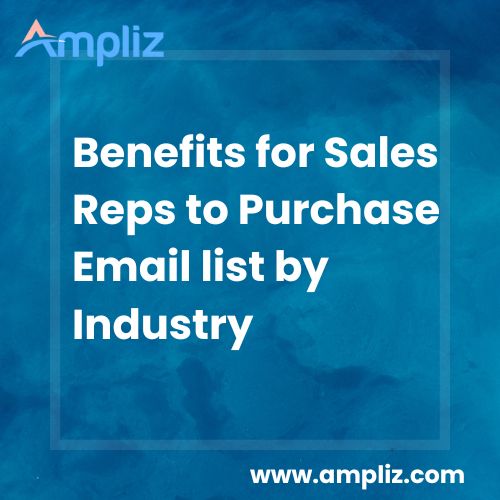 For the sales team, industry specific email lists can play a crucial role in their conversion rate success. How?
Well, as the marketers focus on driving and connecting with the prospects that resonate with our services and products, they prepare a list for the sales reps to initiate the sales cycle.
Since the data is filtered in tiers, sales reps get high-quality leads that help in increasing their conversion rates.
The sales cycle shortens, and the sales reps convert more prospects turning them into customers.
Sales reps tackle the leads smartly and handle each customer with a personalized approach and make sure they are at the right stage of the sales cycle.
Moreover, they learn about similar prospects and prepare a pitch for similar prospects for increased conversion.
The data set is quite comprehensive with the target audience list, aiding to amplify the campaign's success and generate higher revenue.
The exclusive industry specific mailing list ensures that the campaign gains the desired momentum and converts to lucrative deals.
How can I buy email lists of specific industries?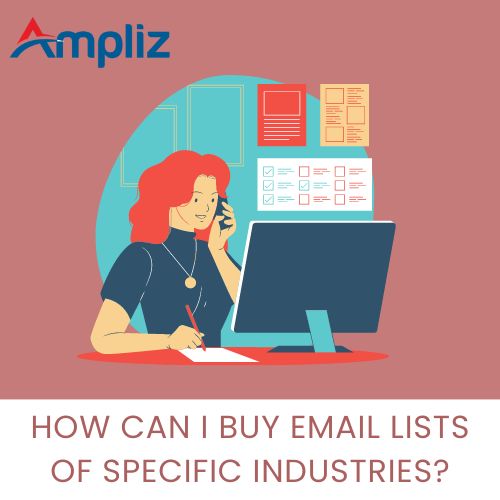 All you need is to visit the Ampliz website and fill out your information to get the list you want.
You can either click on the industry specific mailing list listed or you may get your customized industry email list.
If you are still a little confused with your ideal industry email list, then you may speak to the experts of Ampliz, and get your desired list.
You can download the list in any format you need to use for your marketing purpose.
If you do not want your competitors to be ahead of you in targeting the prospects, then you must take the assistance of the Ampliz industry specific list.
It is a one-stop solution for the B2B businesses that offer email lists in industries like retail, IT, automotive, real estate, healthcare, technology, and more.
So, now we know where to buy email list by industry. Go ahead and give it a try!
FAQ: Industry Specific Emailing List
How can I found B2B Industry Specific Email List?
Finding B2B industry specific email lists can be difficult and time-consuming.
To make the process easier, we recommend using a specialized list-building platform such as Ampliz.
With this platform, you can easily segment by industry and use advanced targeting rules to make sure you are only getting emails from organizations that fit your criteria.
Additionally, you can quickly export this data so you can get started with your outreach campaigns in no time.
Are Industry Specific Emailing Lists Helpful?
Definitely! In today's competitive world, it is important to target the right audience with the right message.
Industry specific emailing lists can help you ensure that your message reaches the right people at the right time.
These lists are compiled with precise data points so that you can easily segment and target the right customers with precise messages that will increase the chances of a successful campaign.