How to recruit healthcare professionals is the question every healthcare organization in the USA is facing today.
Recruiting healthcare professionals with the right skills and talent is the prerequisite for delivering good patient care. Experienced and qualified healthcare professionals are assets for any healthcare organization.
The lack of the required number of healthcare professionals will hit hard on hospitals' ability to serve patients and ultimately their reputation in the market.
Today, the US healthcare industry is going through the same phase.
The lack of healthcare professionals is causing
Long waiting hours
Extended patient stay
Increased medical bills
Unsatisfied patients
Unavailability of doctors when needed
Hospitals across the globe are looking for effective recruitment strategies for medical professionals to overcome these consequences.
But many factors including a shortage of skilled and talented medical workers in the market have made recruitment of healthcare professionals very challenging.
Let's see what these challenges are.
5 Challenges in Recruiting Healthcare Professionals
Recruitment of medical professionals has become quite challenging than ever before. To recruit medical staff, hospitals and healthcare organizations are investing a lot of their time and energy to provide the best and most satisfactory patient care.
As patients are the direct customer of healthcare organizations, hiring the best professional is paramount. And that's where the hospitals are facing challenges.
Let's see the challenges in recruiting healthcare professionals.
1) Lack of skilled workers
The gap between the demand and supply of healthcare workers is getting deepen day by day due to
Increased numbers of baby boomers who require more care and attention
Increased number of chronic diseases
Retirement of aging healthcare workers
Existing Professionals leaving the profession due to burnout
Less number of passed-out professionals
As per the May 11, Mckinsey report, there would be a shortage of 20,0000 to 4,50000 in the USA.
As per the Mercer report, within the next five years, the U.S. would face a projected shortage of more than 3.2 million lower-wage healthcare workers such as medical assistants, home health aides, and nursing assistants.
As per the American association of medical colleges, the U.S. could face a shortage of 37,800 to 1,24,000 physicians by 2034.
And due to this shortage, healthcare organizations are facing difficulties in hiring the right candidates.
2) Increased administrative complexities
Administrative overheads like licensing, credentialing, background, FACIS checks, or other forms of verification and screening are particularly high in healthcare.
This has gotten even more challenging after the pandemic making the recruitment process difficult for healthcare organizations.
Licensure groups have put some emergency measures to expedite the license of doctors, nurses, and other essential workers which has relieved some pressure.
3) Increased burnout and compassion fatigue
Long before the pandemic, due to multiple reasons like work-life imbalance, overwhelming workload, and emotional and physical exhaustion, burnout and compassion fatigue were common among healthcare professionals.
And during the pandemic, this got even worse, which has urged medical professionals to either leave their present employer or switch careers themselves.
And this has created a void in the healthcare industry and made recruitment of medical professionals difficult.
According to the March 2021 report, published in the journal of advanced nursing, covid-19 has accelerated the challenges of burnout and compassion fatigue.
4) Long time to hire
As per the report of DHI it takes almost 49 days to hire new talent in the healthcare industry. This is a normal case, but in case of a shortage of professionals in the industry, it takes even longer.
Further study has also revealed that it takes almost 55-199 days to recruit registered nurses.
So on one side, employee turnover is fast and on the other side recruitment is not happening at that pace making it difficult for the available workforce to fill that gap.
5) Retiring Talent
Though the generation of baby boomers may not be that adaptable to use modern technology, they are the most empathetic, experienced and qualified workforce any healthcare organization would love to have.
Since the last 19 years, daily one person is getting retired and it has an adverse impact on the healthcare industry.
As against the number of retiring people, there are not enough qualified professionals who can also work under stressful conditions.
How To Recruit Healthcare Professionals – 7 Tips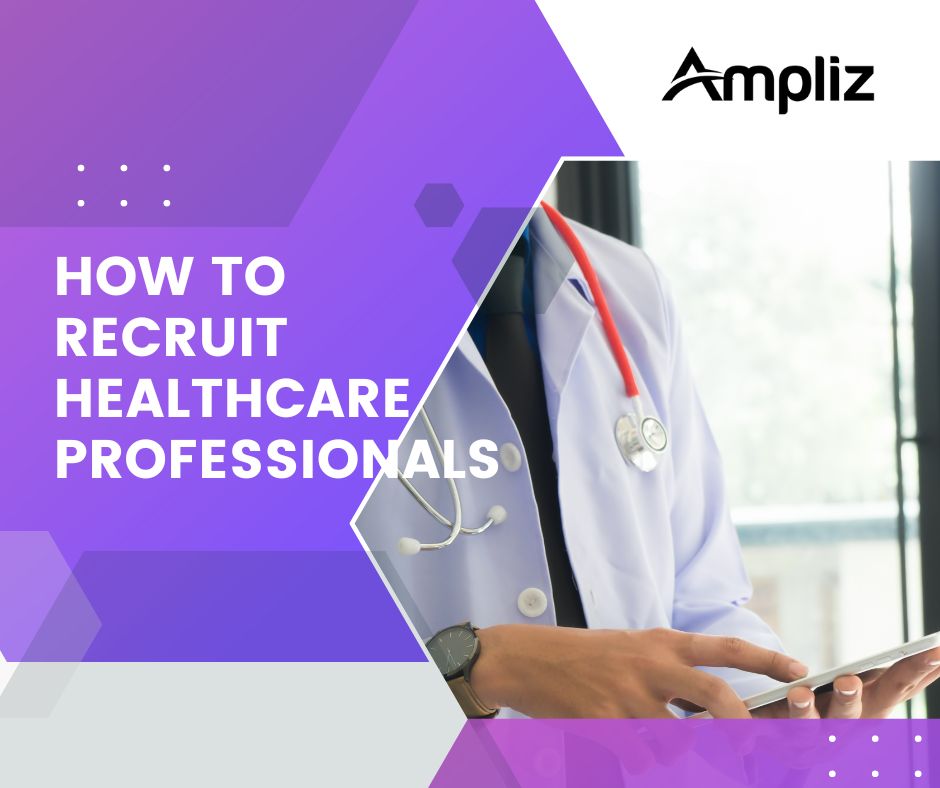 Although there are so many challenges in the recruitment of the most suitable healthcare professionals for your organization, there are some ways by which you can stand apart and attract the right candidate for your organization.
Let's see some of the tips for recruiting healthcare professionals.
1) Make your organization a well-recognized brand
When the competition is fierce, the market is dense and a number of employers have outpaced the number of candidates, at that time having a strong brand reputation is the first requisite to recruit medical professionals with ease.
Having a strong brand reputation is a must to attract the most qualified candidates in the industry, as how your candidates perceive you makes a lot of difference.
As per the Glassdoor reports, 61% of employees check the company reviews before applying for any position.
Moreover, 90% of glassdoor users are engaged in finding a new job, which indicates they are ready to get hired if your organization seems promising to them.
2) Consider soft skills along with hard skills
Retaining healthcare professionals for longer periods of time is crucial for overcoming the healthcare worker shortage.
And for this, considering soft skills along with hard skills are equally important.
The essential soft skills to look for while recruiting healthcare professionals are:
Emotional Intelligence
Adaptability
Active listening skills
Positive work ethic
Having a growth mindset
Openness to feedback
These soft skills are crucial for healthcare professionals, as they have to deal with patients all day. Having these skills help healthcare professionals to work better in stressful conditions and prevent burnout.
3) Give Competitive Compensation
In this highly competitive market, giving competitive compensation and other benefits will help you to recruit better medical professionals.
Keep yourself updated with current policies and compensation packages so that you can resonate with targeted candidates.
4) Run a Multi-platform campaign
One of the fastest ways to recruit healthcare workers is to be available on all the possible platforms. Run campaigns on all platforms including social media, job portals, etc.
If you are solely dependent upon job portals and waiting for candidates to respond to your posts, then you are missing a lot of prospects.
And on the other hand, if you solely post on social media and not on job portals then you are missing out on those who have bookmarked your career page.
By running ads on social media, you can ensure that the most qualified people notice your opportunities.
Keep reminding your potential candidates about the job opening on every possible platform.
5) Leverage the use of technology
In this technology-dominated world, take the help of technology to reach your prospects faster.
Do not seek any help from the recruiter as they might be employed by another employer. And this can result in a race to see who hires the candidate first.
But it takes some time to check whether the candidate is fit for your organization and you will lose if you are competing for talent.
Targeting the potential candidates before they hit the job boards by using a private recruitment database like Ampliz will ramp up your recruitment process.
Ampliz holds extensive datasets of potential healthcare professionals along with their names, email addresses, phone numbers, and LinkedIn profiles.
These datasets help you stand out from the competition as with the help of this dataset you can approach the most suitable candidate for your organization at a unique point in the process.
6) Create an Appropriate Work Environment
Employees would love to work, where they would be most valued and respected. Overload doesn't bother employees but disrespect towards their efforts and work makes them feel agitated.
Many healthcare professionals including nurses and even physicians left their jobs because of burnout. Burnout is the outcome of bad work culture.
That's why to recruit healthcare professionals in your organization and retain them for a longer time you must work on the kind of culture at your place.
Employees love when their efforts are praised, they are involved in key decision-making and are respected by seniors.
7) Deploy Recruitment Software
Recruitment software acts like a blessing in disguise for any healthcare recruiter. This software helps you in the recruiting process starting from the screening of candidates to finally onboarding them.
One such software is designed and developed by Ampliz. Ampliz provides you with the healthcare intelligence to ramp up your recruiting process.
Recruitment of healthcare professionals has become very easy with Ampliz, as it provides 98% accurate, and reliable data of potential hires.
Conclusion
There is no alternative to recruiting the best talent at your organization to provide the best patient care. Although recruiting medical staff has become challenging, following above mentioned tips will help you to ramp up your recruitment of healthcare professionals.