Emails have been the most formal mode of communication in recent history for a long time now. But in a world where our inboxes are flooded with tons of emails every day, how do you stand out? Apart from being creative with your email body, email signatures are an amazing way to leave an impression. Thus in this article, we walk you through the craft of creating the best signature along with some stunning email signature examples.
There is a very authentic saying, "The First Impression is the Last Impression". When the first interaction commences between two people or businesses, the appearance of the email creates an impression that lasts for a long time. Hence, the email signature is significant if your primary communication mode is email.
How to write a darn good email signature?
Generally, an email's appearance looks beautiful its signature is well designed. Your email signature represents your personality as it holds a wide range of information about you with limited content and images. Apart from the content part, there are several points that can make signature attention-grabbing and impressive.
Here are a few points we have listed that need to be focused while creating an email signature.
Keep It Short & Simple
Accentuate your Name and Affiliation
Use Colors
Add Your Company Information
Use Decent Font
Use Dividers
Make it Mobile Friendly
Add Photo
Include Your Personalized Logo
Use Social Media Icons
Add Call-To-Action

1. Keep your email signature short & simple
Short and simple content is always good for the readers. It expresses a lot of information with limited content. When it comes to an email signature, it should not exceed more than three to four sentences. It should contain your name, designation, and your company information like website, physical location address and sometimes social media handles.
Your Name

Title (optional)
Company (linked to the website)

Website or Physical Address

Phone number
Email signature example # 1

Email signature example # 2

2. Accentuate your name and affiliation
The significant part of your signature should be your name & affiliation and then other contact details. The affiliation maybe your job title, your organization such as your company, your school, etc. These two pieces of information should be highlighted in your email signature as it adds value to your personal branding. Sometimes, it is eye-catching when you add the logo next to the affiliation.
First Name & Last Name Organization Logo

Designation or Job Title

Organization Name

———————————

Personal Website

Map (with logo)
Email signature example with logo #3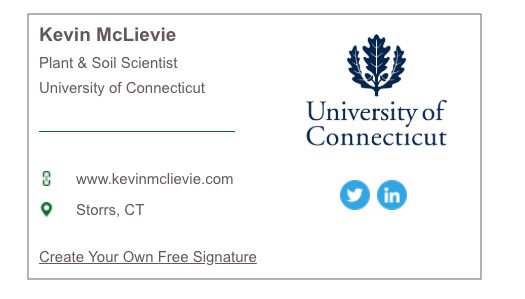 3. Try to use colors in your email signature
Sometimes a boring signature is responsible for unclickable emails. Very professional people keep their email signatures simple and black & white. Those days are gone. These days, all highlighted pieces of stuff are attention-grabbing. Therefore, adding color to your email signature is an important part as it appears good and grabs the attention of the readers.
Example of an email signature with varying shades of the same color #4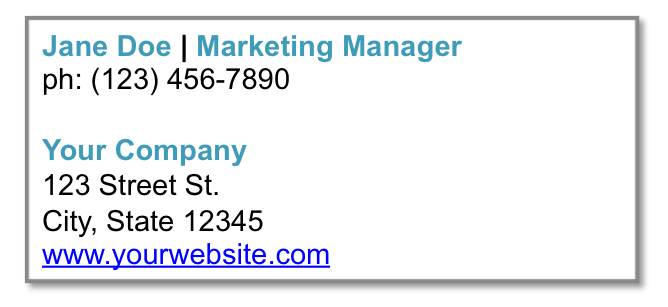 4. Do add your company information in your signature
Apart from your personal branding, sometimes your designation and your company matter a lot. There are several reputed companies, people have a very good impression. If you are working in one of the reputed companies, adding company information in your signature adds value to your email. No matter what is the subject but the email will be opened by the reader if your signature holds company information.
Add your company info to your signature – example #5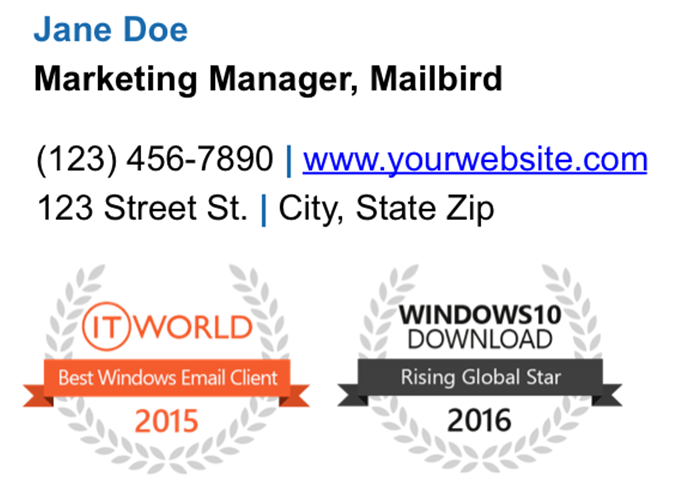 Sometimes, the signature with company information will help you get prospects. For example, one of your email recipients is looking for the service that your company provides. Once s/he sees your signature and company name, s/he tries to know more about your company. Based on the research s/he did about your company, s/he may be interested to take the service. In this way, you may get a new prospect.
5. Use a decent font in your professional email signature
Each part of the signature plays a vital role. It may be the contact information, company name, social handles or maybe name and designation of the person. If the appearance of the signature is not good, it will not attract the attention of anyone. Hence, the font of the signature is as important as other factors.
It is proved that the below fonts can be used in the signature since it appears in the recipient's device as it appears in your device. Some fonts have trouble to appear properly. in other devices (apart from the sender's device). You can use the below fonts or use a font generator for your signature.
Arial
Verdana
Georgia
Tahoma
Courier
Times New Roman
Trebuchet
Palatino
Lucida
Signature example #6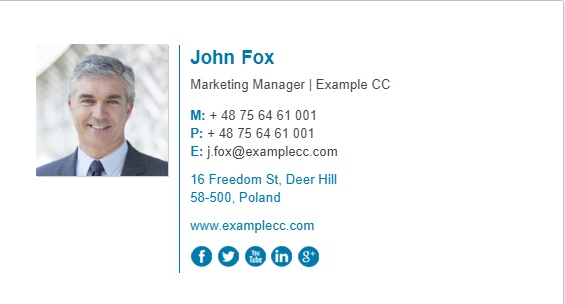 The font of the above signature is Arial with size 10pt. It provides a very simple and clear look and it allows readers to find all necessary contact details.
6. Use dividers in your email signature
Though it is not good to stuff a lot of information in your signature, but sometimes it is necessary to provide all the information. In that case, you need to take care of the appearance as well. That is why it is very important to use dividers to stuff all information in a compact space. Divider helps to look the signature well with a lot of information. You can add your photo or company logo using a divider.
Signature example #7

Email signature with dividers example #8

7. Make your signature mobile friendly
As per Campaign Monitor notes, 41% of people open emails on their mobile. In fact, the usage of the mobile device has been increasing day by day not only to open the emails but also visiting websites and other social media activities. There fore, while creating a website, a developer emphasizes the mobile-friendly look as equal to desktop look.
The same applies to the email signature as well. If your signature is not mobile-friendly, then you are losing at least 41% of readers. Make your signature mobile friendly like the appearance, font, the hyperlink, social handles, etc.
Email signature example #9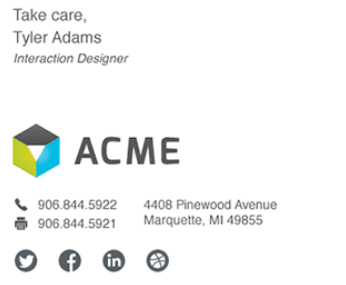 Make sure all the social handles icon should be clickable and redirected to the relevant channel. Similarly, the website link should be clickable as well.
8. Make use of pictures in your signature
Visual interest always grabs the attention of the reader. Though your content is more powerful, without an image or a photo it fails to attract the readers. No matter if it is your signature or other content. Hence, it is good to have your photo in your signature as readers will remember you well. There are several points we need to focus on while adding a photo to your signature.
A photo should be clear and small
The background of your photo should be plain as the colorful background distracts readers' attention.
Your attire should be professional
Your photo should not be a selfie
You should look to camera straight
Use headshot rather than using full body photo
Choosing the right background for your professional headshot can be crucial, but with the high-quality options available from Freepik, finding the perfect background has never been easier. Whether you're looking for a plain and neutral-colored backdrop or something more visually interesting.
9. Include your logo
While it is important to include both photo and logo, it will look too busy to keep both in the signature. Hence, it is very important to keep either one. If you are providing company information in your signature, it is good to have a customized logo and if you are very keen to build your own branding, then it is good to have your photo in your signature.
Email signature with logo examples #10

Example # 11

10. Use social media icons wherever necessary
Social media is the king among all the marketing channels. If you want to market yourself or your company, social media is the best medium. Therefore, it is important to add social media icons and redirect them to the respective social media page. It has a huge impact when you have a perfect social media pages to gain traffic and followers. Hyperlink URL is good to gain traffic but having proper social media pages has a huge impact.
Email signature example #12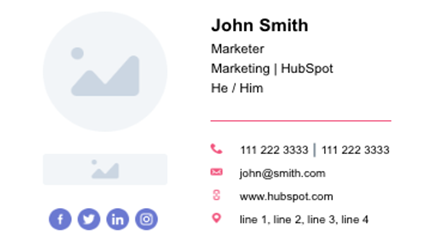 11. Add a meaningful CTA in your signature
Apart from social media icons, website URL and the smart signature is to have call-to-action to your signature. But if you add CTA to your other content like your newsletter email or blog content, it looks pushy which results to make people spam you. But when you add CTA in your signature, it looks professional, not pushy. When your recipient sees CTA in your signature, they might take a look at your blog or websites. Hence, it very new approach to add CTA in your signature to have a good impact.
Example #13 Use a CTA in your email signature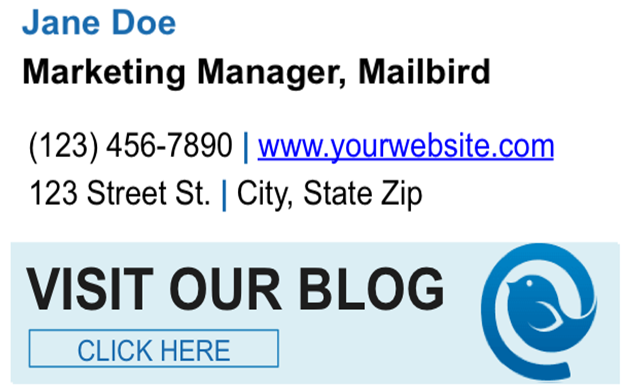 Points to Ignore While Creating an Email Signature
We have discussed many points that have to be added while creating an effective signature. Each and every point is important while creating a signature. Similarly, the points to ignore for your signature creation are also important. Let's have a look one by one.
Adding Irrelevant Information – Sometimes we see there are lots of irrelevant information is added in the some of the signatures. It creates unnecessary annoyance to the readers which results to avoid the email to read. Hence, avoid extra stuff your signature with irrelevant information.
Deploying overabundance of color – In the above points, it is advised to add color to your signature but adding an overabundance of color in your signature looks unprofessional. Some signatures have very bright colors to grab the attention but it is a myth. It creates an unprofessional appearance. Hence it is good to avoid an overabundance of color in your signature.
Adding excessively large graphics – Adding large graphics in the signature will create a good impression and grab the attention. This wrong notion is still there in most of the people. But the fact is that this trick has become old and readers are no more attracted to the high graphics images. They are attracted to meaningful images that speak a lot.
Putting inspirational quotes – Again adding inspirational quotes in your signature has become an old trend. Your signature should be smart and modern. Hence it is good not to add any inspirational quotes in your signature.
In case, if you are a public speaker or motivational speaker, it makes sense to add inspirational quotes in your signature.
There are different signature creation tools like Hubspot, Wise stamp, Newoldstamp, etc. that help you to create an effective signature. No matter if it is your personal signature or professional signature, the basic points are there what to add and what not to which we have already discussed. Try these points and let us know how it works for you and share the same tips with others.