Table of Contents
According to Grand View Research, the US biotech market was valued at $85.4 billion in 2016 and is expected to grow at a compound annual growth rate (CAGR) of 7.3% from 2017 to 2025.
This is the best time to ramp up your marketing strategy and reach your potential biotech companies in us.
This requires you to be aware of the top industry players of biotechnology companies.
Therefore to make things easier for you, here we are sharing the list of biotech companies.
But before that let's understand the type of top biotech companies.
If you want to know the types of biotech companies in the US and want a list of some of them so that you study them and reach out to them, then this blog is for you.
When you are targeting any kind of Industry, you should be equipped with all the information about that industry.
Here you must be targeting a particular type of biotech industry, but you must be aware of all the types of biotech companies.
And therefore here we are sharing different types of biotech companies.
Let's have a quick overview of it.
Types of Biotech Companies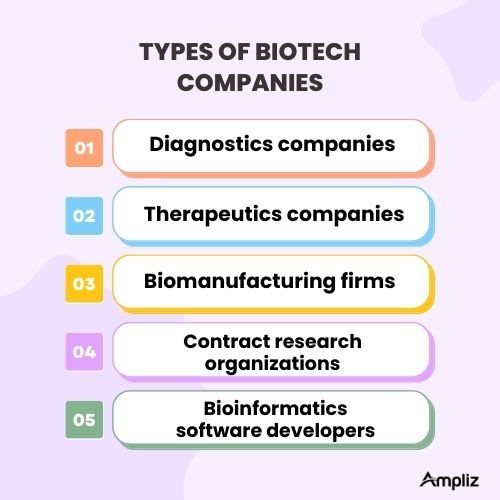 1. Diagnostics companies
These companies focus on developing tests and devices that enable early detection of diseases or conditions, which helps clinicians provide timely treatment.
Examples: Illumina, Thermofisher Scientific, Qiagen, etc
2. Therapeutics companies
These organizations develop drugs and treatments for a variety of illnesses, including cancer, cardiovascular disease, and autoimmune disorders.
Examples: Biogen, Amgen, Gilead science
3. Biomanufacturing firms
Biotech firms are involved in manufacturing where living cells are used as factories to produce therapeutics such as vaccines or gene therapies.
Examples: Amegen, Genentech, Gilead science
4. Contract research organizations (CROs)
CROs offer comprehensive clinical trial services that help biotech firms evaluate the efficacy and safety profiles of new medicines before launching them into the market
Examples: Quintiles, PPD, ICONplc, Covance Inc, etc
5. Bioinformatics software developers
Bioinformatics is an interdisciplinary field that combines biology, computer science & statistics; these software tools allow researchers to analyze large data sets obtained from genomics & proteomics experiments.
Examples: QIAGEN Bioinformatics, Omicia, Seven Bridges Genomics, etc.
Being aware of these categories can help healthcare marketers tailor their approaches more effectively in promoting their products depending upon what type it belongs to since each requires a distinct set of marketing strategies.
List of Biotech Companies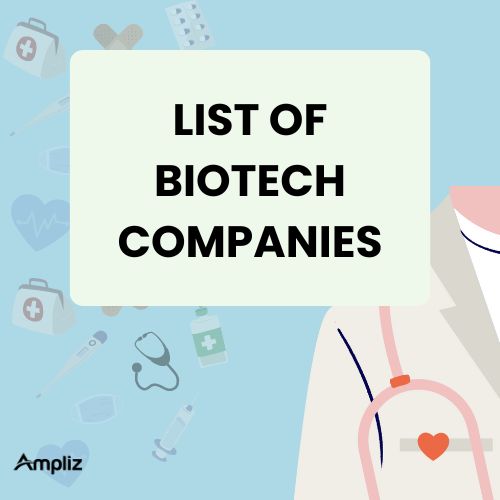 1) Zivo Bioscience
| | |
| --- | --- |
| Number of employees | 11 – 50 |
| Location | Bloomfield Hills MI |
Zivo Biofarm is a Michigan-based agricultural biotechnology company that specializes in the development of natural nutritional products derived from algae.
The company's main product offering is its proprietary strain of non-GMO algae, which can be used in animal feed and human food supplements.
2) BioStem Technologies
| | |
| --- | --- |
| Number of employees | 11 – 20 |
| Location | Pompano Beach Florida |
BioStem Technologies is a company that specializes in developing and commercializing regenerative medicine products.
The company's headquarters are located in Florida, United States, but it has operations worldwide.
BioStem Technologies' product portfolio includes various stem cell-based therapies for different medical conditions such as joint pain, orthopedic injuries, autoimmune disorders, and dermatological issues.
The company also offers nutraceuticals and supplements that promote overall health and enhance performance.
One of the flagship products of BioStem Technologies is Amnio Injections®, which utilizes amniotic fluid-derived mesenchymal stem cells to reduce inflammation and stimulate tissue regeneration
3) Oncocyte
| | |
| --- | --- |
| Number of employees | 51 – 200 |
| Location | Irvine, California |
Oncocyte Corporation is a precision medicine company that specializes in the development and commercialization of innovative diagnostic tests to help detect cancer earlier and improve patient outcomes.
The company's headquarters are located in Aliso Viejo, California, with additional offices in Germany and Spain.
Oncocyte's flagship product is DetermaRx™, which is designed to predict the likelihood of recurrence in early-stage lung cancer patients after surgery.
4) Aqua Cultured foods
| | |
| --- | --- |
| Number of employees | 11 – 50 |
| Location | Chicago |
Located in Chicago, AquaCultured Foods uses innovative technology to create plant-based alternatives that mimic the taste and texture of conventional fish products.
By using bioreactors to grow microorganisms like algae, AquaCultured Foods can produce healthy proteins like omega-3 fatty acids without relying on traditional fishing methods.
The main product line of AquaCultured Foods includes plant-based alternatives for various kinds of seafood such as salmon burgers, tuna steaks, crab cakes, and shrimp scampi.
Their products are delicious and perfect for people who care about protecting our oceans.
5) Lab viva
| | |
| --- | --- |
| Number of employees | 11 – 50 |
| Location | Boston, Massachusetts |
Labviva is an online marketplace that connects researchers with the products they need to conduct their experiments.
The platform allows scientists to search for and purchase a wide variety of laboratory supplies, such as chemicals, equipment, and reagents.
As an internet-based company, Labviva's location is entirely virtual. Its headquarters are in Boston, Massachusetts; however, its reach extends far beyond this region.
Scientists from all over the world can access the site and place orders for delivery straight to their lab.
6) Epibologics
| | |
| --- | --- |
| Number of employees | 11 – 50 |
| Location | San Diego |
Epibiologics is a biotechnology company that specializes in developing innovative therapies for the treatment of cancer and other diseases.
The company's headquarters are located in San Diego, California, which is recognized as a leading hub for life sciences research.
Epibiologics' products are focused on two main areas: targeted antibody therapeutics and immune-oncology therapies.
Their targeted antibody therapeutics utilize monoclonal antibodies to bind to specific proteins in cancer cells and trigger an immune response against them.
7) Fibro Biologics
| | |
| --- | --- |
| Number of employees | 1 – 10 |
| Location | Houston, Texas |
Fibro Biologics is a biopharmaceutical company focused on developing and commercializing fibroblast cell-based therapy for patients suffering from chronic disease.
It serves as the foundation for developing biological cures and treatments for chronic disease.
8) Ring Therapeutics
| | |
| --- | --- |
| Number of employees | 51 – 500 |
| Location | Cambridge, Masssachsetts |
Ring Therapeutics is a cutting-edge biotechnology company that specializes in developing transformative treatments for patients with genetic diseases.
The company's headquarters are located in Cambridge, Massachusetts, which is known as the epicenter of the biotech industry.
Ring Therapeutics focuses on gene therapy and RNA-based therapeutics, which have shown tremendous potential in treating rare genetic disorders such as cystic fibrosis and muscular dystrophy.
The company's innovative approach involves using synthetic n
nucleic acids to target specific genes and selectively regulate their expression.
9) Rapport Therapeutics
| | |
| --- | --- |
| Number of employees | 11 – 50 |
| Location | Boston, Masssachsetts |
Rapport Therapeutics is a clinical-stage biotechnology company that discovers and develops precision medicine for cancer and related disease.
10) Quralis
| | |
| --- | --- |
| Number of employees | 51 – 200 |
| Location | Cambridge, Masssachsetts |
Founded by Kesper Roet, Kevin Eggan, and Clifford Woolf, QurAlis provides precision therapeutics that could benefit entire ALS patients and another neurodegenerative disease.
Reach your targeted biotech companies with contact details of key decision-makers
These details will give you some ideas about your target audience. Once you recognize the right target audience, the next step is to reach out to them.
To reach out o them you need to have the correct contact information for them.
There are multiple ways of getting their contact details but there is no guarantee of accuracy.
The effective and efficient way to get the contact information of your prospects is to buy them from a healthcare data provider.
Healthcare data providers provide you the data that consists of email addresses, phone numbers, and Linkedin profiles of key decision-makers of the biotech companies.
Along with contact details of key decision-makers, these data providers also provide you with firmographic, technographic, geographic, and demographic details of the company.
Reach out to key decision makers of Biotech companies with Ampliz healthcare data
With healthcare data, you can easily reach out to your target audience at the right time which also helps you to boost your sales.
For that, you are required to have an accurate, and updated email address of your prospects.
Not sure where you can find such data providers? The answer is Ampliz.
Ampliz collects the data from 100+ credible sources and gets them validated by 800+ research workers which makes their data authentic and reliable.
With the combined efforts of AI and humans, Ampliz refreshes the data very frequently.
These processes maintain the quality of data and provide you with the most accurate and real-time updated data of your potential customers.
Frequently Asked Questions on Biotech Companies
How many biotech companies are there?
There are about 21,638 biotech companies in the US.
Who is the largest biotech company in the world?
The largest biotech company in the world is Amgen Inc. a multinational biopharmaceutical company based in Thousand Oaks, California. 
With a market capitalization of over $135 billion and annual revenue exceeding $23 billion, it has established itself as one of the most significant players in the biotech industry.
What is a biotech company?
A biotech company, also known as a biotechnology company, is an organization that specializes in the creation, development, and commercialization of products or services based on biological processes.
These biotech startup companies harness advances in biology to develop innovative therapies for human and animal health.
Is biotech different from pharma?
Yes, biotech is different from pharma. While both industries are focused on developing medical treatments and drugs, there are some key differences in their approach and methods.
Biotech companies use living organisms or biological processes to develop their products. This includes genetic engineering, cell therapy, and tissue engineering.
Biotech focuses on using these technologies to create innovative solutions that target specific disease pathways and mechanisms.
Pharmaceutical companies, on the other hand, primarily focus on chemical compounds or synthetic molecules to develop drugs.
They typically conduct extensive research and development before launching a new drug into the market.
What are some biotech companies?
Some biotech companies include:
1. Amgen: A leading biotechnology company that develops medicines for serious illnesses, such as cancer and autoimmune diseases.
2. Gilead Sciences: A research-based biopharmaceutical company that focuses on developing innovative therapies for life-threatening diseases like HIV/AIDS, hepatitis C, and COVID-19.
3. Novartis: A multinational pharmaceutical corporation with a focus on oncology, immunology & dermatology, respiratory & cardiovascular disease areas.
4. Illumina: This company specializes in DNA sequencing technologies which are used to analyze genetic data in order to better understand the molecular basis of various diseases and conditions.
5. Biogen: Focuses on neuroscience research and development for neurological disorders such as multiple sclerosis (MS), Alzheimer's disease, and Parkinson's disease among others
6. Regeneron Pharmaceuticals: Specializes in developing treatments for eye diseases, rare genetic disorders chronic inflammatory conditions, etc.,
7. Moderna Inc.: Pioneers in mRNA technology who have developed vaccines based on the same platform against several infectious agents including the Covid-19 virus.
There are many more notable biotech companies out there ranging from startups to established players all working towards finding solutions to some of our most pressing medical challenges today!
What are the biggest biotech companies?
The biotech industry is rapidly growing, and there are many companies that compete for a top spot.
However, some of the most prominent players in this field include Amgen, Gilead Sciences, Biogen Idec, Roche Holding AG, Novo Nordisk A/S, and Celgene Corporation.
Amgen is an American multinational biopharmaceutical company that specializes in developing innovative treatments for various diseases such as cancer and osteoporosis. It has a market cap of approximately $141 billion.
Gilead Sciences is another American biotechnology company focused on developing drugs to treat viral infections like HIV/AIDS and hepatitis C. It has a market cap of around $80 billion.